I've been making a lot of homemade bread lately, thanks to a new cookbook that I got, Bread Toast Crumbs, and even though homemade bread is super inexpensive, I hate seeing any of it go to waste. I'm experimenting with all sorts of ways to use up the leftover odds and ends of my bread and today I tried a recipe that I've wanted to make for quite some time, a 5-Minute Microwave French Toast Mug. This small-batch French toast (or bread pudding) in a mug is an excellent way to not only have a quick treat, but use leftovers and reduce food waste at the same time. Win-win.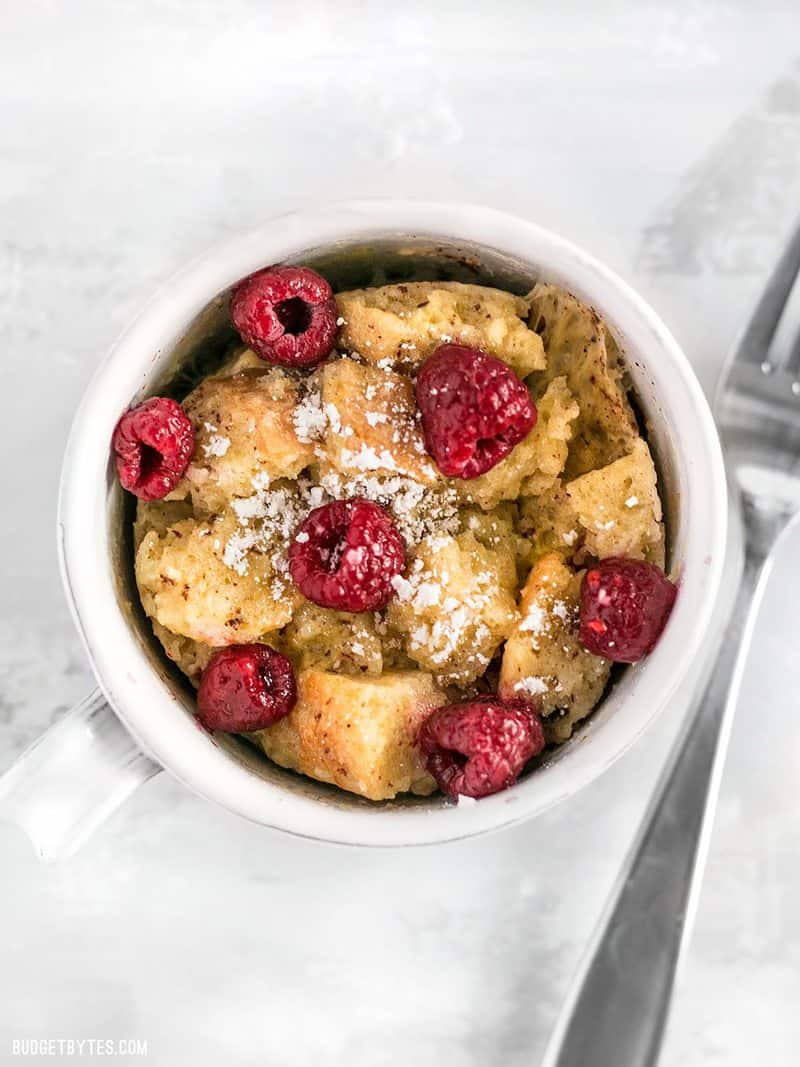 What Type of Bread Should I Use?
You can use just any type of bread for this 5-Minute Microwave French Toast Mug, but the sturdier the better. Whole wheat works great, too! I'd steer clear of rye or super squishy white sandwich bread, if possible though. Cinnamon raisin bread is a natural for this use, as is brioche.
Customize Your French Toast Mug
I've given the very basic recipe below, but you can customize it with all sorts of fun add-ins or toppings like berries (I topped mine with frozen raspberries below), sliced bananas, more maple syrup, powdered sugar, chocolate chips or syrup, or walnuts, pecans, or even peanut butter! Basically, anything that you'd like mixed into a pancake will probably be good mixed into or used as a topping for this French Toast Mug. You can even experiment with savory mugs by skipping the maple syrup and stirring in some shredded cheese, herbs, and diced ham. You can bet you'll see a savory version of this on the blog soon!!
5-Minute Microwave French Toast Mug
These fast and easy 5-Minute French Toast Mugs are a great single serving breakfast treat plus a way to use leftovers and reduce food waste.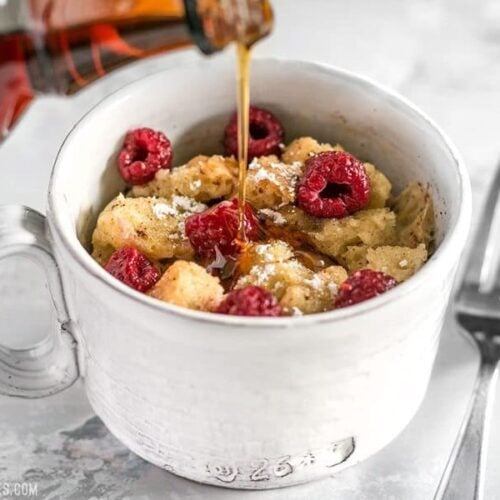 Ingredients
1

tsp

butter

($0.04)

3

Tbsp

whole milk

($0.07)

1

tsp

maple syrup

($0.11)

1/4

tsp

cinnamon

($0.02)

1/4

tsp

vanilla extract

($0.21)

Pinch ground nutmeg

($0.02)

1

large egg

($0.27)

1

cup

bread pieces*

($0.10)
OPTIONAL TOPPINGS OR ADD-INS
berries

sliced bananas

nuts

powdered sugar

peanut butter

chocolate chips
Instructions
Place the butter in a large mug and microwave for 15-20 seconds, or until it is melted. Add the milk, maple syrup, cinnamon, vanilla, nutmeg, and the egg to the mug and whisk until everything is well mixed.

Add the bread pieces to the mug and gently stir until all the pieces are saturated with the egg and milk mixture. Be careful not to stir too roughly or the bread pieces may fall apart. Let the bread sit and absorb the liquid for about 1 minute.

Microwave the mug for 60-90 seconds, or until the mixture is solid. I have a 1250 watt microwave and find that 70-80 seconds is about perfect. You may need to experiment to find just the right cooking time for your microwave and mug size.

Serve immediately, or deck it out with your favorite toppings.
See how we calculate recipe costs here.
---
Notes
*Use a hearty bread, torn or cut into 1/2-inch pieces.
Nutrition
Serving:
1
Serving
Calories:
238.3
kcal
Carbohydrates:
22.1
g
Protein:
10.3
g
Fat:
10.9
g
Sodium:
255.2
mg
Fiber:
1.4
g
Read our full nutrition disclaimer here.
Want to try a savory microwave breakfast mug? Try my 5-Minute Savory Microwave Breakfast Mug!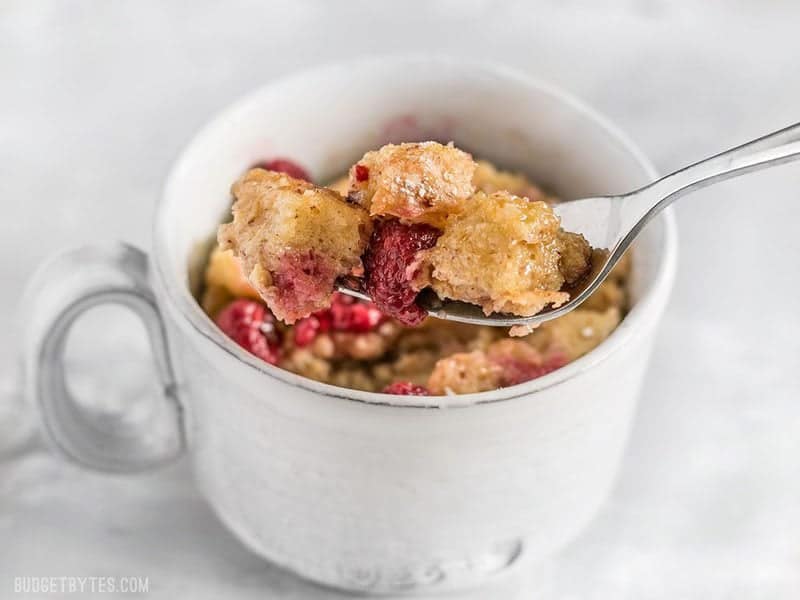 How to Make A Microwave French Toast Mug – Step by Step Photos
Start by placing 1 tsp butter in a large microwave safe mug. Microwave for about 20 seconds, or until the butter is melted. Add 3 Tbsp milk, 1 tsp maple syrup, 1/4 tsp cinnamon, 1/4 tsp vanilla extract, a pinch of ground nutmeg, and one large egg to the mug with the melted butter. Whisk the mixture until it is very well combined.
Tear or cut a piece of hearty bread into 1/2-inch pieces (about one heaping cup of bread pieces). Add the bread chunks to the mug and gently stir until they are saturated in the egg and milk mixture. Let them sit for about one minute to fully absorb the moisture.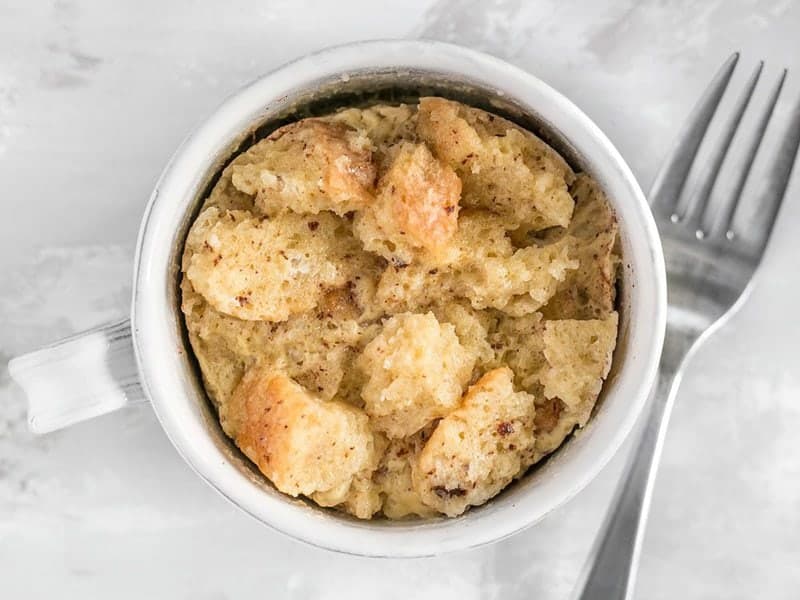 Microwave the mug for 60-90 seconds, or until the mixture is solid and slightly puffed up. The total cooking time will depend on the wattage of your microwave and the size and thickness of your mug. I suggest starting at 60 seconds and adding 10-15 seconds as necessary.
You can add all sorts of fun toppings after it's cooked, or even stir them in with the bread chunks before cooking. Berries are always a nice tart contrast to the slightly sweet mixture, but if you have a sugar tooth you can do things like chocolate chips, banana slices, or powdered sugar. Nuts are delicious as well!
I can't wait to try a savory version!
This post may contain affiliate links which won't change your price but will share some commission. As an Amazon Associate I earn from qualifying purchases.
Check Out These Other Quick And Easy Breakfast Ideas