The heat is getting to me, y'all! So last week I sat down and brainstormed some no-cook lunch boxes, or meal preps that I can keep in the fridge for quick meals over the next couple of months. I'll be posting these lunch box ideas over the next few weeks, the first being this Pizza Roll Up Lunch Box. These easy no-cook lunch boxes make great "brown bag" lunches for the work week, especially for those of you who don't have access to a refrigerator or microwave during your work day. Just pop one of these in an insulated lunch pack and you're good to go!
This one goes out to everyone who grew up eating those pizza lunchables. ;)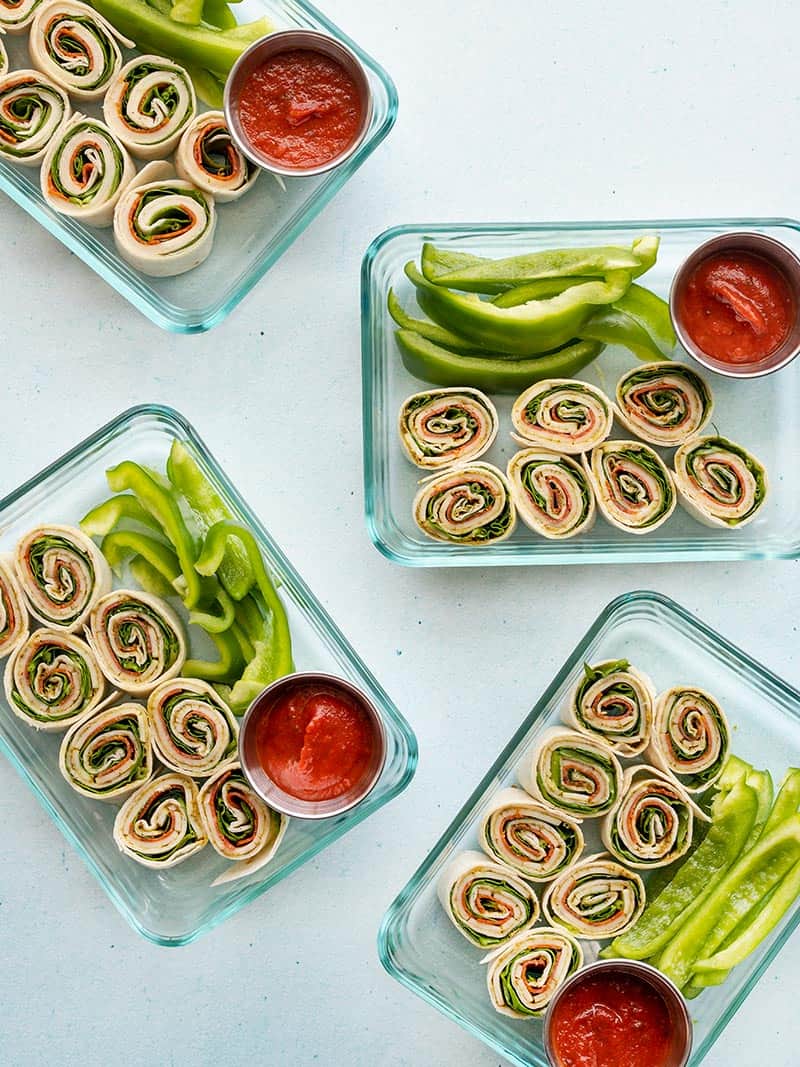 There is no "one size fits all" lunch box
We all need different amounts of food, so make sure you flex your lunch box up or down to fit your appetite. Here are some other things you can add to this pizza roll up lunch box to beef it up, if you need more!
Add an apple, orange, or yogurt cup on the side for dessert
Add an extra layer of turkey, ham, or salami sliced deli meat to the roll up
Add a layer of caramelized onions to the wrap
Spread ricotta cheese on the tortilla in place of pesto (option drizzle pesto on the ricotta and have both!)
Add a few banana pepper rings inside the roll up
Pack a simple green salad on the side
There are an endless number of toppings you could add to your roll up, but just be careful with "chunky" ingredients that may make it hard to keep the roll up closed.
How long do the lunch boxes last?
You can keep these lunch boxes in the refrigerator for 4-5 days. Longevity may vary depending on the conditions inside your refrigerator and freshness of your ingredients.
What containers do you use?
These are Pyrex glass containers, and small metal dipping cups (both are linked in the bottom of the recipe card below). I have the dipping cups in the glass containers in the photos, but they are actually taller than the container and would need to be packed outside the glass container for it to be closed properly.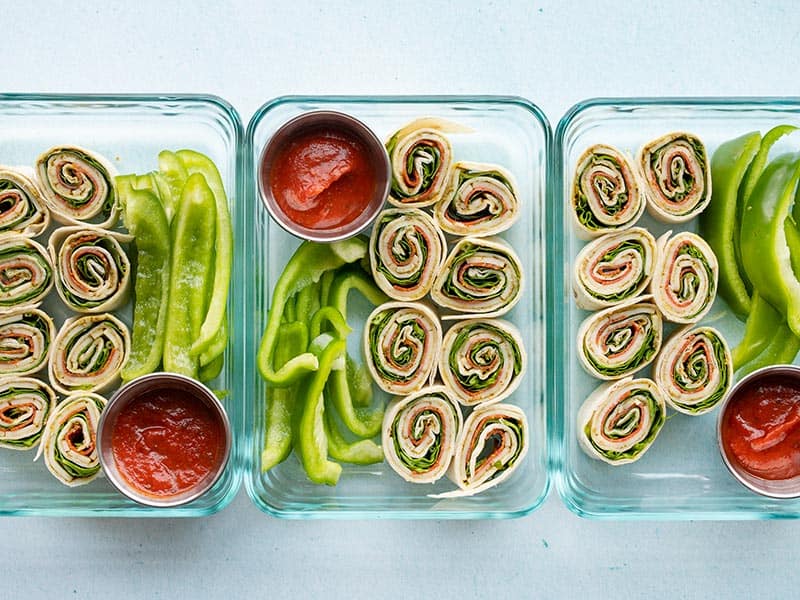 The Pizza Roll Up Lunch Box
These easy pizza roll up lunch boxes are a great no-cook lunch idea for your work week. No reheating required for this lunch meal prep!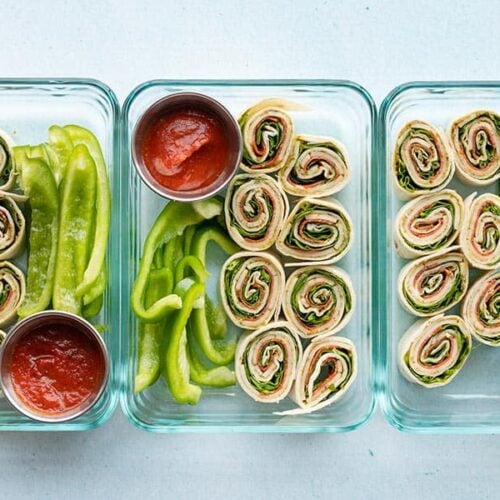 Ingredients
4

large tortillas (burrito size)

($0.65)

1/4

cup

basil pesto

($0.55)

8

slices

provolone cheese

($1.19)

36

slices

pepperoni

($0.97)

4

cups

fresh spinach

($0.32)

1/2

cup

pizza sauce

($0.43)

2

green bell peppers

($1.53)
Instructions
Spread 1 Tbsp pesto over the surface of each tortilla (it does not need to cover the entire surface. Lay two slices of provolone over one half of each tortilla, followed by about 9 pepperoni. Lastly, add one handful of fresh spinach to each tortilla.

Roll each tortilla up, trying to keep the roll as tight as possible. With the seams facing down, slice the rolls into one-inch sections. Place the sliced roll-ups in your meal prep container. Pack them closely together to keep them from coming unrolled.

Slice the green bell peppers into strips. Divide the bell pepper strips between the four containers.

Fill four small containers with 2 Tbsp pizza sauce each. Refrigerate your roll ups, bell peppers, and pizza sauce for up to five days.
See how we calculate recipe costs here.
---
---
Nutrition
Serving:
1
box
Calories:
598.05
kcal
Carbohydrates:
44.18
g
Protein:
26.3
g
Fat:
35.15
g
Sodium:
1509.63
mg
Fiber:
5.08
g
Read our full nutrition disclaimer here.
Check Out These Other No-Cook Lunch Ideas:
How to Make Pizza Roll Up Lunch Boxes – Step by Step Photos
Spread 1 Tbsp of pesto over each tortilla. Lay two pieces of provolone and about 9 pepperoni on one half of the tortilla.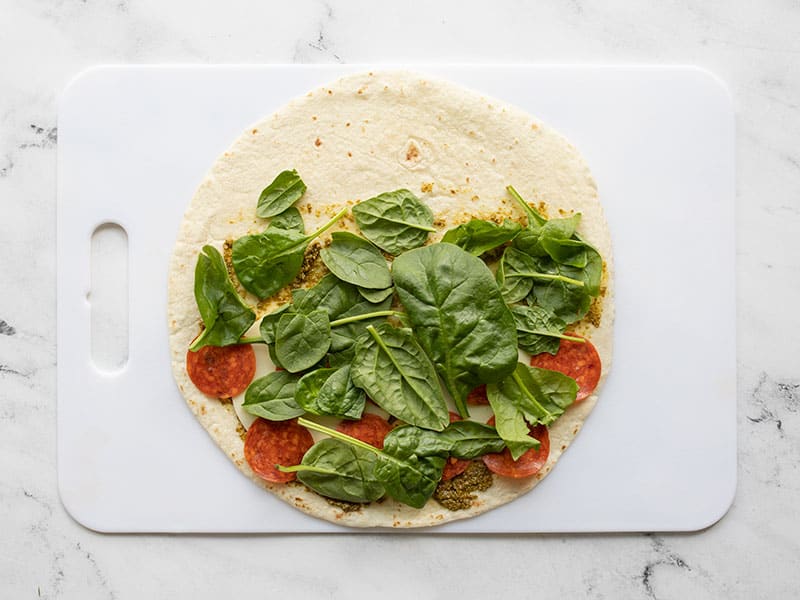 Sprinkle one handful of spinach over each tortilla.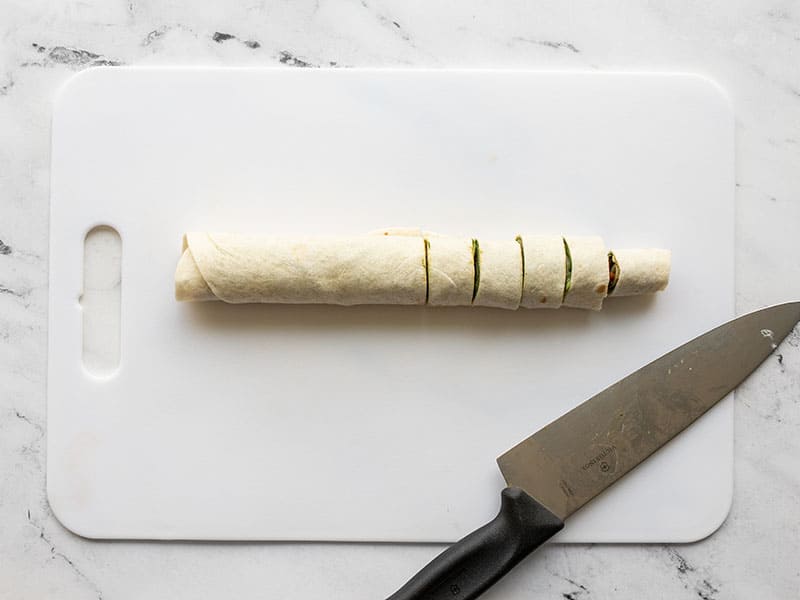 Roll up the tortilla, making sure to roll as tightly as possible. Slice the roll into one-inch sections. The two end pieces might not stay rolled, but as long as the roll is seam-side down, the rest should stay rolled.
Place the sliced roll-ups in your containers. Cut two green bell peppers into strips and divide them among the four containers. Place 2 Tbsp pizza sauce into four small containers. Pack up your boxes and refrigerate up to 5 days!