Ooooh wow, my house smells like a spice market!
While working on a freelance project this week, I came across this Five Spice Chicken cooked in a rice cooker, and it looked so good that I decided that I had to try it out myself, except in a slow cooker because I don't yet own a rice cooker.

I fell in love with five spice powder last year when I was writing my cookbook, where I used it to make a quick spice rub for pork chops. It's a heady combination of anise, cloves, cinnamon, and other spices that have both sweet and savory appeal. You can add it to just about anything for an instant boost of intoxicating flavor. I bought my five spice powder at my regular grocery store in the ethnic food aisle, but I've also seen it among more expensive spices in the spice aisle.
I changed up Daily Cooking Quest's original recipe a bit by adding a little soy sauce and brown sugar to the five spice blend and cooked it for four hours in the slow cooker, which left the meat fall off the bone tender. After the meat spent four hours stewing in the spices, I finished it off with a few minutes under the broiler to get that nice brown crispy skin.
I paired the chicken with my favorite Yellow Jasmine Rice and had a meal fit for a queen! I'm going to be experimenting with a salad to go along with the two this weekend, so stay tuned!

Slow Cooker 5 Spice Chicken
This Slow Cooker Chinese 5 Spice Chicken is tender, juicy, and infused with intoxicating flavor.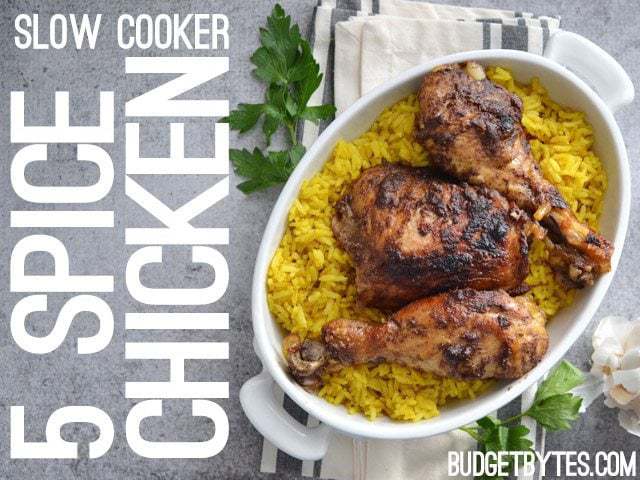 Ingredients
2

cloves

garlic, minced

($0.16)

2

inches

fresh ginger, grated

($0.22)

2

Tbsp

vegetable oil

($0.04)

1/2

tsp

toasted sesame oil

($0.26)

2

Tbsp

soy sauce

($0.20)

2

Tbsp

brown sugar

($0.06)

2

Tbsp

5 spice powder

($0.60)

4

lbs

bone-in skin-on chicken pieces

($7.22)

1

medium onion

($0.36)

2

Tbsp

rice wine**

($0.27)
Instructions
To make the spice rub, combine the garlic, ginger, vegetable oil, sesame oil, soy sauce, brown sugar, and 5 spice powder in a small bowl. Stir until combined. (Grate the ginger using a small holed cheese grater, or mince with a knife.)

Rub the spice mixture all over the chicken pieces, getting between the skin and meat whenever possible.

Dice the onion and place it in the bottom of the slow cooker. Pour the rice wine over the onion, then layer in the chicken pieces. Make sure the chicken pieces are closely packed in the cooker. Cover the slow cooker and cook on high for four hours.

After four hours, the chicken will be very soft and tender. Use tongs to carefully remove the chicken from the liquid in the slow cooker and place them on a baking sheet. Adjust your oven rack so that the top of the chicken will be 5 inches from the broiler (the broiler's heat element is usually on the roof of your oven). Broil the chicken on high for 5 minutes, or until the skin is brown and crispy. Keep a close eye on the chicken while it's under the broiler because every broiler is slightly different and it can burn quickly.
See how we calculate recipe costs here.
---
Notes
**If you don't have rice wine or can't find it, you can use a dry white cooking wine or chicken broth in its place.
Nutrition
Serving:
1
Serving
Calories:
364.43
kcal
Carbohydrates:
5.64
g
Protein:
47.95
g
Fat:
16.89
g
Sodium:
769.68
mg
Fiber:
1.08
g
Read our full nutrition disclaimer here.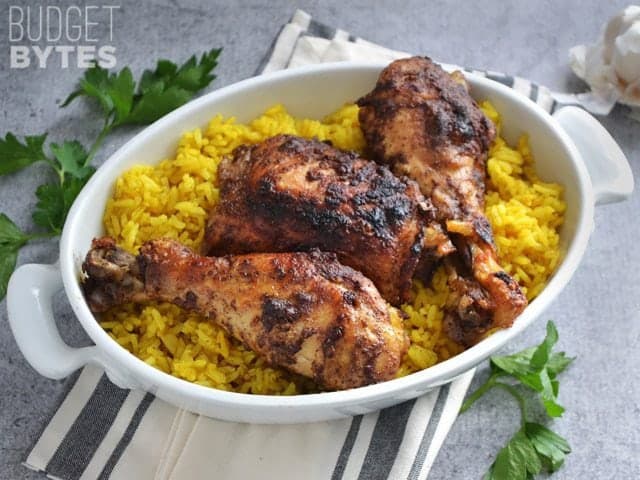 Pictured with Yellow Jasmine Rice.
How to Make 5-Spice Chicken – Step by Step Photos

First make the five spice rub by combining 2 cloves of minced garlic, about 2 inches of fresh ginger (grated on a cheese grater or minced with a knife), 2 Tbsp vegetable oil, 1/2 tsp toasted sesame oil, 2 Tbsp soy sauce, 2 Tbsp of brown sugar, and 2 Tbsp of Chinese five spice powder.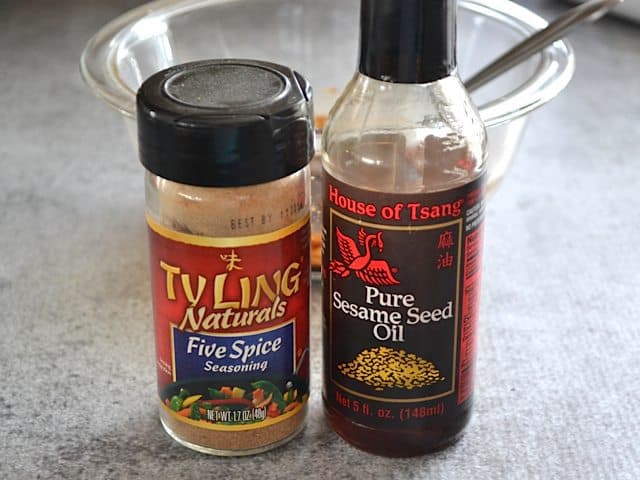 For reference, here is the five spice powder that I used and the toasted sesame oil. This really isn't the best five spice powder, but it works. I found it in the ethnic foods aisle at my local grocery store, but you can sometimes find it among the fancier spices in the spice aisle. Toasted sesame oil has a deep brown color and a VERY strong, toasty aroma. If it's clear, it's not toasted.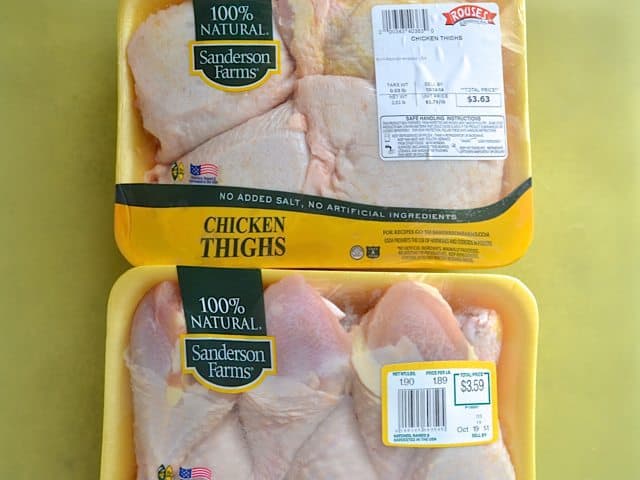 I used four pounds of chicken pieces, which was 6 drumsticks and four thighs. I could have bought a split chicken and had two breasts, two thighs, two wings, and two drumsticks for the same price, but I preferred the thighs and drumsticks.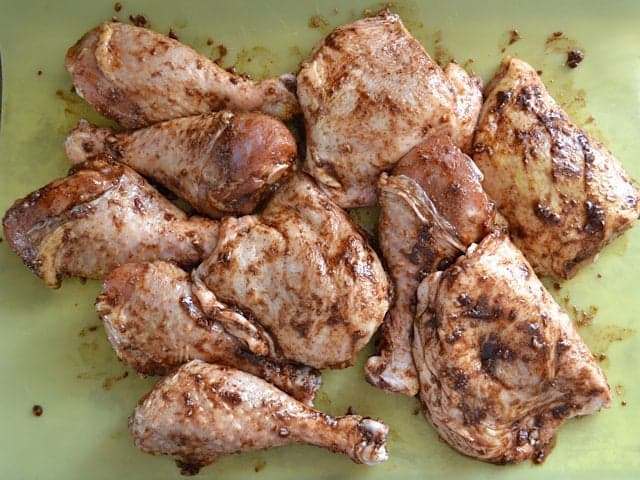 Coat the chicken really well in the spice rub. If the skin is lifting in some parts, try to smear it between the skin and meat.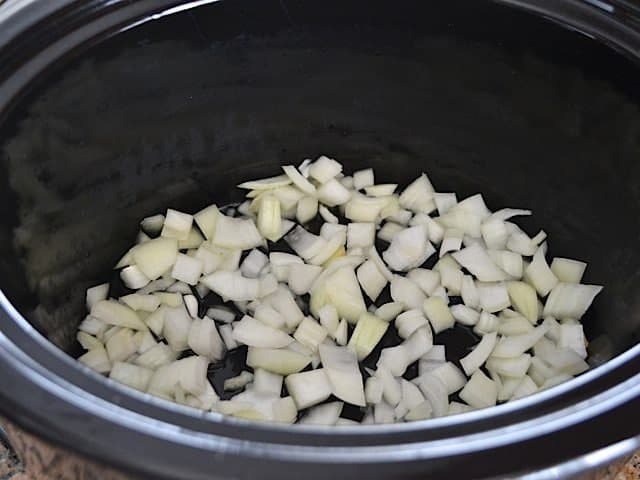 Dice one yellow onion and add it to the bottom of the slow cooker. Pour two tablespoons of rice wine over the onions. If you don't have rice wine, you can use a dry white wine or even a little chicken broth. The liquid helps make a flavorful steam to infuse the chicken.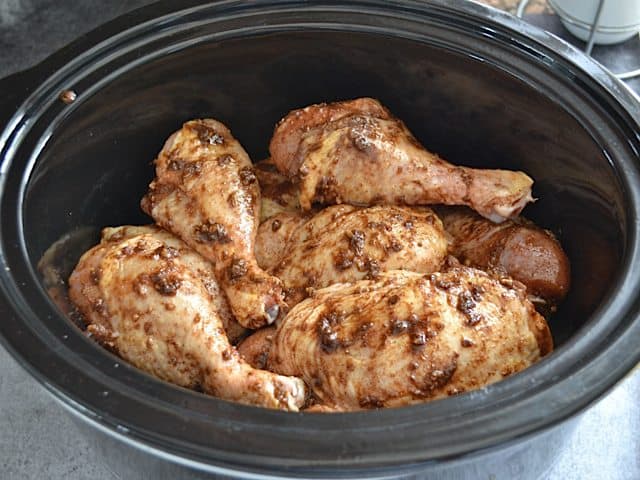 Layer the seasoned chicken in the slow cooker, making sure the pieces are tightly packed. Place the lid on the slow cooker and cook on high for four hours.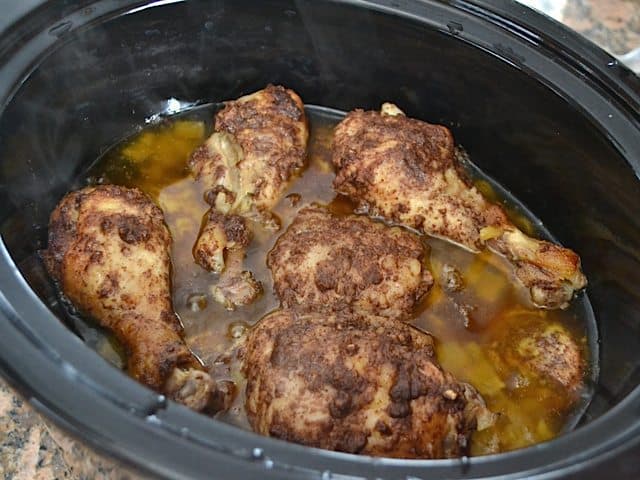 As they cook, the chicken pieces will give off quite a bit of moisture. The chicken stews in the liquid and becomes super tender and juicy. YUM.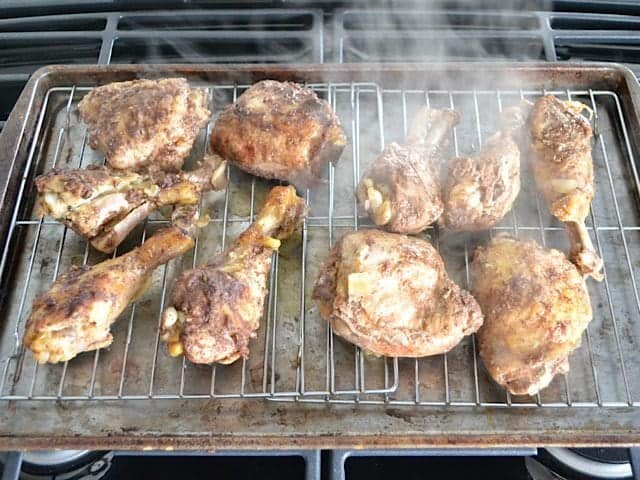 But, you don't want the skin to be soggy, so carefully lift the chicken pieces out of the slow cooker using tongs. Place the chicken pieces on a baking sheet (I used cooling racks on top of the sheet, but it wasn't really necessary). Adjust your oven rack so that the top of the chicken will be about 5 inches away from the broiler.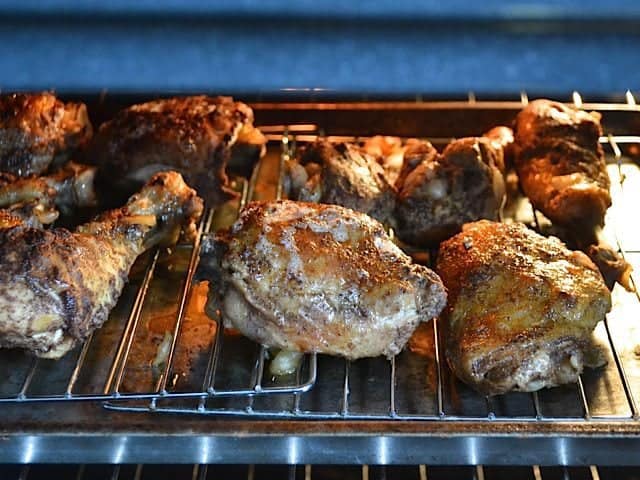 Set the broiler to high and broil the chicken for about 5 minutes, or until it's deep brown and a little crispy. Watch the chicken closely, because it's easy to burn things under the broiler (plus, every broiler is just a bit different).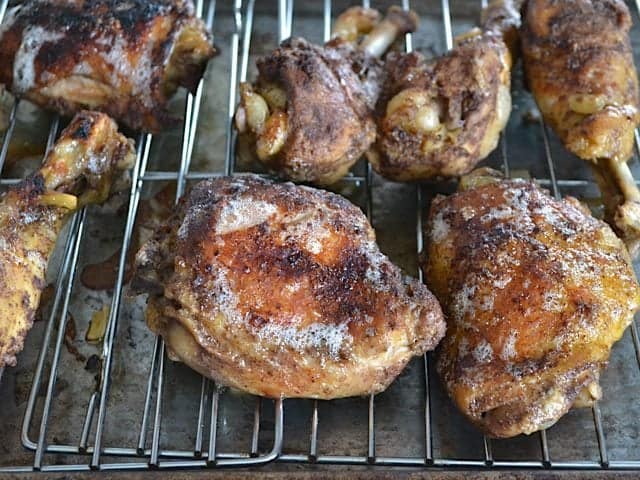 And then you have gorgeous brown, flavorful, and tender chicken! I ate one right out of the oven… couldn't wait!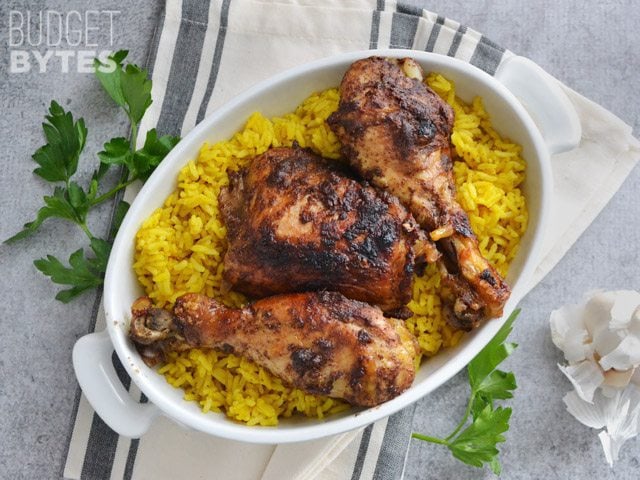 As mentioned earlier, I served this with my Yellow Jasmine Rice. A perfect pair!