Hooray for quick skillet dinners! This one is so fantastically easy that it kind of feels like cheating. Between the Italian sausage and marinara sauce, the dish has all of the seasoning built in, so you don't even have to measure out any extra herbs or spices. You're pretty much just heating it all together and then it's ready to eat!
You can bulk this recipe out further and probably make about 6 decent sized servings by stirring in some cooked pasta (I'd use 1/2 lb. dry), or by spooning this mixture over a bed of rice. It's a pretty filling mix of ingredients, so I just skipped both and ate it plain. Not a fan of chickpeas? White beans would probably be pretty awesome in this, too.
Want to try a vegetarian version? I think sautéed eggplant or mushrooms would be a great replacement for the sausage, but you'll want to add a teaspoon or so of Italian seasoning blend to make up for the lost spices. You'll also need a little olive oil to sauté them in. I really can't wait to try it with eggplant!
Sausage & Kale Skillet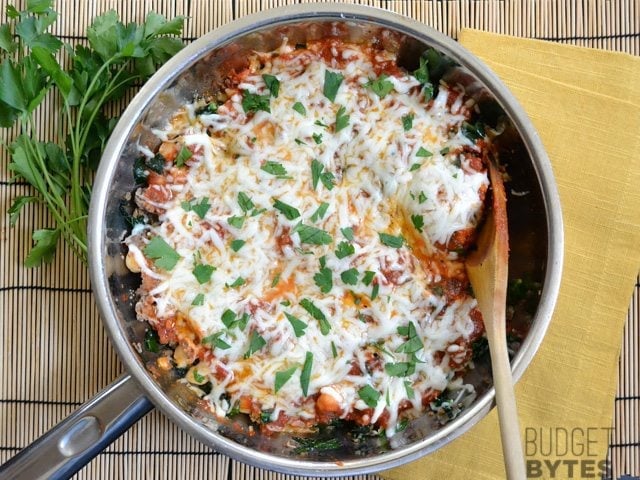 Sausage and Kale Skillet
This super fast Sausage and Kale Skillet is a flavorful and hearty weeknight dinner. Add pasta to stretch it even further.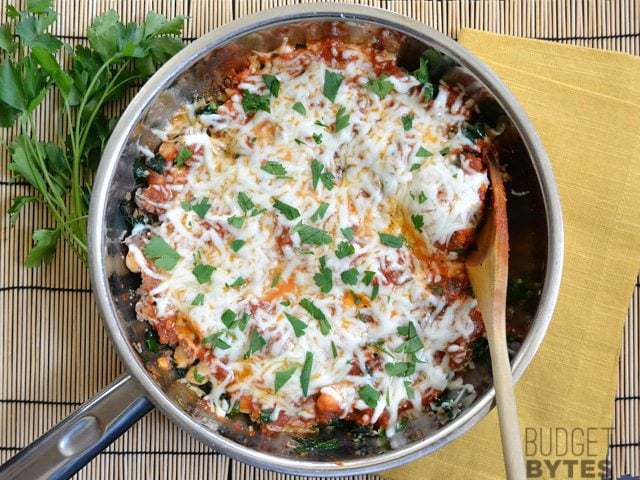 Ingredients
1/2

19oz. package

Italian Sausage

($2.25)

1

bunch

kale

($0.99)

1

15oz. can

chickpeas

($1.00)

1

cup

marinara sauce

($0.88)

1

cup

shredded mozzarella

($0.90)
Instructions
Squeeze the sausage from the casings into a large skillet (freeze the remaining links for later use). Cook the sausage over medium heat until fully brown. Break the sausage up into pieces as it cooks. It's okay if it sticks to the bottom of the skillet a little as it cooks.

While the sausage is cooking, remove the woody stems from the kale, then slice it crosswise into thin strips. Rinse the kale well, then add it to the skillet. Stir it into the sausage and continue to cook until it is fully wilted (this happens within a few minutes).

Drain and rinse the chickpeas. Add the chickpeas to the skillet and stir to combine. Pour the marinara sauce over the skillet, then top with the shredded cheese. Place a lid on the skillet and let it simmer until the cheese is melted (about 5-10 minutes).
See how we calculate recipe costs here.
---
Nutrition
Serving:
1
Serving
Calories:
519.13
kcal
Carbohydrates:
34.55
g
Protein:
29.45
g
Fat:
29.43
g
Sodium:
1173.23
mg
Fiber:
9.2
g
Read our full nutrition disclaimer here.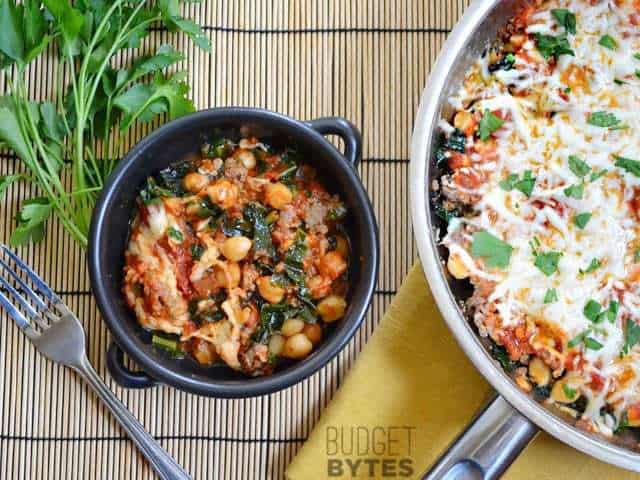 Step by Step Photos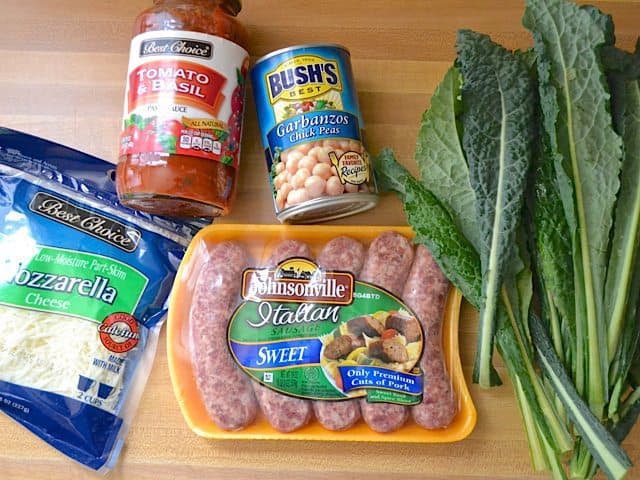 This is all you need for this super quick skillet! I used only half of the sausage (the rest went in the freezer), half of the cheese, and about half of the jar of marinara. I used Lacinato kale (or dinosaur kale) because that's what I had on hand. You can definitely use curly kale in its place with no modifications.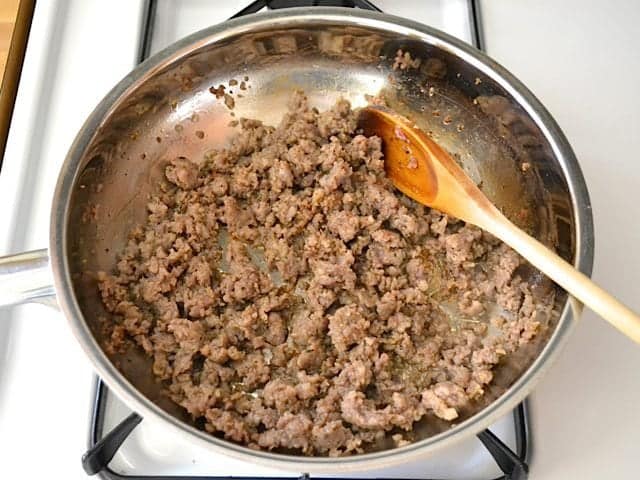 Squeeze half of the sausage into a large skillet and cook it over medium heat until fully browned. I didn't add any extra oil to the skillet because sausage has quite a bit on its own. It's okay if some of it sticks to the bottom of the skillet, it will dissolve off later.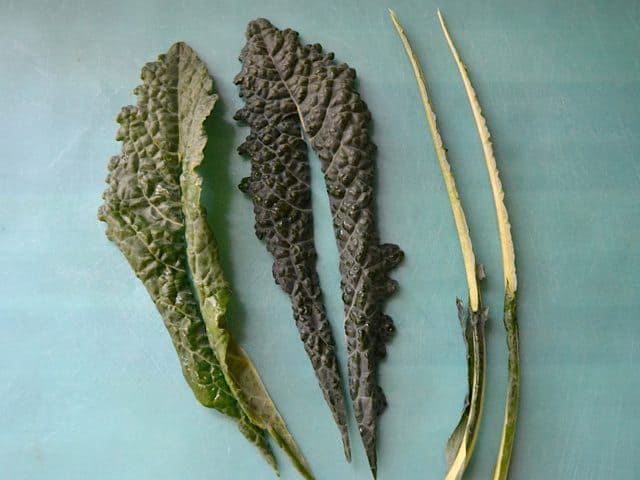 For most kale, the stem is super tough and woody, so you'll want to remove them (especially for curly kale). Just take a sharp knife and run it along the stem to cut it out. Then, stack the leaves and cut across into thin strips.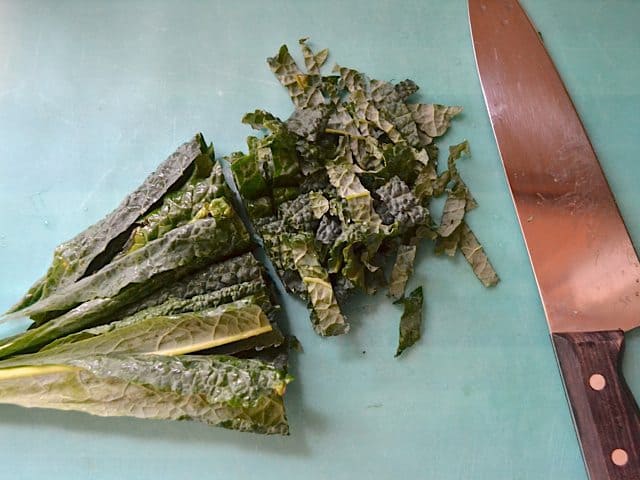 This particular bunch of kale had really soft stems, so I didn't even bother removing them. Stack the leaves and cut across into strips. This will be slightly more difficult with curly kale because it's so fluffy, but you can still do it. It's easiest if you cut each leave into two long pieces when removing the stem. After chopping the kale, make sure to rinse it really, really well.
After the sausage has browned, stir in the kale. Continue to cook and stir until the kale has wilted. This happens pretty fast. It's okay if the kale is still a little wet from rinsing. The water will turn into steam and help it wilt, plus it will help dissolve the browned bits of sausage off the bottom of the skillet.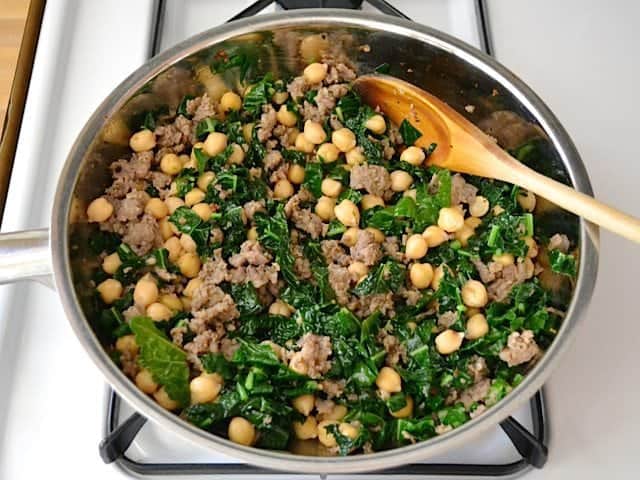 Drain and rinse the chickpeas, then add them to the skillet.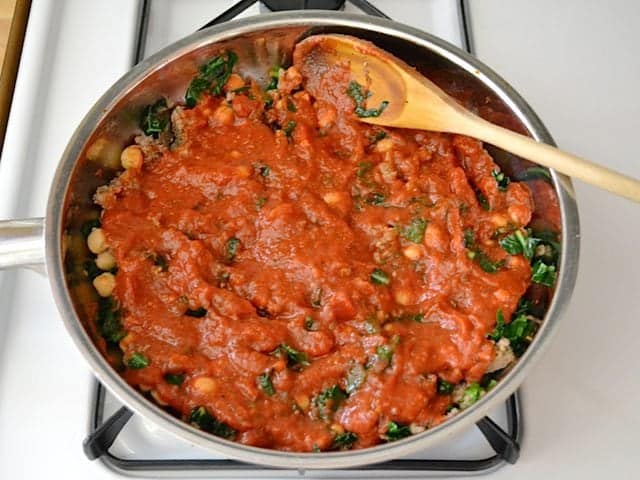 Pour the marinara over top… (you can stir it in, if you want).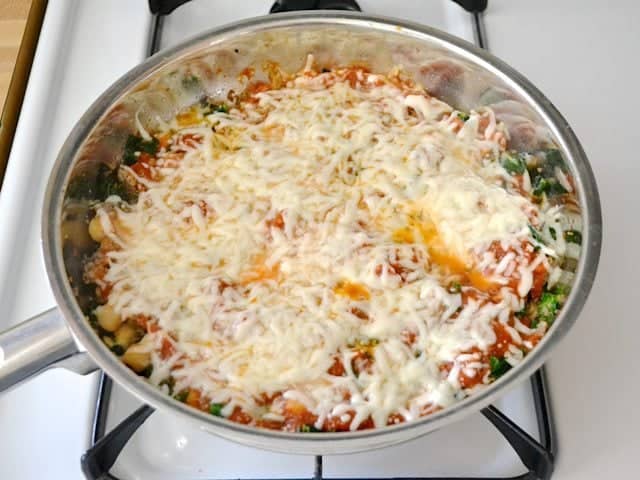 Lastly, sprinkle the shredded cheese over top, cover it with a lid, and let it simmer until the cheese has melted.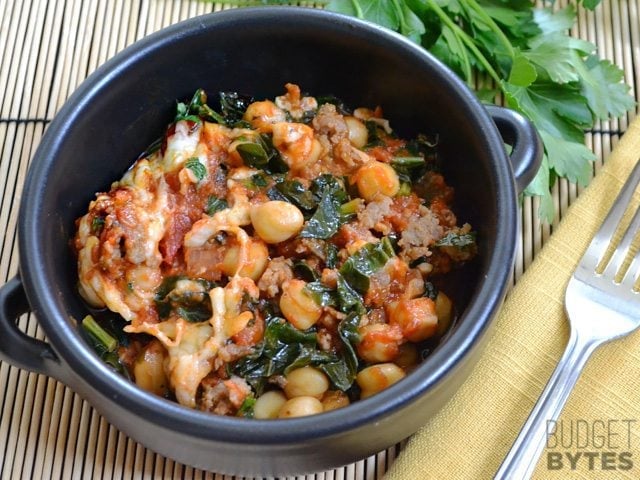 And now it's ready to eat! It may not be the prettiest dish in the world, but OMG is it ever flavorful and filling!