Let me start by saying, this is not authentic phở. This is "I need something that tastes good, is fast, has noodles, and kind of tastes like phở." AKA Quickie Faux Phở. It does the job in a pinch when you can't get the real thing. Kind of like what those 15¢ packs of ramen are compared to real ramen—not really even in the same class, but it only takes 15 minutes to make and sometimes that's what's important.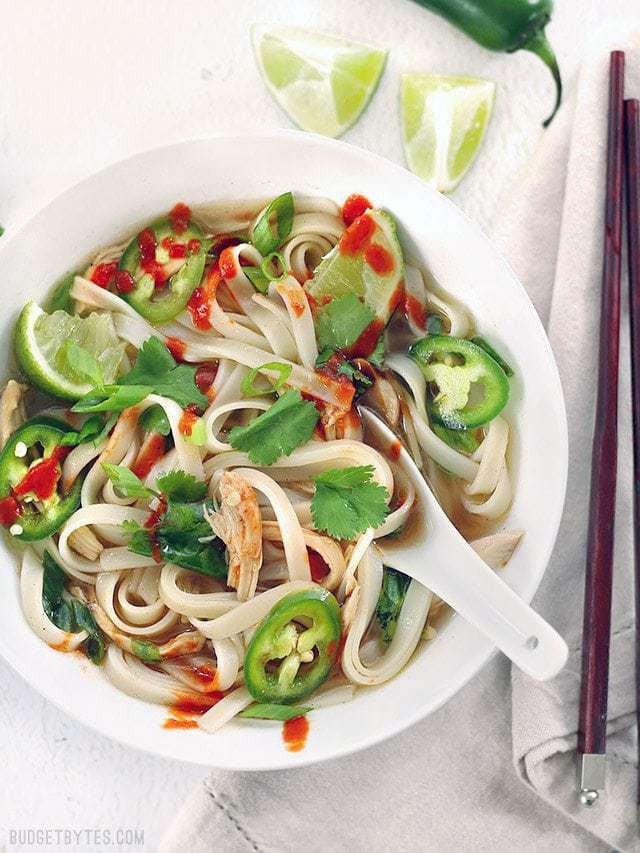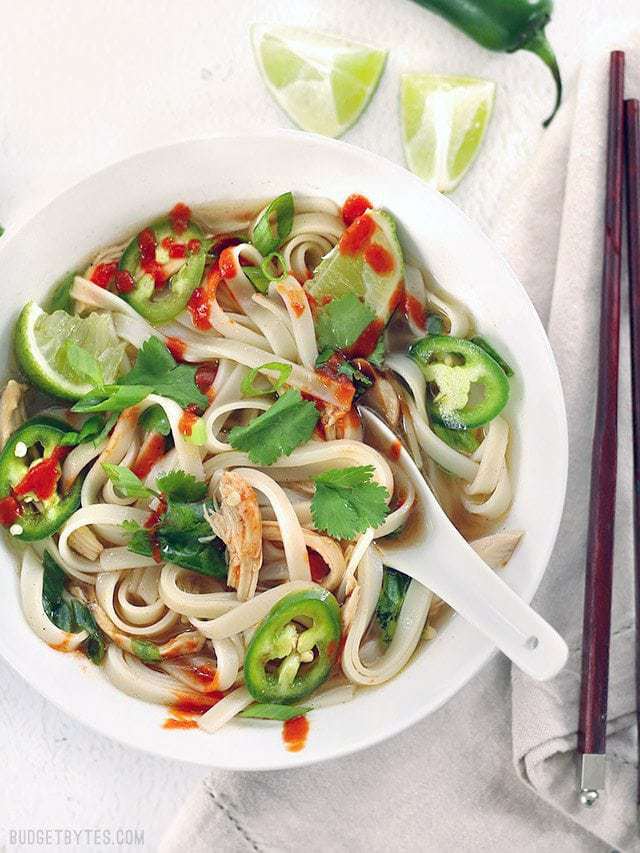 What is Phở?
Well basically, phở is the best food on earth (sorry pizza, it's true). Phở is a Vietnamese noodle soup made with a super lush bone broth, tender meat, and a whole lot of delicious fresh toppings like Thai basil, cilantro, bean sprouts, lime, and thinly sliced jalapeñ0. The flavors are absolutely divine and it will cure any ailment you have, physical, emotional, or spiritual.
Why Not Make Authentic Chicken Phở?
I've had many people ask me to make phở for the blog over the years, but I've avoided it, despite my deep love for the amazing soup. We have a large Vietnamese population here in New Orleans, so it's just too easy to get a giant bowl of super authentic, perfectly made phở for really cheap. I'd rather do that once in a while than gather all the ingredients and go through the laborious process to make it myself at home. Sometimes effort > savings, ya know?
But then one day I accidentally discovered that adding five spice blend to chicken broth makes a tasty concoction that tastes awfully similar to phở, and here we are. If you'd rather try your hand at making the real thing, I suggest checking out Steamy Kitchen. Jaden has two great chicken phở recipes, one for a slow cooker and one stove top.
Anyway, are you ready to see how to get phở flavor but FAST?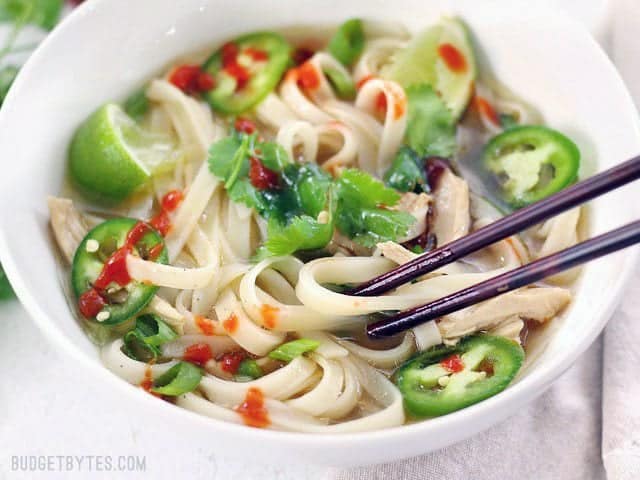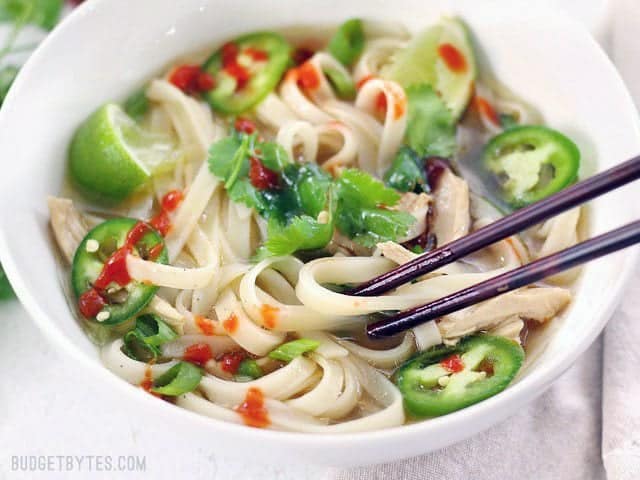 Quickie Faux Phở
Quickie Faux Phớ is the next best to the real thing when you're short on time. Hot broth, tender noodles, and tons of fresh toppings!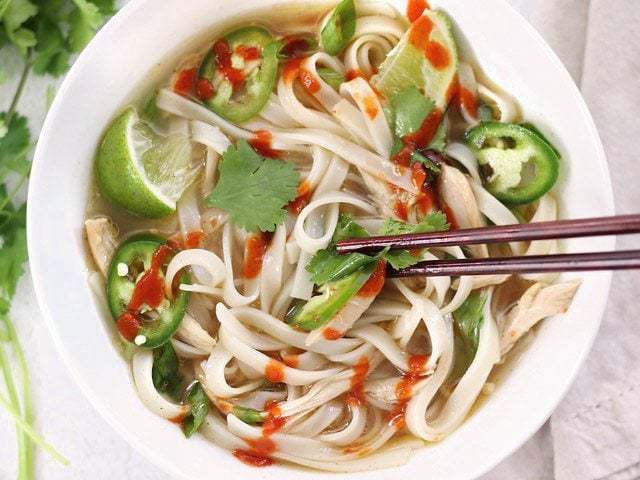 Ingredients
SOUP
6

cups

chicken broth*

($0.78)

1/2

Tbsp

five spice blend

($0.15)

1

cup

cooked chicken, shredded or chopped

($1.50)

8

oz.

wide rice noodles

($1.75)
TOPPINGS
1

jalapeño

($0.14)

1

lime

($0.50)

2

green onions

($0.20)

1/4

bunch

fresh cilantro

($0.20)

Sriracha to taste

($0.15)

Hoisin sauce to taste

($0.15)
Instructions
Add the chicken broth, five spice blend, and chicken pieces to a large pot. Bring to a boil over medium-high heat. Add the noodles and continue to boil until tender** (about 4-5 minutes).

While the noodles are boiling, slice the jalapeño and green onions, and cut the lime into wedges.

Spoon the broth, noodles, and chicken into four bowls. Top with a couple wedges of lime, a few slices of jalapeño and green onion, and a few sprigs of fresh cilantro. Serve with sriracha and hoisin on the side.
See how we calculate recipe costs here.
---
---
Notes
*Use the best broth or stock available. Since my broth was homemade with scraps and nearly impossible to estimate the cost, I used the price of the store bought broth that I usually use (Better Than Bouillon).
**If you plan to store your soup in the refrigerator, cook and store the noodles separately from the broth. To serve, just place some noodles in the bottom of each bowl and ladle the hot broth over top.
Nutrition
Serving:
1
Serving
Calories:
300.98
kcal
Carbohydrates:
52.23
g
Protein:
15.7
g
Fat:
2.93
g
Sodium:
961.93
mg
Fiber:
2
g
Read our full nutrition disclaimer here.
Scroll down for the step by step photos!
How to Make Faux Chicken Phở – Step by Step Photos
Phở is all about the broth, so use the best stuff you can find–homemade if possible. You'll want about 6 cups for this super fast, small-batch version.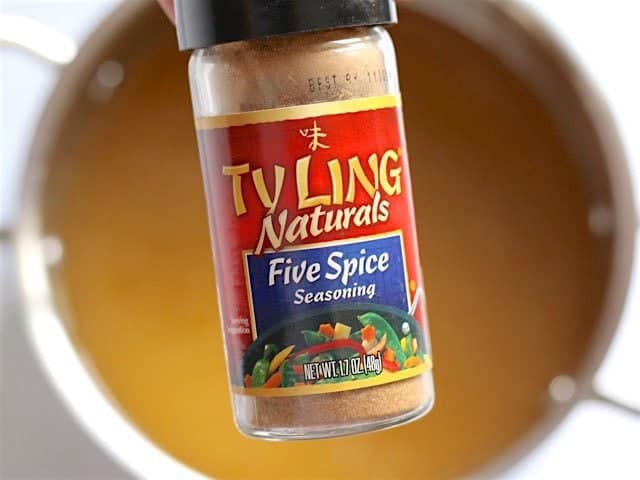 Five spice blend is what transforms a regular chicken stock into a faux phở. The five spices in this blend are anise, ginger, cinnamon, fennel, and black pepper–a very similar mix of spices that you'd use if you were making a phở broth from scratch, and that's why this works. It's a huge short cut. I used 1/2 Tbsp for 6 cups of broth, but you can always add more later if you'd like.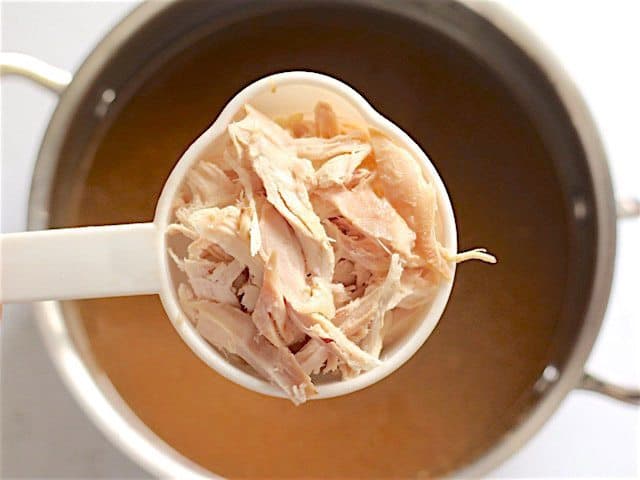 Also add about 1 cup of shredded or chopped pre-cooked chicken. Bring the broth to a boil over medium-high heat.
You'll need some wide rice noodles for your phở. I used half of this package for four servings, or 8oz. total.
You can either drop the noodles right into the boiling soup to cook them, or cook them separately so they don't get mushy when you store the phở in the refrigerator. If you cook and store the noodles separately, just plop some of the cooked and drained noodles in the bottom of each bowl and ladle the hot broth over top. The noodles only take 4-5 minutes to cook.
While the noodles are cooking, prepare the garnishes. There are a lot of different garnishes that can go into phở, but I kept it simple to keep the price down. The three things that are critical, IMHO, are lime, cilantro, and jalapeño. I also did green onion because I had it on hand, and I like to add sriracha and hoisin.
To serve, start your bowl with the broth, noodles, and chicken.
Next, drop in a couple lime wedges, add a few slices of jalapeño and green onion, and a few sprigs of fresh cilantro.
Finally, finish it off with the sauces. If you're a phở fanatic like me, you know that the longer these things sit in the broth, the better it gets. So, by the time you get to the bottom of that bowl you're in absolute heaven. Leftovers are also pretty amazing.
It might not be the real thing, but I certainly wouldn't say no to a big bowl of that Quickie Faux Phở!