Have you ever had a recipe call for just a partial can of pumpkin purée? And then you're like, "well, what am I going to do with the rest of this??" Instead of searching for a recipe that calls for the exact amount of pumpkin purée that you have leftover, I like to add a little to my morning oats. You can add a spoonful or two to a bowl of hot oats (with cinnamon and brown sugar) or you can make up some of these Pumpkin Pie Overnight Oats. These overnight oats are also a great way to get that fall flavor if you live in a region where it's still quite warm this time of year. 🤪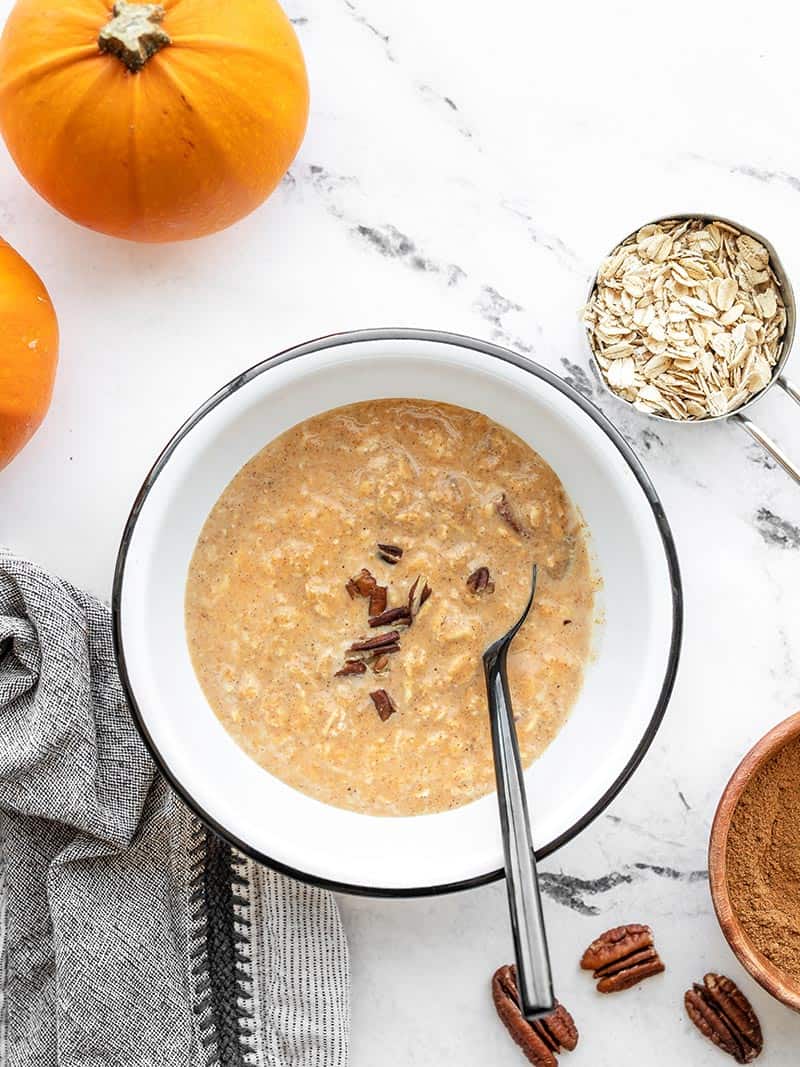 Make One or More!
The recipe listed below is for a single serving of overnight oats, but you can make up to four at a time. The overnight oats will stay good in your fridge for 4-5 days, so make as many or as few as you want or need. To adjust the ingredients below to make more servings at once, simply change the number in the "servings" box and the rest of the ingredients will auto adjust.
Do You Eat Overnight Oats Hot or Cold?
You can eat these pumpkin pie overnight oats either hot or cold. As the oats soak they absorb liquid and soften just like they do when cooked. So the overnight oats are ready to eat after soaking for about eight hours, or you can pop them in the microwave for about a minute or so to warm through. They're great both ways!
Adjust the Sweetness
If you've been following this blog for a while, you know that I don't like things that are too sweet, so the amount of brown sugar listed in the recipe below sweetens the oats just slightly. If you want a more dessert-like sweetness, I suggest adding more brown sugar to your liking. The sugar does not need to be added in the beginning, so you can start with the ½ Tbsp listed below and add more just before eating to make it the sweetness that you desire.
Other Add-ins
You can have some fun with these overnight oats and add in some more fun ingredients if you have them on hand. I think a few raisins would be pretty awesome, as would some pepitas (shelled pumpkin seeds). A splash of vanilla extract can also make these overnight oats taste a little more creamy.
Make Them Vegan or Dairy Free
The best thing about overnight oats is that they work just as well with non-dairy milk as they do with dairy milk, so use your favorite almond, soy, coconut, cashew, or other non-dairy milk in place of the milk listed in the recipe below.
Can I Use Quick Oats or Steel Cut Oats?
You can make this with quick oats, but I find old-fashioned rolled oats to give the best results because they have a thicker, chewier texture. Quick oats will have a softer, mushier texture after soaking. Steel cut oats require a lot more liquid and a much longer soaking time to soften, so I don't recommend them for this recipe.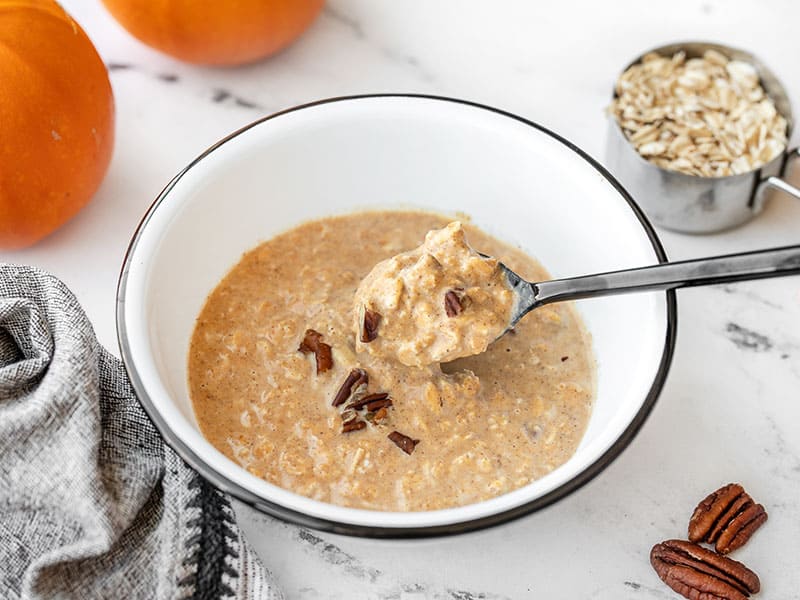 Pumpkin Pie Overnight Oats
Pumpkin Pie Overnight Oats are a great way to use up leftover pumpkin purée and are a delicious make-ahead breakfast for busy mornings.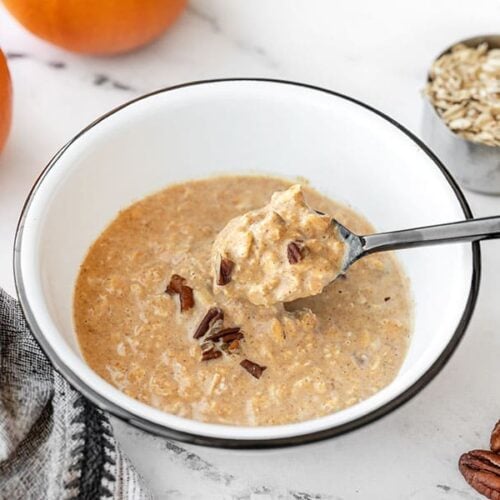 Ingredients
1/3

cup

old-fashioned rolled oats

($0.44)

1/2

tsp

pumpkin pie spice

($0.05)

1

Tbsp

chopped pecans

($0.13)

1/8

tsp

salt

($0.01)

1/4

cup

pumpkin purée

($0.12)

1/2

Tbsp

brown sugar

($0.02)

1/2

cup

milk*

($0.18)
Instructions
Add the rolled oats (uncooked), pumpkin pie spice, salt, and chopped pecans to a jar or other resealable container. Top with the pumpkin purée, brown sugar, and milk. Close the container and refrigerate overnight or up to five days.

Before eating, stir the contents of the jar until evenly combined. Enjoy cold or microwave until warmed through.
See how we calculate recipe costs here.
---
---
Notes
*Use your milk of choice (dairy or non-dairy). The nutrition stats for this recipe are calculated using whole milk.
Nutrition
Serving:
1
bowl
Calories:
293.86
kcal
Carbohydrates:
42.24
g
Protein:
9.85
g
Fat:
11.88
g
Sodium:
350.34
mg
Fiber:
6.38
g
Read our full nutrition disclaimer here.
See how to make your own Homemade Pumpkin Pie Spice here!
How to Make Pumpkin Pie Overnight Oats – Step by Step Photos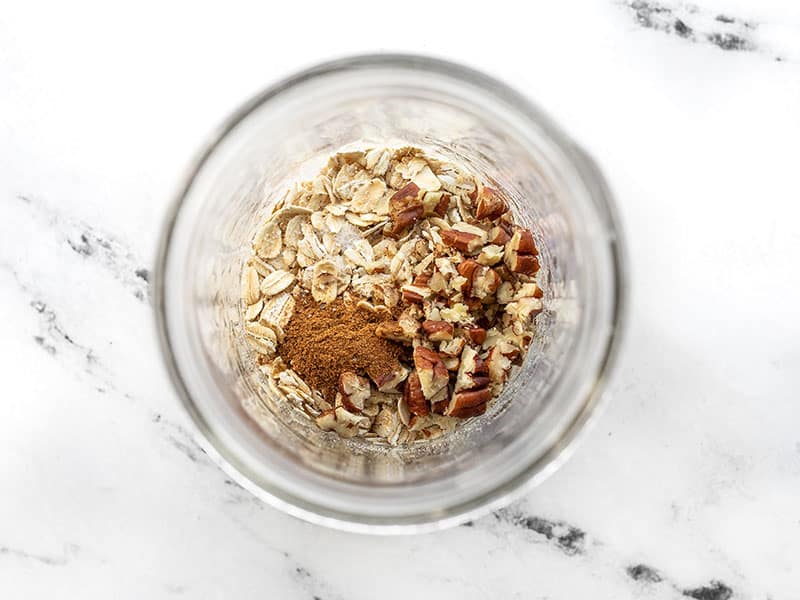 Add 1/3 cup old-fashioned rolled oats to a jar or another resealable container, along with 1/2 tsp pumpkin pie spice, 1/8 tsp salt, and 1 Tbsp chopped pecans.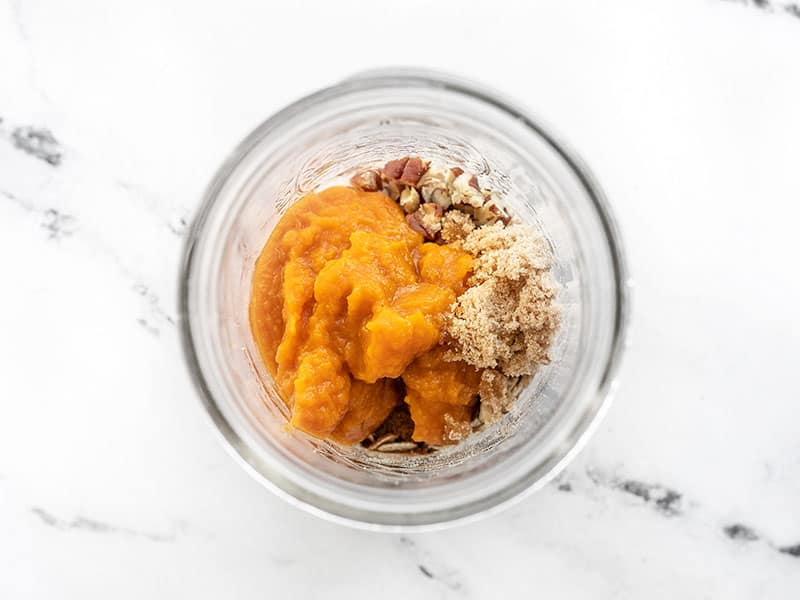 Add 1/4 cup pumpkin purée and 1/2 Tbsp of brown sugar to the jar.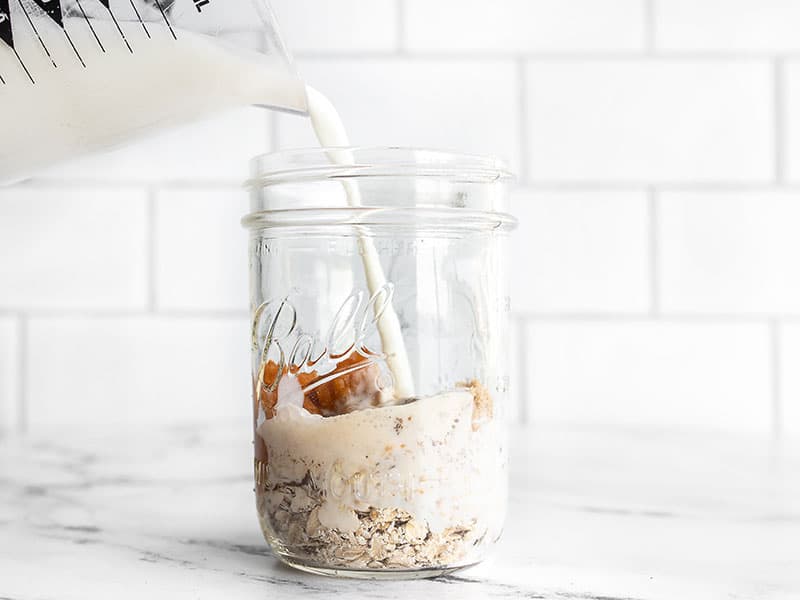 Add 1/2 cup of milk of your choice to the jar (I used whole milk).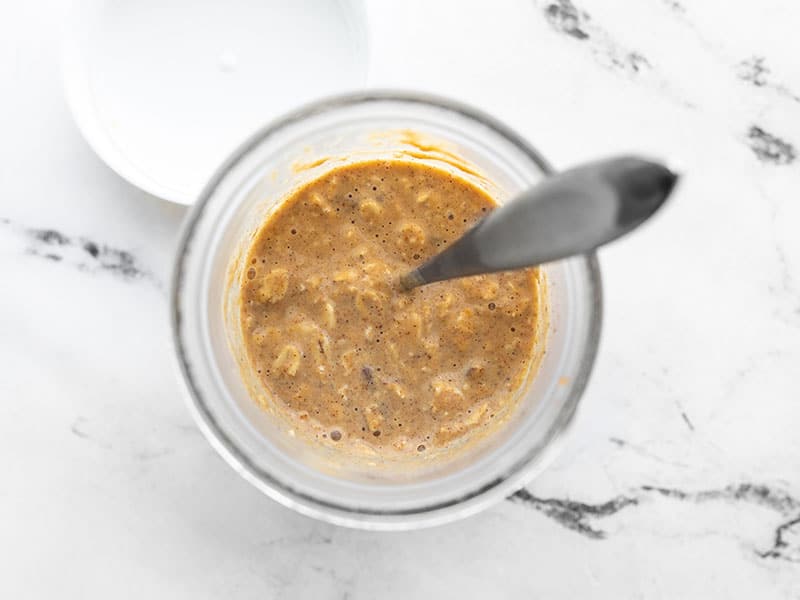 Close the container and refrigerate at least 8 hours, or up to five days. When you're ready to eat, stir up the contents of the container until everything is well mixed.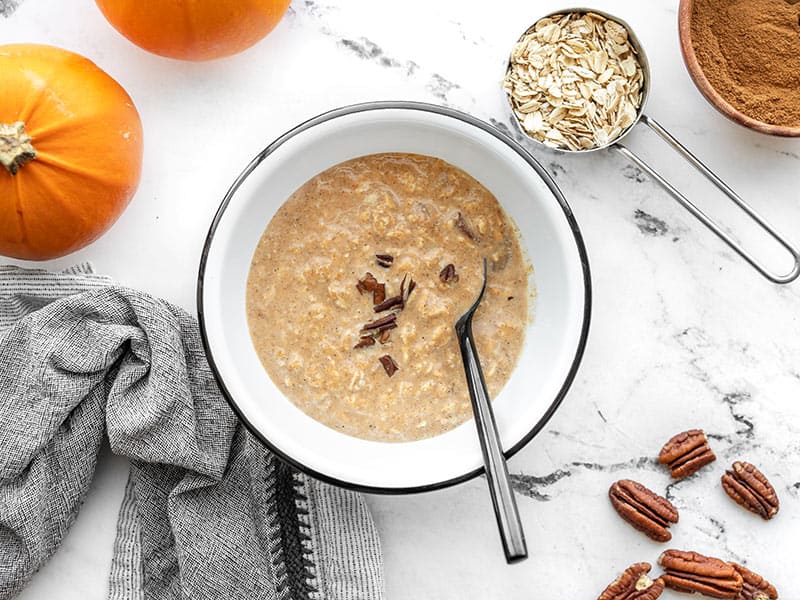 Enjoy the pumpkin pie overnight oats cold straight out of the jar, or microwave until warmed through!
TRY THESE OTHER OVERNIGHT OATS RECIPES: