I LOVE quesadillas. Crispy on the outside, all warm and melty on the inside… Oh so good. While I don't think I can top my favorite black bean quesadillas, these mediterranean quesadillas are an excellent alternative when I have Tex-mex burnout. …because when you eat as much chili powder and cumin as I do, burnout does happen.

The trick to making these quesadillas affordable is to choose the filling ingredients based on what is priced good in your local stores. For instance, I really, really wanted those little tangy roasted tomatoes packed in oil, but I couldn't find them for any less than $5. Instead, I was able to find a large jar of roasted red peppers for just $1.89. You can and should play around with the filling components. Some other ideas include: roasted garlic, garbanzo beans, roasted or sun dried tomatoes, pine nuts, fresh basil, zucchini, or eggplant.
When I buy an ingredient for a recipe, I prefer to use the whole container to prevent odds and ends that get wasted. With this recipe, I've used small amounts of very flavorful ingredients that also happen to be pricy (feta, kalamata olives, roasted red peppers). Luckily, these ingredients also stay fresh in the refrigerator for greater lengths of time than most fresh ingredients, giving me more time to use them up. Use the extras for salads, frittatas, or sandwiches.
Mediterranean Quesadillas
Mediterranean quesadillas filled with a mix of spinach, feta cheese, olives, tomatoes, and red onion.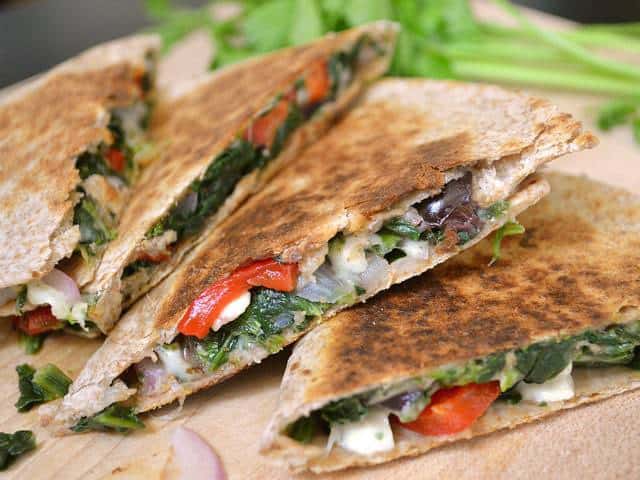 Ingredients
10

8 inch flour tortillas

($1.93)

1

lb.

frozen chopped spinach

($1.49)

1

small red onion

($0.77)

1/2 12 oz.

jar

roasted red peppers

($0.85)

1/3 9.5 oz.

jar

kalamata olives

($1.66)

handful fresh parsley, optional

($0.43)

4

oz.

feta cheese, crumbled

($1.74)

8

oz.

shredded mozzarella

($2.50)

1

tsp

dried oregano

($0.05)
Instructions
Thaw the frozen spinach and then place in a colander. Press the spinach against the sides of the colander to squeeze out as much moisture as possible. Place the drained spinach in a large bowl.

Cut the red onion into very thin slices. Cut the roasted red pepper into small strips, roughly chop the kalamata olives, and roughly chop the parsley. Place all four ingredients in the bowl with the spinach.

To the bowl also add the oregano, crumbled feta, and shredded mozzarella. Stir very well until everything is evenly distributed.

Divide the filling among all ten tortillas, spooning it into one half and then folding the bare half over top (I used roughly 3/4 cup per tortilla). Heat a non-stick skillet over medium to medium/low heat. Cook the quesadillas on each side until the outside is golden brown and crispy and the cheese inside has melted.
See how we calculate recipe costs here.
---
Notes
These quesadillas can also be frozen prior to cooking and then warmed in a skillet straight from the freezer. When cooking the quesadillas from the frozen state, use a lower heat to allow the inside time to thaw and melt before the outside becomes crispy.
Nutrition
Serving:
1
Serving
Calories:
166.92
kcal
Carbohydrates:
7.27
g
Protein:
9.31
g
Fat:
11.59
g
Sodium:
709.22
mg
Fiber:
2.58
g
Read our full nutrition disclaimer here.
How to Make Mediterranean Quesadillas – Step By Step Photos

For this recipe, I prefer the "cut spinach" that comes frozen in a bag rather than the kind that comes in a frozen block. This type of frozen spinach is cut into smaller pieces, is less stringy, and seems to have less moisture to squeeze out. Allow the spinach to thaw completely before you begin.

Place the thawed spinach in a colander and press it against the sides to squeeze out as much moisture as possible. Soggy quesadilla = bad.

Roughly chop the parsley and kalamata olives. Cut the red onion into very thin strips. Slice the roasted red pepper into thin strips as well. You want small pieces so that every bite gets bits of multiple ingredients.

In a large bowl, combine the squeezed spinach, red onion, kalamata olives, roasted red pepper, and parsley. Stir well.

Next, add the crumbled feta, shredded mozzarella, and dried oregano. Stir very, very well to make sure everything is evenly mixed.

Divide the filling among all ten tortillas. Spread the filling over one half of the tortilla and then fold the empty half over top.

I like to fill all ten at once (stacking them as I go to keep them out of the way) so that I can adjust the amount in each if I end up with too much filling at the end or not enough. I started out with a heaping half cup for each but had some left over at the end so I went back and put a little more into each one.

To cook the quesadillas, place them in a warm skillet and cook on each side until the outside is golden brown and crispy and the cheese has melted on the inside. I prefer to use some sort of non-stick skillet but if you don't have one, just give a regular skillet a quick spritz of non-stick spray.

To cut the quesadillas, use a sharp pizza slicer and cut into thirds.

Oh yum, yum, yom, nom, NOM!