Have you ever checked out Food52.com? They have really simple, elegant recipes and I love browsing through their beautiful photographs. The other day while perusing through their stuff I saw this recipe for One Pot Kale and Quinoa Pilaf and thought it looked like the perfect recipe to help me out with my focus on vegetables for the new year. I love that the kale and quinoa cook together in one pot, making it quick and easy, and I love just about anything with lemon, so making this Lemony Kale and Quinoa Salad was pretty much a no brainer.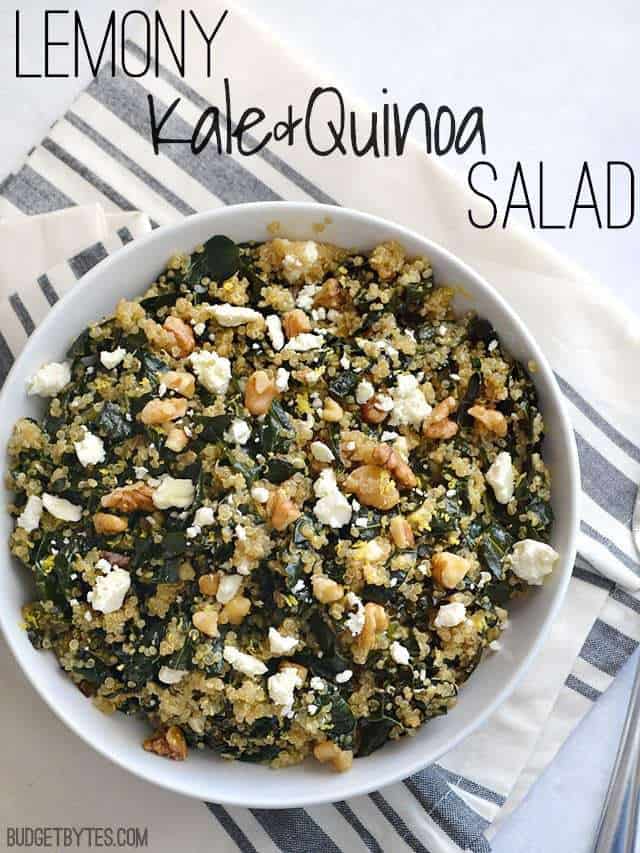 I changed a few things in the recipe to fit my needs (as usual) and I loved the results. I cooked the quinoa in vegetable broth instead of salted water, used a regular lemon instead of a meyer lemon, subbed walnuts for the pine nuts (and nixed the walnut oil), and lastly, used a little crumbled feta in place of the goat cheese (even though I do love goat cheese). The end product is a flavorful and filling warm quinoa salad (or pilaf) with multiple layers of unique flavors. I'm eating straight out of a bowl by itself, but it would also make a great bed for some grilled chicken or fish. #lovingit!
Quinoa isn't exactly cheap, but because this recipe didn't use a lot, I was still able to make it fit in my budget. If quinoa doesn't work for you, couscous makes a great inexpensive alternative (plus it cooks in about 10 minutes instead of 15). You could even use orzo if you can't find cous cous!
P.S. Did I mention that you can eat it hot or cold? I just had seconds and didn't even bother heating it up. Still delicious!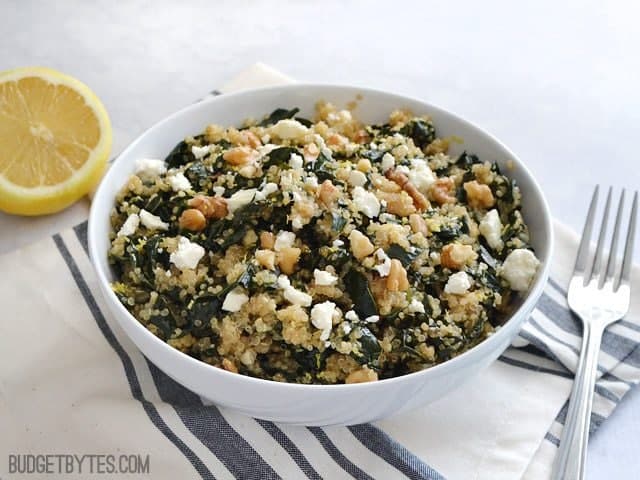 Lemony Kale and Quinoa Salad
This brightly flavored kale and quinoa salad is a great way to work extra greens into your meal. Serve it cold like a salad or as a warm side dish.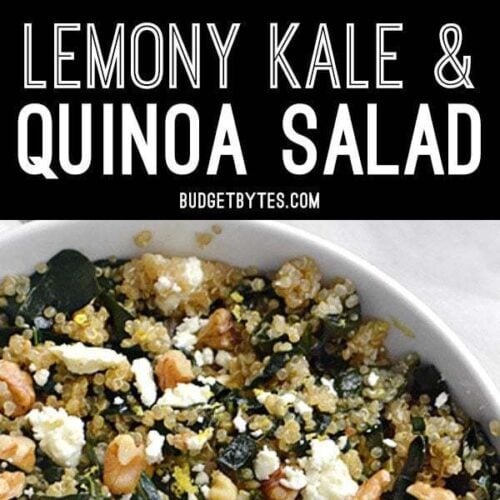 Ingredients
1

Tbsp

olive oil

($0.16)

2

cloves

garlic

($0.16)

1/2

bunch Dinosaur/Lacinato Kale*

($0.49)

1 1/2

cups

vegetable broth

($0.23)

1

cup

uncooked quinoa

($2.09)

1

fresh lemon

($0.69)

1/4

cup

chopped walnuts

($0.59)

1

oz

crumbled feta

($0.56)
Instructions
Rinse the quinoa well with cool water to remove the saponins, a natural coating that can taste bitter. Remove the stems of the kale leaves by running a sharp knife along both sides of each stem. Cut each leaf in half lengthwise, then across into 1/2 inch strips. Rinse the kale well in a colander.

Mince the garlic and add it to a large pot with the olive oil. Sauté over medium-low heat for one minute, or until the garlic is slightly softened. Add the rinsed kale and sauté for 2-3 minutes more, or just until the kale has wilted and looks dark green and glossy.

Add the rinsed quinoa to the pot along with vegetable broth. Stir the contents of the pot, place a lid on top, and turn the heat up to medium-high. Let the pot come to a boil. As soon as it does, reduce the heat to low and let it simmer for 15 minutes. Make sure the pot is simmering the whole time.

After 15 minutes, check the quinoa to see if it is done. Each granule should look slightly transparent with a white outer rim. If there is still a considerable amount of broth left in the bottom of the pot, replace the lid and let simmer for a few minutes more. If there is a small amount of liquid, simply remove the lid and sauté for a couple of minutes, or until the excess liquid evaporates.

While the pot is simmering, zest half of the lemon. Chop the walnuts and crumble the feta.

Once the quinoa is cooked and any excess moisture has evaporated, remove the pot from the heat. Sprinkle the lemon zest over the kale and quinoa. Squeeze the juice from half of the lemon over the pot as well. Finally, sprinkle the chopped nuts and crumbled feta on top and serve.**
See how we calculate recipe costs here.
---
Notes
*My kale bunch was exceptionally large, so you may need more depending on the size. Luckily, the amount for this recipe is very flexible.
**If you want even more flavor, you can toast the walnuts in a dry skillet before adding them to the salad.
Nutrition
Serving:
1
Cup
Calories:
272.23
kcal
Carbohydrates:
33.23
g
Protein:
9
g
Fat:
12.58
g
Sodium:
388.9
mg
Fiber:
4.55
g
Read our full nutrition disclaimer here.
How to Make Lemony Kale and Quinoa Salad – Step by Step Photos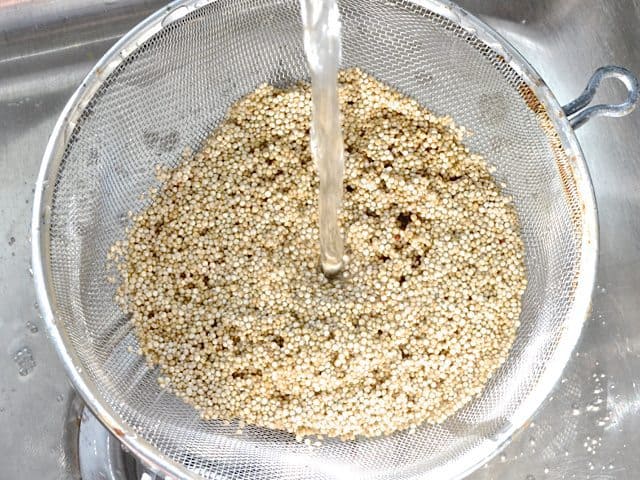 Start by rinsing 1 cup of uncooked quinoa. Quinoa has a natural substance on the outside that can make it taste really bitter, but a good rinse should wash it all away. A fine mesh strainer makes this job easiest, but it can be rinsed in a bowl and the rinse water carefully poured off afterwards.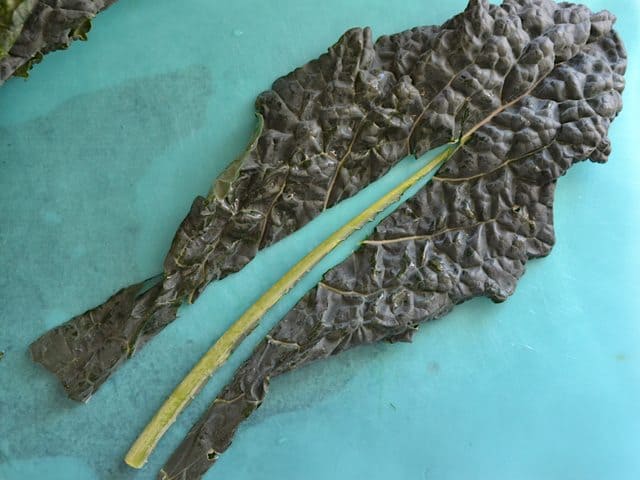 Next you'll need to prep the kale. This bunch of kale that I bought was not only HUGE, but it was only $0.98 cents! I'm not sure if most kale bunches are usually the same size, but this one seemed large and I only ended up using half of it. Luckily, the amount of kale you use for this recipe is very flexible, so if you feel like you can use your entire bunch, go for it. I probably used 6-8 large leaves.
To remove the woody stems, take a sharp knife and run it along both sides of the stem. The stems of Dino kale are much more tender than curly kale, so you don't even have to remove the stem to the very end of the leaf. Just the toughest parts. Once you remove the stem, slice the leaf in half the rest of the way (lengthwise), so you have two long pieces.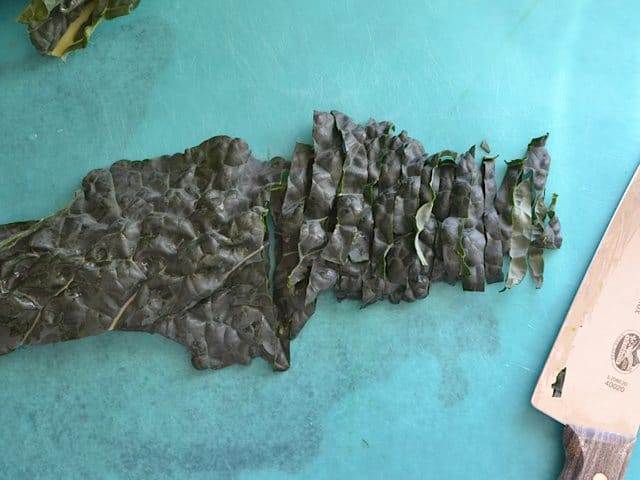 Stack the halved leaves and cut them into thin strips. Place all the strips in a colander and rinse them well.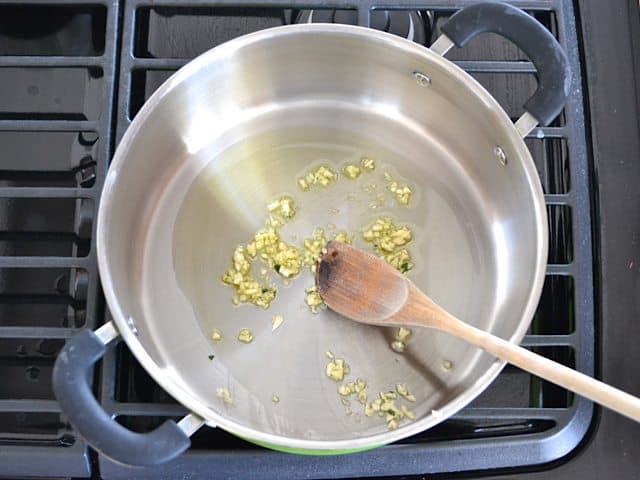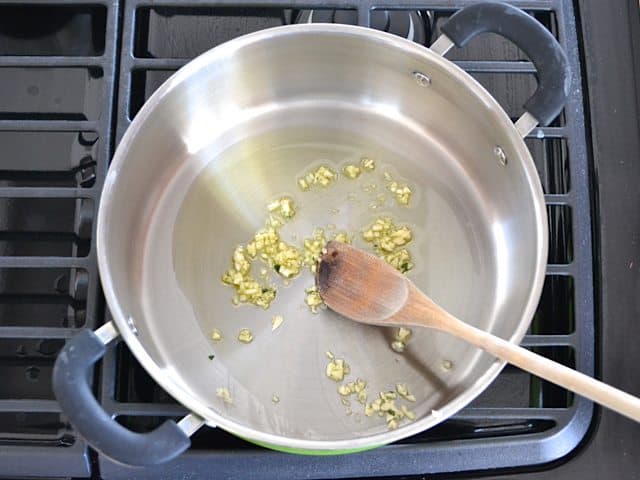 Mince two cloves of garlic and add them to a large pot with one tablespoon of olive oil. Sauté over medium-low heat for about one minute. (Those little dark bits of pieces of kale that were stuck to my knife when I minced the garlic.)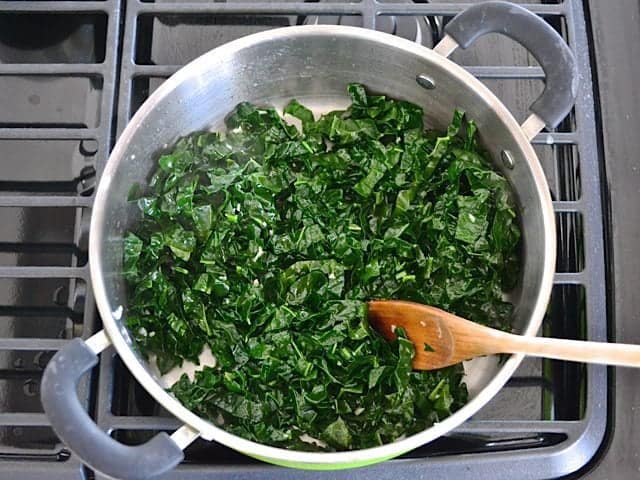 Add the sliced and rinsed kale (it will mostly fill the pot) and continue to sauté for 2-3 minutes, or just until it wilts down and looks tender and glossy.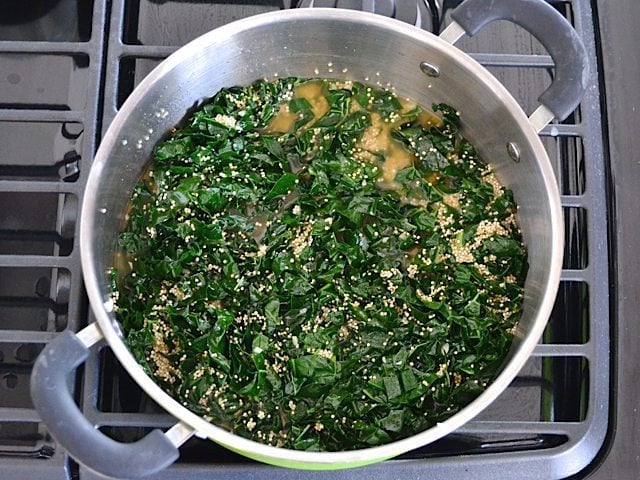 Add the rinsed quinoa and 1.5 cups of vegetable broth to the pot. Stir the contents together, place a lid on top, and turn the heat up to medium-high. Let the pot come to a boil. As soon as it reaches a boil, turn the heat down to low and let it simmer for 15 minutes with the lid in place (make sure it doesn't stop simmering).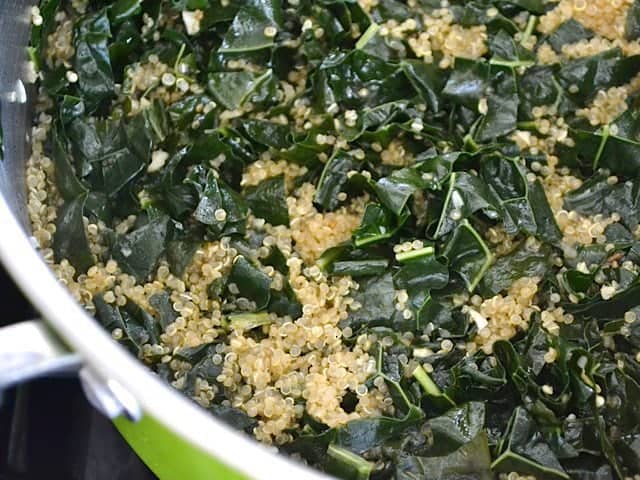 After 15 minutes, the quinoa should be tender and most of the broth absorbed. You can tell the quinoa is done when the center is no longer an opaque white, but looks more like a translucent bead. The outer rim will be solid white. Most of the broth should be absorbed, but if there is a good bit left on the bottom of the pot, replace the lid and let it simmer a few minutes more. If there's just a little bit of broth hanging out, keep the lid off and let it evaporate as you stir and cook the contents of the pot.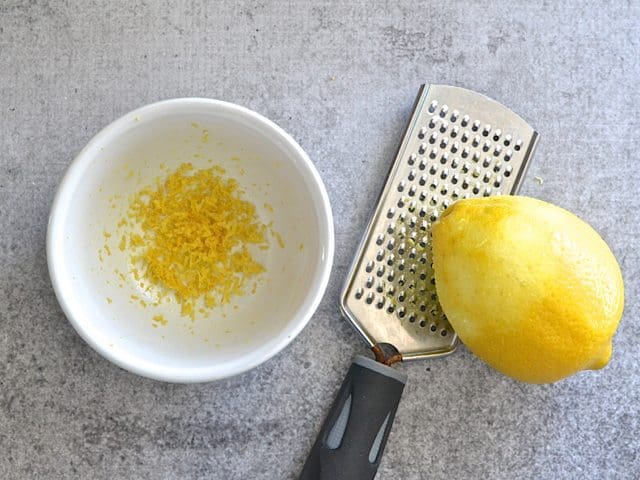 While the pot is simmering away, you can prep the toppings. You'll want the zest from half of a lemon. I use a small holed cheese grater to get my zest, but there are also gadgets made specifically for zesting.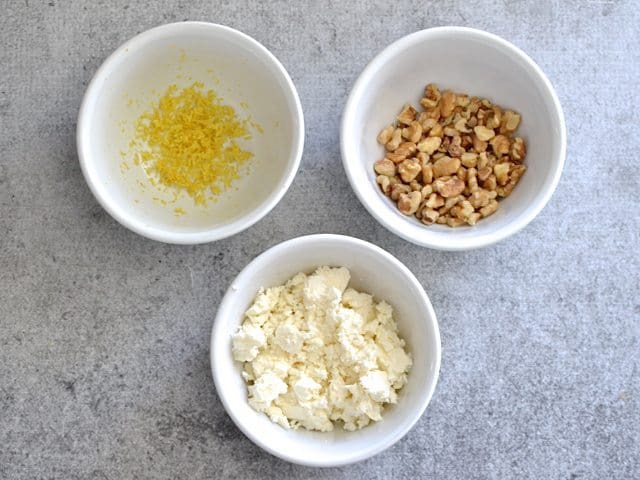 You'll also want a 1/4 cup chopped walnuts and one ounce of crumbled feta (that's actually 2 ounces in the picture, but as I was adding it, I decided it was way too much. You don't want the feta to over power the dish).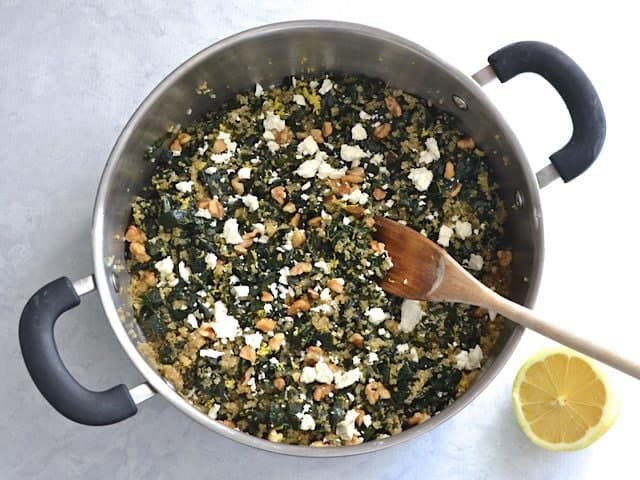 Take the pot off the heat and sprinkle the lemon zest over top. Squeeze the juice from half the lemon into the pot. Lastly, top wit the chopped walnuts and crumbled feta.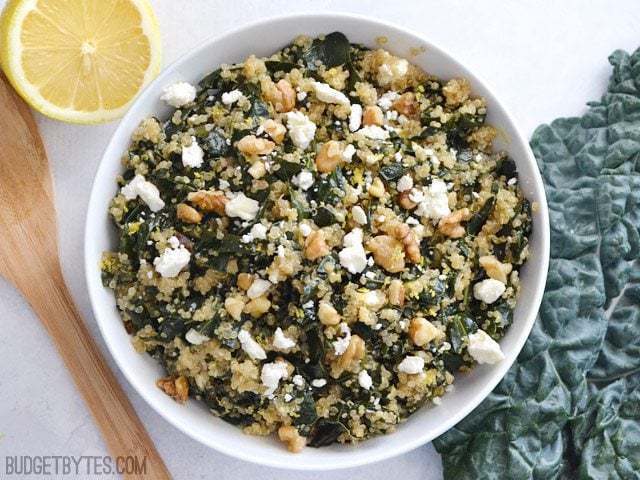 Serve the Lemony Kale and Quinoa Salad warm or cold! The end volume will depend on how much kale you ended up adding, but mine made four cups (plus the 5-6 spoonfuls that I shoved in my mouth before measuring). I love it!