Kale & Salmon Caesar Salad
I got to experiment with a new ingredient today! Yeah, I get really excited about things like that. A while back someone (I forgot who) asked me if I had any good recipes for canned salmon. Since that time I've wondered if that was a good lower priced option to fresh salmon, but had yet to try it. So today, I bought a can of wild caught pink salmon and fixed up this fab Kale & Salmon Caesar Salad. I was a little unsure of the salmon when I first opened the can, but once it was out of the can and in the salad, it was really quite delicious!
The 14oz. can of salmon I bought was $3.99 and when you consider the fact that wild caught fresh salmon will probably be at least double that per pound, I think it's a pretty great deal! As I mentioned, it wasn't too pretty when I first opened the can and it wasn't exactly pink, but once I broke it up into pieces and removed the skin, it was about on par with canned tuna. Nothing to look at, but still quite delicious. My particular salmon came "with skin and bones", so I just scraped off the skin (but you can eat it if you want) and removed any large bones. Most of the bones were hair thin and quite soft (probably gelatinized by the canning process) and were therefor quite edible. Full of dietary calcium, even!
So, I'm excited to experiment a little more with canned salmon in the future. This first attempt made an amazingly tasty and filling pasta Caesar salad that I know will stay good in the fridge for a couple days, thanks to kale's sturdiness. Are you a fan of canned salmon? Let me know your favorite ways to use it in the comments below!
Kale & Salmon Caesar Salad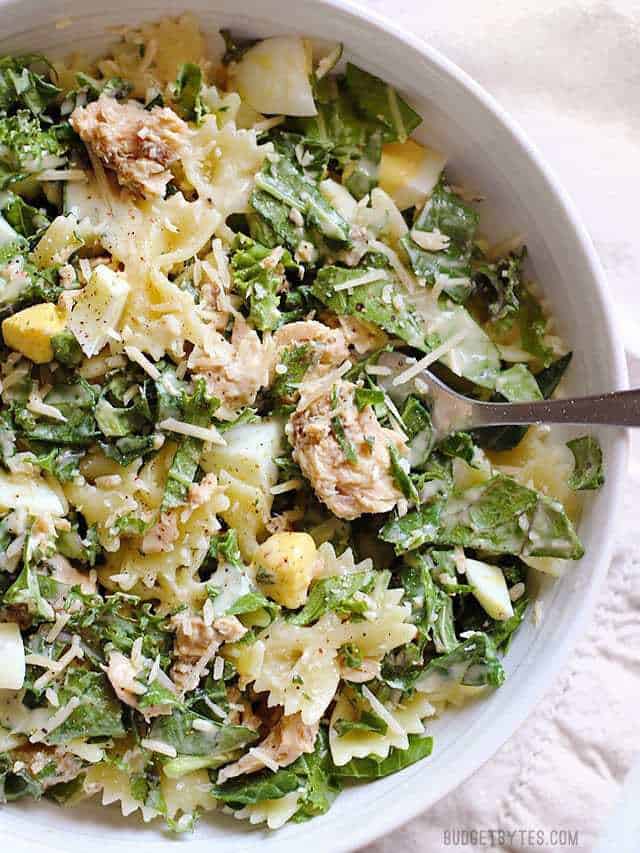 Print Recipe
Kale & Salmon Caesar Salad
Kale & Salmon Caesar Salad is a fast, filling, and delicious way to use budget friendly canned salmon.
Prep Time: 10 mins
Cook Time: 15 mins
Total Time: 25 mins
Servings: 4
Ingredients
8 oz bowtie pasta ($0.75)
6 oz chopped kale* ($1.50)
14 oz can wild caught salmon ($3.99)
2 large hard boiled eggs (optional) ($0.54)
1/2 cup shredded Parmesan ($0.96)
1/2 cup (or to taste) creamy Caesar dressing ($1.16)
Instructions
Cook the bowtie pasta according to the package directions, then drain in a colander.

Meanwhile, roughly chop the kale into small pieces, removing any large pieces of stem. Place the chopped kale in a bowl. Once the pasta is drained, add it to the kale and stir to let the residual heat slightly wilt the kale.

Drain the canned salmon and remove the skin and bones (if included), breaking the meat into bite-sized chunks as you go. Peel and dice the hard boiled eggs.

Add the salmon chunks, diced hard boiled eggs, and shredded Parmesan to the kale and pasta. Drizzle with Caesar dressing, then toss to coat everything in the dressing. Divide into four portions for meal-sized salads, or six smaller side-salad servings.
Notes
*I used pre-washed and chopped kale that came in a bag, then chopped it further into smaller pieces.
---
Nutritional values are estimates only. See our full nutrition disclosure here.
The equipment section above contains affiliate links to products we use and love!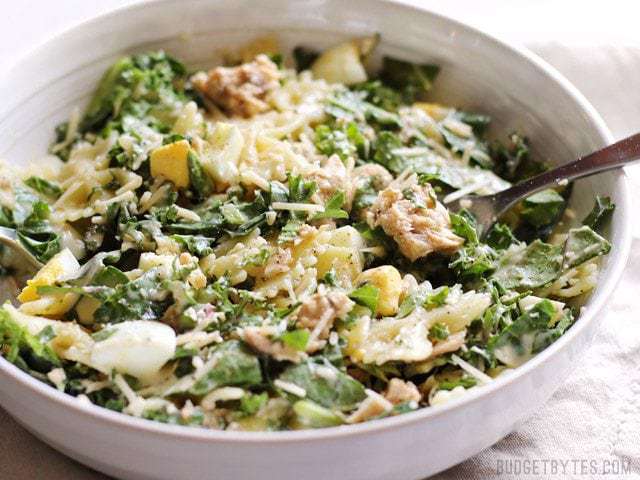 Step by Step Photos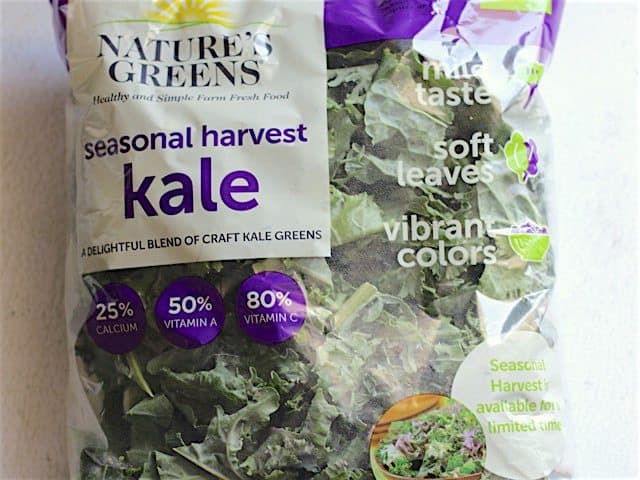 Start by cooking 8oz. bowtie pasta according to the package directions. While the pasta is cooking, prepare the kale. I bought a 12oz. bag of kale today because the whole bunches were a little on the expensive side and this one bag for $2.99 is roughly the same as one and half bunches, plus it's already chopped and stems removed! :D I used half of this bag, or about 6 ounces.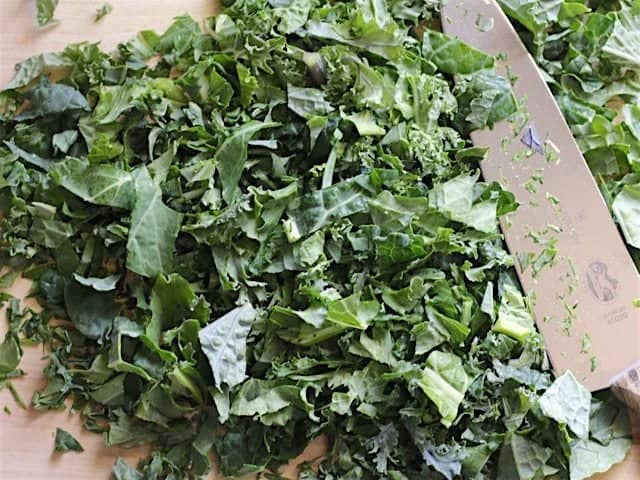 Because I was leaving my kale raw, I wanted even smaller pieces to make it easy to chew and digest. So, I chopped it up a bit more and pulled out any random pieces of stems that got left behind.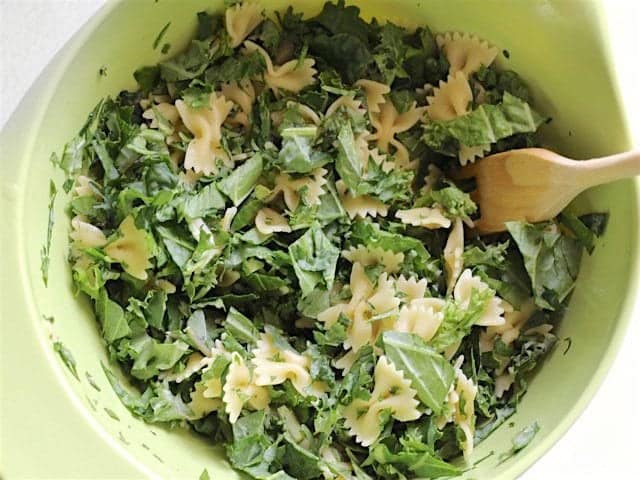 Once the pasta is drained, add it to a large bowl with the chopped kale. Stir it up and allow the residual heat from the pasta to soften the kale just a touch.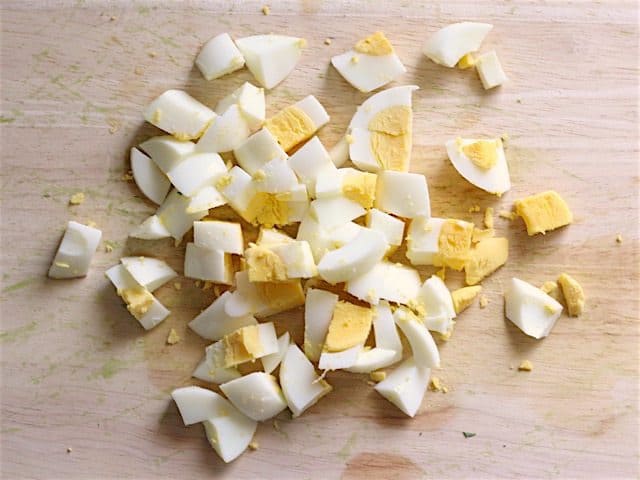 Peel and dice two hard boiled eggs.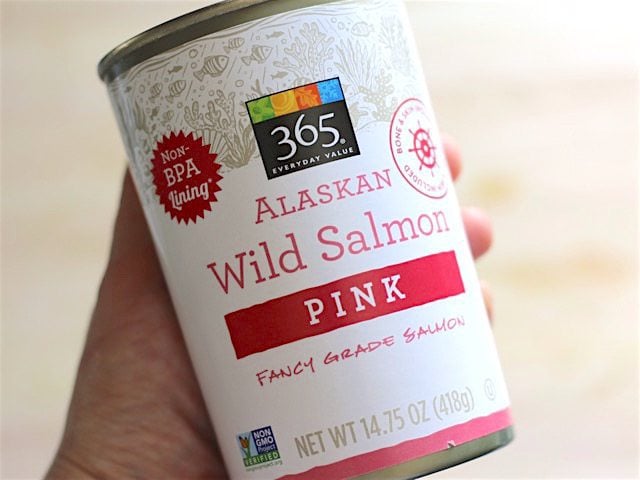 This is the canned salmon that I used. I was happy to be able to find wild caught canned salmon. Honestly, it wasn't pretty when I opened the can and you should be thankful I didn't take a photo of that part…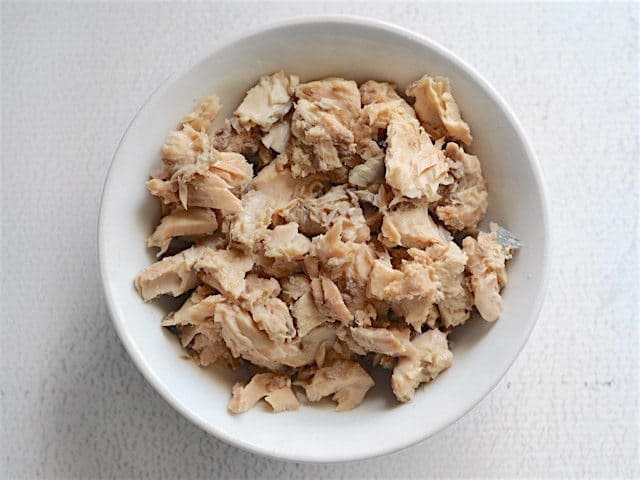 But once I scraped off the dark skin, removed any large bones, and broke it into chunks, it pretty much just looked like tuna. Not very pink, but it still tasted great! This 14oz. can of salmon actually yielded quite a bit of meat, so next time I might go for the smaller can and use one more egg to make the salad even less expensive. Gotta tweak those ratios sometimes.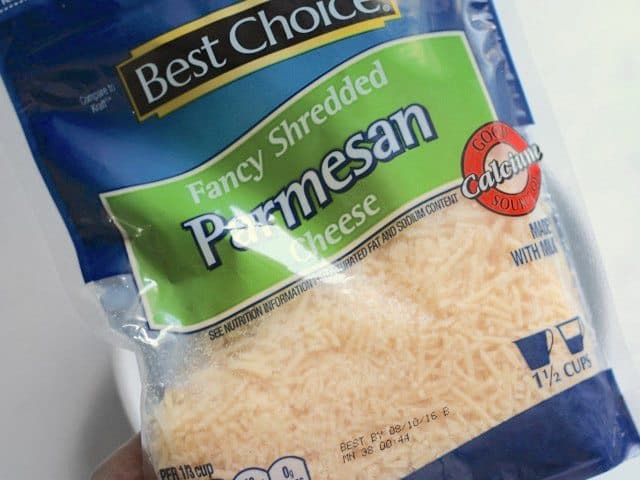 I really wanted shredded Parmesan for this salad instead of grated, although grated will work if that's what you have. I find the shredded to be a bit more potent in flavor and it makes a striking visual presence on the salad. Finding shredded Parm with the bagged cheese was a great because it was about half the price of the shredded Parmesan at the cheese counter. So, be sure to check both places.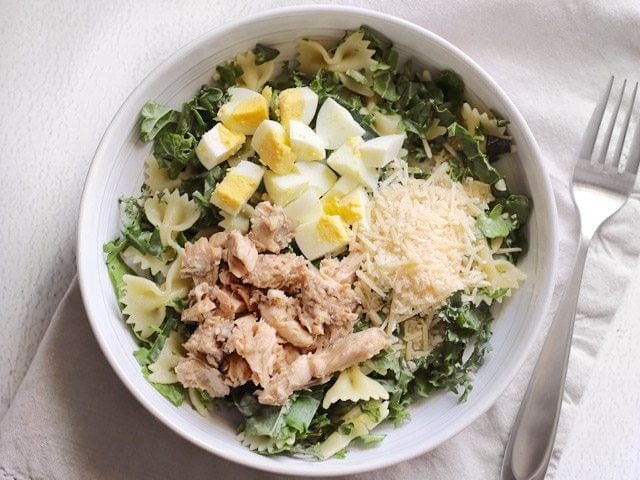 Now it's time to build the salad. If you're doing it all in one large bowl, just add the diced eggs, salmon pieces, and 1/2 cup shredded Parmesan to the pasta and kale.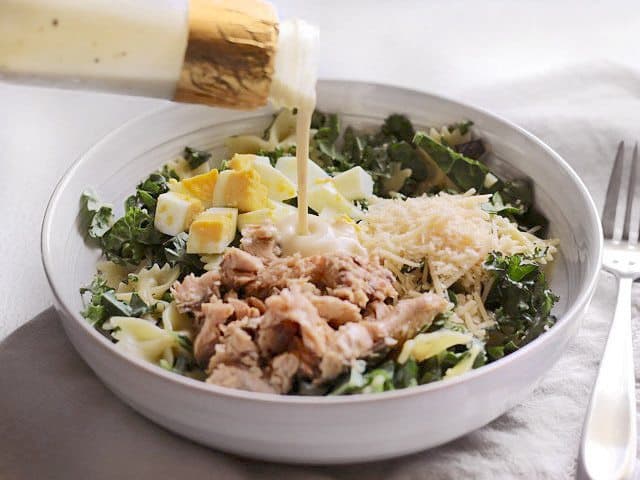 Finally, add some creamy Caesar dressing (I used about 1/2 cup for the entire salad) and stir to coat in the dressing.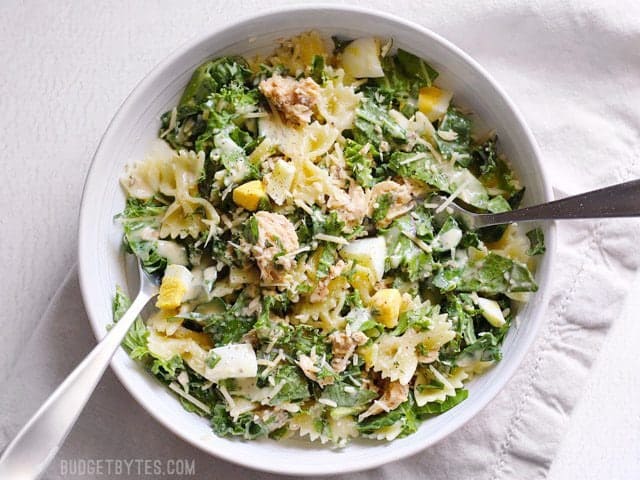 Now EAT! And be happy.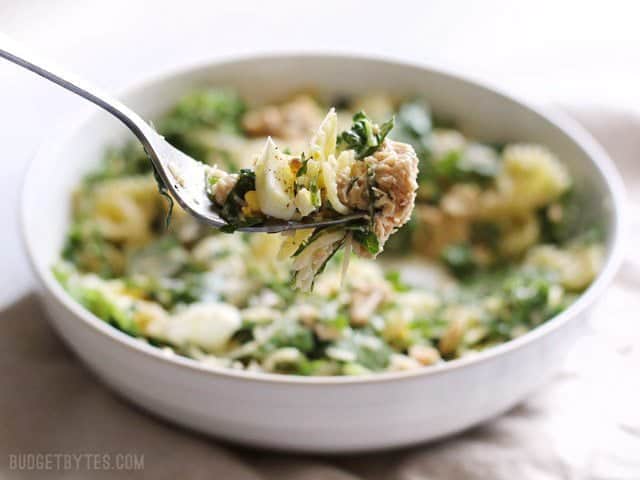 Kale & Salmon Caesar Salad – FANCY!