I've made kale pesto before (Kale Pesto Pasta), but I felt like the pesto needed a post itself. I often find myself with leftover fresh kale (why does it come in such HUGE qantities?), scrambling for ways to use it up before it gets slimy. Making a small batch of this Kale Pesto is one great option. Once the kale is turned into pesto, it can be smeared or drizzled on just about anything.
(Another great option for leftover kale is to freeze it. Frozen kale is great sautéing and adding to pasta or pizza, or for tossing into soups, like Zuppa Toscana or Smoky Potato Chickpea Stew!)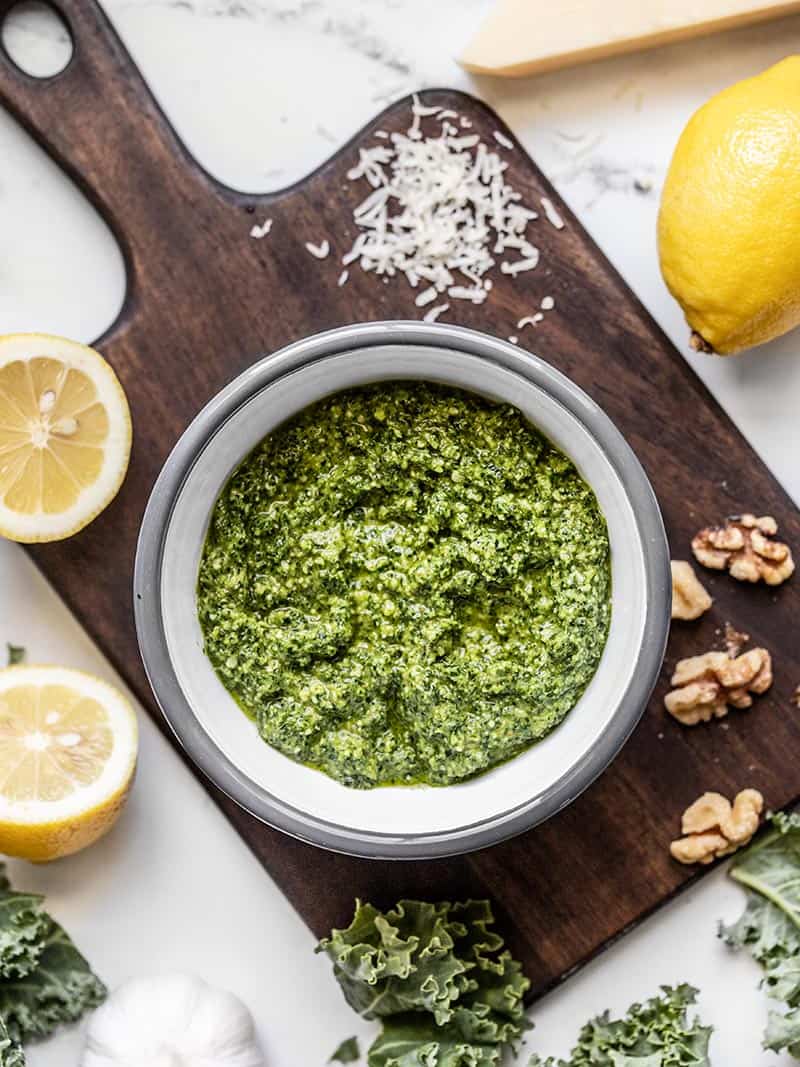 How to Use Kale Pesto
Kale pesto is good on EVERYTHING. Use it as a sandwich spread (I have a pesto grilled cheese coming your way later this week), drizzle it on eggs, in soups (I drizzled it on my Rosemary Garlic White Bean Soup the other day), You can mix it into dips like hummus, toss with freshly cooked pasta, or use it as a sauce for pizza. Just put it on everything. You won't be disappointed.
Why Kale Pesto?
So there are a couple of reasons that I like to make pesto with kale. First, it's usually a lot less expensive and more accessible than large quantities of fresh basil, especially as we move into the fall and winter months (kale is a cold weather crop). Second, I always find myself with extra kale, so it's a great way to make sure those leftover bits don't go to waste. It does have a decidedly more bitter flavor than basil pesto, but if you're a bitter flavor lover like me, that will be a bonus.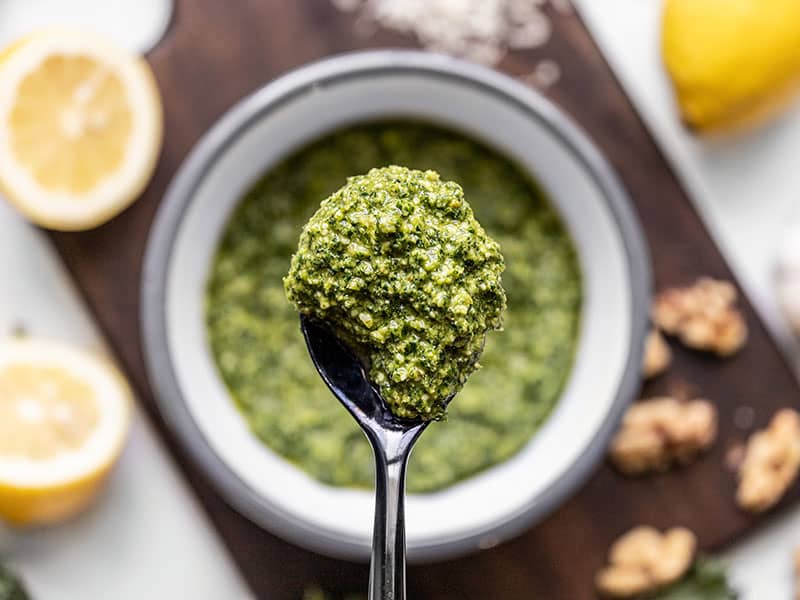 How Long Does Kale Pesto Last?
Because kale pesto contains fresh kale, it will only be good in your refrigerator for 3-4 days. The fresh kale in the pesto will begin to rot (and get stinky), just as the fresh leaves do. That's one reason I made this a fairly small batch, yielding only about one cup.
That being said, you CAN freeze pesto! Most people like to freeze it in 1-2 Tbsp portions for easy thawing later. The easiest way to do that is in an ice cube tray, then transferring to a freezer bag once solid.
Can I Add Other Fresh Herbs?
Yes, yes, yes! If you have access to other fresh herbs, like basil, parsley, or even spinach, feel free to toss them in there with your kale!
What Kind of Parmesan Should I Use?
There's no arguing that fresh Parmesan in block or wedge form is far superior to the grated Parmesan bought in a can. That being said, I made this pesto with the kind in a can just to make sure it was still tasty even with a more affordable ingredient. If you have access to the better stuff, go ahead and use it! :)
Kale Pesto
Making a small batch of kale pesto is a great way to use leftover kale. This flavorful pesto is great on sandwiches, in soups, dips, and more!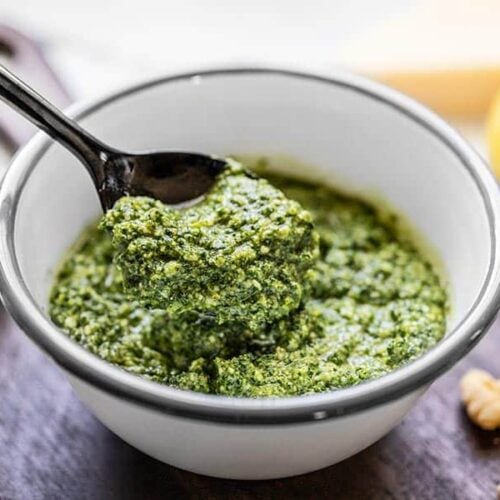 Ingredients
4

cups

torn kale leaves

($1.06)

1/3

cup

olive oil

($0.85)

1

fresh lemon

($0.37)

1

clove

garlic

($0.08)

1/4

cup

walnuts

($0.30)

1/3

cup

Parmesan

($0.59)

1/2

tsp

salt

($0.02)

Freshly cracked pepper

($0.03)
Instructions
Make sure your kale leaves are washed well, any excess water is drained away, and any hard stems removed. Zest and juice the lemon.

Add the kale, 1/4 cup lemon juice, 1/2 tsp lemon zest, olive oil, garlic, walnuts, Parmesan, salt, and some freshly cracked pepper to a food processor. Process until the mixture is a fine textured paste. Taste and adjust the salt, pepper, or lemon if desired. If you want a runnier pesto for drizzling, add extra oil, or up to 2 Tbsp water.
See how we calculate recipe costs here.
---
Nutrition
Calories:
368.38
kcal
Carbohydrates:
4.65
g
Protein:
2.75
g
Fat:
25.68
g
Sodium:
516.68
mg
Fiber:
1.78
g
Read our full nutrition disclaimer here.
P.S. if you have frozen whole lemons, they would work great for this recipe!
How to Make Kale Pesto – Step by Step Photos
Make sure your kale is washed well, excess water is drained away, and any large woody stems removed (I buy mine bagged and pre-chopped, but still need to remove some stems). Zest and juice the lemon. Add about 4 cups of kale to a food processor along with 1/3 cup olive oil, 1/4 cup lemon juice, 1/2 tsp lemon zest, 1 clove garlic, 1/4 cup walnuts, 1/3 cup Parmesan, 1/2 tsp salt, and some freshly cracked pepper.
Process the mixture until it is a fine textured paste. Taste, and adjust the lemon, salt, or pepper if desired. If you want the pesto to be a bit runnier (so you can drizzle it on things), you can add more oil or up to 2 Tbsp water.