Have you guys heard of golden milk or turmeric tea? It was the hottest food trend last year, picking up where chai left off years ago. It's an earthy, slightly savory spiced milk drink full of vibrantly colored turmeric. I've made it and loved it, but when I had Golden Chai at a local coffee shop I fell deeply, madly in love. Golden chai is the love child of golden milk and chai tea. It has all the exotic warm spices of chai paired with the earthy tones and slightly savory edge of golden milk. I knew I had to modify my chai concentrate recipe to make some Golden Chai at home ASAP (because I don't want to pay $4 for each drink, lol).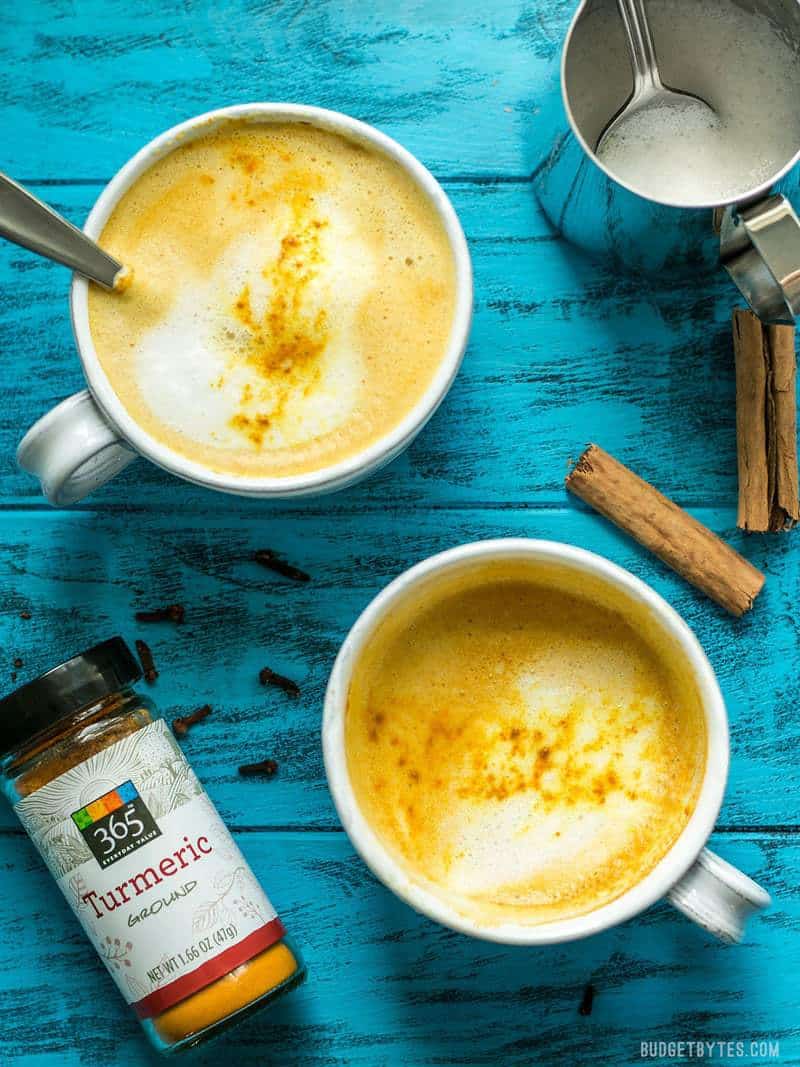 Fully Adjustable Flavor
This recipe is super flexible and will most likely need to be tweaked depending on the potency of your ginger, cinnamon sticks, cloves, type of tea, and how sweet you like things, so play around with it. And YES you can absolutely use non-dairy milk. :)
I reduced the sweetness from my original chai concentrate recipe by half because I like my golden milk to have only a hint of sweetness. I also used honey instead of sugar this time around because honey has a really distinct flavor that I thought would go really well here. Of course, you can use whatever sweetener is your favorite or that your budget allows.
The Golden Chai mix (without milk added) will stay good in your fridge for 3-4 days, so drink up!
Golden Chai
This Golden Chai is full of warm exotic spices, earthy turmeric, and just a hint of natural honey. It's warm, comforting, and perfect for fall!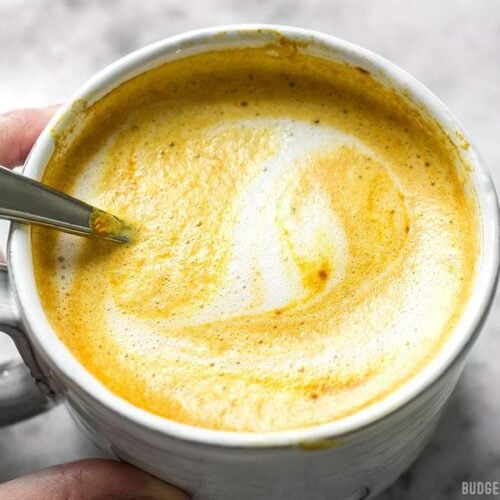 Ingredients
3-4

2-3″

cinnamon sticks

($1.50)

1-2

inches

fresh ginger, peeled and sliced

($0.11)

10

whole cloves

($0.39)

Freshly cracked pepper

($0.05)

4

cups

water

($0.00)

4

bags

black tea

($0.51)

1/2

tsp

vanilla extract

($0.14)

1

Tbsp

ground turmeric*

($0.30)

1/4

cup

honey

($0.48)

4

cups

milk

($1.24)
Instructions
Place the cinnamon sticks, sliced ginger, cloves, cracked pepper, and water in a medium sauce pot. Place a lid on the pot and bring it up to a boil over high heat. Once it reaches a boil, reduce the heat to low and let it simmer for five minutes.

Turn off the heat, add the black tea bags, replace the lid and let the tea steep for 4-5 minutes. Pour the tea into a bowl through a fine mesh strainer or colander.

Whisk the vanilla, honey, and turmeric into the tea. Taste and adjust the sweetness or other spices, if desired. This Golden Chai tea mix can be refrigerated and saved in the refrigerator for a few days.

To make each drink, heat 8oz. of milk (stove top, microwave, or steamer) and combine with 8oz. of the hot golden chai tea mix. Make sure to stir the Golden Chai tea mix just before combining with the milk. Serve while hot.
See how we calculate recipe costs here.
---
Notes
*If you have access to fresh turmeric, you can peel and slice it just like the ginger and simmer it with the ginger and other ingredients in the beginning. I haven't tested how much to use when fresh, though.
Nutrition
Serving:
1
Serving
Calories:
115.28
kcal
Carbohydrates:
23.18
g
Protein:
2.4
g
Fat:
2.13
g
Sodium:
92.3
mg
Fiber:
0.7
g
Read our full nutrition disclaimer here.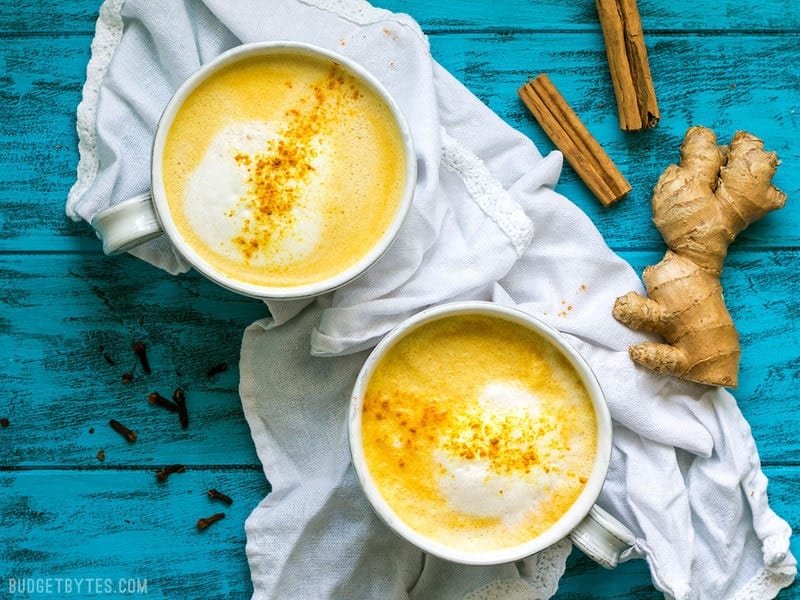 How to Make Golden Chai – Step by Step Photos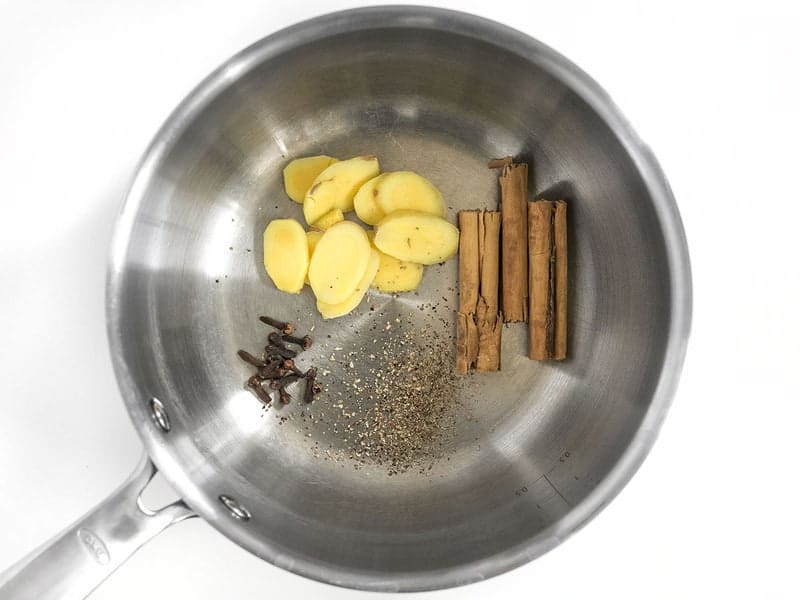 Place 1-2 inches fresh ginger (peeled and sliced) into a medium sauce pot along with 3-4 cinnamon sticks, a generous dose of freshly cracked pepper, and about 10 whole cloves. Add 4 cups water, place a lid on the pot, and bring it up to a boil over high heat. Once it reaches a boil, turn the heat down and let it simmer for 5 minutes.
After simmering for 5 minutes, turn the heat off, and add 4 black tea bags. Let the tea steep for 4-5 minutes.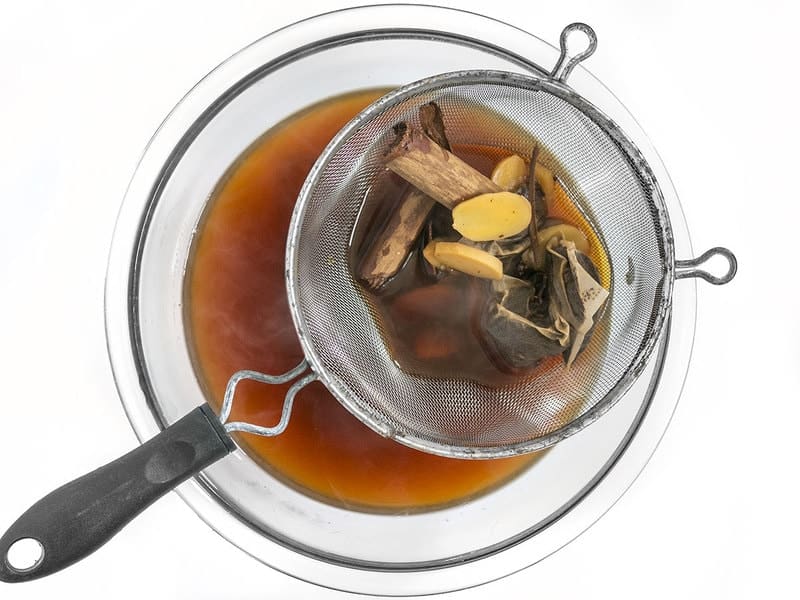 Strain the tea into a bowl using a wire mesh sieve or a colander.
Whisk 1/2 tsp vanilla extract, 1 Tbsp ground turmeric, and 1/4 cup honey into the tea. This is your Golden Chai tea mix, which you can serve now with milk, or refrigerate for later. The mix will be good in the refrigerator for a few days. The turmeric won't dissolve, so the mix must be stirred each time before combining with milk.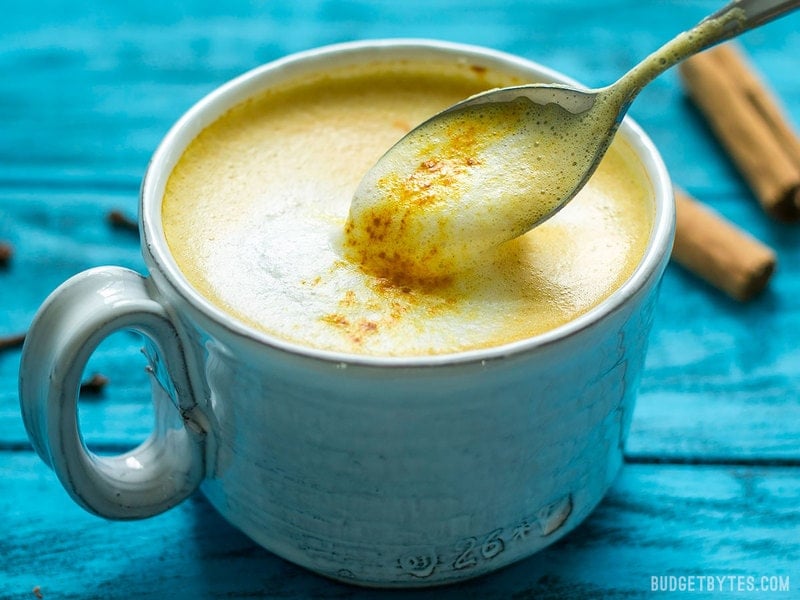 To make your Golden Chai, heat 8oz. milk for each drink you want to make (do this on the stove top, microwave, or with a steamer), then combine the hot milk with the hot Golden Chai tea mix. I garnished with an extra sprinkle of turmeric. :)