Ever since the magical experience of the pumpkin pie baked oatmeal, I've been experimenting with other flavors and varieties of baked oatmeal. I made this one last week and while it wasn't quite as mind blowing as the pumpkin, I happily gobbled it up every morning and was a little sad when I at the last of it today.
This batch lacked the thick body that the pumpkin puree provided, but it did create an interesting gel-like molasses custard. If you've ever had impossible pie, it's a little something like that. The molasses, spices, and eggs kind of gel up into a sweet custard on the bottom. I liked it, but if you have texture issues with food, you may not… Just a fair warning! Texture aside, the flavor was awesome.
The other thing that I liked about this baked oatmeal is that when I poured milk over top, the molasses seeped out and flavored the milk in that yummy way that coco puffs and fruity pebbles do! Oh, childhood memories!
Gingerbread Baked Oatmeal
Gingerbread Baked Oatmeal
This rich oatmeal is made with a rich, gingerbread flavored custard and baked in the oven. Gingerbread baked oatmeal tastes like a dessert.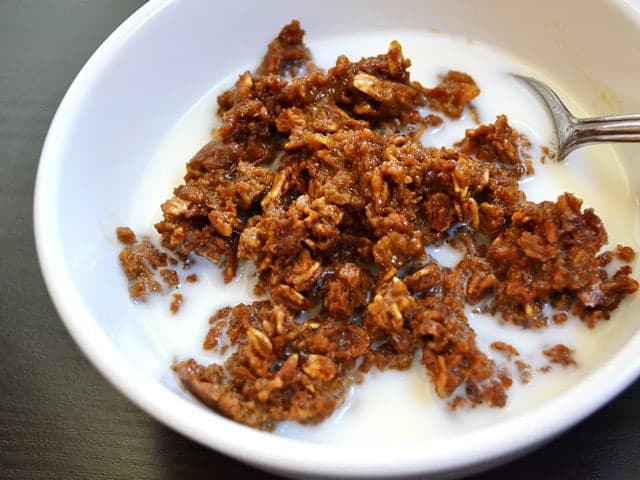 Ingredients
1/3

cup

dark molasses, not blackstrap, not light

($0.73)

1/4

cup

brown sugar

($0.08)

2

large eggs

($0.32)

1/2

tsp

salt

($0.02)

1

tsp

baking powder

($0.05)

1

tsp

cinnamon

($0.05)

1/2

tsp

ground ginger

($0.03)

1/4

tsp

ground cloves

($0.02)

2

cups

milk

($0.75)

2 1/2

cups

old-fashioned oats

($0.43)
Instructions
Preheat the oven to 350 degrees. In a bowl, whisk together the molasses, brown sugar, eggs, salt, baking powder, cinnamon, ginger, and cloves. Once everything is well combined, whisk in the milk.

Stir in the oats. Coat an 8×8 (or similar sized) baking dish with non-stick spray and pour the oat mixture in. Cover with foil and bake for 45 minutes or until the oats have soaked up all of the moisture and the center of the dish is firm to the touch.

Serve hot or refrigerate and eat cold.
See how we calculate recipe costs here.
---
Nutrition
Serving:
1
Serving
Calories:
293.17
kcal
Carbohydrates:
50.53
g
Protein:
9.25
g
Fat:
6.57
g
Sodium:
480.05
mg
Fiber:
3.7
g
Read our full nutrition disclaimer here.
Step By Step Photos

Start by whisking together everything except the milk and oats.

Next, whisk in the milk.

And finally, stir in the oats. A large spoon will probably work better than a whisk here…

Pour it all into a baking dish coated with non-stick spray. Cover with foil and bake in a preheated, 350 degree oven for about 45 minutes.

Here is a close up of the texture. The top is a little dryer and the bottom is more custardy. When I scoop it into my bowl I kind of mix it up, but I enjoyed the varied textures.

And my favorite part – gingerbread flavored milk! Yum!!