Homemade Chicken Yakisoba
Let me first say that I'm sure this is probably not authentic Chicken Yakisoba. I've never actually eaten this classic Japanese street food on the streets of Japan, but I have seen Mark Bittman make this yakisoba on his show, The Minimalist, and I knew I had to make it myself. Those noodles looked so lip-licking good, were packed with vegetables, and it just looked so easy. In other words, it was just my style. ;)
(Photos updated 6-22-16)
Homemade Chicken Yakisoba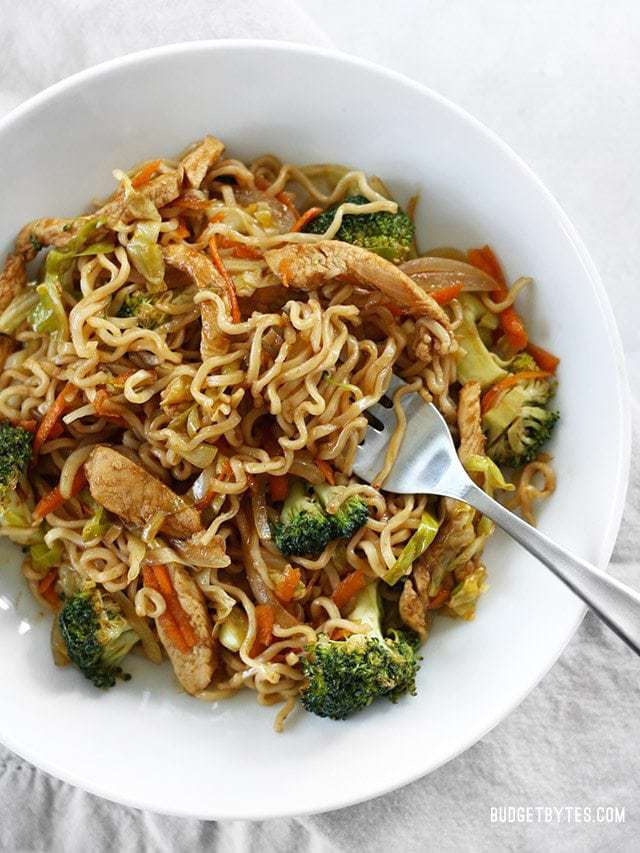 What is Yakisoba Sauce Made Of?
If you're used to the usual sweet-salty flavor of teriyaki sauce that is so common in most Asian-inspired American food, this yakisoba sauce may catch you off guard. The addition of ketchup makes this sauce super tangy, and a splash of Worcestershire gives it a deeper umami flavor and a very different sort of sweetness. I used a whole tablespoon of sriracha in my sauce because I really like my food spicy, but feel free to reduce that to 1/2 tablespoon or even a teaspoon if you want the sauce a bit more tame.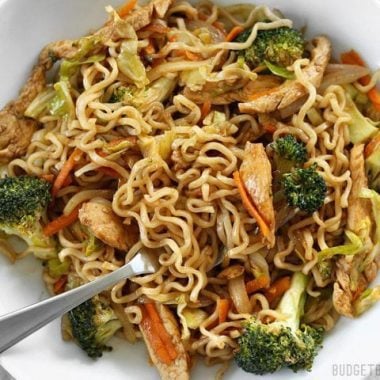 Print Recipe
Homemade Chicken Yakisoba
Skip take out and make these easy and addictive Chicken Yakisoba noodles that are full of chicken and vegetables, and drenched in a sweet and tangy sauce!

Prep Time: 15 mins
Cook Time: 15 mins
Total Time: 30 mins
Servings: 6
Ingredients
1/2 head green cabbage ($0.41)
1 medium yellow onion ($0.55)
2 medium carrots ($0.25)
1 small crown broccoli ($0.70)
1 inch fresh ginger ($0.52)
1 large chicken breast ($1.66)
2 Tbsp vegetable oil ($0.08)
2 3 oz. packages ramen noodles, seasoning packets discarded ($0.50)
1 tsp sesame oil, optional ($0.19)
1/4 cup soy sauce ($0.24)
1/4 cup worcestershire sauce ($0.20)
2 Tbsp ketchup ($0.05)
up to 1 Tbsp sriracha hot sauce ($0.26)
1 Tbsp sugar ($0.02)
Instructions
Before you begin, prepare the meat and vegetables for stir frying. Peel the ginger with either a vegetable peeler or the side of a spoon and then grate it with a cheese grater. Peel and grate the carrots with a large holed cheese grater. Remove the core from the cabbage and cut into thin strips. Slice the onion into thin strips. Cut the broccoli into bite-sized pieces. Slice the chicken into thin strips.

Begin boiling a medium pot full of water for the noodles. Heat the vegetable oil in a large skillet over medium-high heat. When the oil is hot, add the grated ginger, saute for about 30 seconds to one minute (its okay if it sticks to the pan but don't let it burn). Add the chicken strips and cook until they are no longer pink (about five minutes).

Once the chicken is cooked through, add all of the vegetables. Stir and cook until wilted (about 5-10 minutes). Meanwhile, once the water boils, add the noodles and cook just until tender (2-3 minutes). Drain, return to the pot (with the heat turned off) and toss with the sesame oil to keep from sticking.

In a small bowl, combine the soy sauce, worcestershire sauce, ketchup, sriracha, and sugar. Use only 1/2 tsp of sriracha if you don't want it spicy, use up to 1 Tbsp if you like it hot. Stir until the ketchup and sugar are dissolved. Pour the sauce into the skillet with the chicken and vegetables with the heat still on medium high. Add the noodles, stir to coat everything in the sauce, and heat through (just a few minutes).
---
Nutritional values are estimates only. See our full nutrition disclosure here.
The equipment section above contains affiliate links to products we use and love!
Want more ways to dress up your ramen noodles? Check out 6 Ways to Upgrade Instant Ramen, Vegetable Stir Fry with Noodles, Lime Shrimp Dragon Noodles, or Pork and Peanut Dragon Noodles.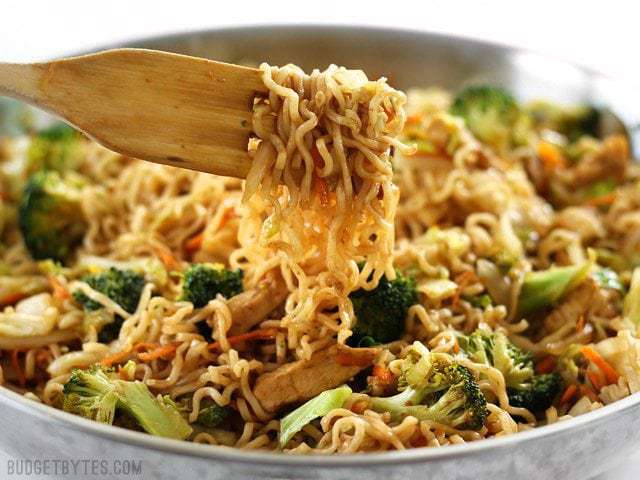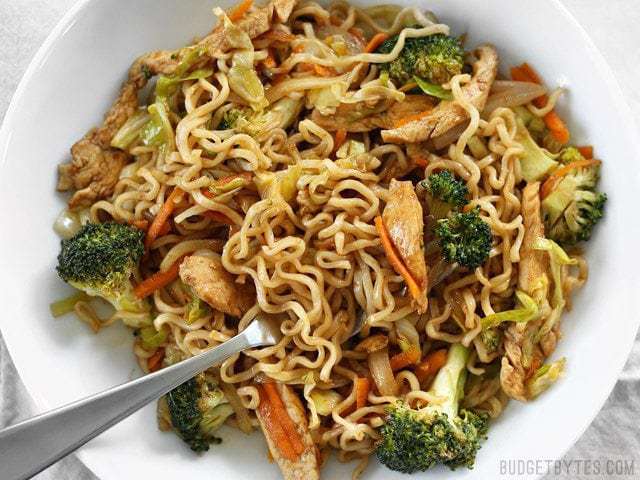 Step By Step Photos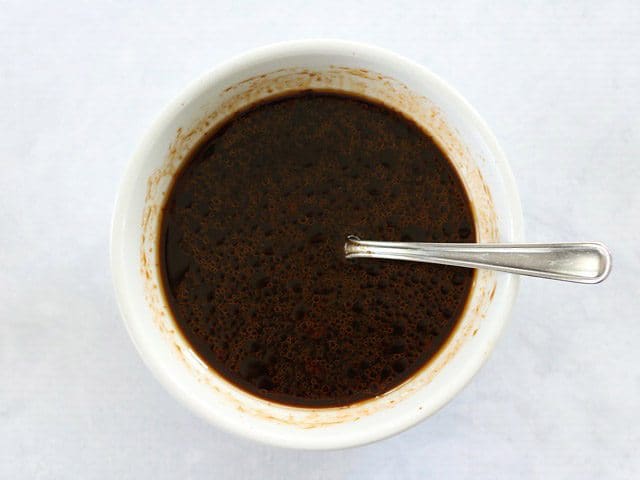 Prepare the Yakisoba sauce first, so that it's ready to go when you need it. In a medium bowl, stir together 1/4 cup soy sauce, 1/4 cup Worcestershire sauce, 2 Tbsp ketchup, 1 Tbsp sriracha, 1 Tbsp sugar, and 1 tsp toasted sesame oil.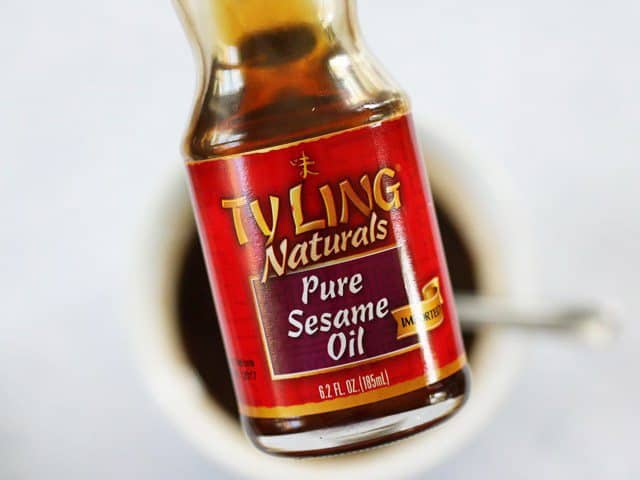 This is the "toasted" sesame oil. It doesn't always say "toasted on the bottle, but you can tell this is the toasted variety because of the deep brown color and because it's sold in a tiny bottle. Toasted sesame oil has a much stronger nutty flavor and only a small amount is needed for a big impact.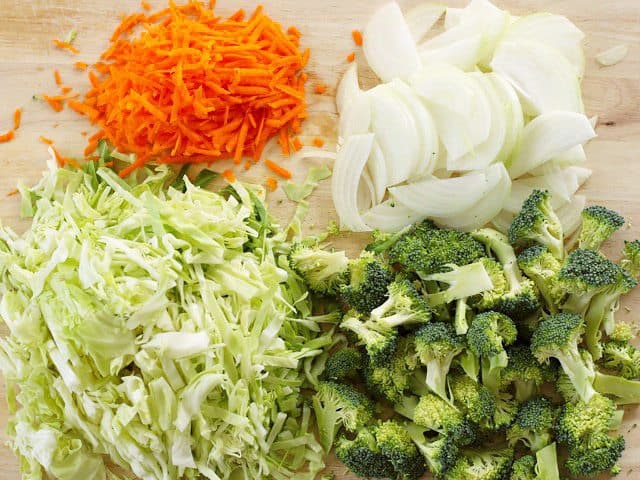 Next, slice up your vegetables. Thinly slice one yellow onion and 1/2 a small head of green cabbage. Use a large-holed cheese grater to grate 1-2 carrots. Cut one crown of broccoli into small, bite-sized florets.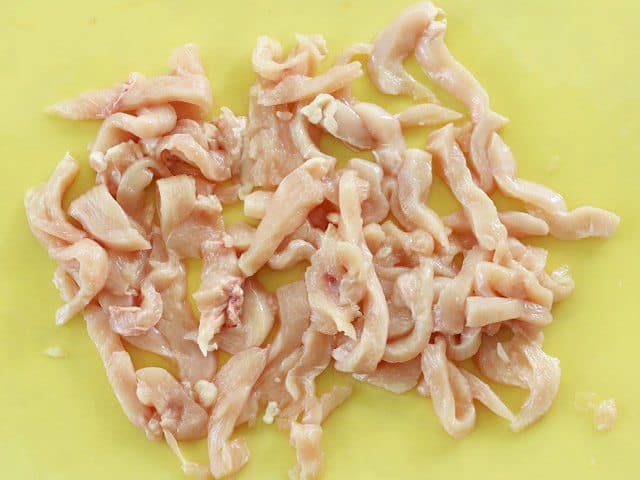 Slice one chicken breast (about 3/4 lb.) into very thin strips. I like to do about 1/4-1/2 inch wide and about 2 inches long.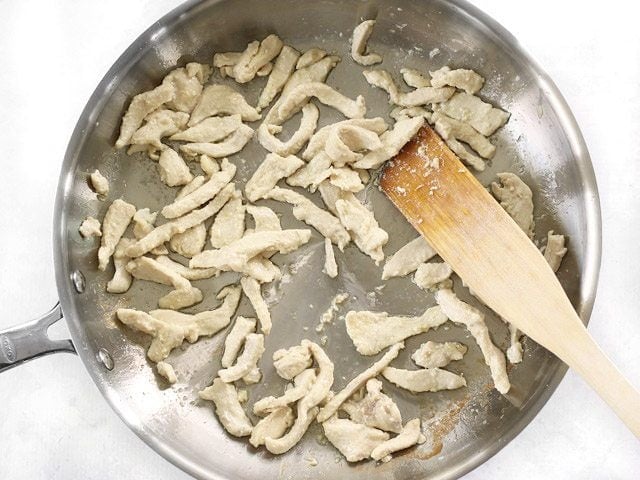 Grate about one inch of fresh ginger. Heat a very large skillet (at least 12″ diameter) over medium heat, then add 2 Tbsp vegetable oil. Tilt the skillet to distribute the oil, then add the grated ginger. Sauté briefly (about 30 seconds), then add the sliced chicken and continue to cook until the chicken pieces are cooked through.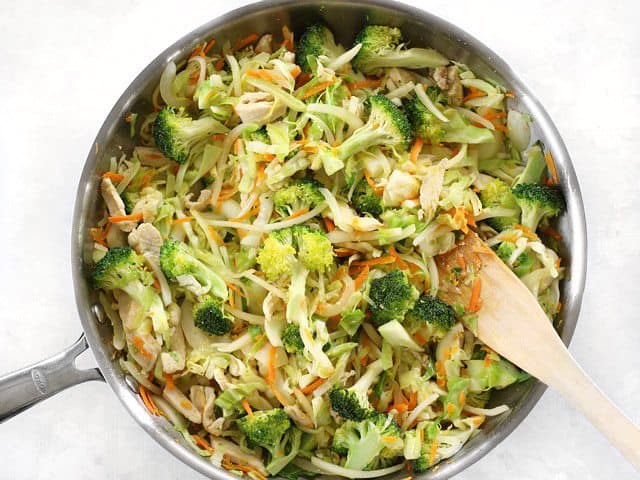 Add the sliced vegetables and continue to sauté until they are slightly wilted, but still bright in color.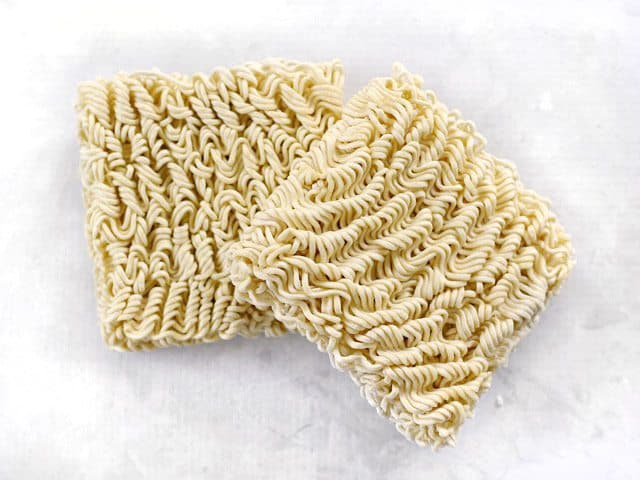 Meanwhile, boil a pot of water and cook two 3oz. bricks of ramen noodles until tender, then drain in a colander.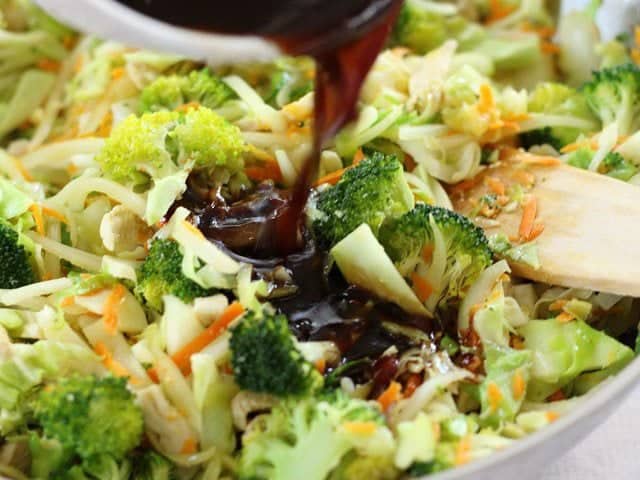 Finally, pour the prepared yakisoba sauce onto the vegetables and stir to combine.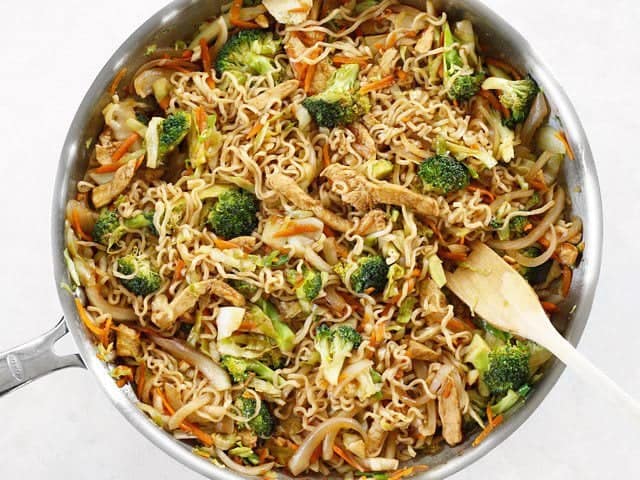 Then add your cooked and drained ramen and stir until everything is combined and coated in the sauce. THE END. Easy, right?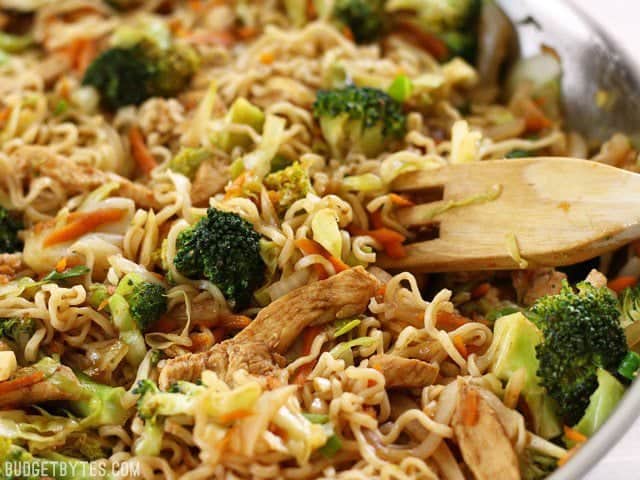 <3 Chicken Yakisoba!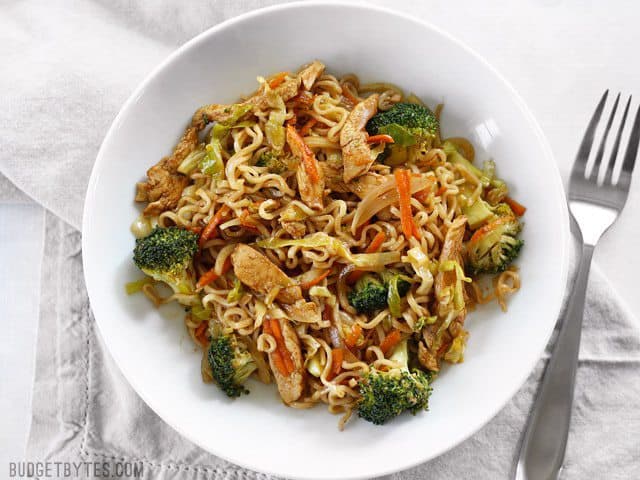 Sweet, tangy, and a little spicy.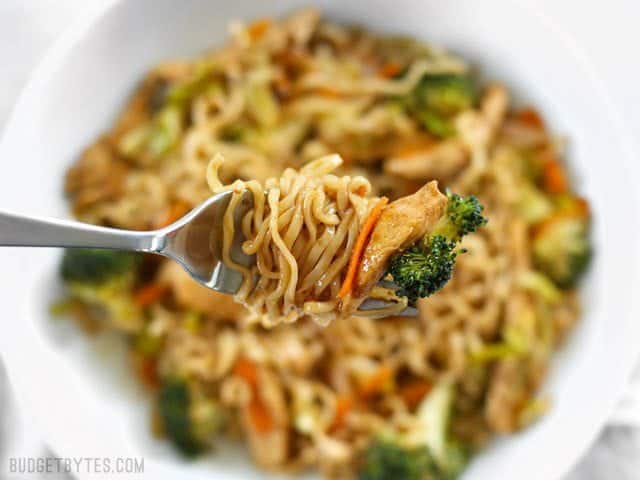 And VERY noodley. ;) Chicken Yakisoba all day, every day!