Need a main dish that's full of flavor but only requires a few ingredients? I've got you covered. This Chicken Piccata recipe is simple and flavorful, but totally restaurant quality and elegant enough to impress a date or your in-laws. When garlic and lemon come together with briny capers, creamy butter, and fresh parsley, you just can't lose.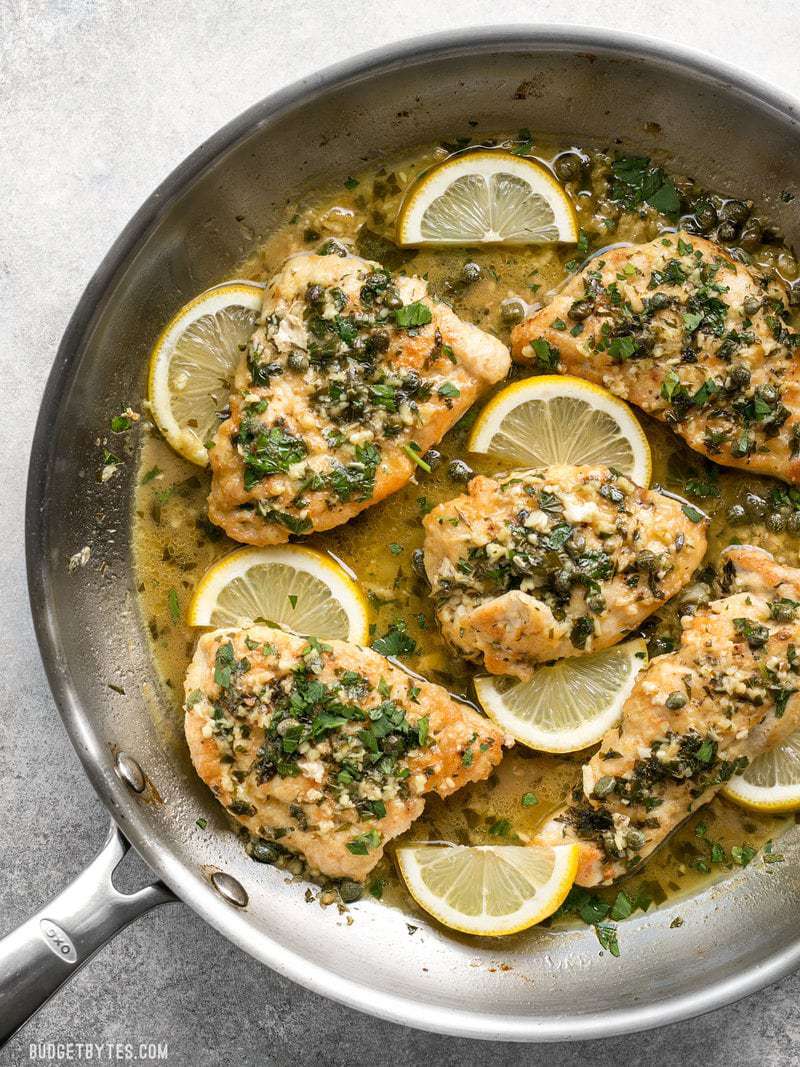 What is Chicken Piccata?
Chicken Piccata is an Italian dish made with thinly sliced chicken that has been lightly dredged in flour, cooked until golden brown in a skillet, then drenched with a deliciously buttery lemon caper sauce. You can also make piccata with veal, but we're Budget Bytes, so I think we'll stick with chicken. ;) Either way, this dish is a simple classic that is sure to impress.
Where's the Wine??
The lemon caper sauce in Chicken Piccata is traditionally made with white wine, but I didn't have any on hand (I know, I was shocked too), so I subbed it with chicken broth. The sauce was still so good that I wanted to drink it straight out of the skillet, so I didn't feel like I was missing out. But, if you have wine around, by all means, use it in place of the chicken broth in this dish!
What to serve with Chicken Piccata
The serving size might seem small (each piece is about the size of a deck of cards), so I suggest bulking out your meal by serving the Chicken Piccata over plain buttered pasta, or if you want something fancier, try this lemon parsley pasta. The flavors in this dish also go beautifully with asparagus, green beans, or broccoli. Or, just serve it with a green side salad and some garlic bread for a classic meal.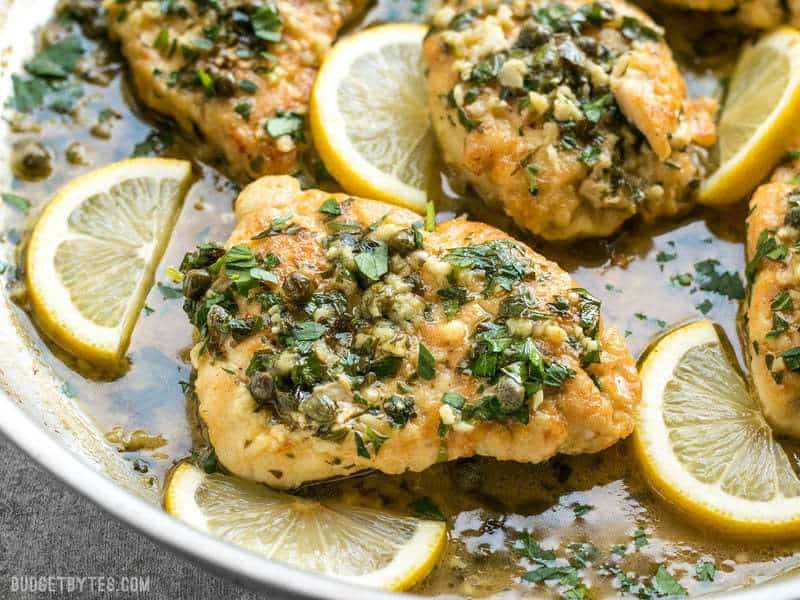 Delicious Homemade Chicken Piccata
This rich Chicken Piccata in a buttery lemon caper sauce is a fast, easy, and elegant answer to your weeknight dinner with just a few simple ingredients!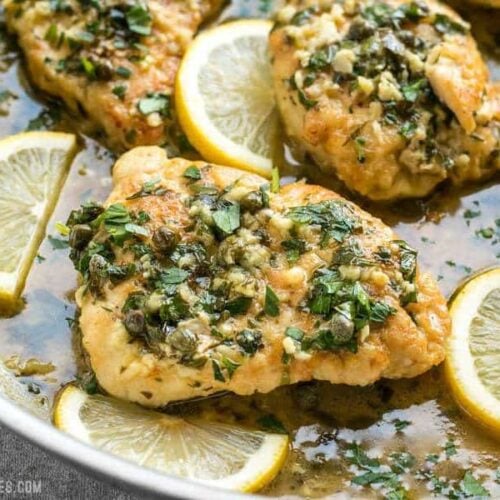 Ingredients
1

fresh lemon

($0.79)

1/4

bunch Italian parsley

($0.25)

3

cloves

garlic

($0.24)

2-3

boneless, skinless chicken breasts (about 2 lbs)

($4.99)

Pinch

salt and pepper

($0.05)

1/2

cup

flour

($0.03)

2

Tbsp

olive oil

($0.26)

2

Tbsp

butter

($0.27)

1/2

cup

chicken broth*

($0.07)

1

Tbsp

capers

($0.40)
Instructions
Prepare the lemon, parsley, and garlic so they're ready to go when you need them. Roughly chop the parsley leaves, juice the lemon, and mince the garlic. Set these ingredients aside.

Trim the chicken breasts of excess fat. Cover them with plastic wrap and pound them with a mallet or rolling pin until they are an even thickness (about 1/2-3/4 inch thick). Cut each chicken breast in half so that you have four to six pieces about the size of the palm of your hand. Season both sides of the chicken pieces with salt and pepper.

Heat the olive oil in a heavy skillet, over medium heat. While the oil is heating, place the flour in a bowl and lightly coat each piece of chicken on both sides. When the oil is very hot but not smoking, add the chicken pieces to the skillet and cook until golden brown on each side (about 3-5 minutes on each side). Cook the chicken in batches, if needed, to prevent them from overcrowding the skillet. Transfer the browned chicken on a clean plate.

After removing the chicken from the skillet, turn the heat down to medium-low and add the butter and minced garlic. Sauté the garlic in the butter for about one minute. Add the chicken broth and lemon juice to the skillet and whisk to dissolve (or "deglaze") the brown bits off of the bottom of the pan.

Add the capers and half of the chopped parsley to the skillet. Increase the heat to medium, add the chicken back to the skillet, and spoon the sauce over top. Allow the chicken to simmer in the sauce for 3-5 minutes, without a lid, or until the sauce reduces by half. The flour on the chicken will help thicken the sauce as it simmers. Sprinkle the remaining parsley over top just before serving.
See how we calculate recipe costs here.
---
Notes
*I use Better Than Bouillon to mix up the exact amount of broth needed, when needed.
Nutrition
Serving:
1
Serving
Calories:
448.63
kcal
Carbohydrates:
14.45
g
Protein:
53.08
g
Fat:
18.28
g
Sodium:
436.05
mg
Fiber:
1.23
g
Read our full nutrition disclaimer here.
Scroll down for the step by step photos!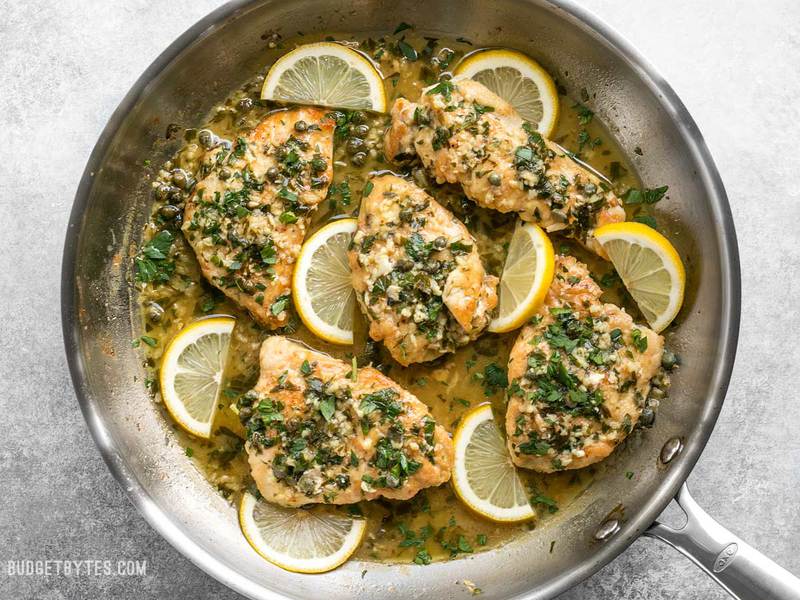 How to Make Chicken Piccata – Step By Step Photos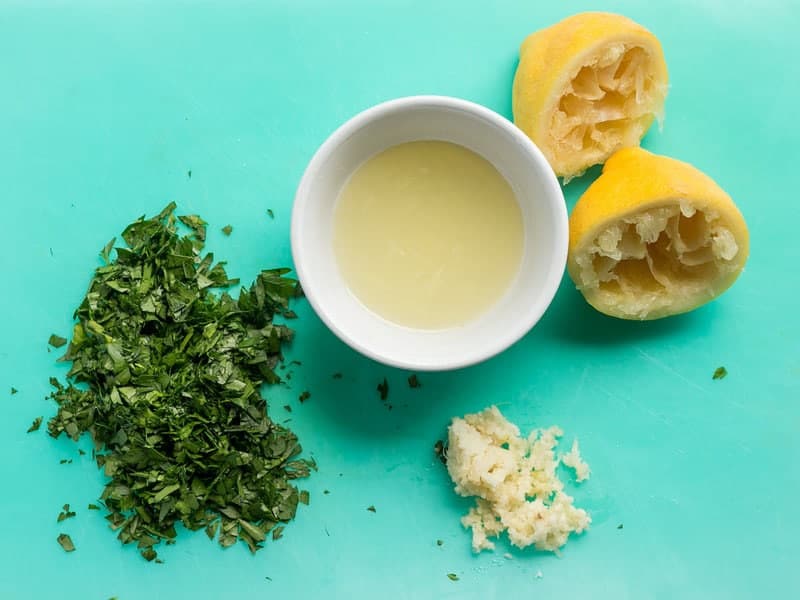 Start by preparing the sauce ingredients. Pull the leaves from about 1/4 bunch of parsley and then give them a rough chop. Juice the lemon (you'll want between 1/3 cup and 1/2 cup, it's flexible). Mince three cloves of garlic.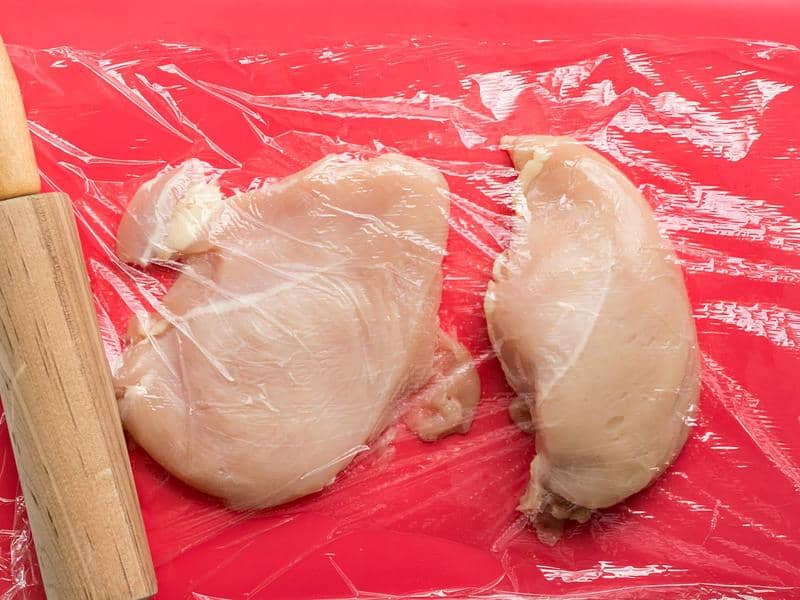 This recipe will make enough sauce for about 2 pounds of chicken breasts, or 2-3 boneless skinless breasts, depending on their size. I had two breasts left in my freezer, one of which was rather large. Place the chicken on a cutting board and cover with a large piece of plastic wrap. Use a mallet or rolling pin to gently pound the chicken, concentrating on the thicker end, until the piece is an even thickness from one end to the other (about 1/2 to 3/4 inch thick).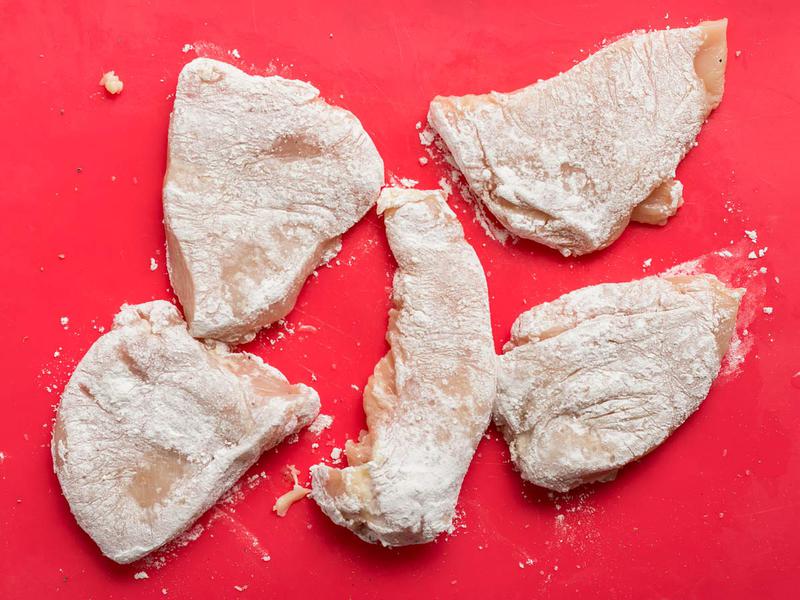 Next, cut each piece of pounded chicken into 2 (or three if it's extra large) pieces about the size of the palm of your hand. Season both sides with a pinch of salt and pepper. Place 1/2 cup flour in a wide shallow bowl and dip each piece of chicken in the flour until it is lightly coated on each side.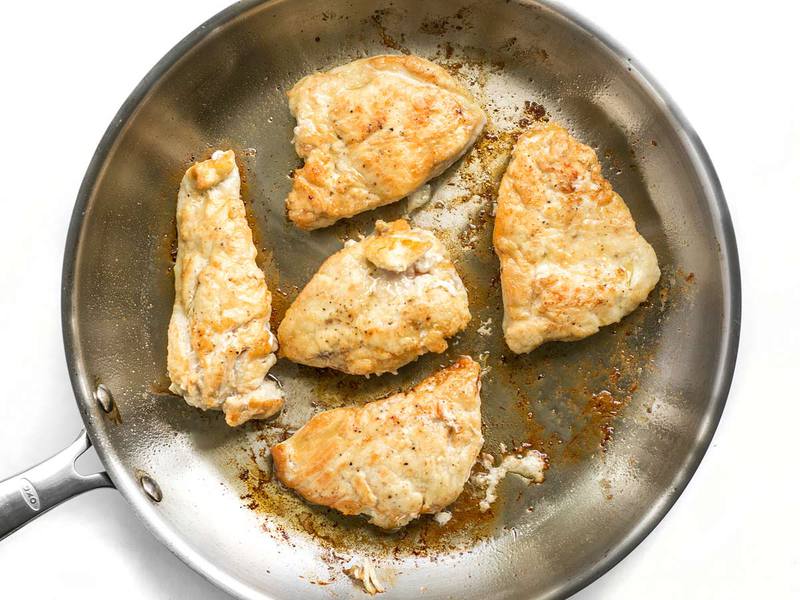 Heat 2 Tbsp olive oil in a large skillet over medium heat until it is shimmering. Add the chicken pieces and cook on each side until golden brown (about 3-5 minutes each side). Cook the chicken in two batches if your skillet is on the smaller side, to prevent over crowding, which will cause the juices to pool. You want some of the flour and chicken to brown on the bottom of the skillet.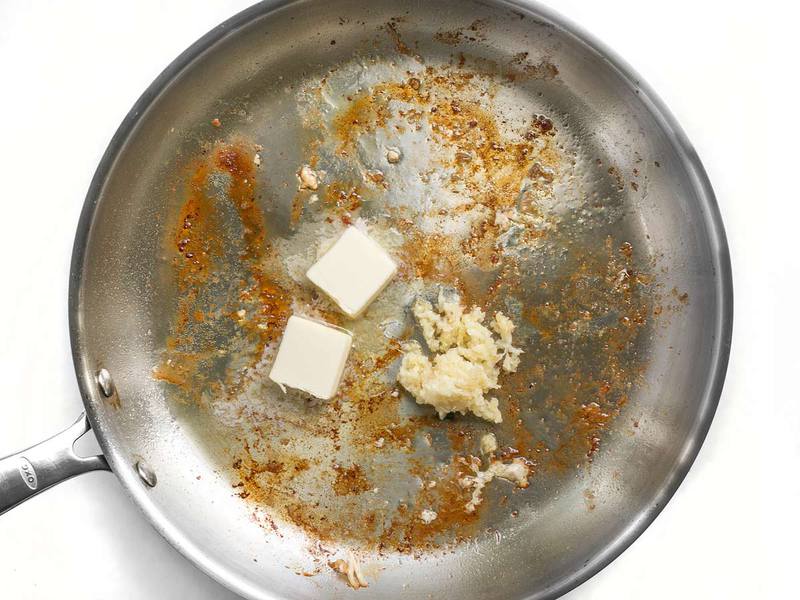 Once the chicken has browned, remove it to a clean plate and turn the heat down to medium-low. Add 2 tablespoons of butter and the minced garlic to the skillet. Sauté for about one minute or just until the garlic is softened a bit.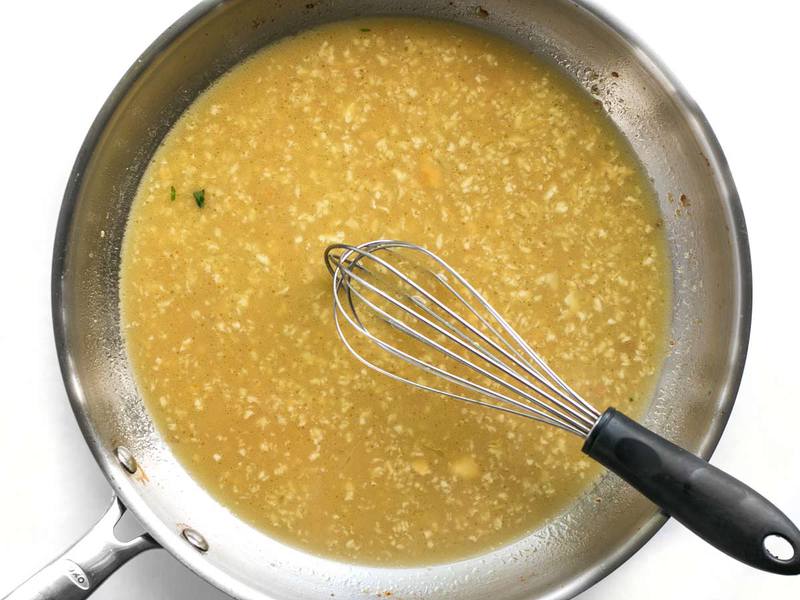 Add 1/2 cup chicken broth and the lemon juice to the skillet. Stir or whisk until all the browned bits are dissolved off the bottom.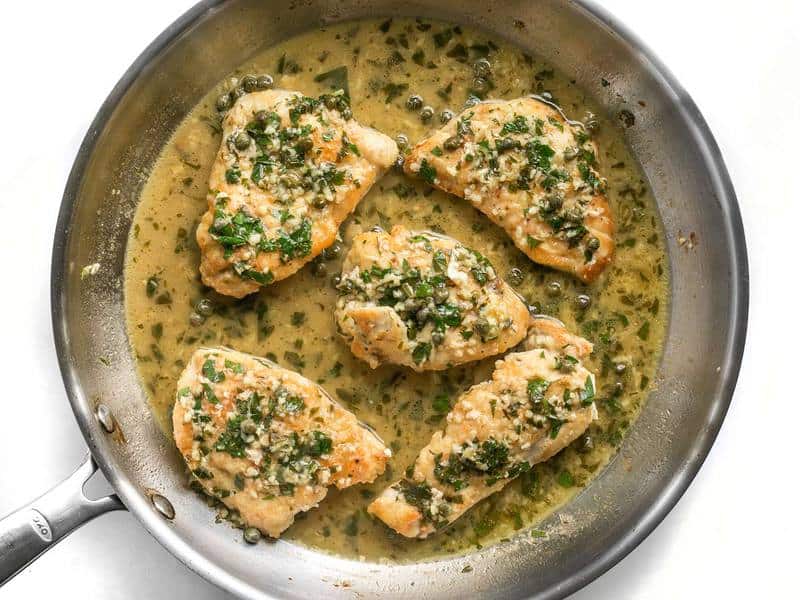 Add half of the chopped parsley and 1 Tbsp capers to the sauce. Return the chicken pieces to the skillet and spoon the sauce over top. Allow the skillet to return to a simmer. Continue simmer for 3-5 minutes without a lid, or until the sauce is reduced by half. Spoon the sauce over the chicken a few times as it simmers.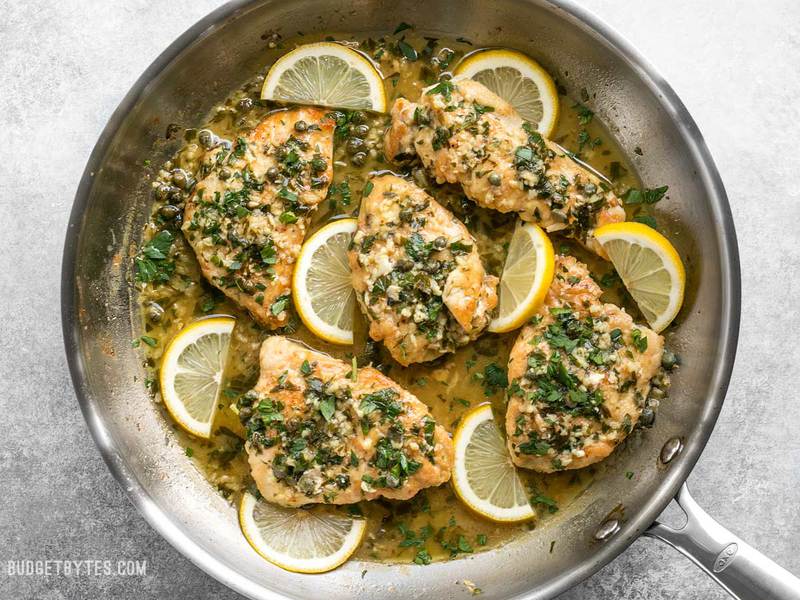 Garnish with the remaining chopped parsley just before serving. I also happened to have an extra lemon, so I added lemon slices for visual effect, but you don't need them for flavor. The sauce is QUITE flavorful on its own.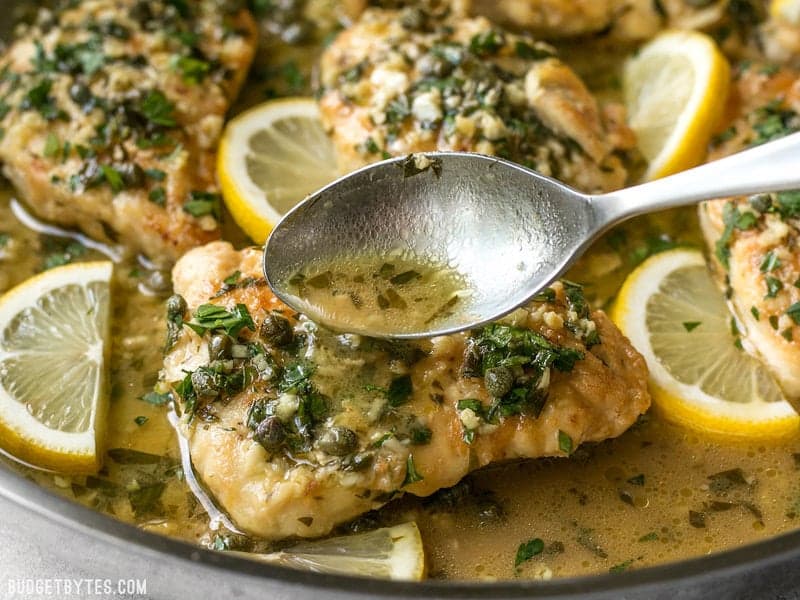 Oooh that sauce. Make sure to serve it over pasta, rice, or with a slice of bread to sop up that goodness!!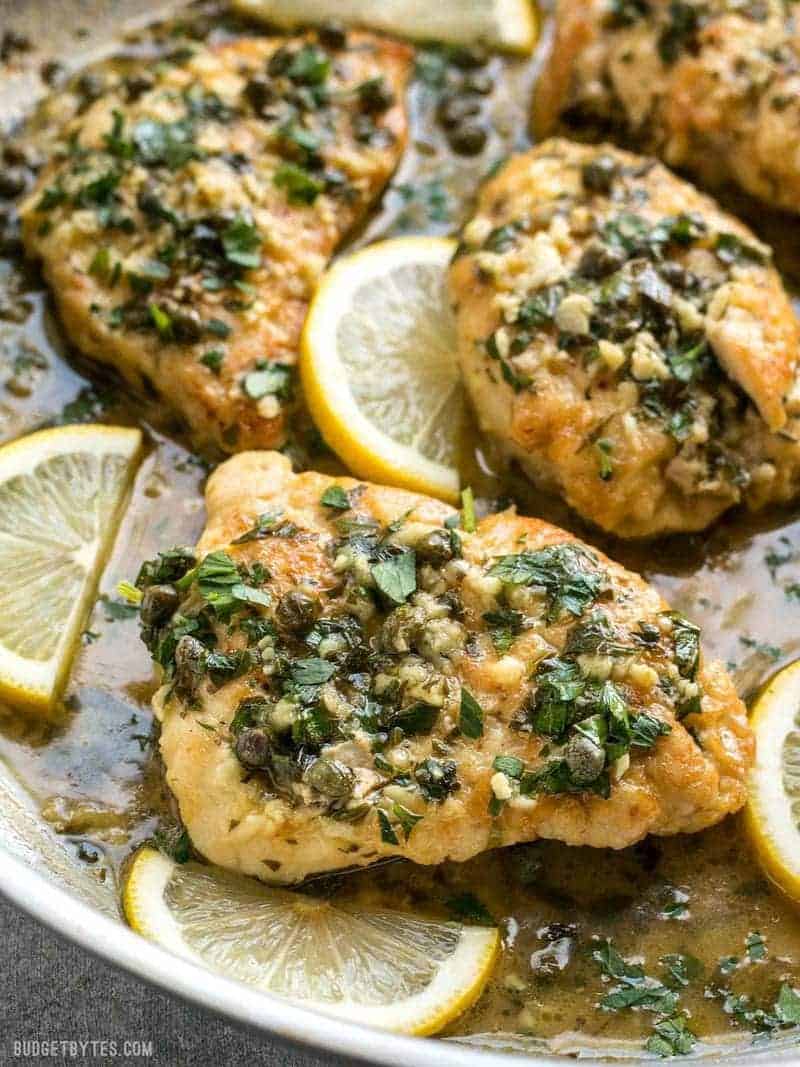 I thought I'd give you a close-up shot of that Chicken Piccata so that you can be jealous.