I've had a cabbage in my fridge that needed to be used up ASAP, so I decided to make a salad, similar in fashion to this Vinaigrette Slaw with Feta, but using some other ingredients I had on hand, because using up leftover ingredients is one of the best ways to maximize your grocery budget! I grabbed some dried cranberries and sunflower seeds from my pantry, a bottle of salad dressing from my fridge, and this sweet, salty, and tangy Cranberry and Cabbage Salad was born!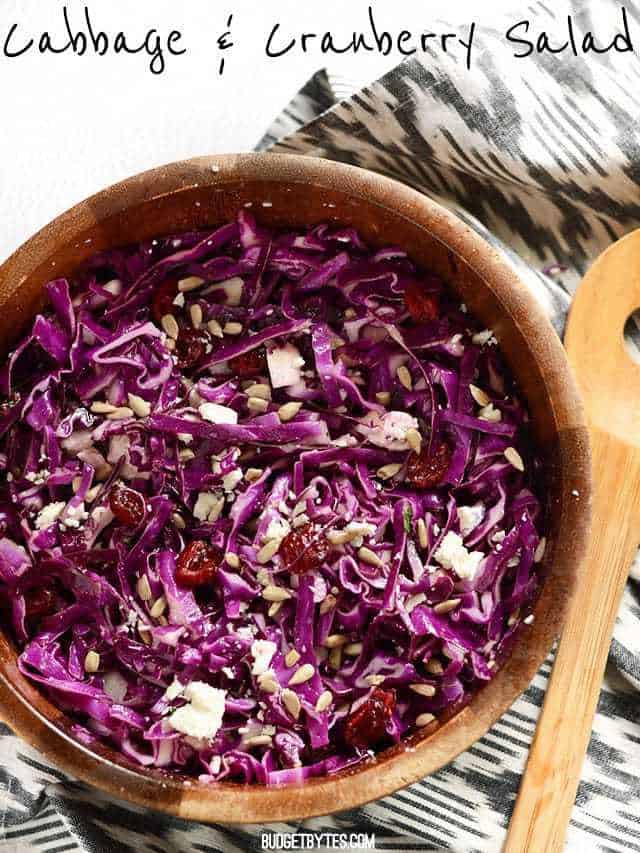 Can I Substitute the Feta?
The salty feta gives nice contrast to the sweet cranberries, and adds that pop of flavor that you need with an all cabbage salad like this. If you don't like feta, the next best cheese to add to this salad would be goat cheese (chevre) or maybe even a gorgonzola, but you'll definitely want to be a gorgonzola lover to use it in this salad because the flavor will be prominent.
What Kind of Dressing Can I Use?
I used a champagne vinaigrette (Girards) for this salad because it is light, tangy, and doesn't over power the feta or cranberries. If you don't like champagne vinaigrette, a Caesar dressing (not creamy) or raspberry vinaigrette might also work well.
What to Serve with Cranberry and Cabbage Salad?
This salad would be great served along side something that also combines sweet and savory flavors, like Sweet and Spicy Glazed Chicken Thighs, Honey Mustard Chicken, Pineapple Pork Hawaiian Burgers, or Blackberry Sage Pork Chops.
How to Store Cabbage Salad
This salad holds up really well to refrigeration, even after the salad dressing has been added. It will soften a little bit each day, but I actually prefer it when the cabbage is slightly softened. If you do happen to want your cabbage to retain maximum crunch, just add the dressing to each portion just before serving. The dressed salad will stay good in the refrigerator for 3-4 days.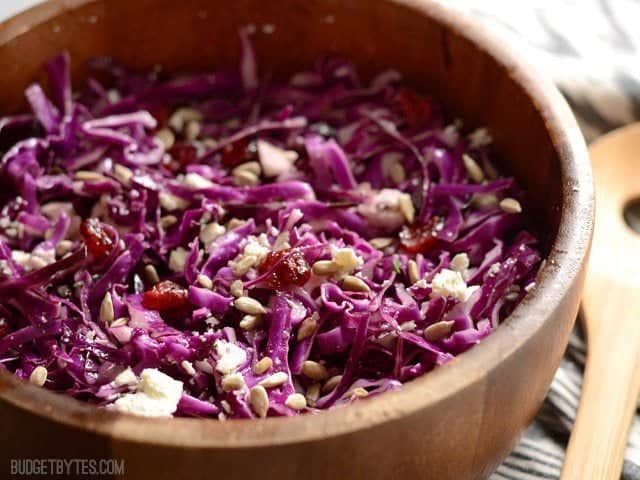 Cabbage and Cranberry Salad
Crunchy, sweet, salty, and tangy, this five ingredient Cranberry and Cabbage Salad is an easy side dish for weeknight dinners and meal preps well!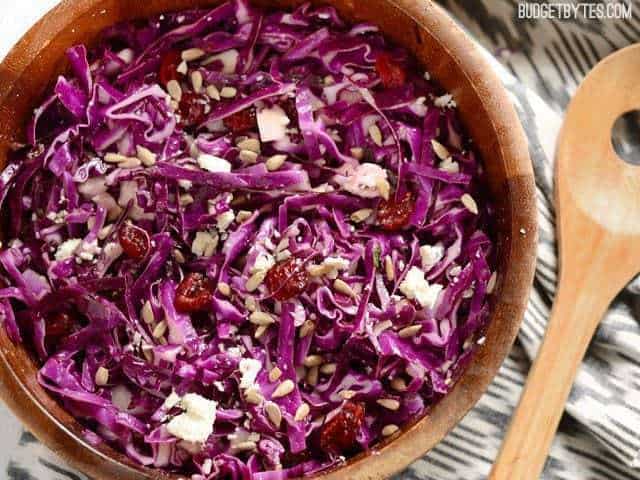 Ingredients
1/2

head

purple cabbage

($0.99)

1/3

cup

dried cranberries

($0.51)

1/4

cup

sunflower seeds

($0.30)

2

oz.

feta, crumbled

($1.12)

1/4

cup

champagne vinaigrette

($0.58)
Instructions
Thinly slice or shred the cabbage.

Combine the cabbage, cranberries, sunflower seeds, feta, and dressing in a large bowl. Stir until everything is well coated in dressing. Eat immediately or refrigerate until ready to eat.
See how we calculate recipe costs here.
---
Notes
My favorite champagne vinaigrette is made by Girards.
Nutrition
Serving:
1
Serving
Calories:
205.73
kcal
Carbohydrates:
23.4
g
Protein:
6.13
g
Fat:
11.23
g
Sodium:
304.55
mg
Fiber:
5.7
g
Read our full nutrition disclaimer here.
How to Make Cranberry and Cabbage Salad – Step by Step Photos
Thinly slice or shred 1/2 of purple cabbage. Place it in a large bowl with 1/3 cup dried cranberries, 1/4 cup sunflower seeds, and 2oz. crumbled feta.
Add about 1/4 cup champagne vinaigrette.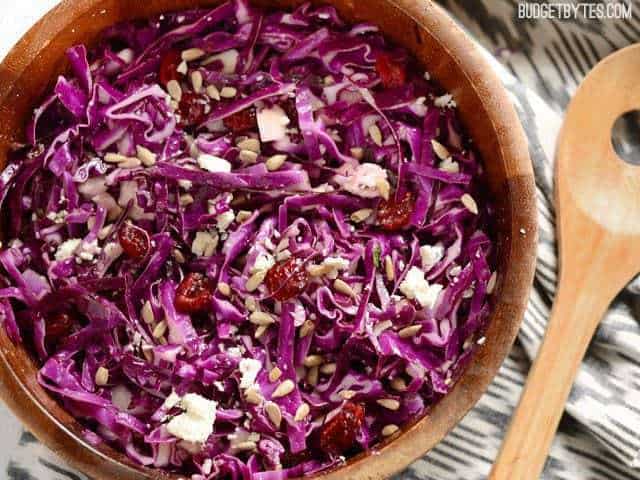 Then stir it up until everything is coated in dressing (add more if needed). Serve it right away or refrigerate it until you're ready to eat. This is one of those few salads that get better with a little time in the fridge. The dressing softens the cabbage just a bit and all the flavors blend together beautifully.