Cabbage and Cranberry Salad
Remember that cabbage that I bought last week but never used? No? Oh, well, I had a cabbage in my fridge that needed to be used up this week, so I decided to make a salad, similar in fashion to this Vinaigrette Slaw with Feta, but using things I had on hand. I rummaged through my pantry and found some dried cranberries and sunflower seeds, and this Cabbage and Cranberry Salad was born.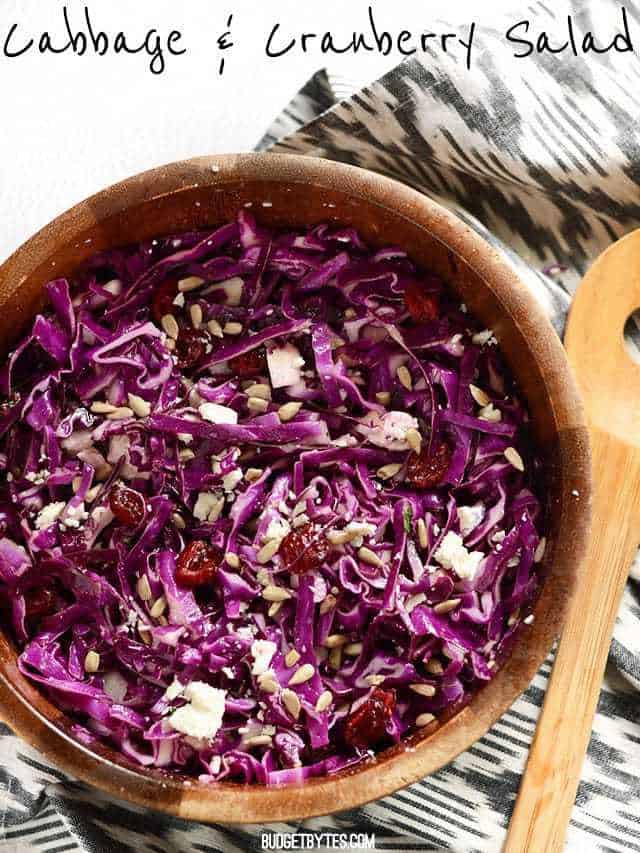 Thankfully, I had one 2oz. cube of feta left in my freezer and I was happy to use it for this salad. The salty feta gives nice contrast to the sweet cranberries, and adds that pop of flavor that you need with an all cabbage salad like this. Because this salad is a little on the sweeter side, I bought a champagne vinaigrette (Girards) to use as the dressing. Champagne vinaigrette is light, tangy, and doesn't over power the feta or cranberries. The sunflower seeds add a slightly nutty flavor and a lot of crunchy texture. Despite being a "leftovers" salad, this really hit the mark. I'm definitely getting my vegetable intake this week! :D
I <3 colorful food!
Print Recipe
Cabbage and Cranberry Salad
Crunchy, sweet, salty, and tangy, this five ingredient Cabbage and Cranberry salad is complex in flavor, but easy to make.
Prep Time: 10 mins
Total Time: 10 mins
Servings: 4
Ingredients
1/2 head purple cabbage ($0.99)
1/3 cup dried cranberries ($0.51)
1/4 cup sunflower seeds ($0.30)
2 oz. feta, crumbled ($1.12)
1/4 cup champagne vinaigrette ($0.58)
Instructions
Thinly slice or shred the cabbage.

Combine the cabbage, cranberries, sunflower seeds, feta, and dressing in a large bowl. Stir until everything is well coated in dressing. Eat immediately or refrigerate until ready to eat.
Notes
My favorite champagne vinaigrette is made by Girards.
---
Nutritional values are estimates only. See our full nutrition disclosure here.
Cabbage and Cranberry Salad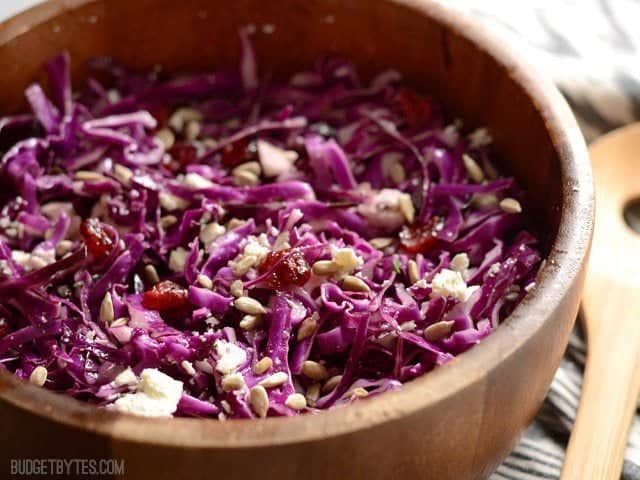 Step by Step Photos
What steps? Just put it all in a bowl…
J/K
Thinly slice or shred 1/2 of a purple cabbage. Place it in a large bowl with 1/3 cup dried cranberries, 1/4 cup sunflower seeds, and 2oz. crumbled feta.
Add about 1/4 cup champagne vinaigrete.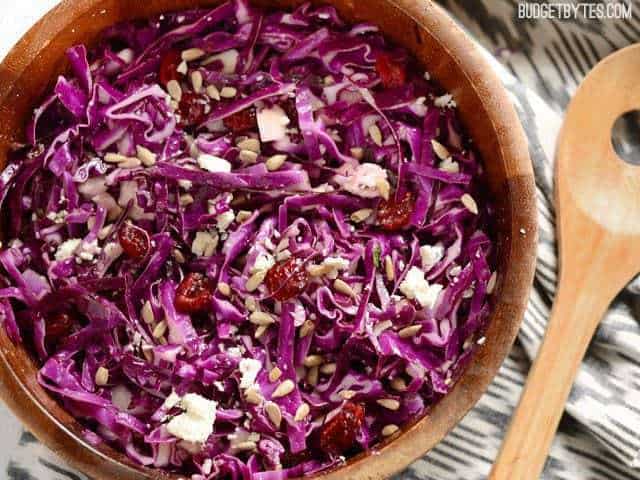 Then stir it up until everything is coated in dressing (add more if needed). Serve it right away or refrigerate it until you're ready to eat. This is one of those few salads that get better with a little time in the fridge. The dressing softens the cabbage just a bit and all the flavors blend together beautifully.