I know, I'm about a month late on this post, but so many good things happened in 2014 that I wanted to make this roundup, even if a bit late! 2014 was a busy year, with the launch of my first book, the purchase of my first home, and the adoption of my first dog (yay!). Despite all these firsts, I had time to crank out a few delicious recipes in between. I couldn't narrow it down to just ten, so here are 15 of my favorite recipes from 2014!
Best of Budget Bytes 2014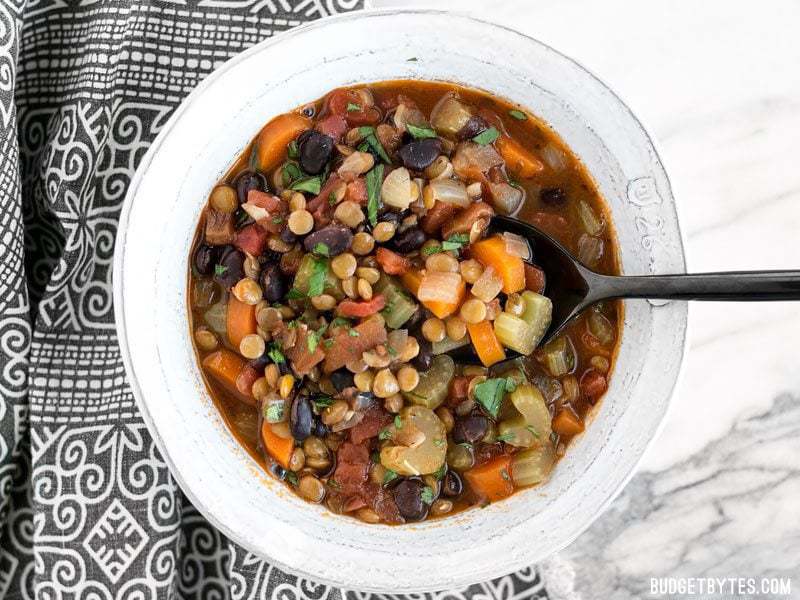 Chunky Lentil and Vegetable Soup – The year started off strong with this amazing soup on New Years Day. It's packed full of delicious and colorful vegetables, black beans, and lentils. This soup is every bit as tasty as it is healthy, which is why it is one of my all-time favorite Budget Bytes recipes!
---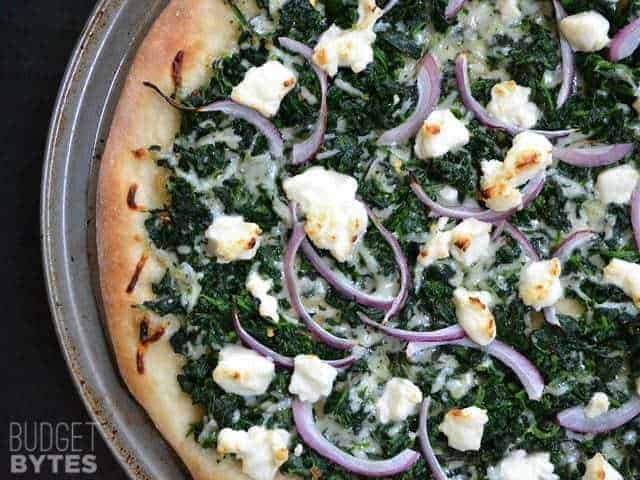 Easy White Spinach Pizza – I didn't even mess around with making a separate sauce for this pizza, I just mixed the cheese, spinach, and spices together into one creamy topping. You can make your own dough or simplify it one step further by topping a store bought crust with this amazingly easy spinach and cheese topping.
---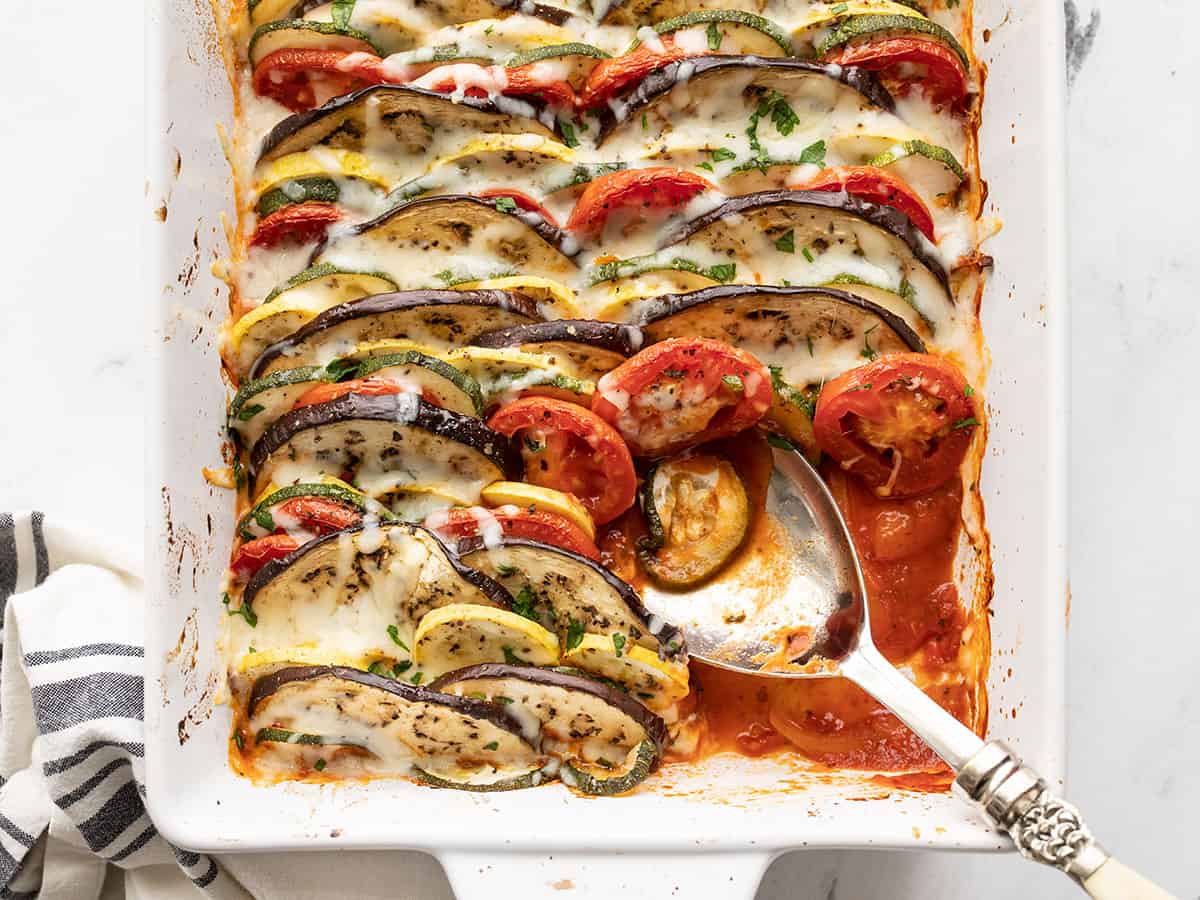 Oven Roasted Ratatouille – A medly of thinly sliced vegetables get the "pizza" treatment with a few dollops of red sauce and a generous sprinkle of mozzarella cheese. If you're looking for a delicious way to get more vegetables, THIS is the way to do it.
---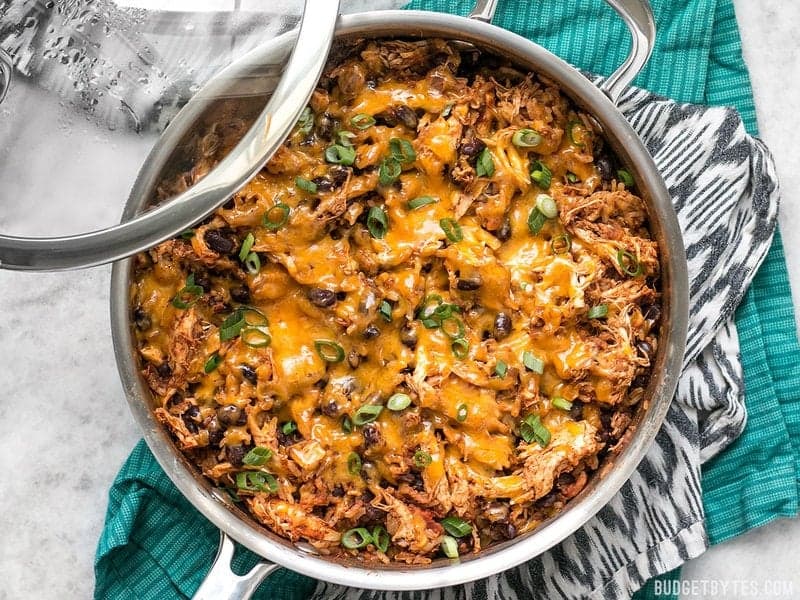 Southwest Chicken Skillet – 2014 was the year that I got really into "one pot" and "skillet" meals. These easy dinners contain your meat, vegetables, and starch all in one dish, so you never have to sit around trying to decide what sides to make. And, because it all cooks in just one pot or pan, there's a lot less cleanup!
---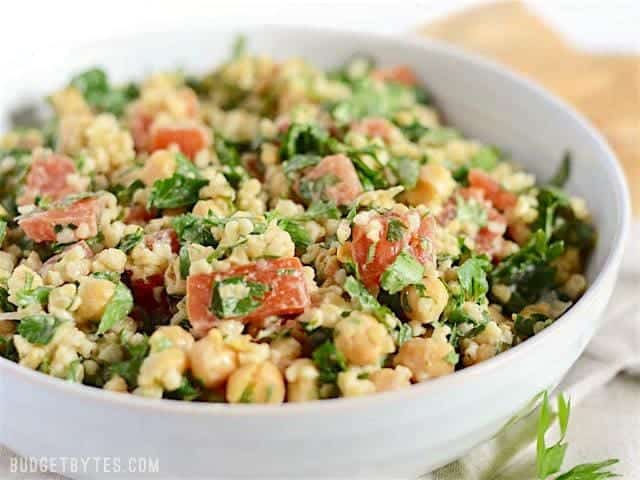 Falafel Salad – This salad! This is what it's all about. I love falafel, but didn't want to mess with making patties and frying them up, so I just made a salad out of the ingredients. BINGO. I never looked back.
---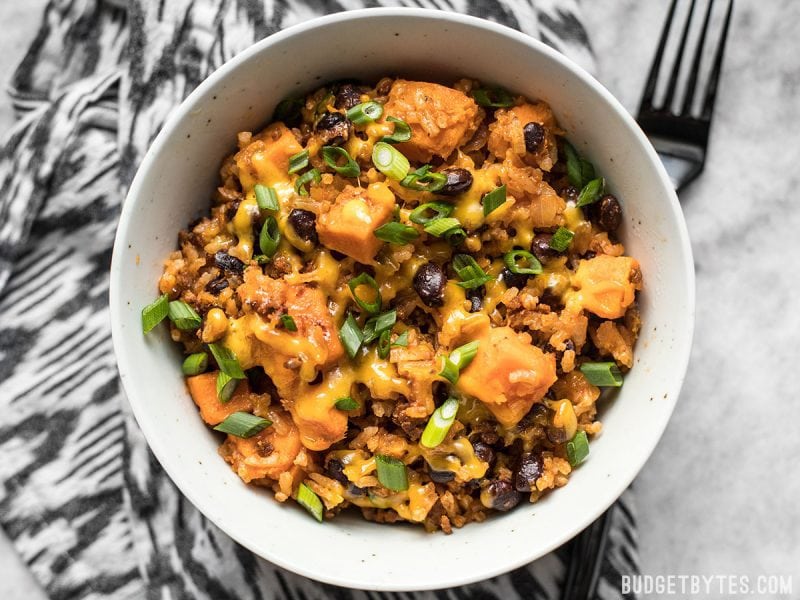 Chorizo and Sweet Potato Skillet – Another fantastic skillet meal, this time utilizing that glorious combination of spicy Mexican chorizo and the subtle sweetness of sweet potatoes. YUM. I need to make this again soon.
---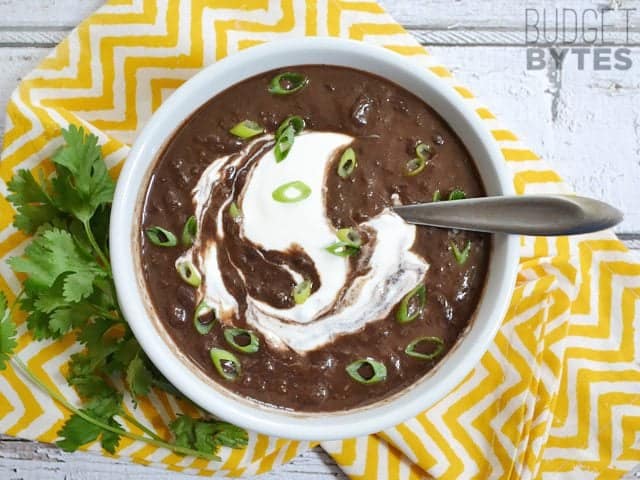 Slow Cooker Black Bean Soup – Rich, velvety, and packed with vegetables that you can't even see (a good way to trick those vegetable haters!). This soup cooks itself in the slow cooker while you're busy doing more important things and delivers a hearty and delicious soup to your table at the end of the day.
---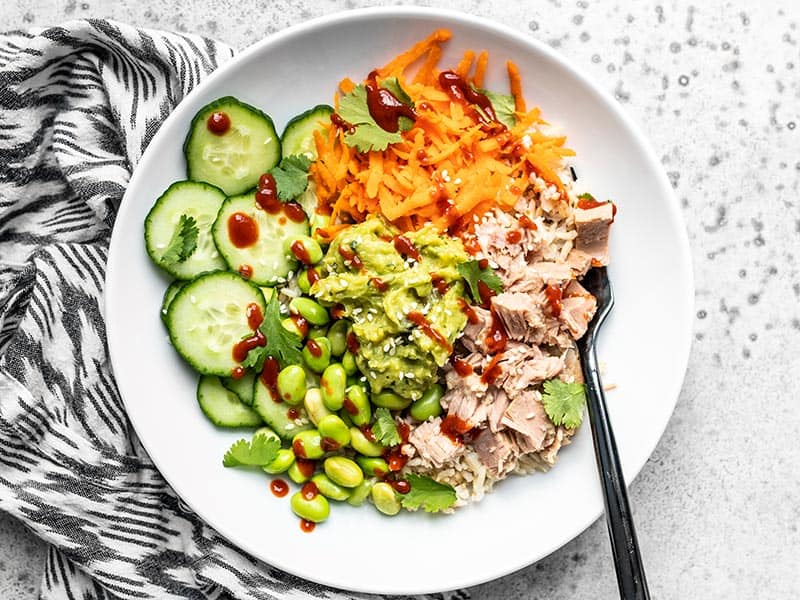 Spicy Tuna Guacamole Bowls – This is the perfect hot weather food. Lots of texture, flavor, and color in one delightful and good-for-you bowl. When it's too hot outside to be weighed down by food, this will fill you up and keep you feelin' light.
---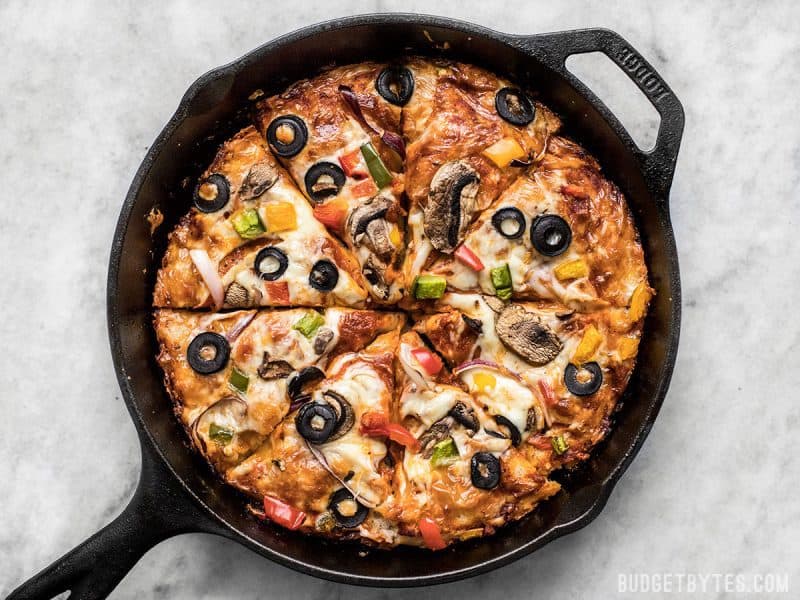 No Knead Pan Pizza – I'm pretty obsessed with pizza, so when I finally tried cooking pizza in a cast iron skillet, I was in love. The heavy duty cast iron gives the crust a gloriously crisp outer edge, while keeping the inside soft and fluffy. Deep dish WIN.
---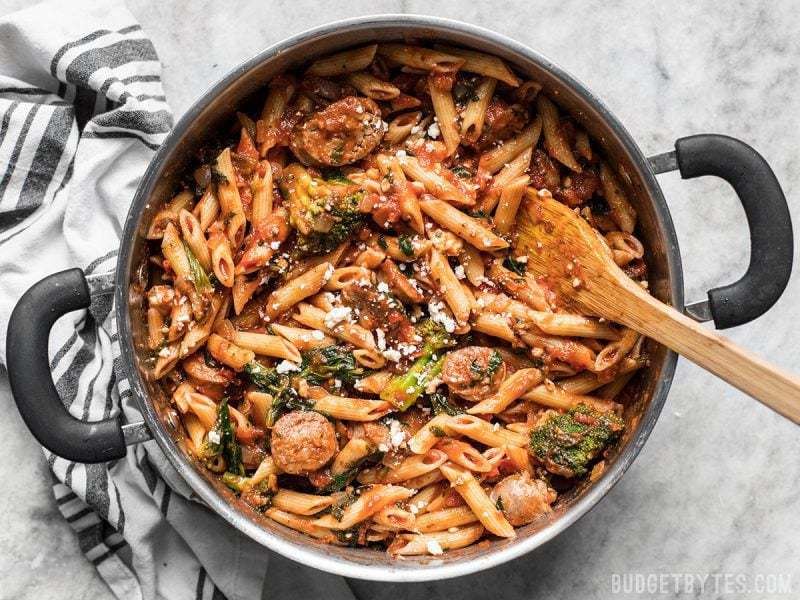 Penne Pasta with Sausage and Greens – I took part in the SNAP Challenge last September and many good things came of the incredibly difficult experiment, including this Penne Pasta with Sausage and Greens. Tossing any frozen vegetable I can find into a pot of pasta with red sauce has always been my go-to easy weeknight meal, but this combo of spinach, broccoli, and Italian sausage takes the cake.
---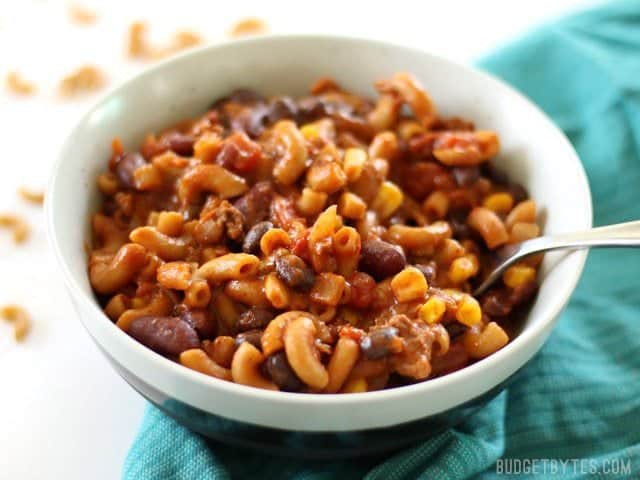 One Pot Chili Pasta – This is another winner born of the SNAP challenge. Chili is always awesome, but you can stretch the flavor and your dollars even further by cooking some pasta right in the flavorful chili goodness. Melting a little cheese into the sauce at the end adds a little creaminess for good measure.
---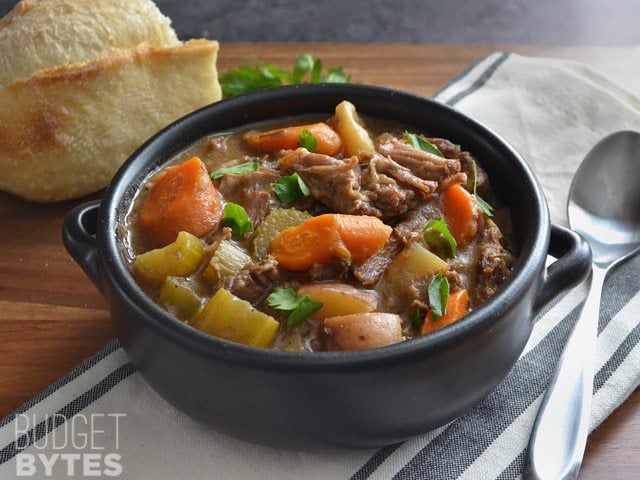 Slow Cooker Rosemary and Garlic Beef Stew – At the first cold snap of the year I was craving a warm and filling pot of beef stew. I utilized my slow cooker to make sure the beef was extra tender and all the amazing flavor of rosemary and garlic infused into every bite!
---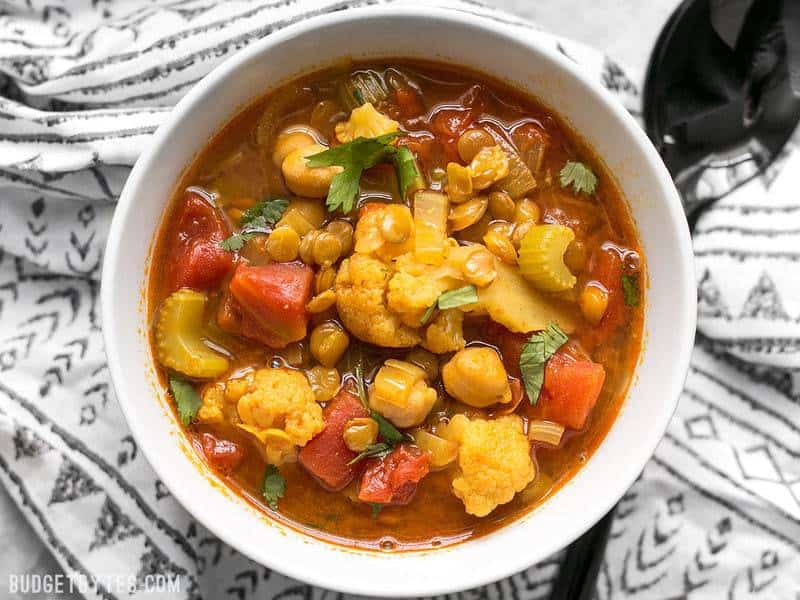 Moroccan Lentil and Vegetable Stew – This one is so good that I'm seriously hoarding my last two servings away in the freezer for a special occasion. It's going to be a sad day when they're finally gone. Aaaaand, make that one last serving. I just gave in and reheated one for lunch after drooling over this photo.
---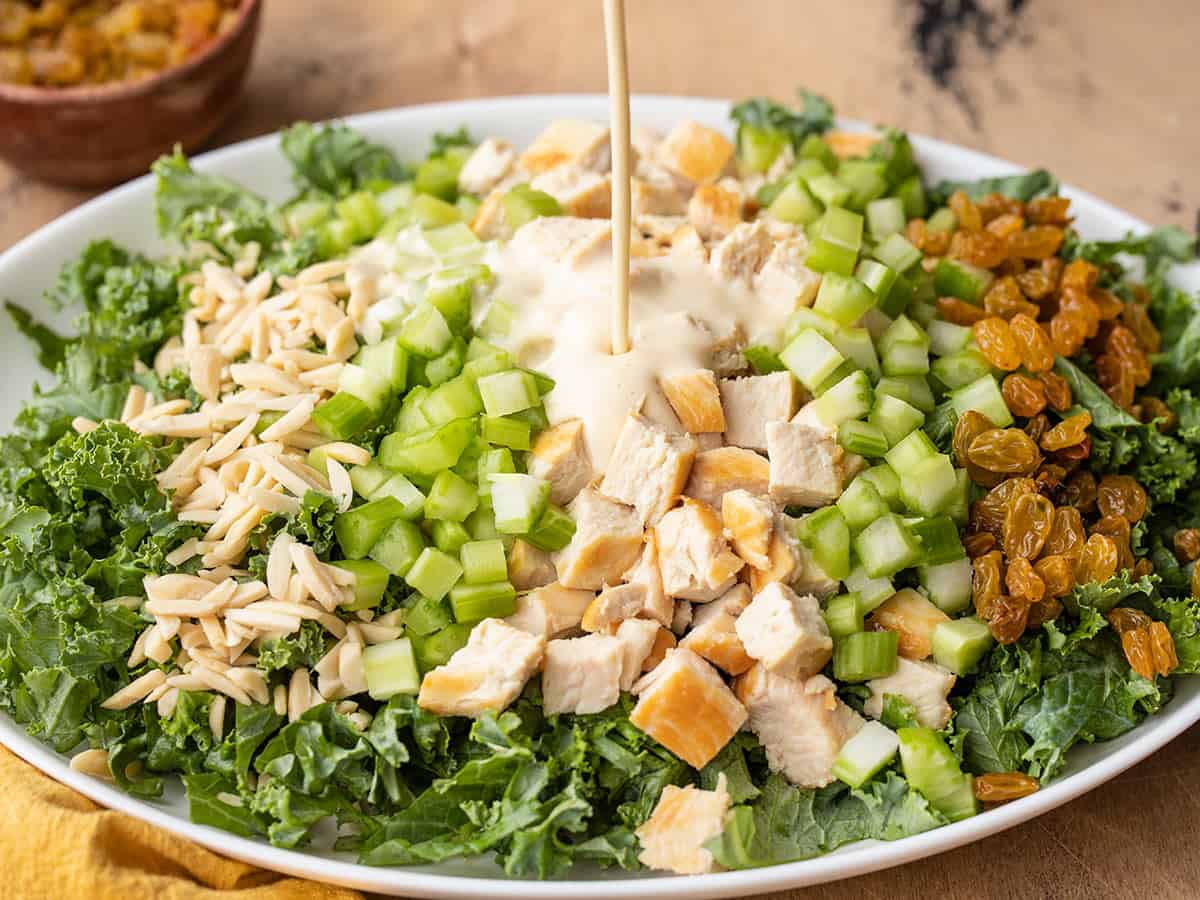 Crunchy Kale and Chicken Salad – Hooray for salads that are so filling they can be a meal! This one has more texture than you can shake a stick at, thanks to crunchy almonds, crisp celery, sweet golden raisins, and kale. It's topped with a sweet honey mustard-esque dressing that makes every bite lip-smacking good.
---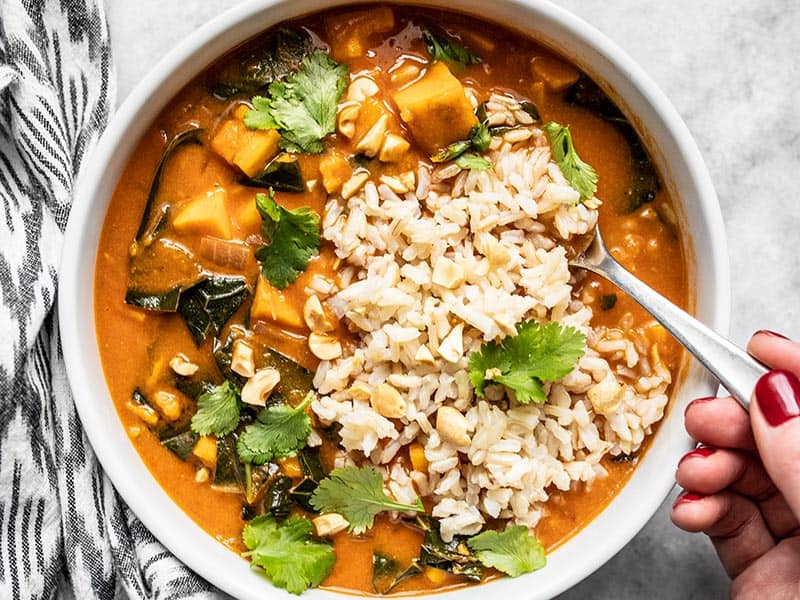 Peanut Stew – Vegan never tasted so good. This is one of those recipes that no one would ever guess is vegan unless you told them. It's rich, filling, and just bursting with flavor. Serve it over rice for a full out meal.
---
What were your favorite new recipes from 2014? Be it from Budget Bytes or any other website, share your favorites in the comments below!