Banana Coconut Baked Oatmeal
Good morning! After making a batch of my "Oatmeal Cookie" Baked Oatmeal last week, I was ready for more. I hadn't made baked oatmeal in a while and had forgotten just how good it is! This time I made use of a couple ingredients that have been lingering in my kitchen: frozen bananas and unsweetened shredded coconut. I tossed the two together with the usual ingredients, subbed rich  coconut milk for the dairy milk, and ended up with an ultra rich, lightly sweet Banana Coconut Baked Oatmeal. This one is a winner, friends!
I often freeze ripe bananas (peeled and broken in half) to use in smoothies later, but my stock pile was growing faster than I was eating them. Bananas continue to brown while they're in the freezer, just at a slower rate, so you do want to use them in a timely manner. I thought about making banana bread, which I don't have a recipe for on the blog (!!), but wanted baked oatmeal last minute. :) So, I'm sorry to all of you who have been waiting for banana bread. ;)
Make sure that you get canned coconut milk for this recipe, not the type that is sold in a carton as an alternative to dairy milk. The canned counterpart is much thicker and has a much stronger coconut flavor. I used Goya brand, which seemed somewhere between the "regular" and "lite" versions that I normally buy. It was thick, but didn't have a big solid clump of coconut oil at the top. You could probably get away with using either of regular or "lite" varieties, though. If you use a brand that has a large lump of solid coconut oil at the top of the can, you may want to add 1/4 cup water to the mix, just to make sure the oats have enough moisture to fully soften.
P.S. If you've never made one of my Baked Oatmeal recipes before, the texture is somewhere between a custard and a cake. It's moist and soft, yet solid.
Banana Coconut Baked Oatmeal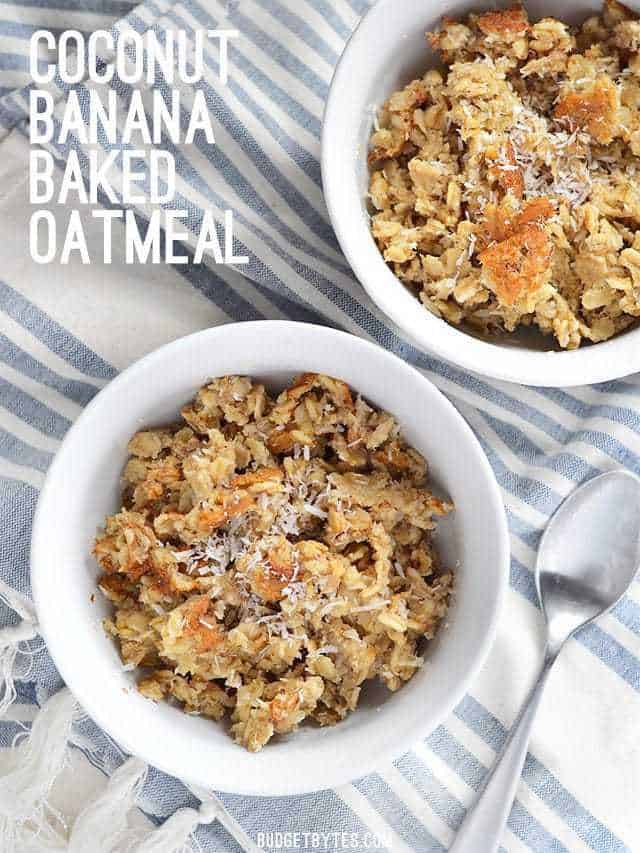 Banana Coconut Baked Oatmeal
This Banana Coconut Baked Oatmeal is rich and has just the right amount of sweetness to make your breakfast feel indulgent.
Ingredients
1.5

cups

mashed ripe bananas*

$0.68

1

large egg

$0.27

1/4

cup

brown sugar

$0.08

1/2

tsp

vanilla

$0.14

1/2

tsp

nutmeg

$0.05

1

tsp

baking powder

$0.06

1/2

tsp

salt

$0.03

1/3

cup

unsweetened shredded coconut

$0.31

13.5 oz.

can

coconut milk

$2.17

3

cups

old-fashioned rolled oats

$0.51
Instructions
Preheat the oven to 375 degrees. Coat the inside of a 2-3 quart casserole dish with non-stick spray.

In a large bowl, whisk together the mashed bananas, egg, brown sugar, vanilla, nutmeg, baking powder, salt, and shredded coconut until evenly combined. Add the coconut milk and whisk until smooth again. Add the rolled oats and stir with a spoon until combined.

Pour the oat mixture into the prepared casserole dish and bake, uncovered, for 45 minutes. Serve warm or refrigerate until ready to eat. Pairs well with cold milk poured over top.
Recipe Notes
*2-3 large bananas, or 3-4 smaller bananas.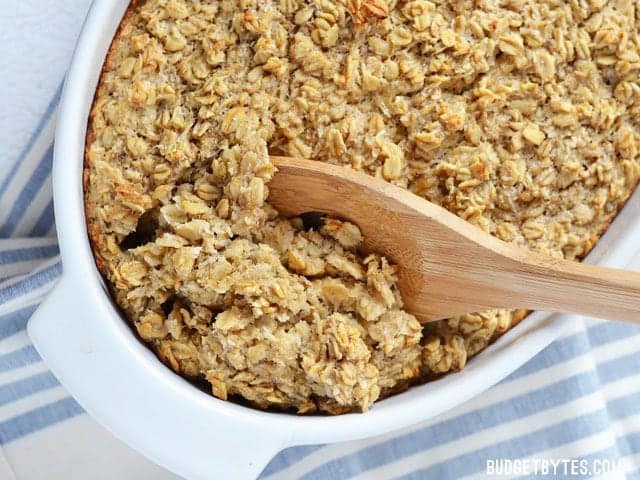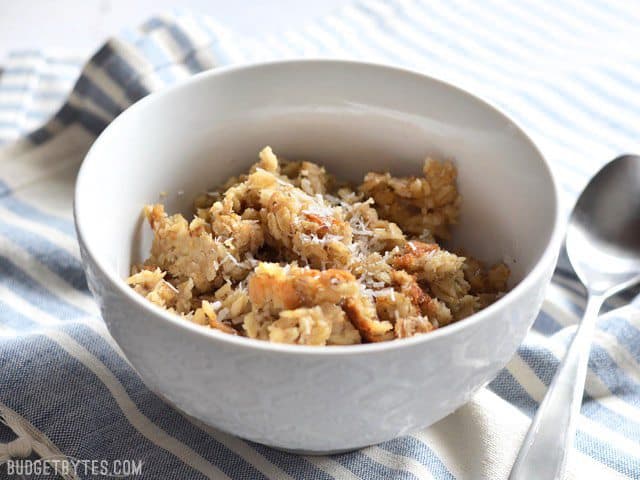 Step by Step Photos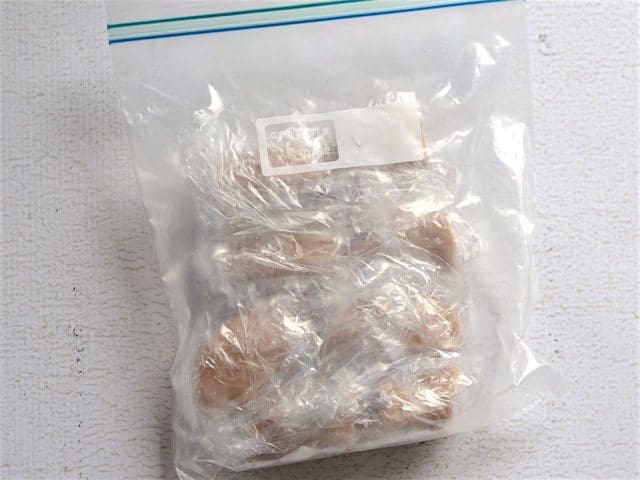 These are my sad frozen bananas that were getting a bit old. To freeze them I first peel the banana, break it in half (because it fits in the blender easier that way), wrap each half in a fold-top sandwich bag, then store them all in a freezer bag. These were getting quite brown, so I decided to thaw them and use them in this recipe. You need about 1.5 cups mashed bananas, which will be 2-3 larger bananas, or 3-4 smaller bananas. If you have slightly less than 1.5 cups, you can make up the difference with apple sauce or even yogurt.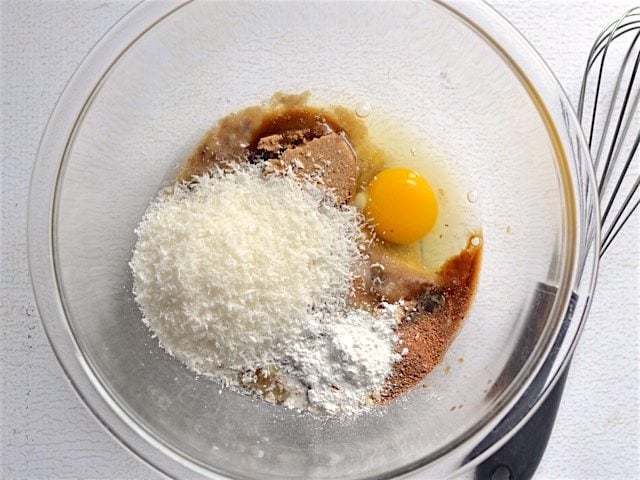 Preheat the oven to 375ºF. Place the mashed bananas in a large bowl along with one large egg, 1/4 cup brown sugar, 1/3 cup unsweetened shredded coconut, 1/2 tsp vanilla extract, 1/2 tsp nutmeg, 1 tsp baking powder, and 1/2 tsp salt. Whisk until the ingredients are evenly combined.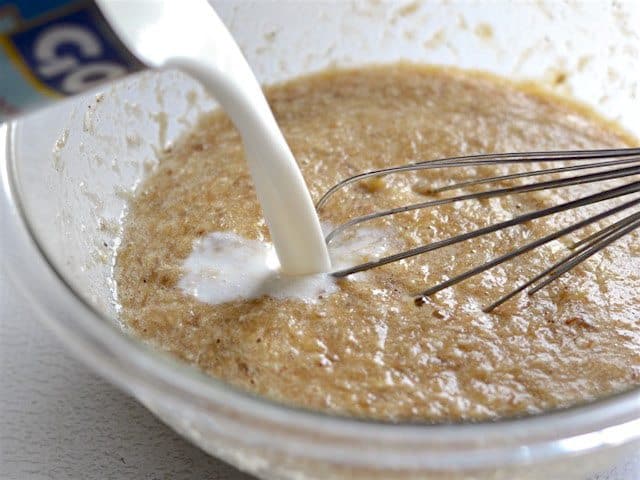 Add one 13.5oz. can of coconut milk and whisk again until smooth.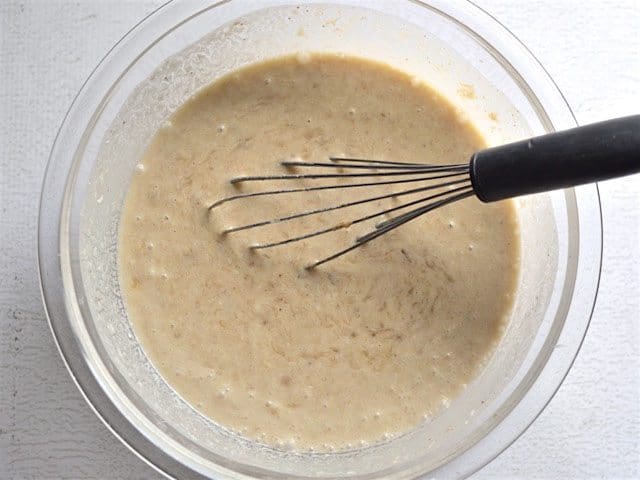 At that point it will look a little something like this. The color will depend on how dark your bananas were (mine were quite dark).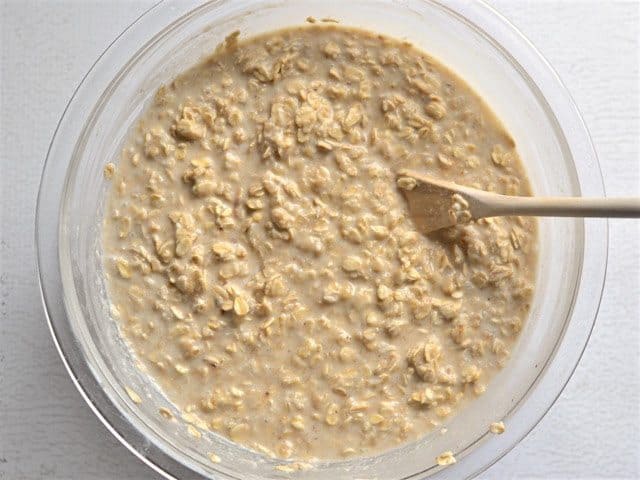 Add three cups of old-fashioned rolled oats and stir with a spoon until everything is evenly combined. Old-fashioned, or "thick" rolled oats, give the best texture. Quick oats will work, but the overall texture of the final product will be uniform and probably quite a bit more mushy. Steel cut oats won't work with this recipe because they take longer to cook and require more moisture.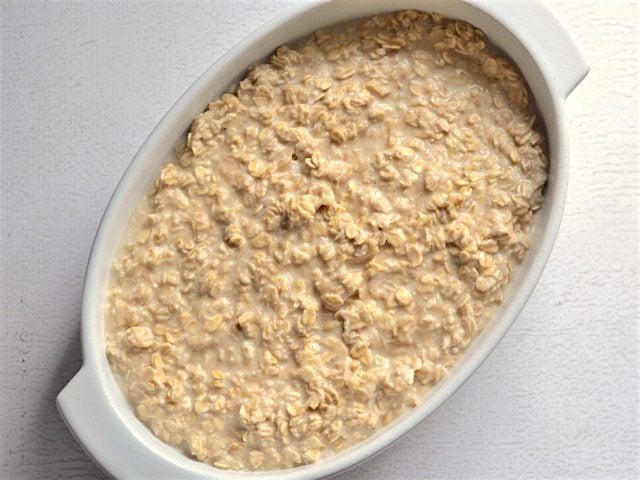 Pour the batter into a 2-3 quart casserole dish (coat with non-stick spray for easy cleanup).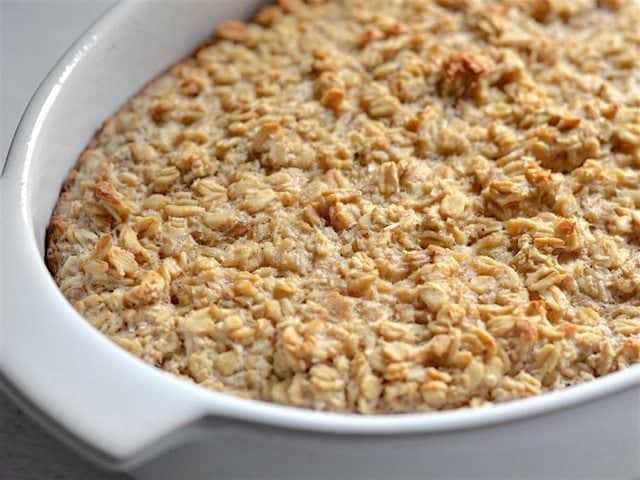 Bake the oatmeal in the fully preheated oven, uncovered, for 45 minutes. After 45 minutes it should be lightly browned on top and slightly spongy in texture.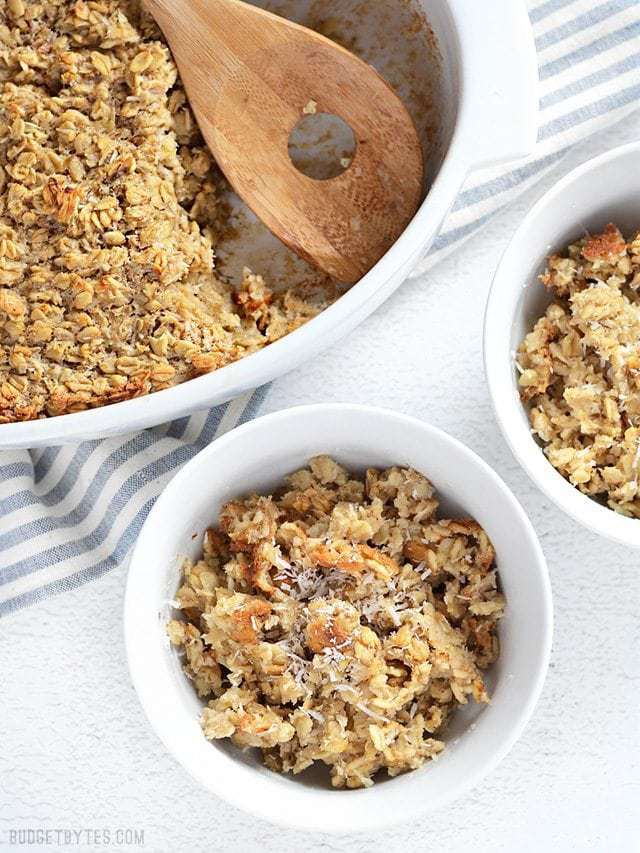 Spoon the warm Banana Coconut Baked Oatmeal into bowls and serve immediately, or refrigerate until ready to eat. I like to pour cold milk over mine. :)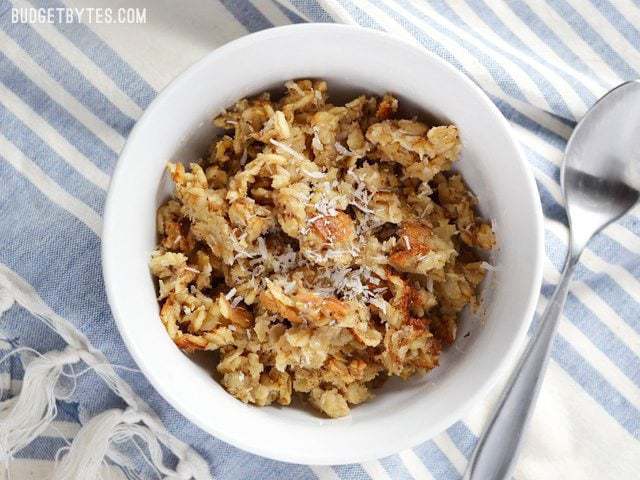 The shredded coconut gives the oatmeal such a great texture!