I really can't get enough of baked oatmeal. It's great for meal prepping my breakfast, it's hearty, delicious, and there are endless flavor possibilities. This time I made use of a couple ingredients that have been lingering in my kitchen: frozen bananas and unsweetened shredded coconut. I tossed the two together with the usual ingredients, subbed rich coconut milk for the dairy milk, and ended up with an ultra rich, lightly sweet Banana Coconut Baked Oatmeal. This one is a winner, friends!
Dairy-Free Banana Coconut Baked Oatmeal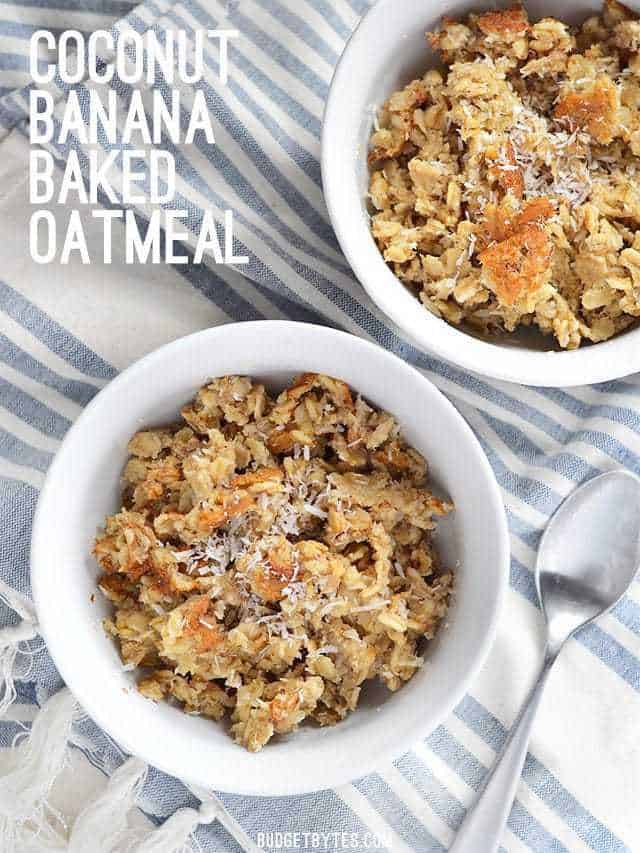 What Is Baked Oatmeal?
If you've never tried baked oatmeal before, let me explain a little bit what this wonderful breakfast dish is like. This sweet breakfast casserole is not crunchy. It's basically oats baked in a custard. It is just like bread pudding, except you're baking oats in the sweet custard mixture instead of chunks of bread. It's soft, moist, and rich.
Save Those Leftover Bananas!
Banana bread is the most common use for leftover bananas, but they're also great for making baked oatmeal! Mashed banana keeps the baked oatmeal soft, moist, and sweet. So, anytime you have leftover bananas, go ahead and peel them and then toss the peeled bananas into a freezer bag and save them until you have enough to make a batch of this banana coconut baked oatmeal (or banana bread baked oatmeal).
What Kind of Coconut Milk is Best?
Make sure that you get canned coconut milk for this recipe, not the type of coconut milk that is sold in a carton as an alternative to dairy milk. Canned coconut milk is much thicker and has a much stronger coconut flavor than the boxed dairy milk substitute. I used Goya brand, but Thai Kitchen brand is also a great choice. If the coconut milk you buy has a large chunk of solid coconut cream on top, make sure to whisk that into the liquid part well before trying to stir it into the baked oatmeal mixture.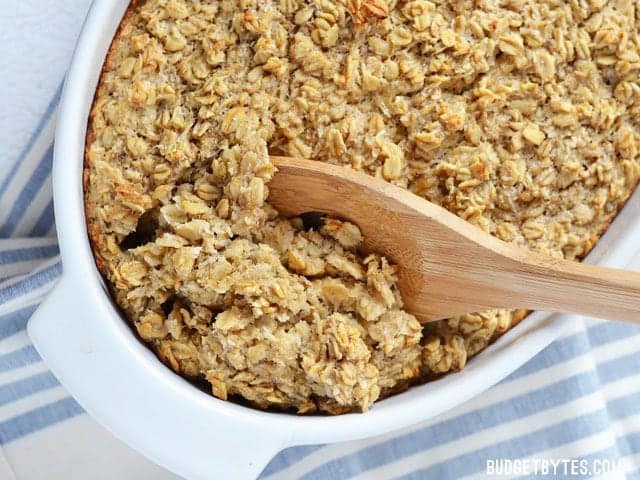 Banana Coconut Baked Oatmeal
Rich and slightly sweet, this Banana Coconut Baked Oatmeal tastes indulgent, but is a balanced, fiber filled breakfast that will keep you full all morning!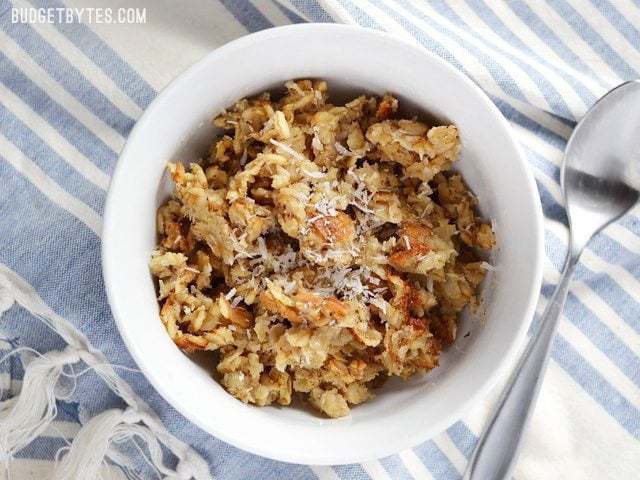 Ingredients
1.5

cups

mashed ripe bananas*

($0.68)

1

large egg

($0.27)

1/4

cup

brown sugar

($0.08)

1/2

tsp

vanilla

($0.14)

1/2

tsp

nutmeg

($0.05)

1

tsp

baking powder

($0.06)

1/2

tsp

salt

($0.03)

1/3

cup

unsweetened shredded coconut

($0.31)

1

13.5oz. can

coconut milk

($2.17)

3

cups

old-fashioned rolled oats

($0.51)
Instructions
Preheat the oven to 375ºF. Coat the inside of a 2-3 quart casserole dish with non-stick spray.

In a large bowl, whisk together the mashed bananas, egg, brown sugar, vanilla, nutmeg, baking powder, salt, and shredded coconut until evenly combined. Add the coconut milk and whisk until smooth again. Add the rolled oats and stir with a spoon until combined.

Pour the oat mixture into the prepared casserole dish and bake, uncovered, for 45 minutes. Serve warm or refrigerate until ready to eat. Pairs well with cold milk poured over top.
See how we calculate recipe costs here.
---
---
Notes
*2-3 large bananas, or 3-4 smaller bananas.
Nutrition
Serving:
1
Serving
Calories:
320.4
kcal
Carbohydrates:
53.05
g
Protein:
7.28
g
Fat:
9.52
g
Sodium:
286.47
mg
Fiber:
6.4
g
Read our full nutrition disclaimer here.
Scroll down for the step by step photos!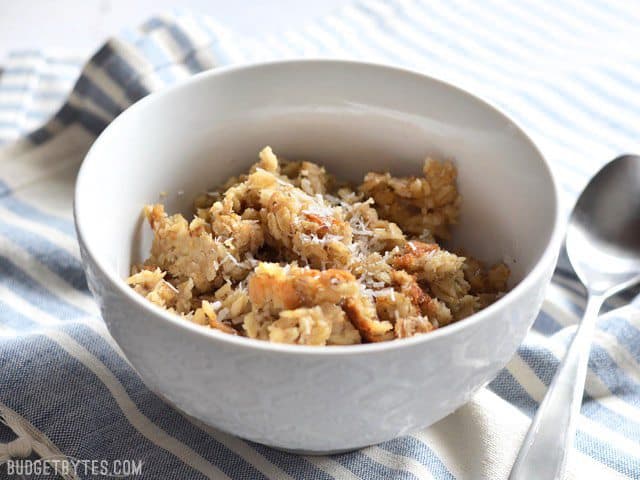 How to Make Banana Coconut Baked Oatmeal – Step by Step Photos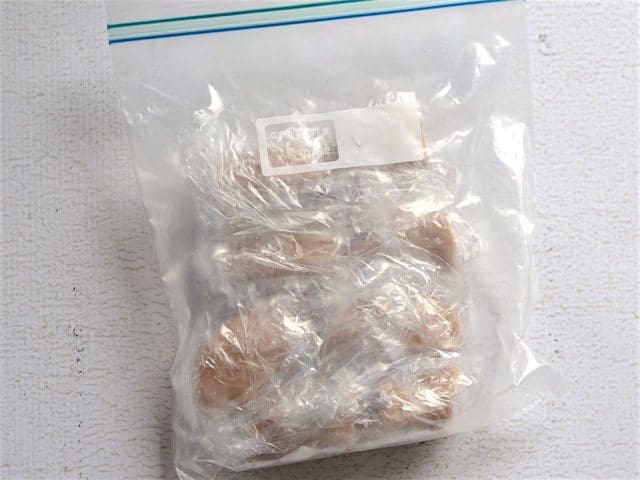 These are my sad frozen bananas that were getting a bit old. To freeze them I first peel the banana, break it in half (because it fits in the blender easier that way), wrap each half in a fold-top sandwich bag, then store them all in a freezer bag. These were getting quite brown, so I decided to thaw them and use them in this recipe. You need about 1.5 cups mashed bananas, which will be 2-3 larger bananas, or 3-4 smaller bananas. If you have slightly less than 1.5 cups, you can make up the difference with apple sauce or even yogurt.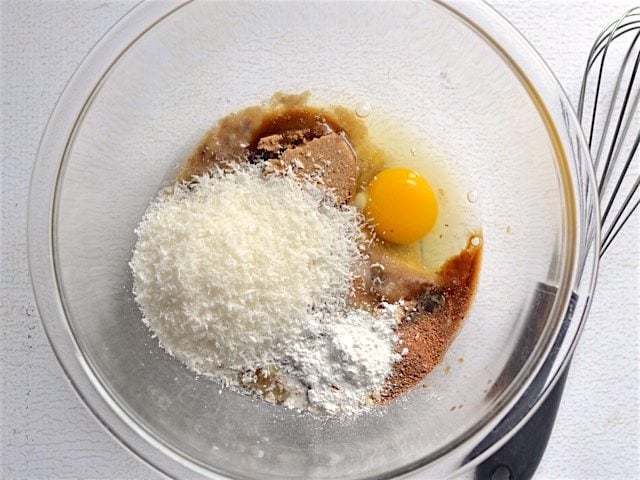 Preheat the oven to 375ºF. Place the mashed bananas in a large bowl along with one large egg, 1/4 cup brown sugar, 1/3 cup unsweetened shredded coconut, 1/2 tsp vanilla extract, 1/2 tsp nutmeg, 1 tsp baking powder, and 1/2 tsp salt. Whisk until the ingredients are evenly combined.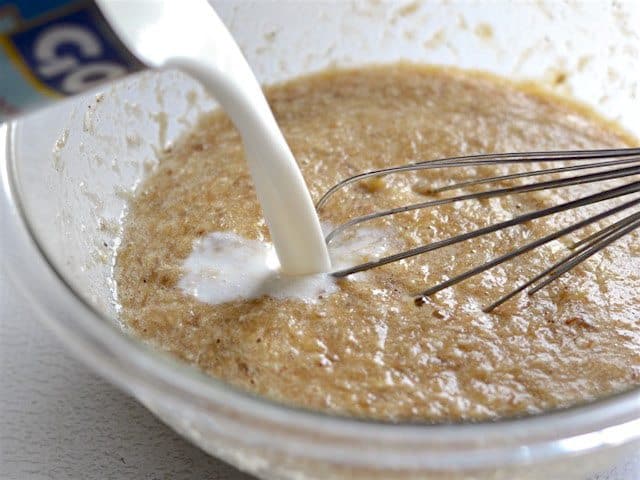 Add one 13.5oz. can of coconut milk and whisk again until smooth.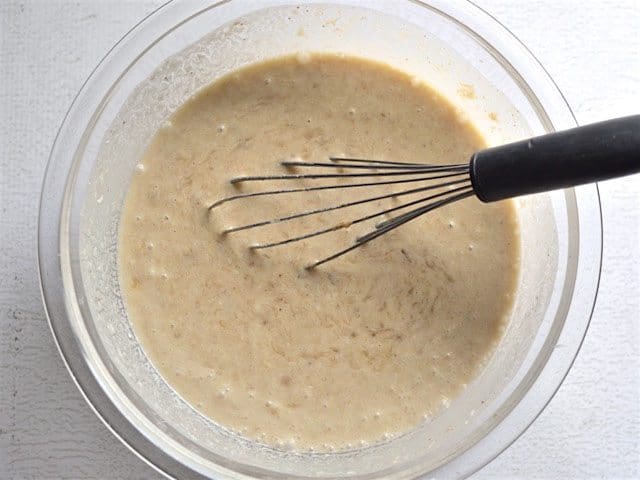 At that point it will look a little something like this. The color will depend on how dark your bananas were (mine were quite dark).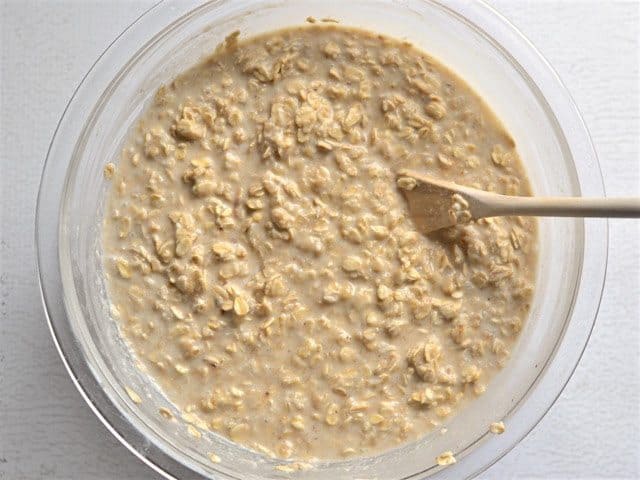 Add three cups of old-fashioned rolled oats and stir with a spoon until everything is evenly combined. Old-fashioned, or "thick" rolled oats, give the best texture. Quick oats will work, but the overall texture of the final product will be uniform and probably quite a bit more mushy. Steel cut oats won't work with this recipe because they take longer to cook and require more moisture.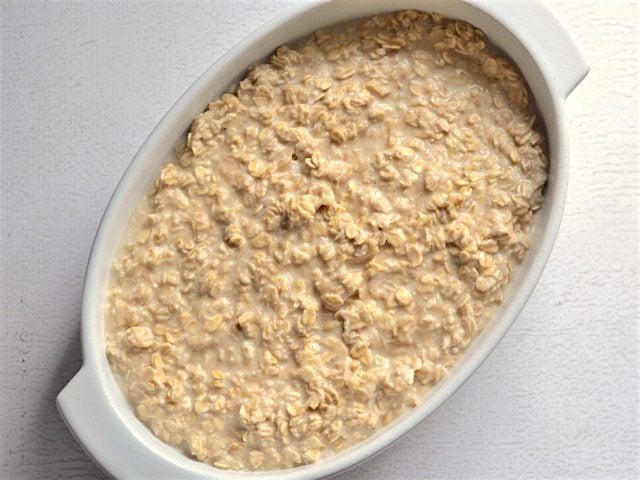 Pour the batter into a 2-3 quart casserole dish (coat with non-stick spray for easy cleanup).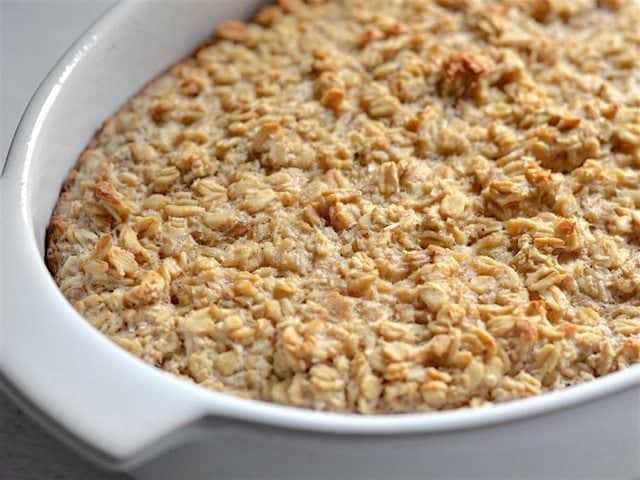 Bake the oatmeal in the fully preheated oven, uncovered, for 45 minutes. After 45 minutes it should be lightly browned on top and slightly spongy in texture.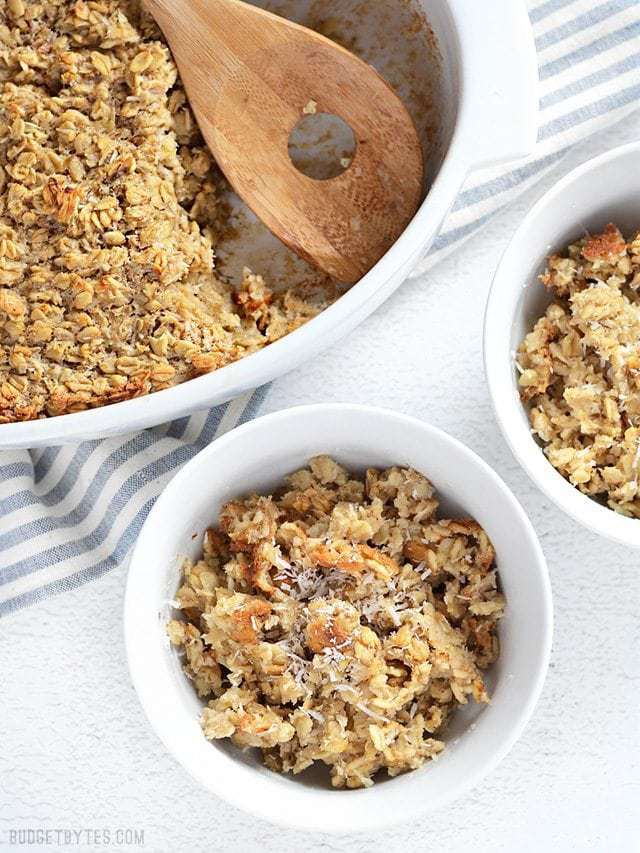 Spoon the warm Banana Coconut Baked Oatmeal into bowls and serve immediately, or refrigerate until ready to eat. I like to pour cold milk over mine. :)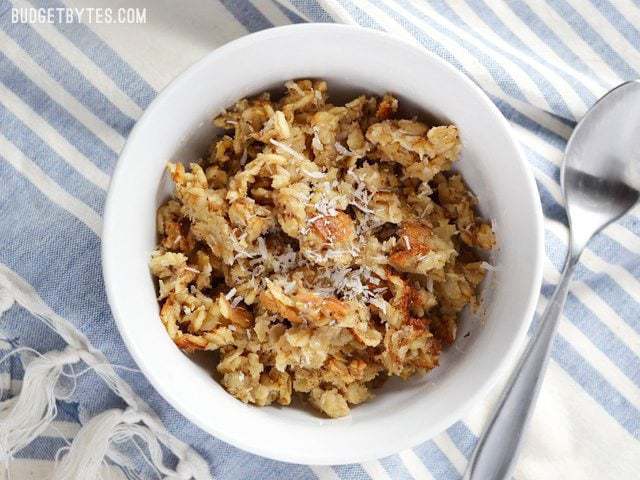 The shredded coconut gives the oatmeal such a great texture!