Since I finally had success with the last baked oatmeal, I decided to give it a shot with pumpkin. This recipe is a little different than my last baked oatmeal because I didn't have any yogurt on hand. It still turned out fantastic because the puréed pumpkin adds moisture in the same way as the yogurt. I've been enjoying this Pumpkin Pie Baked Oatmeal all week. You can certainly add some yogurt to this and I plan to next time as well. Either add 1/2 cup of plain yogurt to the ingredients as listed below, or reduce the milk to one cup and add one cup of yogurt. The canned pumpkin puree also adds moisture, which is why the total milk content of this recipe is lower.
I absolutely loved eating this cold every morning. I drizzled some maple syrup on top and then added some milk. It was the best oatmeal I've had in a while… and since the oats are pretty much baked in a pumpkin pie filling mixture (minus a lot of the fat), it truly does taste like pumpkin pie. You can also try topping it with nuts, whipped cream, or raisins.
This definitely blows my old pumpkin oatmeal recipe out of the water.
AND it's EASY.
(Prices and photos updated 10-13-15)

Baked Pumpkin Pie Oatmeal
Ingredients
1 (15 oz.) can pumpkin purée $1.88
½ cup brown sugar $0.32
2 large eggs $0.75
½ Tbsp pumpkin pie spice $0.15
½ tsp salt $0.03
¾ tsp baking powder $0.03
½ tsp vanilla extract $0.14
1½ cups milk $0.74
2½ cups dry old-fashioned oats $0.65
Instructions
Preheat the oven to 375 degrees. In a large bowl, whisk together the pumpkin purée, brown sugar, eggs, vanilla, pumpkin pie spice, salt, and baking powder until smooth. Whisk in the milk.
Mix the dry oats into the pumpkin mixture. Coat an 8×8 (or similar sized) baking dish with non-stick spray. Pour in the pumpkin oat mixture. Bake in the preheated oven for 45 minutes, or until the center no longer looks wet and the edges are lightly golden brown.
Serve hot right out of the oven or refrigerate until ready to serve. Can be eaten cold or reheated. Top with milk, maple syrup, whipped cream, or nuts.
See This Recipe in Action:
Step By Step Photos
First, preheat your oven to 375 degrees. Then, in a large bowl, whisk together one 15oz. can pumpkin purée, 1/2 cup brown sugar, 1/2 tsp vanilla, 2 large eggs, 1/2 tsp salt, and 3/4 tsp baking powder.
Whisk those ingredients together until smooth.
Add 1.5 cups milk, and whisk until smooth again. This mixture is like a pumpkin pie custard, or very similar to the filling of a pumpkin pie! :D
Add 2.5 cups rolled oats. I find that "old-fashioned" rolled oats work the best because they have more texture than quick or instant oats.
Stir the oats into the pumpkin custard.
Coat a baking dish with non-stick spray. Pour in the pumpkin oat mixture and bake for 45 minutes, or until the center is no longer wet and the edges are slightly golden brown.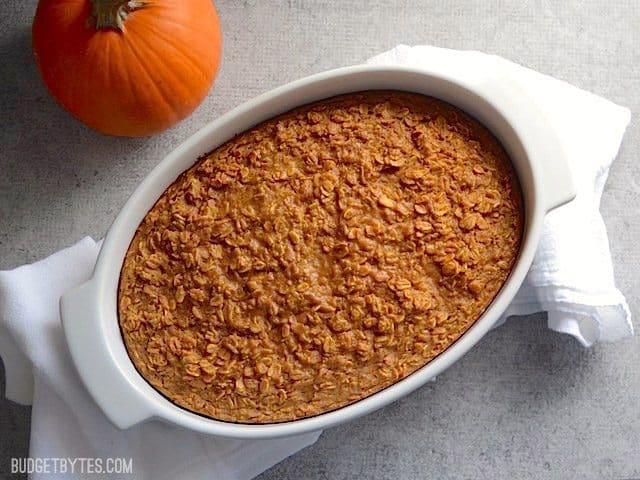 And then you have a delicious, gorgeous, vibrant orange, baked oatmeal packed full of nutrients.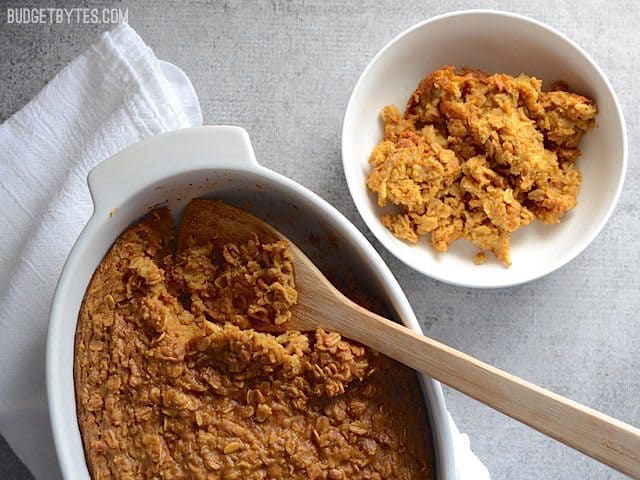 I refrigerated the whole dish of oatmeal and just scooped some out every morning. It makes breakfast *so much* faster.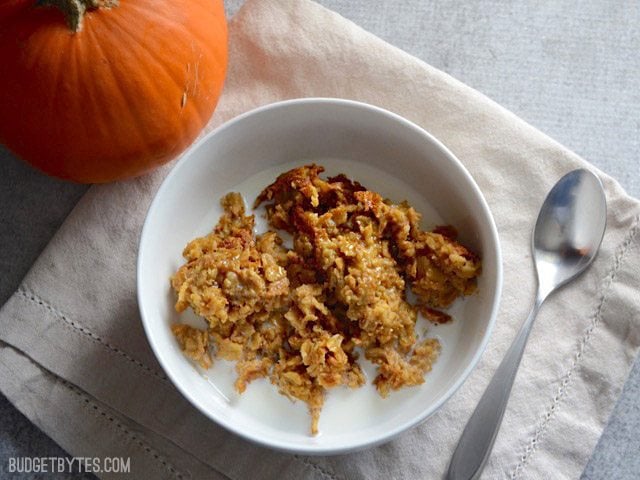 I adore walnuts so I added some to my first bowl. Surprisingly, the oatmeal itself was so good that the walnuts were just lost in the awesomeness… so I didn't even bother with them for the rest of the week!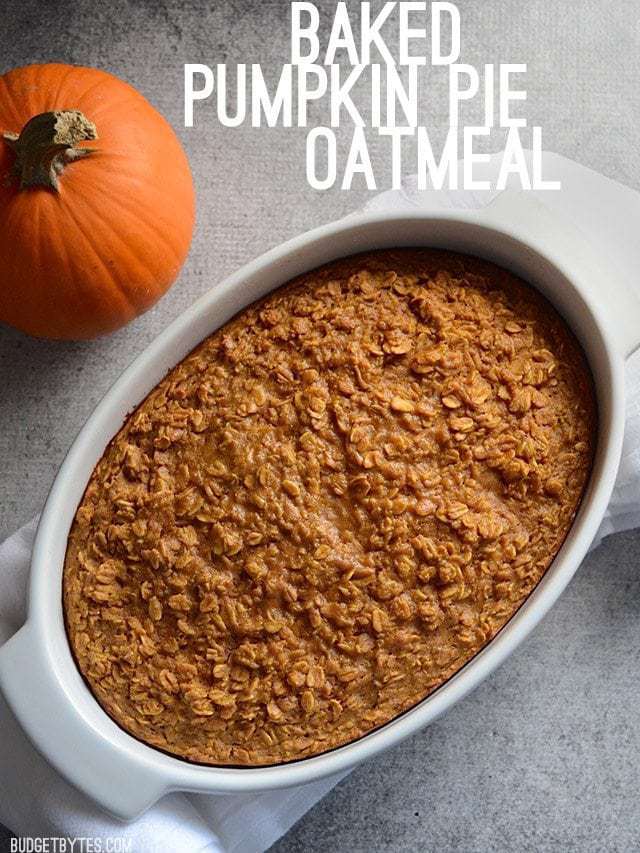 Original Photos: