Hello friends! It's time for another weekly recap. I had a pretty low-key week as far as grocery shopping and cooking is concerned. I knew I wanted to take time to post about freezing leftovers last week, so I chose all easy recipes. I made two new recipes, Stir Fry Beef Noodles and Curried Red Lentil and Pumpkin Soup; and two old recipes, Hearty Black Bean Quesadillas and Focaccia Rolls.

I chose the Stir Fry Beef Noodles because I saw a photo of something along that vein on the internet and it made me drool, so I knew that had to go on the menu for the week. ;) The Black Bean Quesadillas were chosen because I needed to make them for a freelance project and I thought they'd be great to stock my freezer with for quick snacks (they're already almost gone, LOL). The soup idea came because I have had a can of pumpkin sitting in my pantry for a while and I knew that I could make a really fast and simple Pumpkin Soup with it, but I wanted to throw a new spin on that old favorite. And oh those Focaccia Rolls. :) I have been making them a lot lately because they're easy, cheap, and a nice little "extra" to make meals more filling. Plus, I thought they'd be nice to dip in that soup.
What Did I Buy?
My grocery list for the week, including pantry staples and ingredients needed for the recipes above looked like this:
Staples that I needed to replenish this week included: milk, eggs, oats, garlic, and vegetable flavored Better Than Bouillon. Unfortunately, they were out of vegetable BTB, so I'll need to stock up on that next week (or whenever I need to use vegetable broth next). While I was at the store, I happened to remember that I was also almost out of soy sauce, and added it to the list last minute. Soy sauce is one of those things I only run out of once in a blue moon, so it's easy to forget to check to make sure I'm stocked.
Rice noodles, beef, and green onion were for the Stir Fry Beef Noodles. Tortillas, black beans, cilantro, red onion, and cheddar were for the Black Bean Quesadillas. I put a question mark near the red lentils because I remember not being able to find them last time, so I wasn't sure if I'd be able to make that soup this week. Luckily, Whole Foods had them in the bulk bins. Yay!
Here are the receipts for the two stores:
I checked the sale circulars before heading to the store, and there wasn't anything spectacular or that I "had to have" in either one. There was a sale on cheese at my local store, but when I went to Whole Foods I found that their non-sale price for cheddar was $0.20 less than the sale price of cheddar at the other store. So, that was a win! And again, I took advantage of the loose carrots for $0.79/lb. at Whole Foods. This was especially great this week because I knew that I only needed ONE carrot.
When I got to the second store I was surprised to find a bunch of sale signs on products that were not in the sale flyer. I don't know what was up, but I definitely took advantage of some of those sales. I needed tortillas anyway, but I went ahead and got a huge 30 count pack because it was only $2.08. I figured I could freeze the extra… if I didn't eat them quickly, but I usually do. And to my surprise, a bunch of the Asian ingredients, including rice noodles, were also on sale! Lucky me.
I had a little extra room in the budget, so I picked up an extra jar of marinara sauce to have on hand for the second half of the Skillet Meatballs that I froze last week. I left the rest of the unused budget be, since I went way over a couple of weeks ago.
My total for this week ended up being $35.10.
Here is what the loot looked like:

I really didn't buy a whole lot this week! But, I knew that I had those frozen meatballs if we needed them and I had $5 left if I needed to make an emergency second run to the store later in the week.
What Did I Eat?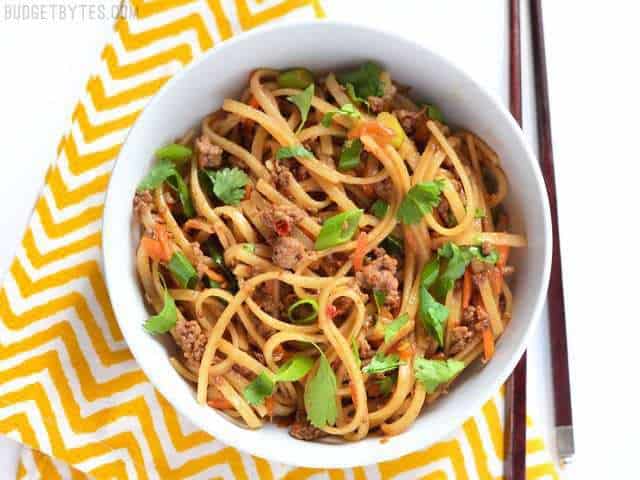 I started the week off with this simple Stir Fry Beef Noodles recipe. It was fast, filling, and the leftovers were quite good. Definitely better than take-out! I'm always amazed at how far 1/2 lb. of beef will go. I love that I can order up any amount I need at the butcher counter, rather than having to buy a whole pound or two pound package off the shelf. I would have just frozen the rest anyway, but less "extras" to keep track of in my freezer is good.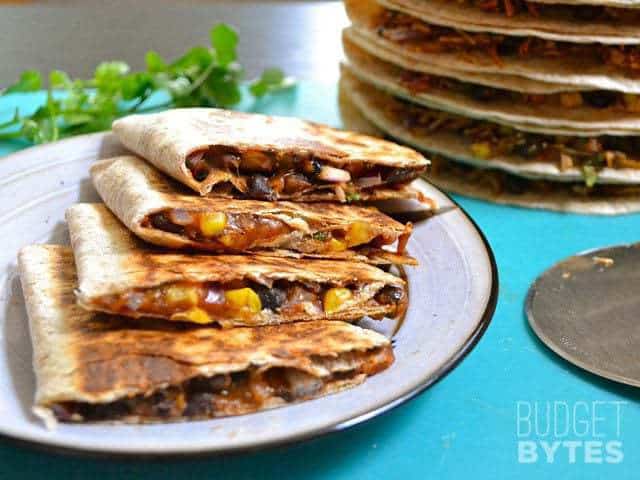 Next I whipped up a quick batch of these Hearty Black Bean Quesadillas (my fav!). I cooked a couple right away, but then I filled, folded, and froze the rest for safe keeping (between sheets of parchment in a gallon freezer bag). These make such a quick snack or meal out of the freezer. Just toss it into a non-stick skillet and reheat over medium-low until the inside is melted and the tortilla is brown and crispy.
Also, I cooked the black beans from dry and only used about 1/3 of them for the quesadillas, which means I have about 2 cans worth in my freezer for future use. Excellent!

Later in the week I made this super simple Curried Red Lentil and Pumpkin Soup. I can't tell you how much of a life saver easy soups like this are. I mean, even though I do this for fun, some days I still don't feel like cooking, you know? This comes together in about 30 minutes, most of which is simmer time, so it's almost effortless. This freezes great, too, so I stashed a couple servings in the freezer.
We ate out twice this week. The first time was for a friend's birthday. It was my first time having pho in forever! And because pho is always served in a massive bowl, I had two days worth of leftovers. The second was technically eating "in" but I'm counting it as "out." My boyfriend surprised me and cooked for me one night: pulled chicken sliders on Hawaiian rolls, veggies and dip, plus apple pie and ice cream for dessert! That meal gave us a lot of leftovers. So, we snacked on the leftovers throughout the week and kind of had food coming out our ears. Thank goodness three of the four recipes I made are very freezer friendly!
After eating so many eggs last week I decided I needed to go back to my oatmeal every morning routine. So, I ate oats for breakfast most of this week (except the morning that I ate pho for breakfast… because pho is awesome any time of the day). My current favorite oatmeal concoction is peanut butter, brown sugar, and bananas. Mmmm.
Reflection
I'm not really a "snacky" type person, but it was kind of nice to have the vegetables to snack on and the other "extras" that were in my fridge this week. I might have to see if I can work some snack type foods into future weeks! Time to brainstorm on that…
If you feel like sharing your favorite snacks to keep on hand, please do! That will help get the wheels in my head turning. :)