Need a new spin on your weeknight pasta? This Three Pepper Pasta is kind of like pizza, but in pasta form. It has crispy pepperoni and a trio of colorful peppers for extra flavor, texture, and visual appeal. You could even make it even more pizza-like by adding some cheese (because we all know cheese makes everything better), but I thought this pasta had plenty of flavor to hold its own without even the slightest sprinkle of Parmesan. So, I went sans cheese this time to keep my costs and my dietary splurge within reason. :)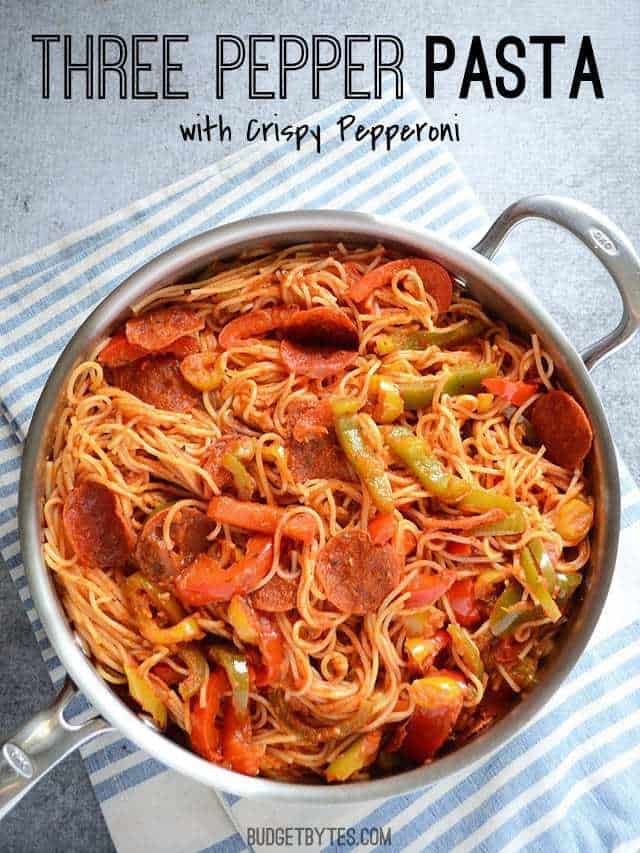 If you're not a fan of pickled things or are sensitive to vinegar flavors, you may want to skip the banana pepper rings. You could always do a fresh yellow pepper to keep with the tri-pepper theme, or go for another pizza-topping type ingredient like black olives. This pasta is very flexible. The pepperoni, though, provide a lot of flavor, so I wouldn't suggest skipping that one. Subbing turkey pepperoni would work just as well, though.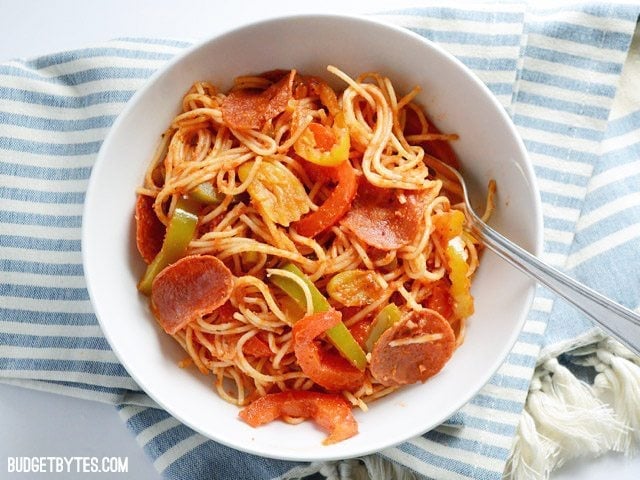 Three Pepper Pasta with Crispy Pepperoni
This Three Pepper Pasta boasts a colorful trio of peppers and crispy pepperoni for extra flavor. It's like pizza in your pasta bowl!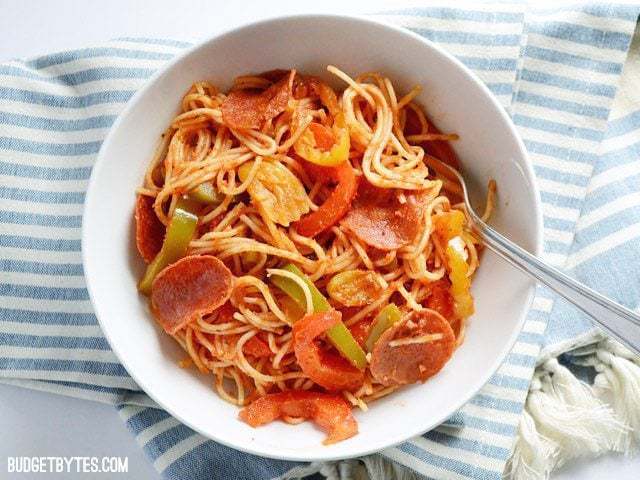 Ingredients
1

Tbsp

olive oil

($0.16)

3

oz.

pepperoni (half of a 6oz. package)

($1.99)

2

cloves

garlic

($0.16)

1

green bell pepper

($0.69)

1

red bell pepper

($1.79)

1/2

cup

mild banana pepper rings

($0.95)

1

24oz. jar

pasta sauce

($1.00)

1/2

tsp

dried basil

($0.05)

1/2

tsp

dried oregano

($0.05)

1/8

tsp

crushed red pepper (optional)

($0.02)

1

lb.

thin spaghetti or angel hair pasta

($1.55)
Instructions
Thinly slice the green and red bell peppers. Remove about 1/2 cup of the banana peppers from the brine. Set the peppers aside until ready to use.

Begin to boil a large pot of water for the pasta. Break the long pasta in half and then add it to the boiling water. Cook until al dente, then drain in a colander.

Heat the olive oil in a large skillet over medium heat. Add the pepperoni and sauté the slices until they become crispy on the edges (about 5 minutes). Remove the crispy pepperoni to a plate covered with paper towel to drain.

Mince the garlic and add it to the oil in the skillet. Sauté for about one minute or just until the garlic is soft and fragrant, but not brown. Add the sliced peppers and continue to sauté for 5-7 minutes more, or until the peppers have just begun to soften.

Add the pasta sauce, basil, oregano, and red pepper flakes to the skillet with the peppers. Stir to combine and allow the sauce to heat through.

Return the drained pasta to the large pot, then add the pasta sauce and peppers. Stir until everything is evenly combined and coated in sauce. Add the crispy pepperoni and stir to combine again. Serve warm.
See how we calculate recipe costs here.
---
Notes
Breaking the pasta in half before cooking makes it easier to stir the larger pieces of pepper into the pasta once combined.
Nutrition
Serving:
1
Serving
Calories:
492
kcal
Carbohydrates:
84.28
g
Protein:
14.48
g
Fat:
10.38
g
Sodium:
953.53
mg
Fiber:
5.03
g
Read our full nutrition disclaimer here.
Three Pepper Pasta with Crispy Pepperoni
Step by Step Photos
Slice one green bell pepper and one red bell pepper so they're ready to go when you need them. Take about half of the banana peppers (about 1/2 cup packed) out of the brine. Set the peppers aside until you're ready to add them to the skillet later.
Begin heating a large pot of water to cook the pasta. Once boiling, break the pasta in half, then add it to the water. Boil the pasta until it is tender, then drain in a colander. This can be in progress as you prepare the sauce.
For this recipe I used half of this 6oz. bag of traditional pepperoni. Leftovers can be frozen, or saved in the fridge for a pizza later in the week… or sandwich… or snacking. I'm sure they'll get eaten! You can use turkey pepperoni, but I wouldn't skip the pepperoni all together because they add quite a bit of flavor.
Add 1 Tbsp of olive oil to a large skillet. Heat the skillet over a medium flame, then add the pepperoni. Fry the pepperoni until the edges get a little crispy. The fat and seasoning from the pepperoni ends up flavoring the olive oil and adding a lot of flavor to the rest of the pasta dish. Plus, the crispy pepperoni is kind of like bacon and just… YUM.
Once they're a little crispy, drain the pepperoni on a paper towel covered plate. The most difficult part of this recipe is trying not to eat these crispy pepperonis. Oh my.
Mince two cloves of garlic and add them to the oil in the skillet (Notice the oil is sort of orange? That's the flavor from the pepperoni). Sauté the garlic for a minute or so to soften it up, but don't let it brown.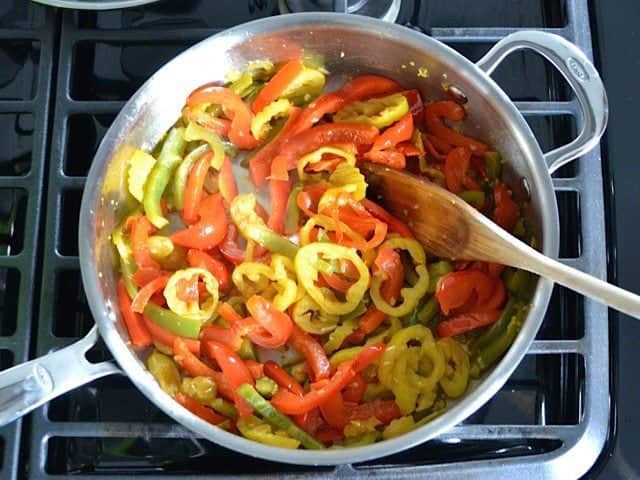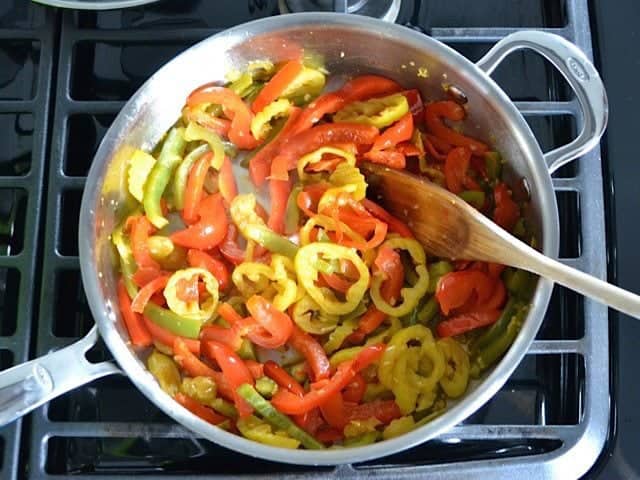 Add the peppers to the skillet and continue to sauté until they are slightly softened (5-7 minutes).
Add one 24oz. jar of your favorite pasta sauce. I always doctor up my store bought pasta sauce, so I also added 1/2 tsp each of dried basil and oregano, plus a pinch of red pepper flakes. I got this sauce on sale for $1 and it was a "no sugar added" sauce, so it definitely needed some doctoring! Stir and heat the sauce and peppers through.
If your skillet is big enough, you can add the drained pasta straight to the skillet with the sauce. Otherwise, return the cooked and drained pasta to the pot it cooked in, then add the sauce to that. Stir until everything is combined and covered in sauce.
Finally, add the crispy pepperoni to the pasta and stir to combine. It's okay if they crumble a bit like bacon.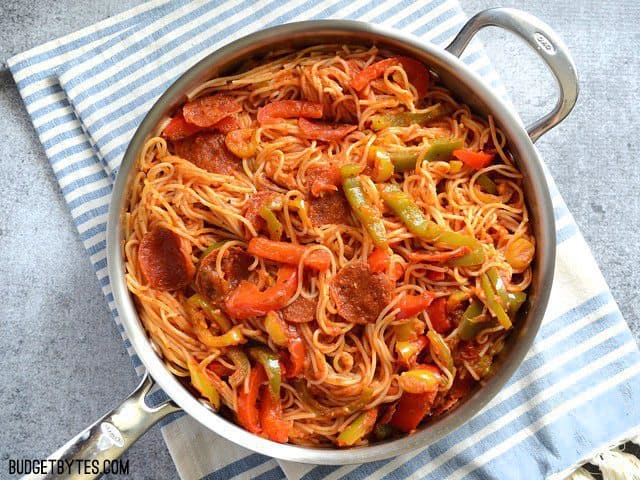 And there you have it! Three Pepper Pasta with Crispy Pepperoni. Who wouldn't want to dive into that?!
Weeknight pasta is no longer boring when there's Three Pepper Pasta and Crispy Pepperoni around.
I think it's giving me that "go ahead… add some Parmesan." look. I shall resist!