What doesn't taste better when covered in garlic and Parmesan?? This classic flavor combo gives these oven-baked fries a one-two punch of savory umami flavor that makes you just want more and more… And don't get me wrong, I'd be more than happy to just eat a huge plate full of these Garlic Parmesan Fries on their own, but you might as well serve them next to an equally epic sandwich for a totally brag-worthy meal. Suggestions for delicious sammies and dipping sauces to pair with your fries are included below! 👇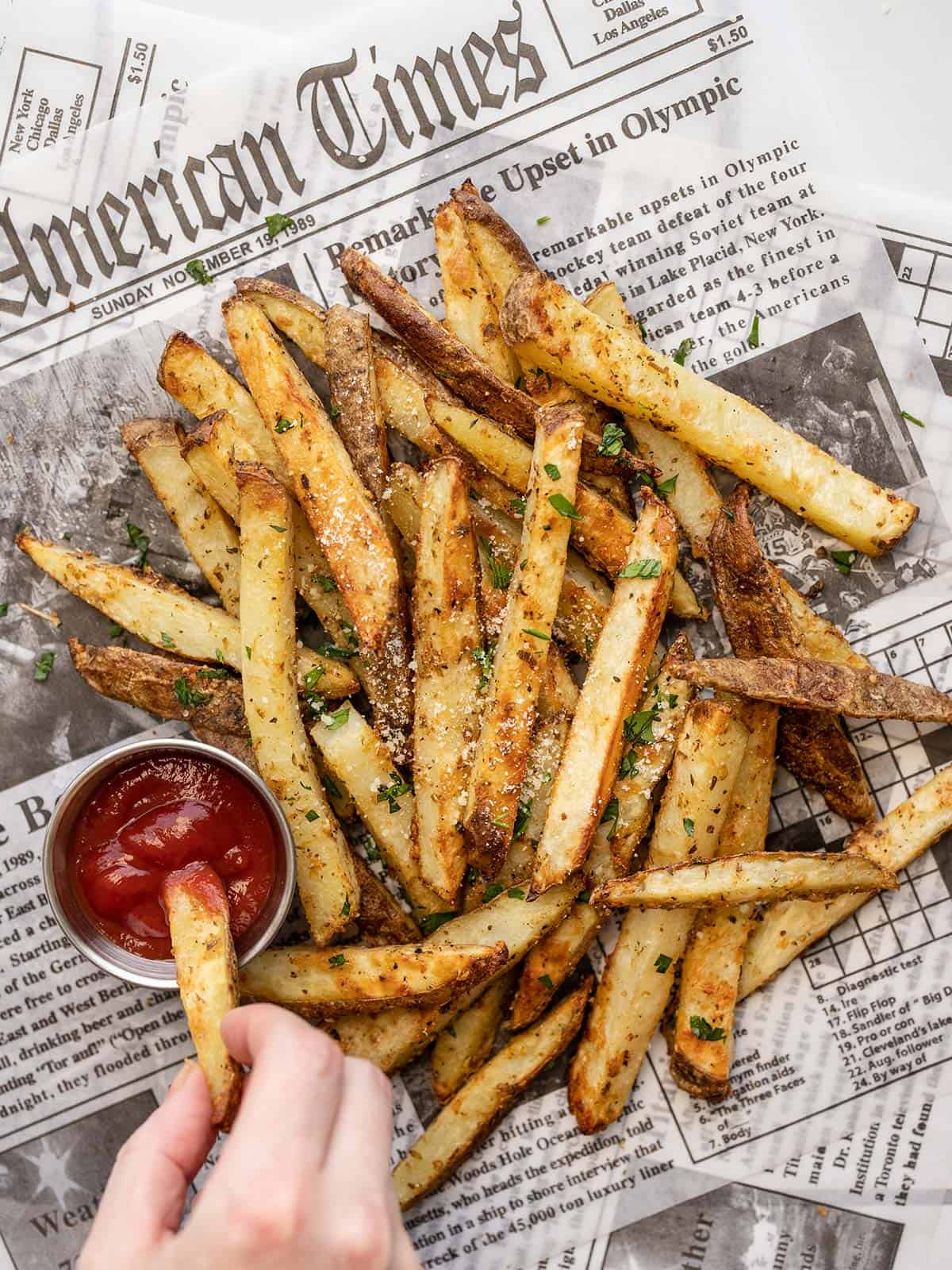 Are Oven Baked Fries Crispy?
Thick-cut oven-baked fries like these are not crispy like their deep-fried counterpart. That's just the nature of baking versus deep frying. They'll get a little crispy along the edges and coating them in grated Parmesan does go a long way toward giving the potato a lot of texture so you won't really miss the ultra-crispy deep-fried texture.
Seasoning Ideas for Oven Fries
What I love about these baked fries is that you can change the seasoning to be almost any flavor you like. Keep in mind the extra texture that the Parmesan gives to the fry when deciding whether to include Parmesan in your seasoning mix. Some other french fry flavor ideas are:
Basic seasoning salt (like Lawry's)
Chili powder
Steak seasoning
What to Serve with Garlic Parmesan Fries
These Garlic Parmesan Fries are pretty spectacular and they deserve to be on a plate next to something equally as delish. Try pairing them with Bacon Ranch Turkey Burgers, Mediterranean Turkey Burgers, Baked Spicy Chicken Sandwiches, Sloppy Joes Plus, or Vegetarian French Dip Sandwiches.
Want an awesome sauce to dip your fries in? Try some Comeback Sauce, Homemade Ranch Dressing, or 5 Minute Nacho Cheese Sauce!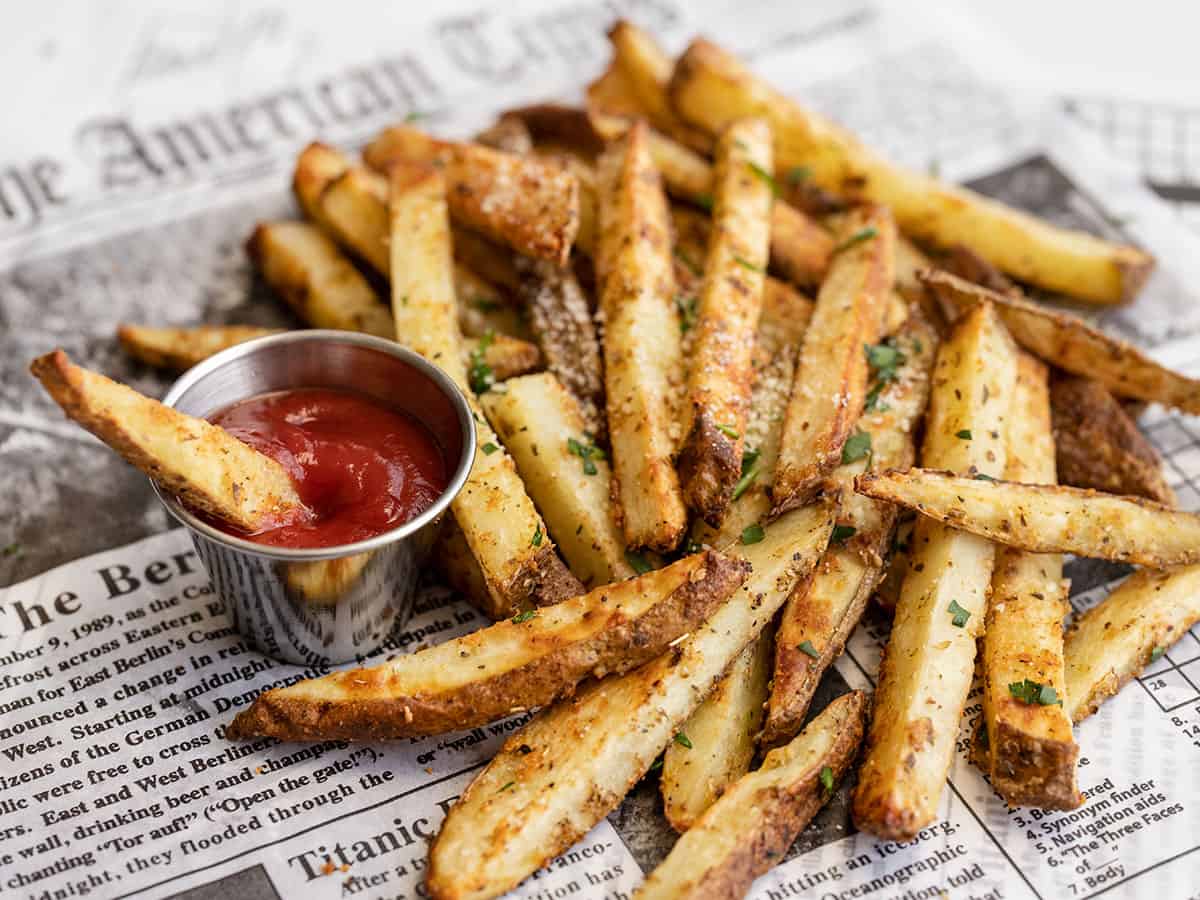 Oven Baked Garlic Parmesan Fries
These oven-baked Garlic Parmesan Fries are the perfect side dish to any burger or sandwich, or just piled high with your favorite toppings!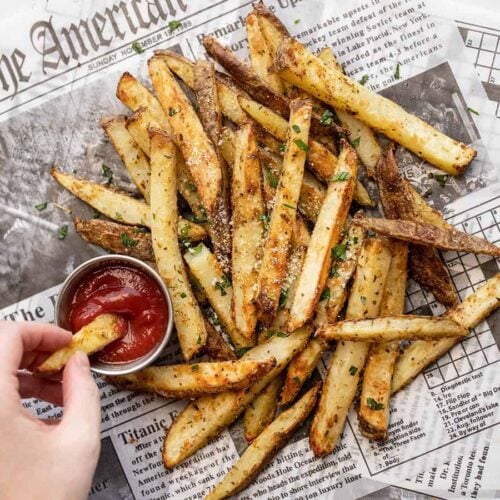 Instructions
Preheat the oven to 425ºF. Wash the potatoes well then cut into ½-inch wide fries.

Place the cut fries in a large bowl and add the olive oil, oregano, garlic powder, salt, pepper, and Parmesan. Toss until the fries are coated in oil and seasoning.

Spread the seasoned fries out onto a large baking sheet covered in parchment paper.

Bake the fries for about 30 minutes, or until well browned, stirring once half-way through.

Serve hot! Optional garnish: chopped parsley and a pinch of Parmesan.
See how we calculate recipe costs here.
---
Nutrition
Serving:
1
serving
Calories:
387
kcal
Carbohydrates:
56
g
Protein:
9
g
Fat:
16
g
Sodium:
674
mg
Fiber:
5
g
Read our full nutrition disclaimer here.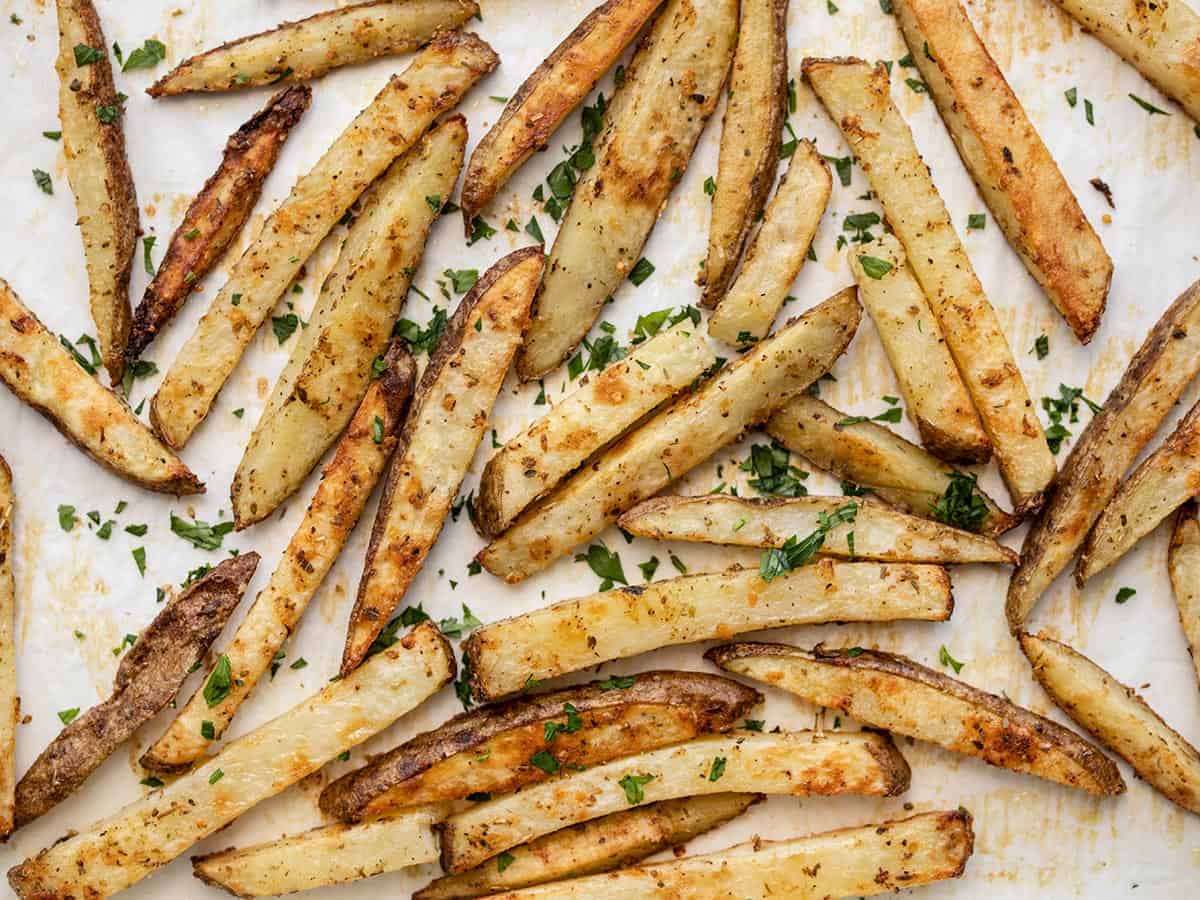 How to Make Oven Baked Garlic Parmesan Fries – Step by Step Photos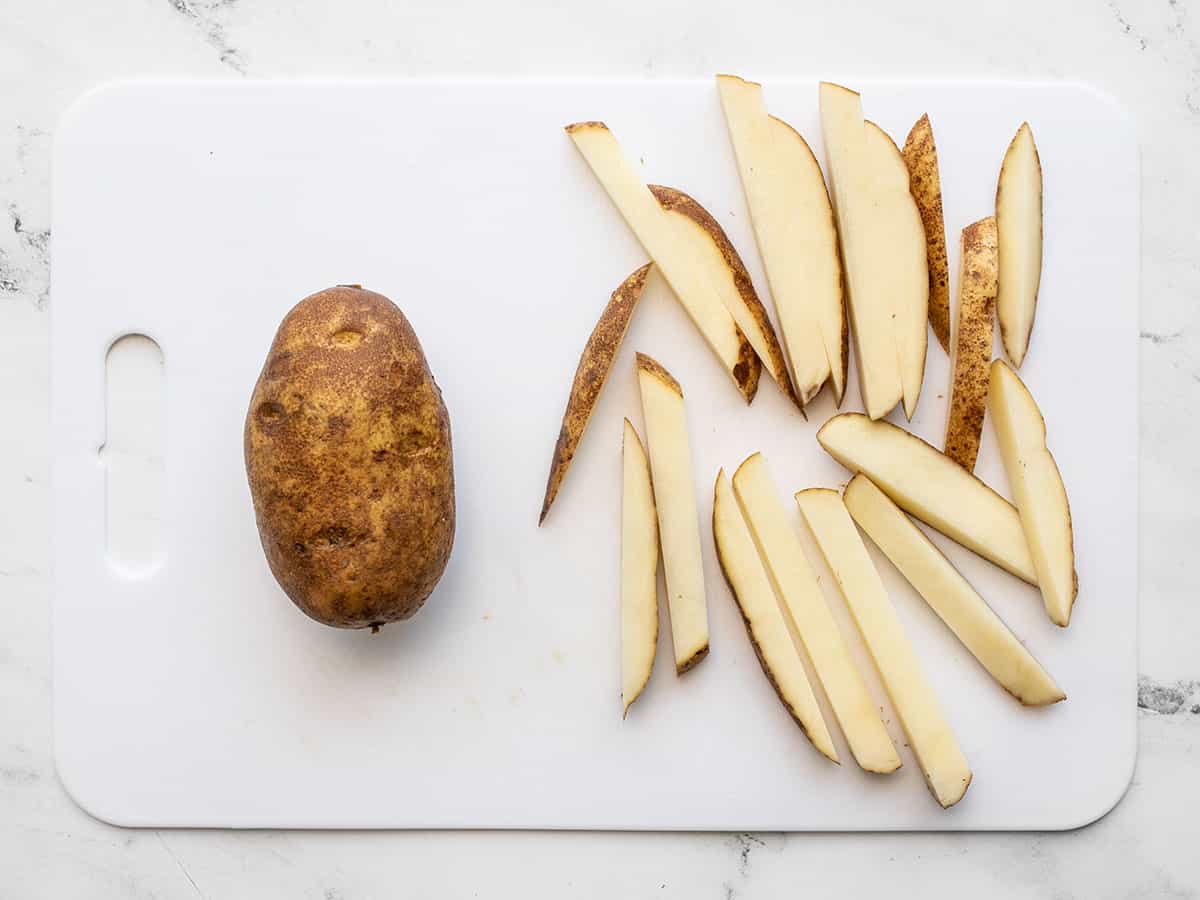 Preheat the oven to 425ºF. Wash two russet potatoes and cut them into ½-inch wide "fries."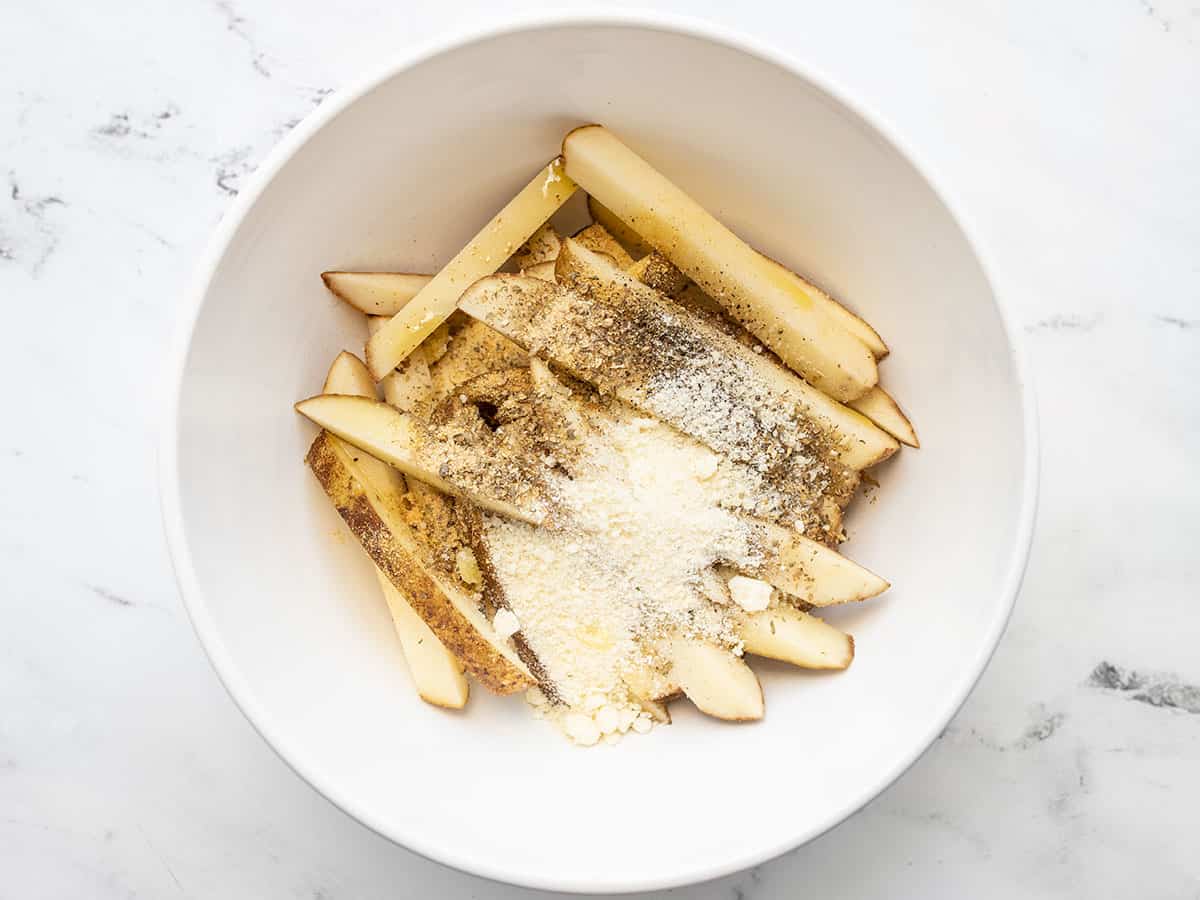 Place the cut fries in a large bowl and add 2 tablespoons olive oil, 2 teaspoons dried oregano, ½ teaspoon garlic powder, ½ teaspoon salt, ¼ teaspoon freshly cracked pepper, and 2 tablespoons grated Parmesan. Toss the fries until they're evenly coated in oil and seasoning.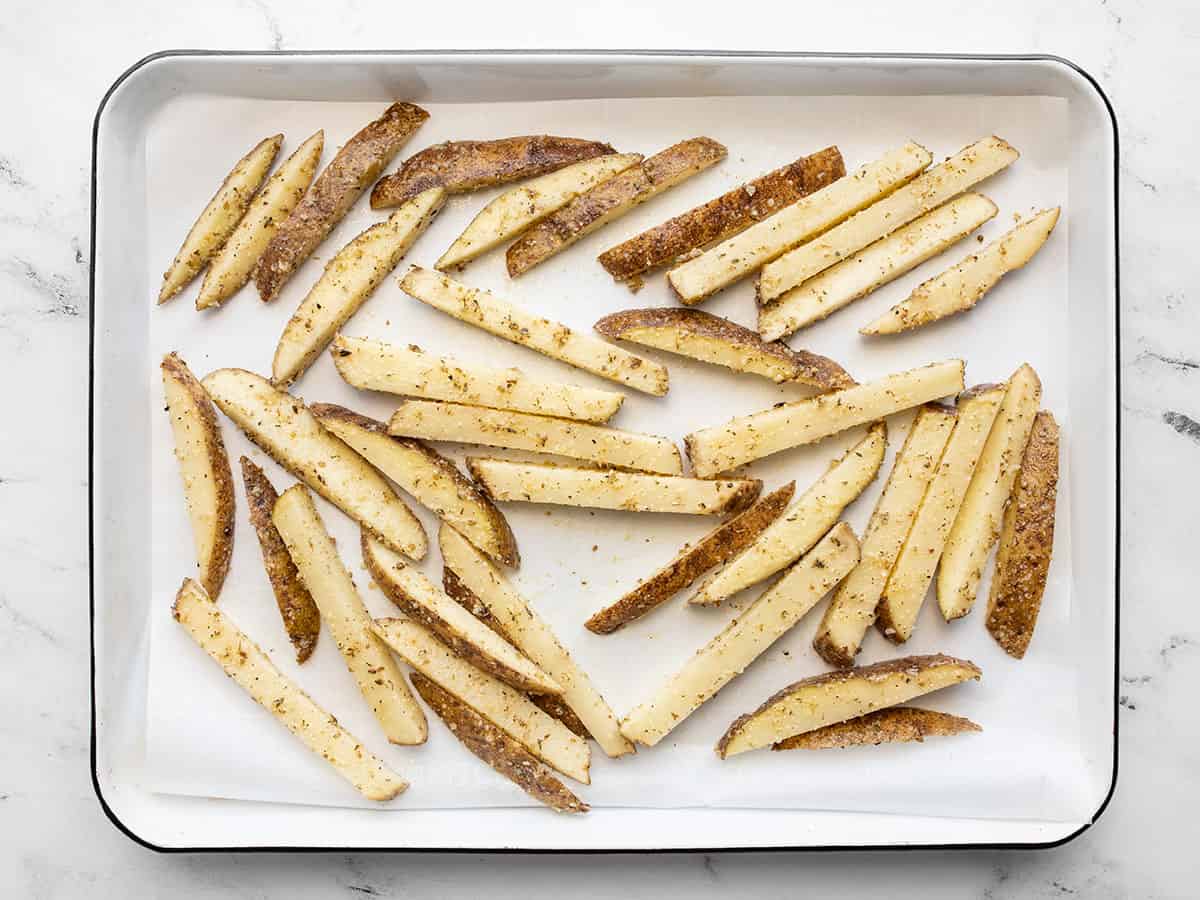 Line a large baking sheet with parchment paper. Spread the seasoned fries out over the baking sheet.
Bake the fries in the fully preheated 425ºF oven for 30 minutes, or until nicely golden brown, stirring once halfway through.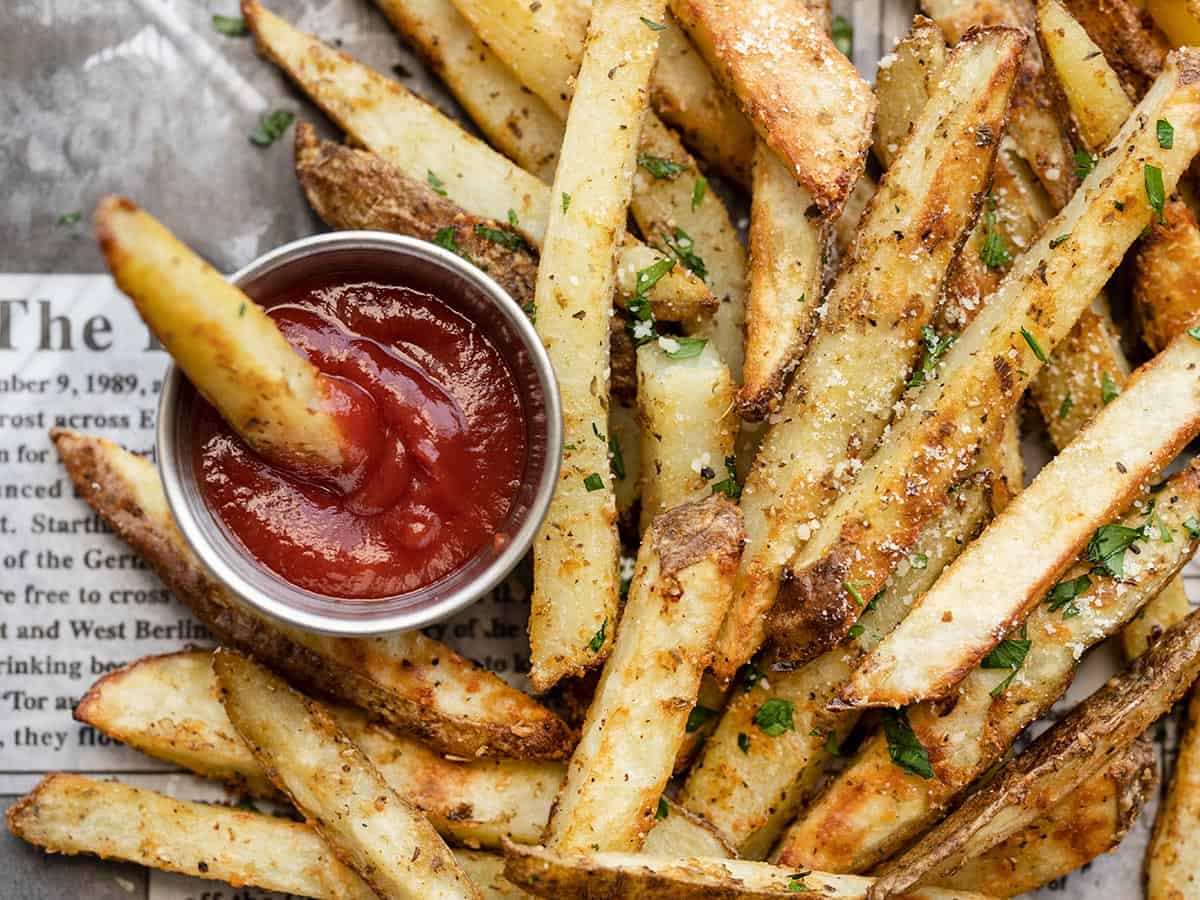 Garnish the fries with a little chopped parsley and another pinch of grated Parmesan, if desired. Serve and enjoy!