I saw this recipe for Sriracha Chicken Strips one day while stumbling around on the internet and, being the Sriracha lover that I am, I immediately bookmarked it for later use. Jenny's Idea for marinading chicken in Sriracha is absolute genius. The vinegar in the Sriracha and the little bit added to the marinade tenderizes the chicken as it sits so you end up with a super moist and tender chicken strip after cooking. The other reason that I wanted to try these is because back when I made Coconut Chicken Strips I wondered if they would work baked instead of pan fried and this recipe does just that. The result? VERY crunchy on the outside and super moist on the inside. Success!
These chicken strips are super spicy so if you've got a bad case of GERD, maybe try the Coconut Chicken Strips instead. I made some sauteed bok choy and Garlic Noodles to serve with the spicy chicken strips and they balanced the heat perfectly. What a meal!
I made a couple of minute changes to the original recipe like using fresh ginger and garlic in the marinade and adding a flour dredge step to the breading process.
Sriracha Chicken Strips
Sriracha chicken strips are super spicy and mouth wateringly delicious. Panko bread crumbs help make a crispy texture without frying.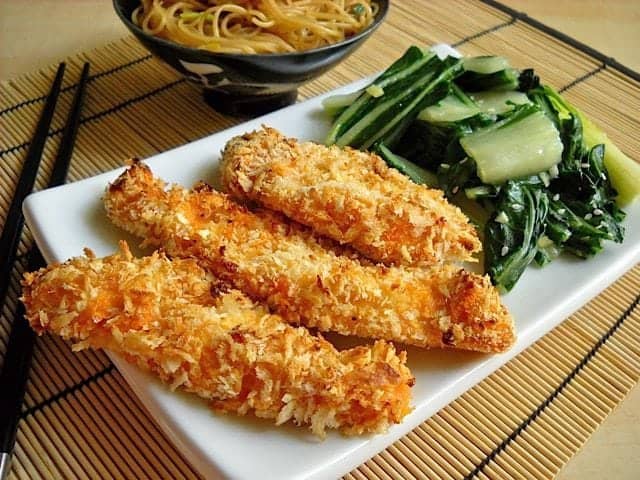 Ingredients
1.5

lbs

about 2 boneless, skinless chicken breasts

($2.98)

1/3

cup

sriracha hot sauce

($0.49)

1

Tbsp

rice vinegar

($0.05)

1

inch

peeled and grated ginger

($0.11)

1

clove

garlic, minced

($0.06)

1

large egg

($0.12)

1

cup

all-purpose flour

($0.04)

1 1/2

cups

panko breadcrumbs

($0.65)

a pinch each salt and pepper

($0.05)
Instructions
In a resealable container combine the Sriracha, rice vinegar, minced garlic and grated ginger. Slice the chicken breasts diagonally into 6 strips each and mix to coat in the Sriracha marinade. Cover the container with the marinade and chicken and refrigerate for at least 1 hour.

Preheat your oven to 400 degrees. Set up your dredging station by getting three bowls. Fill the first with the all-purpose flour, in the second whisk the egg and 1 Tbsp of water and in the third bowl place the panko bread crumbs. Also get a clean plate or dish ready to hold the breaded chicken strips.

Taking one chicken strip from the marinade at a time, wipe off the excess Sriracha then dip to coat in the flour, then the egg and lastly the panko crumbs. Make sure all surfaces of the chicken strip get covered with each. Gently place the breaded strip on the clean plate and move on to the next one. This is messy and your hands will get coated so make sure you won't get interrupted before you begin.

Once all of the strips are breaded, place them on a baking sheet lined with foil and bake for 20 minutes at 400 degrees. After 20 minutes, turn the oven on to broil and broil for about 5 minutes on each side. Watch the strips during the broiling process. When they get golden brown, pull them out, flip them and wait for the second side to get golden (about 5 minutes each side). Let the strips cool slightly before serving!
See how we calculate recipe costs here.
---
Nutrition
Serving:
1
Serving
Calories:
576.43
kcal
Carbohydrates:
78.25
g
Protein:
46.53
g
Fat:
6.3
g
Sodium:
1423.45
mg
Fiber:
4.58
g
Read our full nutrition disclaimer here.
Step By Step Photos

Here is the simple marinade, just four ingredients. Sriracha sauce is so common now you can find it at almost any grocery store (bottle on the left, aka "rooster sauce").

Slice the chicken breasts on a diagonal into 6 strips each. Mix the sliced chicken into the marinade and refrigerate for at least one hour.

Here is the breading station. I have the marinaded chicken on the left, three bowls, each with one of the breading layers (flour, egg, panko) and a clean dish to set the finished strips on. Preheat your oven to 400 before breading and it will probably be ready to go by the time you're finished.

Here are the breaded chicken strips before baking. The panko is barely holding on there so don't handle them a whole lot before baking them. Transfer them to a baking sheet and cook for 20 minutes at 400 then broil for 5 minutes on each side (this will firm up the bottom which can get soggy).

I served my chicken strips with sauteed bok choy and garlic noodles. PERFECT!