Southwest Spaghetti Squash Bowls
Yesterday I cooked up my enormous 5 lb. + spaghetti squash using my slow cooker and today I wanted to experiment with a new way to eat it. Most people use spaghetti squash just like regular pasta and serve it with marinara, meatballs, cheese, or other Italian inspired ingredients. BUT spaghetti squash is good for so much more. Because this squash is so mildly flavored, it's almost like a blank canvas for whatever you want to pair with it. Today I decided to take it in a southwest direction and made some very simple Southwest Spaghetti Squash Bowls to feed me for the week ahead.
This recipe is basically a low-carb version of my "Poor Man's" Burrito Bowls. It's the most simple, basic combo of beans, salsa, cheese, and in this case spaghetti squash. It's so simple yet SO good. If you crave something a little more complex, you can always start getting fancy with the toppings and add things like sliced jalapeño, avocado, tortilla strips, black olives, or whatever you like to add to your burrito bowls at Chipotle.
I plan to reheat one bowl each day in the microwave for lunch, so the directions below don't include instructions for heating the beans or squash. If you want to make this fresh for dinner or consumption just after preparing, simply reheat the squash in the microwave (if it isn't still hot from cooking), and heat the beans in a sauce pan with the liquid from the can. Once hot, drain the beans before adding them to your bowls. The heat from the squash and beans should be enough to melt the cheese and warm the salsa.
Also, after reading the comments on yesterday's how-to post, I realize that my "sale" on spaghetti squash is still extremely expensive compared to many parts of the country. So, if you're one of the lucky bunch that can get your spaghetti squash for pennies per pound, this recipe ought to be really inexpensive for you! :D
Southwest Spaghetti Squash Bowls
Southwest Spaghetti Squash Bowls
Spaghetti squash makes a great fiber-filled low-carb substitute for rice in these Southwest Spaghetti Squash Bowls.
Ingredients
4

cups

cooked spaghetti squash

$3.56

1/2

Tbsp

chili powder*

$0.07

Salt to taste

$0.05

15 oz

can

black beans

$1.09

1

cup

salsa

$0.80

4

oz

Monterey jack cheese

$1.20

2

green onions

$0.22
Instructions
Place the cooked spaghetti squash in a bowl. Sprinkle the chili powder and a pinch of salt over the spaghetti squash. Toss the spaghetti squash in the seasoning until evenly covered. Taste and adjust the salt if needed.

Drain the black beans, shred the cheese, and slice the green onions. Divide the spaghetti squash between four bowls, then add 1/3 cup beans and 1/4 cup salsa to each bowl. Top each bowl with shredded cheese and a few sliced green onions. Refrigerate until ready to eat. Reheat in the microwave just before serving (one minute on high, stir, then add more time in 30 second intervals until heated through).
Recipe Notes
*This chili powder is a mild blend of spices.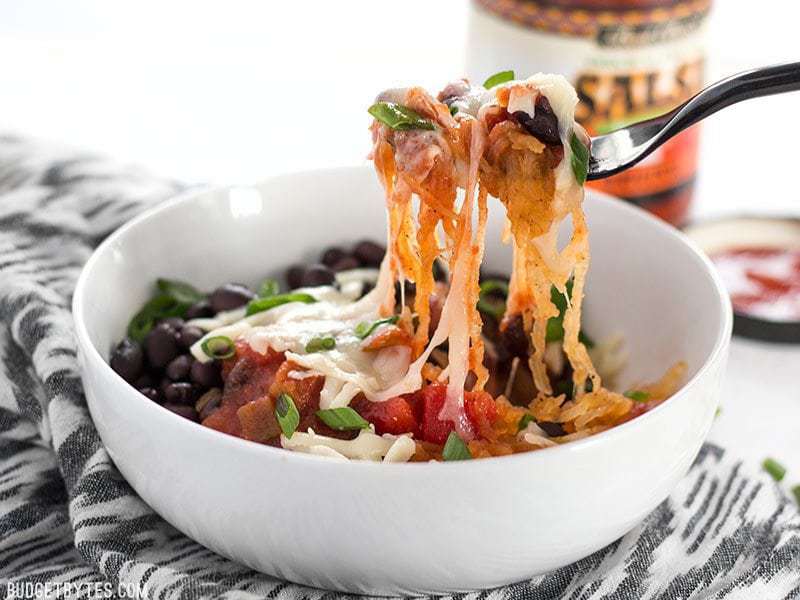 Step by Step Photos
Place 4 cups cooked spaghetti squash in a bowl and sprinkle 1/2 Tbsp chili powder and a pinch of salt over top. The chili powder I use is made by McCormick and is not spicy.
Toss the spaghetti squash in the seasoning until it is evenly covered. Taste and adjust the salt if needed.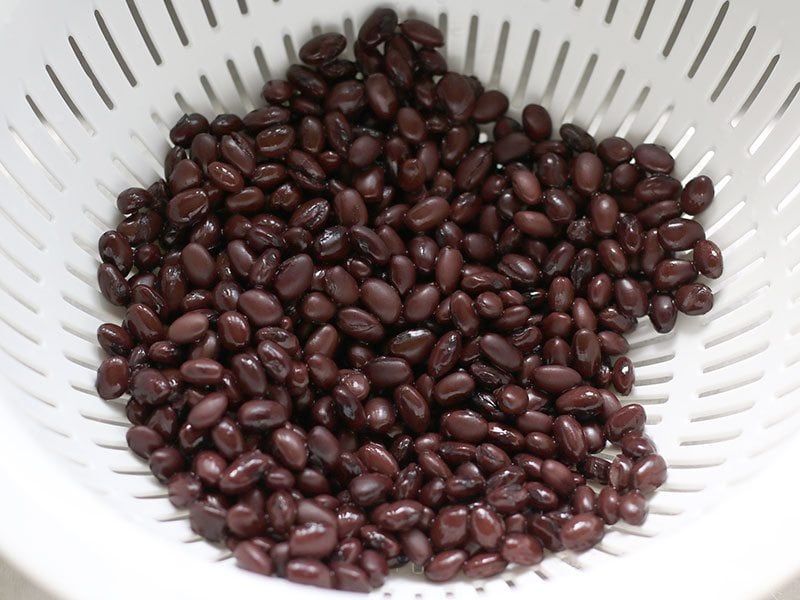 Rinse and drain one 15oz. can of black beans. Also shred 4oz. Monterey jack cheese and slice two green onions.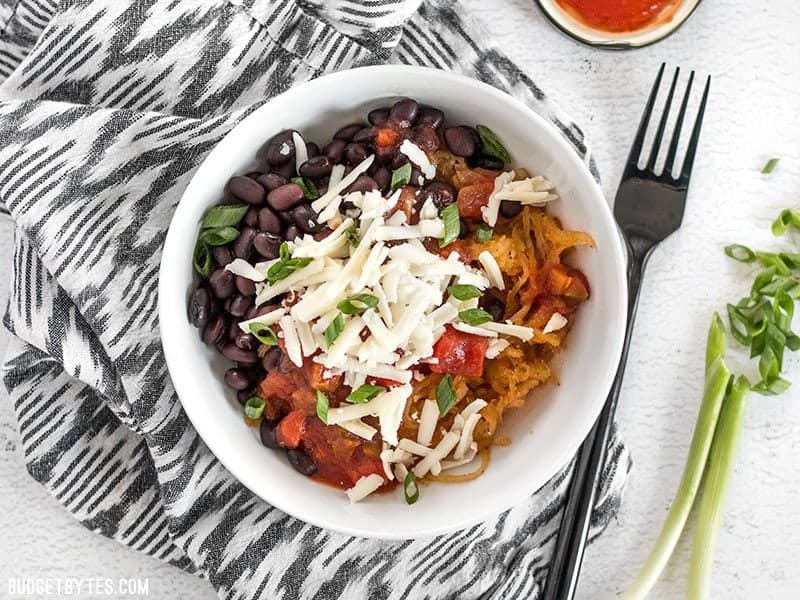 Now it's time to assemble the bowls. Add 1 cup of the seasoned spaghetti squash to each bowl along with 1/3 cup black beans, and 1/4 cup salsa. Top with shredded cheese and sliced green onions!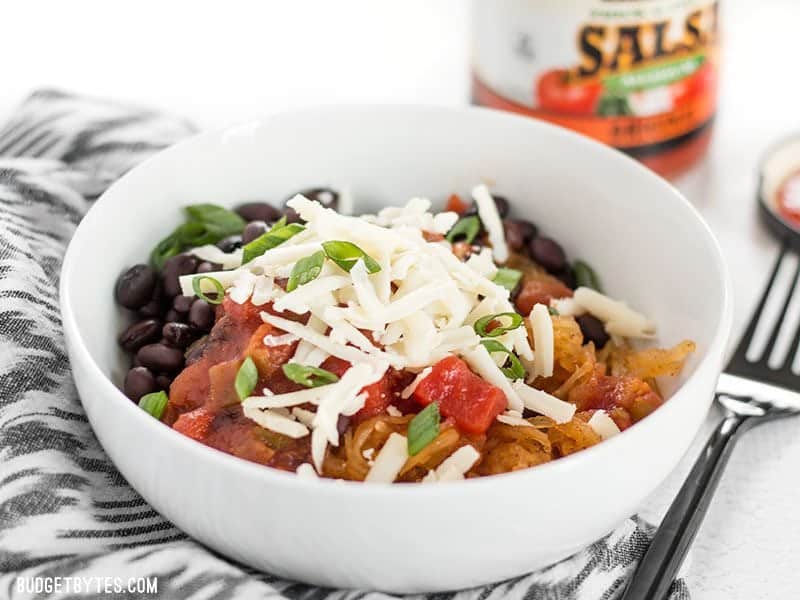 And that's seriously all there is to it. This is the type of "simple" food that I like to eat when I'm busy. I can prepare a few of these bowls and keep them in the fridge for the next few days and have a meal always ready to go. Spaghetti squash—it's not just for spaghetti. LOL