Do you ever have that moment in the grocery store when you're like, "I wonder if I should get some dessert…" and then you decide against it because you're trying to be all good and healthy? Then after dinner you fully regret that decision. Sound familiar?
I swear that happened to me at least three times last week. Sure, I could always whip up a batch of cookies, a cake, or something like that because all they require are a few pantry staples, but the problem is that I don't want a whole batch of cookies, a whole cake, or a whole anything. I want ONE serving, so I can have my little splurge and nothing more to tempt me later.
Well, this scaled back snickerdoodle recipe fixes that problem. The recipe makes two large, cafe-style snickerdoodles. One for you and one for a friend (or one to stash in the freezer for that next killer craving). I chose to make two huge cookies (about 3-4 inches in diameter), but you could just as easily make four smaller, normal sized cookies if you prefer (reduce baking time for smaller cookies).
If you're not familiar with snickerdoodles, they're like a sugar cookie with a slightly salty-bitter bite and a delicious cinnamon-sugar coating. I love the contrast of a doodle. So good. They're great with coffee, too. Anyway, here's how to make "just enough" snickerdoodles and not a morsel more!
Snickerdoodles (for two)
When you want just a little dessert and not much more, try this recipe for Snickerdoodles for Two. Two large cafe-style cookies, hot and fresh from the oven.
Ingredients
COOKIES
3

Tbsp

butter, room temperature

$0.40

3

Tbsp

granulated sugar

$0.03

1

large egg yolk

$0.19

1/4

tsp

vanilla extract

$0.07

1/3

cup

flour

$0.05

1/4

tsp

salt

$0.02

1/2

tsp

baking powder

$0.02
CINNAMON SUGAR TOPPING
1

tsp

granulated sugar

$0.01

1/2

tsp

cinnamon

$0.05
Instructions
In a small bowl, whisk together the room temperature butter and 3 Tbsp granulated sugar. Add the egg yolk and vanilla extract, then whisk again until smooth.

Add the flour, salt, and baking powder to the bowl. Stir the ingredients until everything is evenly mixed. Place the cookie dough in the refrigerator for about 15 minutes to chill the dough and make it a little more stiff. Begin to preheat the oven to 350 degrees.

While the dough is chilling, stir together the sugar and cinnamon for the cookie topping in a small bowl. Cover a baking sheet with parchment paper (or foil, but be aware that foil will make the cookies brown more on the bottom).

Remove the dough from the refrigerator and divide it into two pieces. Roll each piece of dough into a large ball. Roll each ball in the cinnamon-sugar topping until heavily coated. Place the unbaked cookies at least six inches apart on the baking sheet.

Bake the cookies for 16-18 minutes, or until browned around the edges and slightly golden in the middle. Allow the cookies to cool on a wire rack before eating (they will be soft just after baking, but will firm up upon cooling).
Recipe Notes
If making four smaller cookies, baking time will need to be reduced.
Snickerdoodles (for two)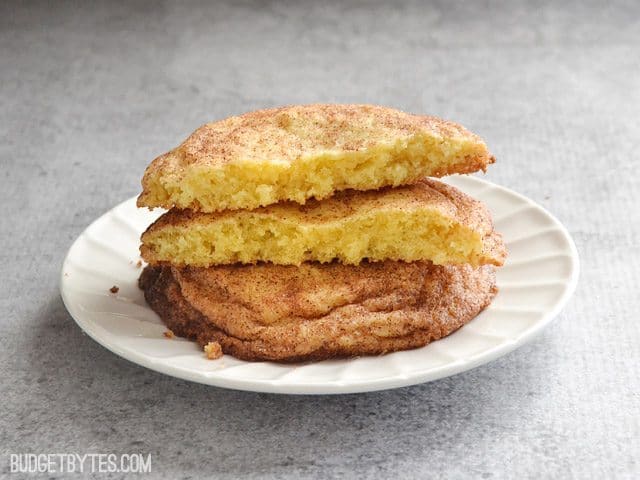 Step by Step Photos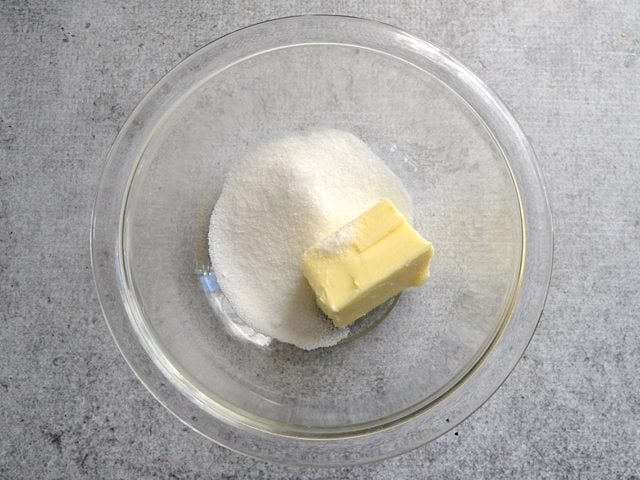 Start with 3 Tbsp butter (room temperature) and 3 Tbsp of sugar. It's crucial that the butter be room temperature and soft, so it will easily mix in with the sugar. I used a fork, but use whatever works best for you. The end result should be soft and creamy (see next photo).
Next add one large egg yolk and 1/4 tsp vanilla extract. Whisk those into the butter and sugar mixture.
Finally, add 1/3 cup flour, 1/4 tsp salt, and 1/2 tsp baking powder. Stir until evenly combined.
Now you have cookie dough! It will be kind of soft and squishy, so pop it into the fridge for about 15 minutes so it can firm up.
While the dough is in the fridge, mix together 1 tsp sugar and 1/2 tsp cinnamon in a small bowl. Also begin to preheat the oven to 350 degrees and cover a baking sheet with parchment paper.
Once the dough is chilled and a little more stiff, you can roll it into two large balls. Roll each ball in the cinnamon sugar mixture until they are nicely coated. Place the balls on the cookie sheet AT LEAST six inches apart. These puppies spread! (Note: I realized that I was out of parchment, so I used aluminum foil. It's okay in a pinch, but it will make the bottoms of the cookies much more brown than parchment because of the way it reflects the heat.)
Bake the snickerdoodles in the preheated oven for 16-18 minutes, or until they've fully spread and are golden brown around the edges. I did not place my dough balls far enough apart. :( The cookies puff up quite a bit while cooking, but deflate down into these nice soft centers after removing from the oven. You'll want to let them cool on a wire rack before eating. They'll be soft and delicate when hot, but will firm up when cooled.
I ate one the day I made them and the second the next day. TBH, I didn't even wrap the second one, I just left it out in the open air and the center was still nice and soft the next day. The edges were very crispy, thanks to the foil, so I kind of got the best of both worlds!