Ahhh, tomato soup. It's one of the few hot soups that's light enough to eat during the summer months (it may only be April, but we've definitely hit summer weather here in New Orleans). I'm so obsessed with tomato soup. I could eat it every day and never get sick of it. Luckily, there are a million and one ways to make it. Simply change up the spices or toss in a few creative "add-ins" and you've got something new. Case in point: this Smoky Tomato Soup. Plus, it's just a great excuse to eat grilled cheese. Ammiright?
For this version, I used smoky fire-roasted tomatoes and added a healthy dose of smoked paprika. The deep smoky flavor plays so well with the bright, acidic tomatoes. I also added a touch of cumin because, well, I love it. Cumin has a slightly earthy flavor that compliments the smoked paprika, as well as a slightly lemony scent to accent the tomatoes. This Smoky Tomato Soup is incredibly fast and easy, making a perfect side dish for this week's meal (stay tuned). It only left me wondering one thing—why don't I make tomato soup more often?!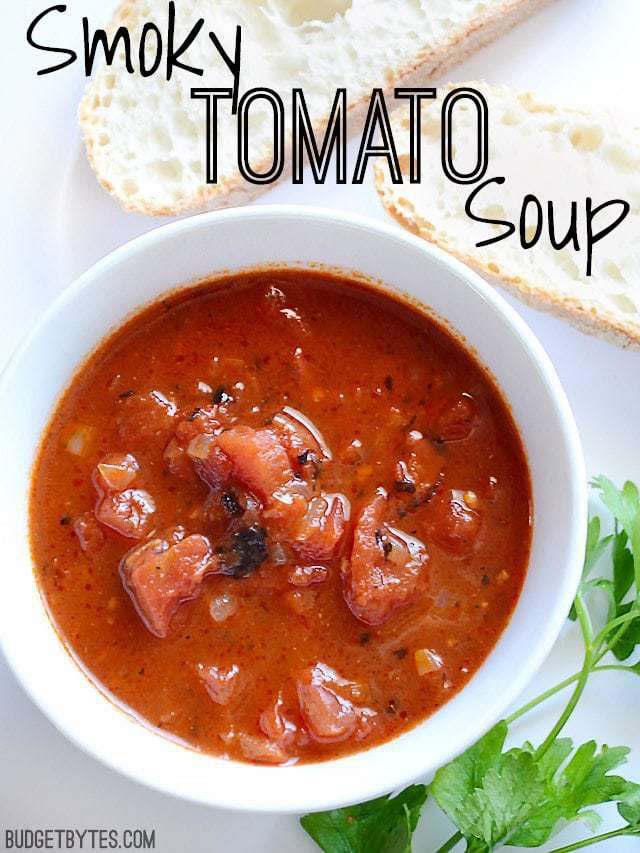 Smoky Tomato Soup
This rustic Smoky Tomato Soup has chunks of fire roasted tomatoes, smoked paprika, and earthy cumin. It's a fast and flavorful side to your weeknight meal.
Instructions
Finely dice the onion and mince the garlic. Add them to a soup pot with the olive oil and cook over medium heat until the onions are soft and translucent.

Add the tomato paste, smoked paprika, and cumin to the pot. Continue to stir and cook for about two minutes to slightly caramelize the tomato paste and toast the spices.

Add the cans of fire roasted tomatoes, vegetable broth, brown sugar, and some freshly cracked pepper. Stir to combine and heat through (about 10 minutes). Taste and adjust the seasoning if needed (salt may be needed depending on the brand of broth used).
See how we calculate recipe costs here.
---
Notes
Although I prefer a chunky texture and appearance, this soup can be puréed with an immersion blender to make a smooth soup. More broth or water may be needed if the soup becomes too thick.
Nutrition
Serving:
1.25
Cups
Calories:
136.7
kcal
Carbohydrates:
16.1
g
Protein:
2.55
g
Fat:
6.93
g
Sodium:
617.43
mg
Fiber:
4.58
g
Read our full nutrition disclaimer here.
How to Make Smoky Tomato Soup – Step by Step Photos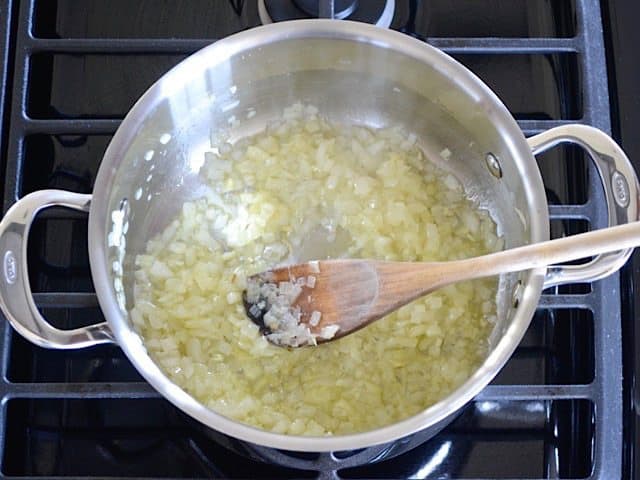 Begin by finely dicing one small yellow onion and mincing two cloves of garlic. Add them to a soup pot along with 2 Tbsp of olive oil. Cook over medium heat until the onions are soft and translucent, like in the picture.
Add 2 Tbsp of tomato paste (you can freeze the rest of the can), 1/2 Tbsp smoked paprika, and 1/2 tsp cumin. Stir and cook this mixture for about two minutes. This slightly caramelizes the tomato paste and dampens its sharply acidic flavor.
Add two 15oz. cans of fire roasted diced tomatoes. You can see the black pieces of charred skin that give the tomatoes so much flavor. I love that visual effect so much that I decided to leave my soup chunky instead of puréeing it at the end.
Also add one cup of vegetable broth. As always, I used Better Than Bouillon brand soup base to make my broth (1 tsp + 1 cup water = 1 cup broth). I love this stuff because I can mix up any amount I need and the rest stays good in the refrigerator for just about forever. Someone recently asked me if they should always dissolve the soup base in water before adding it to the recipe or if the base and water can be added separately. My answer is that it depends on the recipe. For a recipe like this that will be stirred and simmered a lot, you can just add them separately because they'll mix together as the soup is stirred and simmered. For recipes that you don't want to stir, like rice, it's best to dissolve the soup base in the water before adding.
After adding the tomatoes and broth, add a little brown sugar and freshly cracked pepper. The sugar helps dull the acidity just a bit more. I added about 1/2 tsp, but you can start with 1/4 tsp and see if that's enough to suit your palate. Heat the soup through, then taste one more time and adjust the seasonings if needed. I found that between the canned tomatoes and vegetable broth, no extra salt was needed. Depending on your brand of broth and tomatoes, you may need to add a little.
If you find this Smoky Tomato Soup a little thick for your liking, you can always add more broth or water. If you want a smooth soup, use an immersion blender to purée the soup, or wait for it to cool, then blend it smooth with a blender or food processor.
TRY THESE OTHER TOMATO SOUP RECIPES: