This post is a little different than my usual. Instead of a "recipe" this is more like an experiment. It's no secret that I love salad bars, I even wrote a post about How to Hit the Salad Bar Like a Boss. Every now and then, when I'm having an extreme craving for fresh vegetables, I'll go to Whole Foods and build myself a monster salad with the mindset that it must be less expensive to go get a little of each of the 10 ingredients than to buy the full size of each item and make my "Purple Power Bowls" at home.
But is it?
So Monday morning I went out and bought all the things that I usually like to put in my monster-sized Purple Power Bowls and prepped all the ingredients so that I could eat them at home. Every day. EVERY DAY. Because it's not really any cheaper if you buy all the ingredients, eat one bowl the first day, then let the rest of ingredients go bad. So I'm hoping that seeing all those prepped vegetables in my fridge (and posting it about here) will peer pressure me into eating a Purple Power Bowl every day. LOL. I'll report back on my success.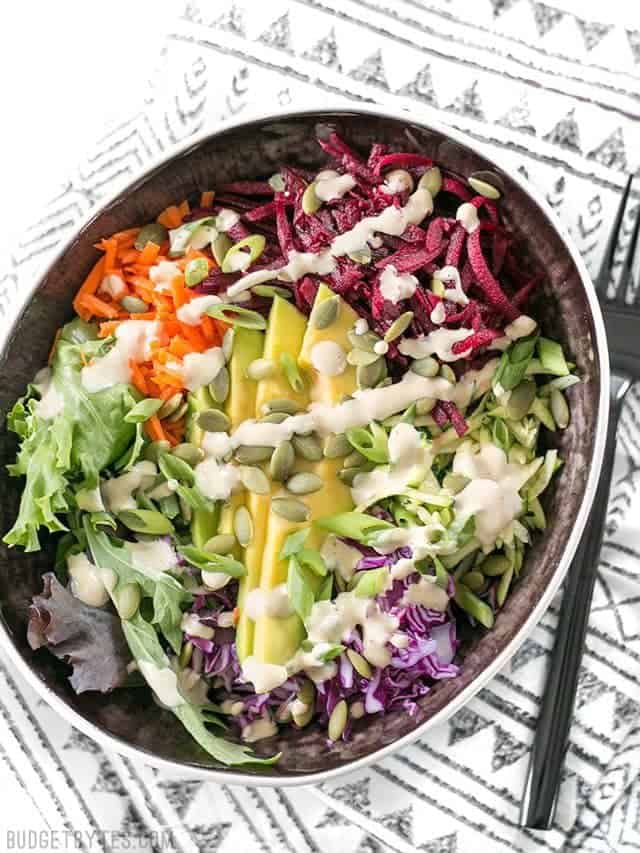 I made some of my favorite tahini lemon dressing for this salad because it uses staples that I keep in my pantry and I didn't have to buy anything extra, but you could totally use just about any dressing. I prefer creamy dressings for this salad because I find that the creamy/fatty flavor helps balance the super fibrous texture of all the vegetables and makes it a lot easier on my stomach. This lemon tahini dressing, though, is fab. It's kind of like hummus minus the chickpeas!
Anyway, ready to see what's in this super-duper Purple Power Bowl??
Since there's no real set amount of each ingredient for the bowls, the amounts listed below are enough for at least 5 bowls, plus some extras. My salad bar version of the Purple Power Bowl cost about $8.50 per bowl. Buying all the ingredients for the bowls at home I spent around $13.85 and there is enough for at least 5 bowls… or $2.77 each. Again, that depends on if I eat all five. If I end up eating only four, that's about $3.46 each, or still less than half the cost of the salad bar version.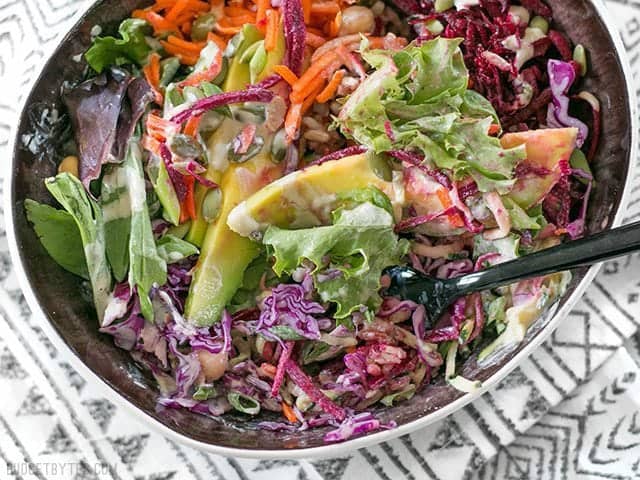 Purple Power Bowls
Purple Power Bowls are a mélange of colorful grains, beans, and vegetables with more flavor and texture than imaginable.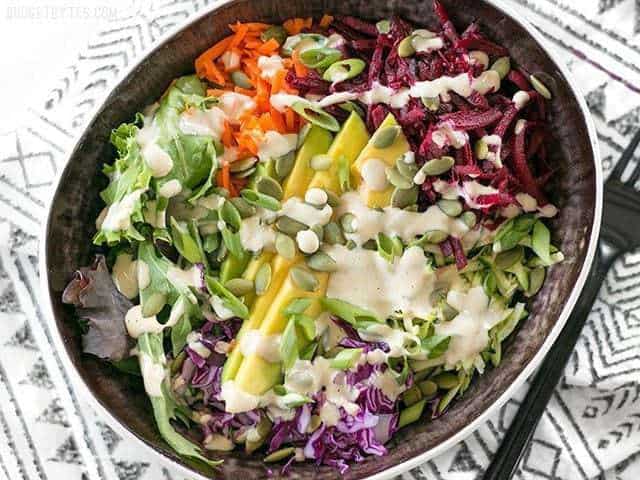 Ingredients
LEMON TAHINI DRESSING (optional)
1/3

cup

tahini

($1.13)

1/3

cup

water

($0.00)

1/4

cup

lemon juice

($0.18)

1

clove

garlic, crushed*

($0.08)

1/2

tsp

ground cumin

($0.05)

1/4

tsp

cayenne pepper

($0.03)

1/2

tsp

salt

($0.02)
SALAD
2.5

cups

cooked rice or other grain

($0.87)

1

15oz. can

chickpeas

($0.79)

4

oz.

baby greens

( $1.99)

2-3

small beets (2/3 lb.)

($1.72)

2

zucchini (1 lb.)

($1.63)

3

carrots (3/4 lb.)

($0.79)

1

small red cabbage (2 lb.)

($1.41)

1

avocado

($1.25)

1/2

bunch

green onion

($0.35)

1/2

cup

pepitas

($1.56)
Instructions
Prepare the dressing by placing all the ingredients in a blender and puréeing until smooth. If you don't have a blender, mince the garlic, then whisk the ingredients together in a bowl. Refrigerate the dressing until ready to use.

Cool the cooked rice, if needed. Drain the can of chickpeas. Wash the beets, zucchini, and carrots well. Use a food processor or large-holed cheese grater to shred the beets, zucchini, and carrots. Remove any wilted leaves from the cabbage, then cut into quarters, and remove the core. Shred the cabbage using a food processor, or slice thinly with a knife. Slice the avocado and green onion.

To build the bowls, place about 1/2 cup of the cooked rice in a bowl along with about 1/4 cup of chickpeas. Add a handful of baby greens, shredded beets, zucchini, carrots, and cabbage. Top with a few slices of avocado and a sprinkle of pepitas and sliced onion. Finally, drizzle the lemon tahini dressing liberally over the bowl, then eat.
See how we calculate recipe costs here.
---
Notes
*I often use 2 cloves of garlic for the dressing, but used one clove today to make it more gentle on the stomach.
Nutrition
Serving:
1
salad
Calories:
474
kcal
Carbohydrates:
64
g
Protein:
16
g
Fat:
20
g
Sodium:
608
mg
Fiber:
14
g
Read our full nutrition disclaimer here.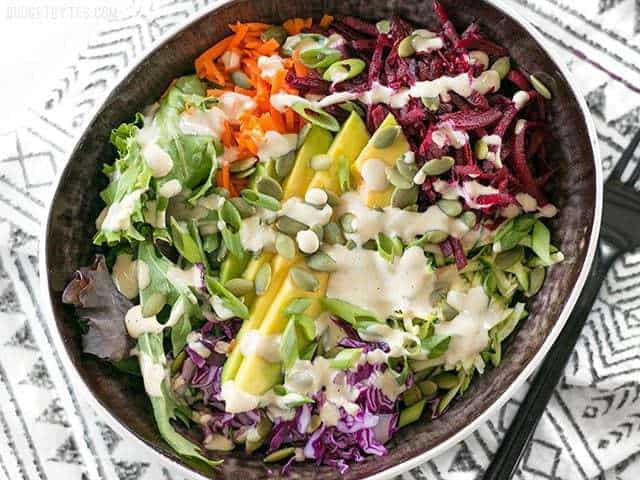 How to Make a Purple Power Bowl – Step by Step Photos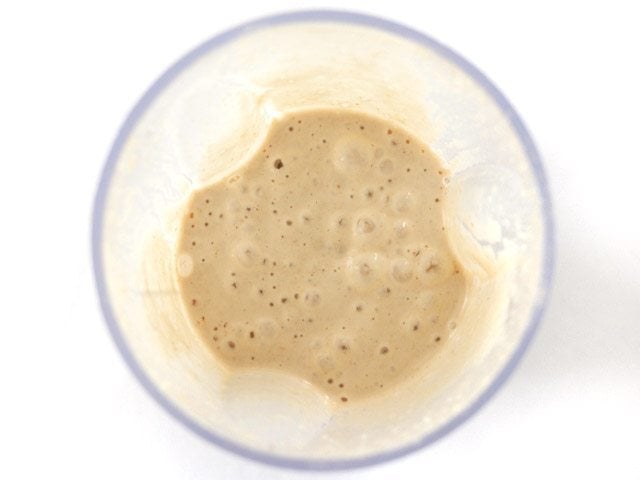 Make the dressing first so that it has time to blend as you prepare the rest of the ingredients. To make the dressing, simply purée 1/3 cup tahini, 1/3 cup water, 1/4 cup lemon juice, 1 clove of crushed garlic, 1/2 tsp cumin, 1/4 tsp cayenne, and 1/2 tsp salt in a blender. I use my cheap-but-powerful little Hamilton Beach personal blender. If you don't have a small blender, just mince the garlic and whisk the ingredients together in a bowl. Refrigerate the dressing until you're ready to use it.
I bought a wild rice blend for my bowls (it looks kind of purple once cooked), but you can use any grain that you like. I use approximately 1/2 cup of grains per bowl, so you'll want at least 2.5 cups cooked.
Make sure your grain is cooled before making the bowls. If you need to cool it quickly, spread it out onto a lined baking sheet and refrigerate until cool. Spreading it out helps it cool super fast.
Now it's time to shred the vegetables. I love having shredded vegetables for the salad because you get a little bit of everything in every bite, and it's just easier to chew. Wash the vegetables well. You can peel them if you prefer, but I left the peel on and simply cut off the ends. For the bowls I used one small head of purple cabbage, three small beets (those were about the size of plums), two zucchini, and three carrots.
I used my food processor to quickly shred the vegetables, but you could also use a mandoline or large-holed cheese grater and a little elbow grease. Take note: if you shred them manually, the prep time will unfortunately be a lot longer. ;) I had about 2 cups shredded of each vegetable, except the cabbage, which I had about 6 cups of. I'll definitely be using about half of that to make a separate recipe.
And the last three ingredients I used for the Purple Power Bowls were pepitas (1/2 cup), one avocado, and about 1/2 bunch of green onion. Slice the avocado and green onion. Not pictured: one 15oz. can of chickpeas (drain the beans) and one 4oz. bag of baby greens.
Finally, start building your bowls… I use about 1/2 cup of cooked rice or grains and 1/4 cup chickpeas.
Top the rice and chickpeas with a small handful of baby greens, shredded carrot, beets, cabbage, and zucchini.
Add a few slices of avocado and a sprinkle of pepitas and sliced green onion.
Lastly, give the bowl a generous drizzle of the Lemon Tahini Dressing. Mmmmmm.
And there you have the most beautiful, delicious, and texture filled meal you'll ever make.
Now DIG IN to all that deliciousness! …And watch as the whole bowl begins to turn a bright and beautiful shade of purple-magenta.