I didn't grow up eating fast food, so I've never really been a chicken nugget person, but the other day, out of the blue, I got a massive craving for them. So I thought, "Challenge accepted! I'm going to make some homemade chicken nuggets." Well, let me just say, I might be a chicken nugget person now because these Homemade Baked Chicken Nuggets are so flavorful and so juicy, that I just couldn't stop. And the best part is, they're actually quite easy to make! I made three batches this week and I'm not sick of them yet.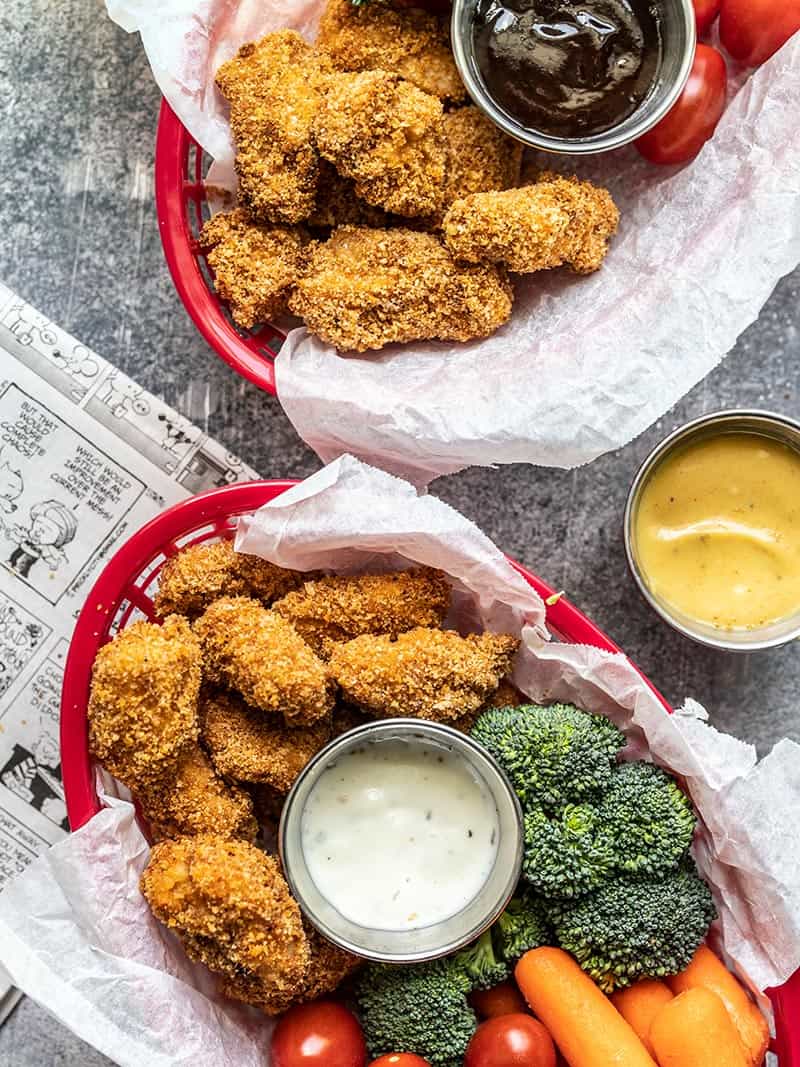 How Many Chicken Nuggets Does This Recipe Make?
I used one (yes, one) boneless skinless chicken breast for this recipe, which made around 24 nuggets. My chicken breast weighed approximately 2/3 lb., so your yield may vary depending on the size of the breast. I've set the serving size at six nuggets per serving, assuming you'll be eating something on the side (like the fresh vegetables in my photos).
Why is There YOGURT in Your Chicken Nuggets??
Weird, right? But it works. Buttermilk is a common ingredient used in baked and fried chicken, but I didn't have any buttermilk, nor did I want to buy any just for this recipe (even though you can freeze extra buttermilk for use later). Instead, I chose to use an ingredient that is already in my refrigerator: plain Greek yogurt. Like buttermilk it is a cultured milk product that gives the nuggets extra flavor and helps keep them tender and moist. Trust me!
If you have plain regular-style yogurt (not Greek style), that can be used too. You'll just need to add less water when thinning it out.
Can I Make Them Gluten Free?
If you can get gluten-free breadcrumbs, those should work fine in this recipe. That being said, I haven't tested this with gluten-free breadcrumbs, but I don't think the lack of gluten should affect the texture in this application.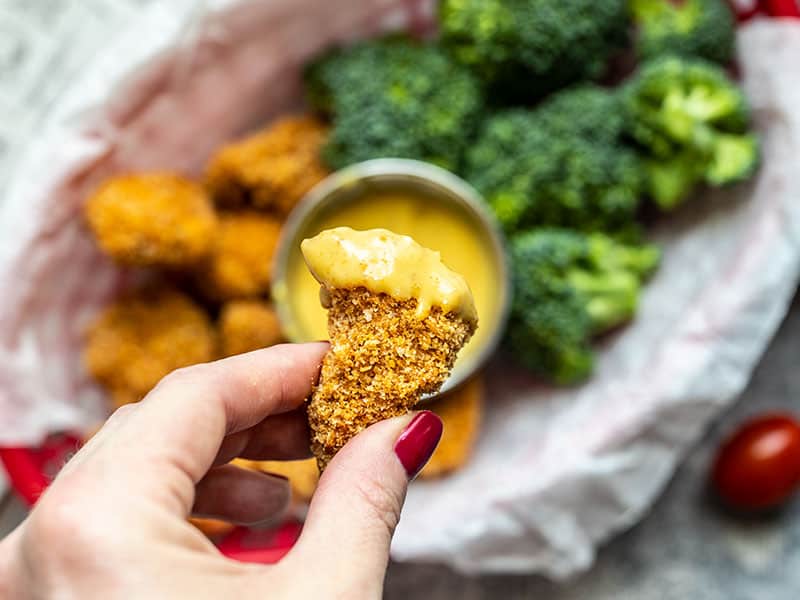 How do Leftovers Hold Up?
I ate my leftover nuggets the day after I made them and enjoyed them quite a bit, but I will say that they are no longer crispy. They are every bit as tender, juicy, and flavorful though!
What is a "Neutral Oil"
A neutral oil is any cooking oil that does not carry a heavy flavor. You have the flexibility here to use the oil that best fits your diet or budget. I used Grapeseed oil today, but you could use canola, light olive oil, safflower, sesame, or any other light oil.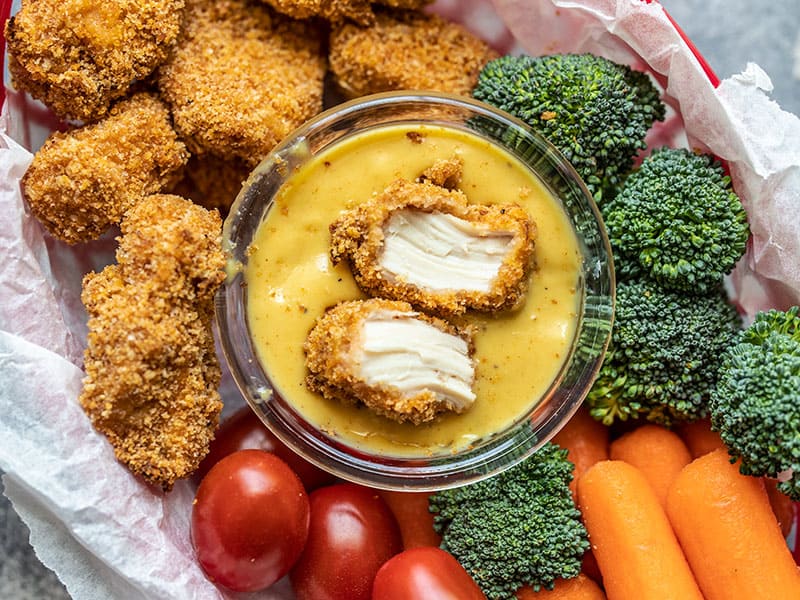 Pictured with my homemade Honey Mustard Sauce.

Homemade Baked Chicken Nuggets
Homemade baked chicken nuggets are crispy on the outside, tender and juicy on the inside, easy to make, and make a delicious meal or snack.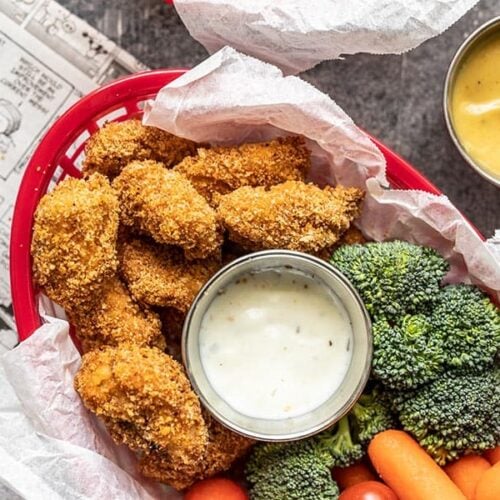 Ingredients
Yogurt Slurry
1/3

cup

Greek Yogurt

($0.29)

1/8

tsp

salt

($0.01)

3

Tbsp

water

($0.00)
Chicken
1

boneless, skinless chicken breast (about 2/3 lb.)

($2.79)
Instructions
Preheat the oven to 425ºF. Place a wire cooling rack, or two, over a baking sheet to hold the nuggets as they bake.

In a wide shallow bowl, combine the breadcrumbs, garlic powder, smoked paprika, salt, and some freshly cracked pepper (about 5 cranks of a pepper mill). Stir these ingredients together until evenly combined. Drizzle the oil over the breadcrumb mixture, then stir until the breadcrumbs are coated in oil. The breadcrumbs should look like damp sand.

In a separate small bowl, stir together the Greek yogurt, salt, and water until smooth. You want the yogurt to be a similar consistency to buttermilk or heavy cream. It should be thick enough to coat the chicken.

Trim any excess fat from the chicken breast, then cut it into small, 3/4 to one-inch pieces. For a 2/3 lb. chicken breast you should get about 22-24 pieces.

Dip each piece of chicken into the yogurt slurry, then roll it in the seasoned breadcrumb mixture until the chicken piece is fully coated. Place each coated nugget onto the wire cooling rack on the baking sheet.

Once all of the chicken pieces are fully coated, transfer the baking sheet to the oven and bake for 23-25 minutes, or until the breading is browned on the edges.

Remove the chicken nuggets from the oven and let cool for 3-5 minutes, then serve with your favorite dip.
See how we calculate recipe costs here.
---
Nutrition
Serving:
1
Serving
Calories:
279.83
kcal
Carbohydrates:
22.05
g
Protein:
22.9
g
Fat:
10.68
g
Sodium:
641.85
mg
Fiber:
2.03
g
Read our full nutrition disclaimer here.
Scroll down for the step by step photos!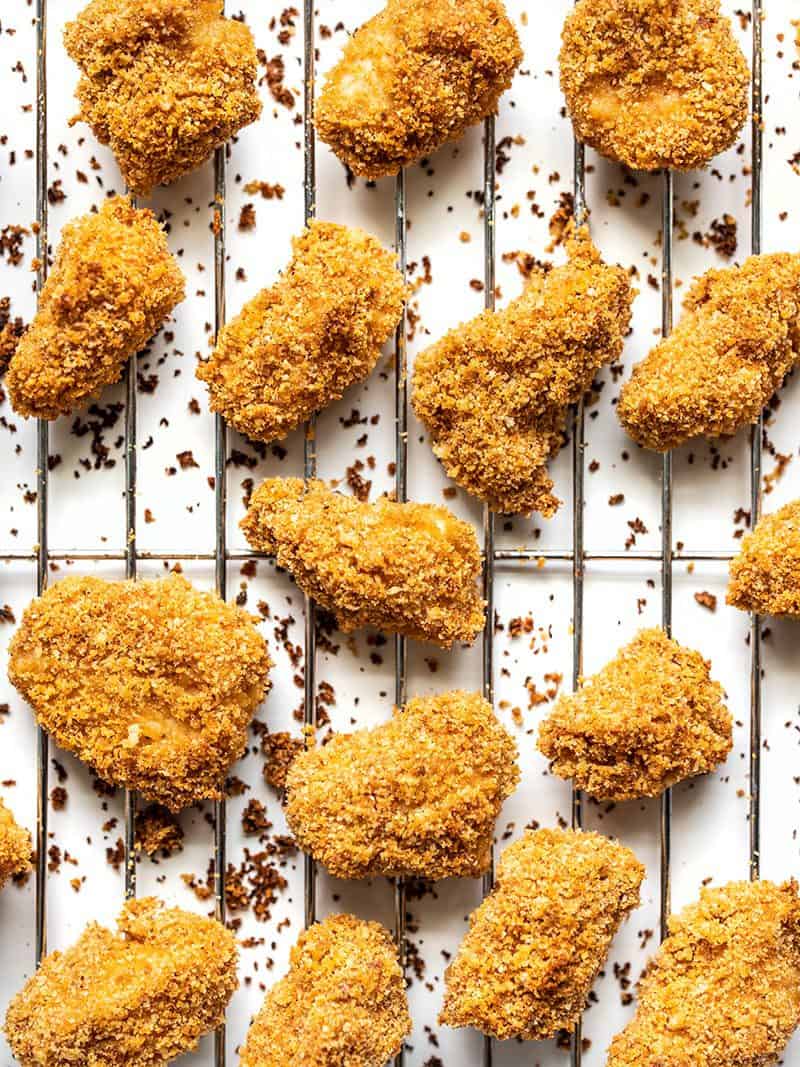 How to Make Baked Chicken Nuggets – Step by Step Photos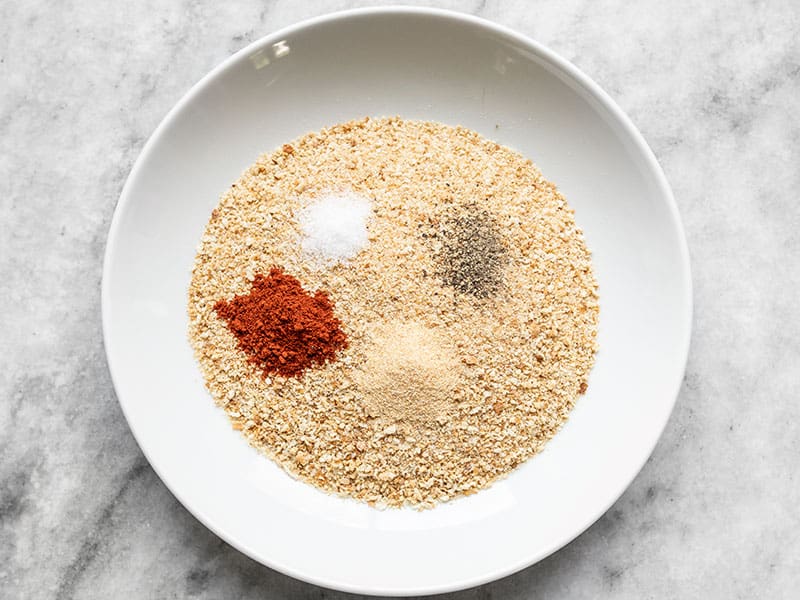 Preheat the oven to 425ºF. To make the breading for the chicken nuggets, combine 1 cup plain breadcrumbs, 1/2 tsp garlic powder, 1/2 tsp smoked paprika, 1/4 tsp salt, and some freshly cracked pepper (about 5 cranks of a pepper mill) in a bowl. Stir these together well.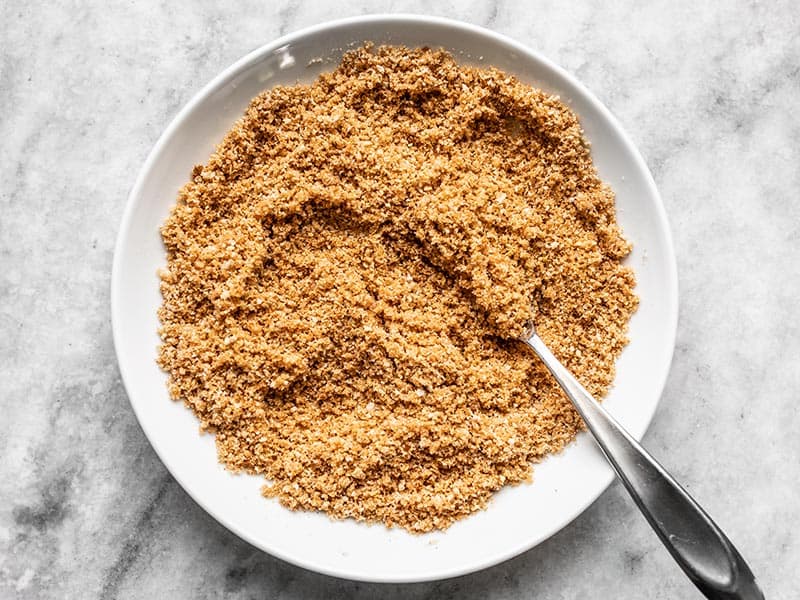 Then drizzle 2 Tbsp of any neutral oil over the breadcrumb mixture and stir until all the breadcrumbs are coated. It should look like damp sand.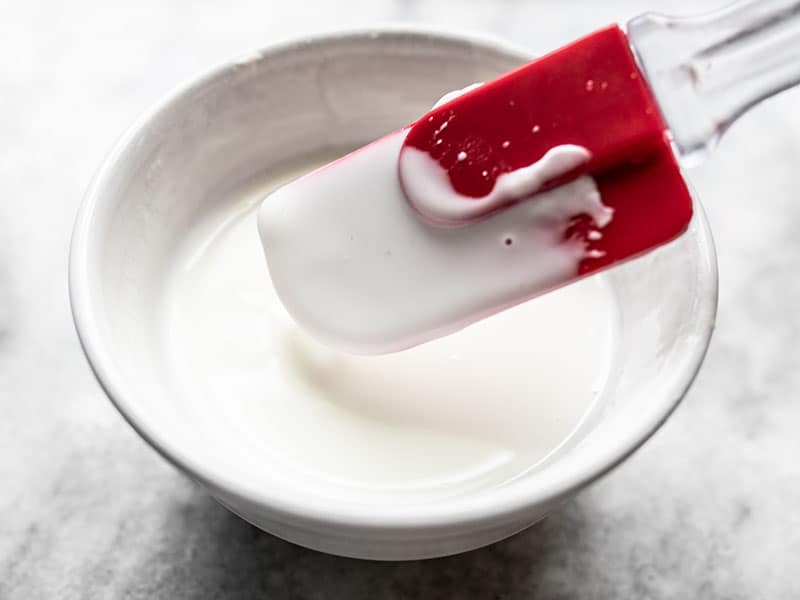 In a separate bowl, combine 1/3 cup plain Greek yogurt with 3 Tbsp water and 1/8 tsp salt. Stir until smooth. It should be about the consistency of buttermilk or heavy cream. You can use plain "regular" yogurt here, you'll just add less water to thin it out just a tad.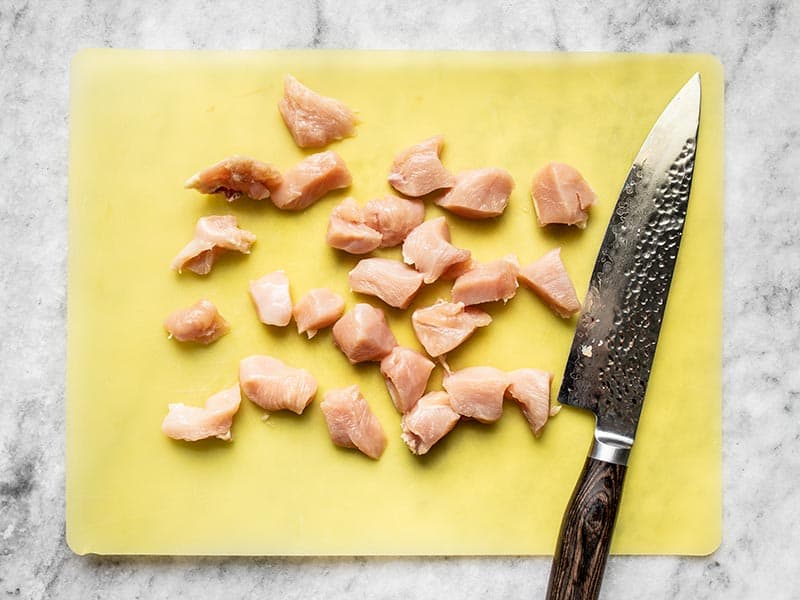 Trim any excess fat from one boneless, skinless chicken breast (about 2/3 lb.). Cut the chicken breast into small 3/4 to one-inch pieces. You should get about 22-24 pieces.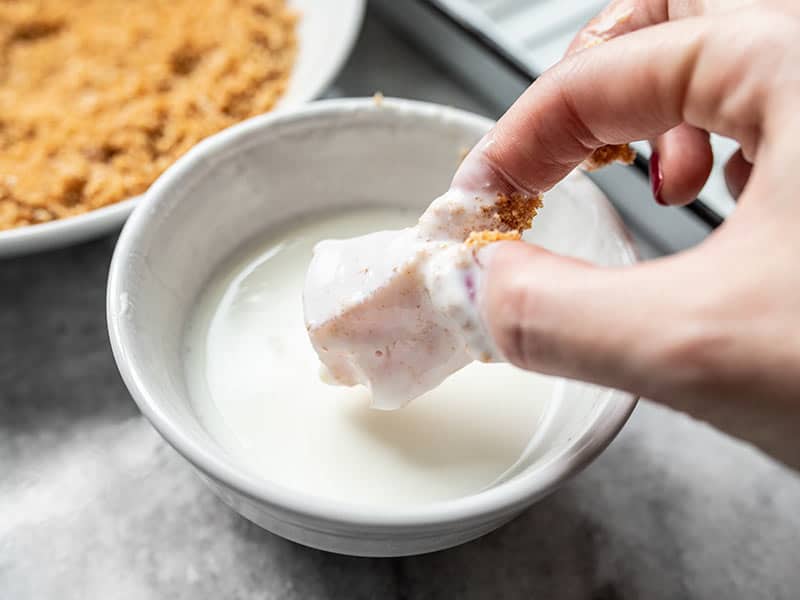 Dip each piece of chicken into the yogurt slurry until it's coated…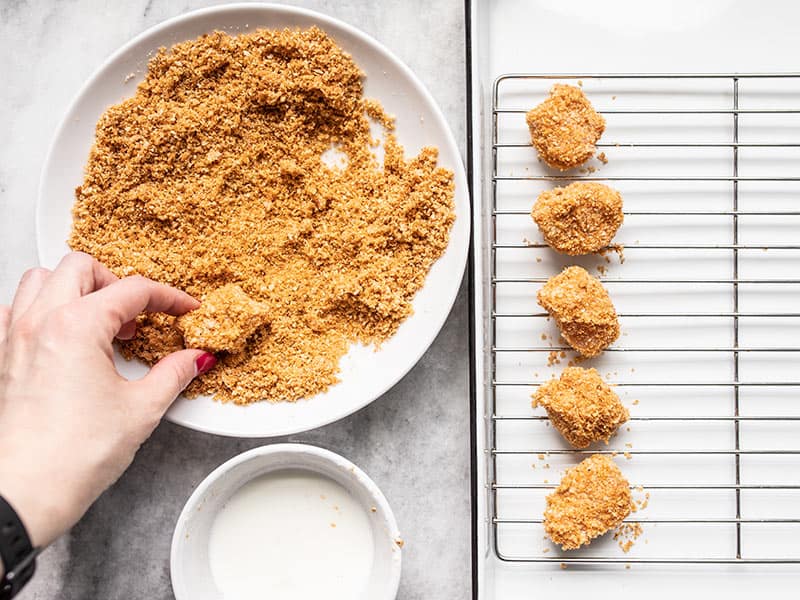 Then right after you dip it in the yogurt, roll it in the breading mixture until it's completely coated. Once each piece is coated, place it onto a wire cooling rack that is sitting on top of a baking sheet.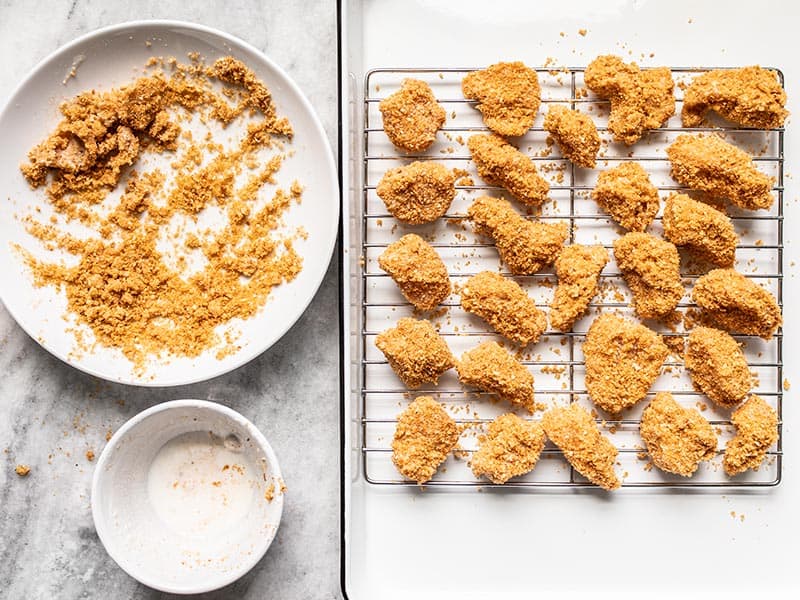 Once they're all coated and on the wire rack, they're ready to bake! Throw away any leftover breading and yogurt because they are contaminated with raw chicken.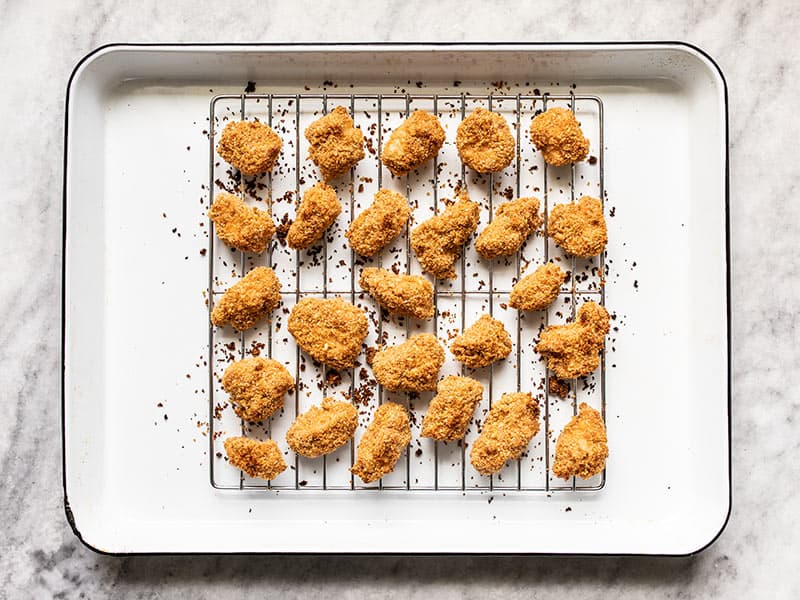 Bake the chicken nuggets in the preheated 425ºF oven for 23-25 minutes, or until the edges have turned golden brown. Let them cool for 3-5 minutes before serving.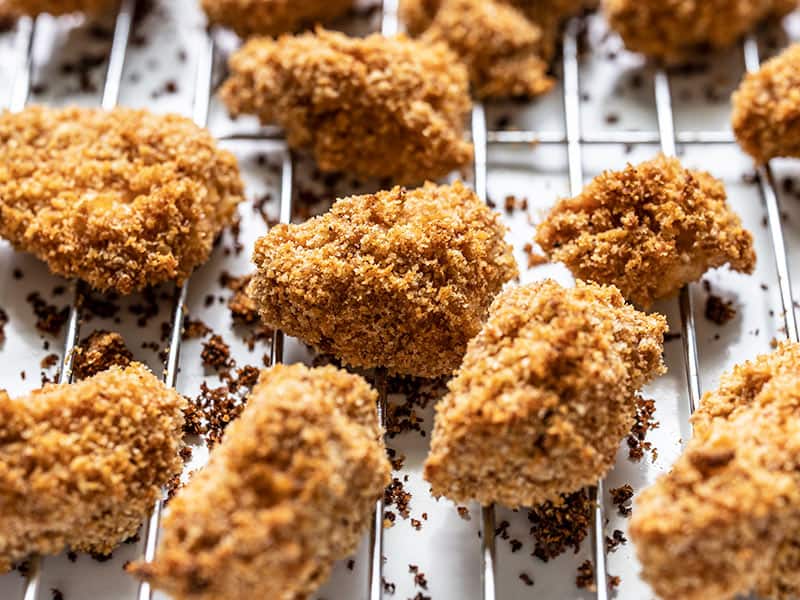 Here's a close-up of the baked nuggets so you can see their color. They don't change a LOT, they just get slightly darker and a little more brown on the edges.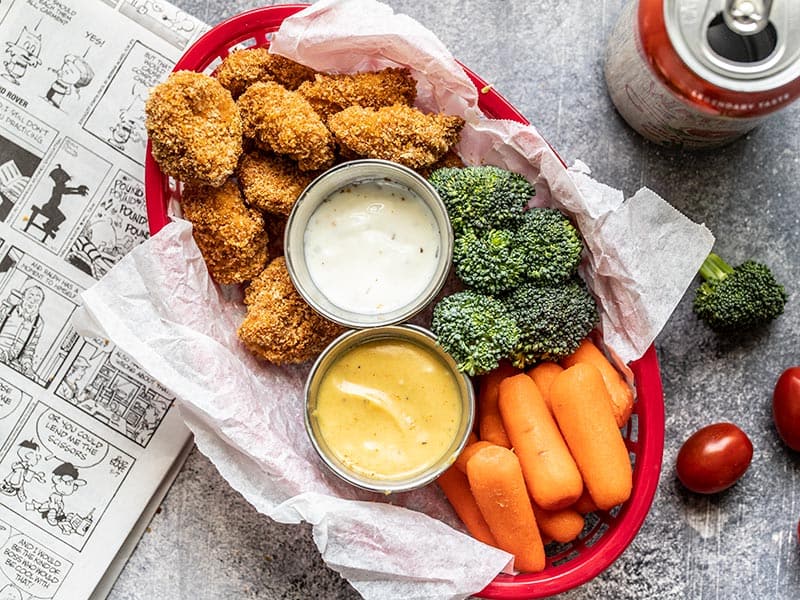 Serve the Homemade Baked Chicken Nuggets with your favorite dips! Ranch is always great, but I also made a homemade honey mustard sauce, which I'll be sharing on the blog either tomorrow or the next day, so stay tuned! Fresh vegetables were also an awesome side because they were just as good dipped into the ranch and honey mustard sauce.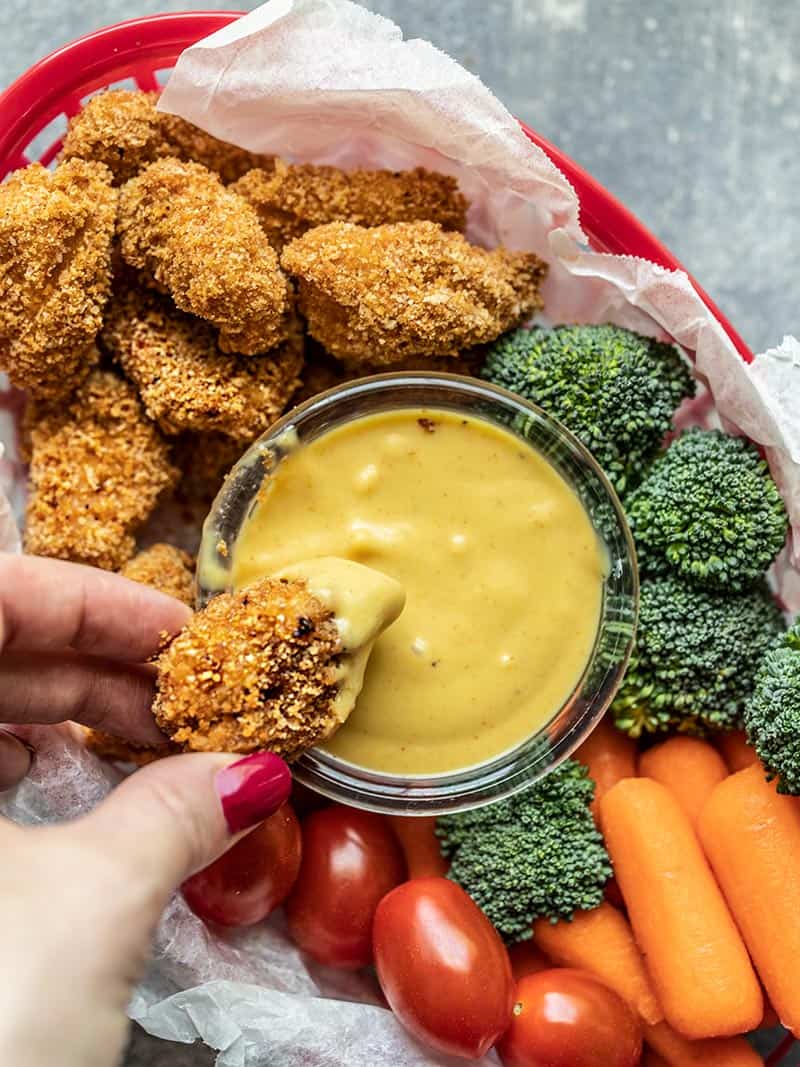 I seriously can't get enough of these Homemade Nuggets!!