Have you ever seen those bags of 16 bean soup mix in the dry bean aisle at the grocery store? Well, they're kinda like the ramen of the bean world. They come with their own packet of "flavoring" that you're supposed to boil with the beans to yield a delicious hearty soup. I like to flavor my soups with my own mix of vegetables, herbs, and spices, so here's my own version of Ham and Bean Soup.
Something special happens when you boil meat, bones and all of the connective tissue into a broth. It might seem frightening at first and it certainly doesn't look very appetizing but I promise you that every soup you've eaten that has that certain "je ne sais quois" has this magic broth. From homemade chicken noodle soup to Vietnamese pho, they've all got the boiled bones and slow-cooked gelatinized tissues. So, please over look the unsightly ham hocks and believe me when I tell you they *make* this soup. You can use smoked turkey wings instead if you'd like. They'll still give you great flavor and they have less fat but they're also more expensive.
Also, if you don't have a slow cooker, you cane make this on the stove top in a pot. Just let it simmer with a lid in place until the beans are soft (2-4 hours).
Slow Cooker Ham and Bean Soup
Make your slow cooker do all the work with this recipe for thick, rich, and flavorful Ham and Bean Soup.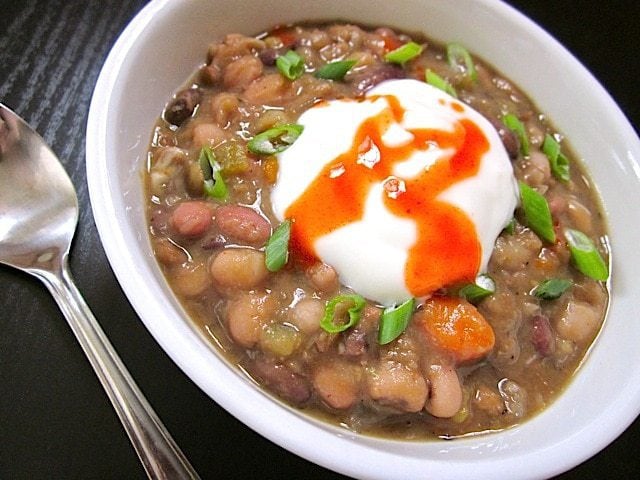 Ingredients
1

med yellow onion

($0.50)

3

stalks celery

($0.46)

4

med carrots

($0.49)

4

cloves

garlic

($0.23)

2

med smoked ham hocks

($1.99)

1

lb.

dry 16 bean mix

($2.19)

2

whole bay leaves

($0.10)

1

tsp

dried thyme

($0.05)

1

tsp

dried oregano

($0.05)

1 1/2

Tbsp

chicken base or bouillon

($0.45)

to taste salt and pepper

($0.05)
Instructions
The night before, rise the beans, pick through and remove any stones or debris. Place in a large container, cover with 2x the amount of water and refrigerate over night.

Dice the onion, carrot, and celery. Mince the garlic. Place all four in the bottom of the slow cooker. Nestle two ham hocks down into the vegetables.

Pour the soaking water off of the beans and rinse again. Pour the drained beans into the slow cooker on top of the vegetables and ham hocks. Add the seasoning (2 bay leaves, 1 tsp thyme, 1 tsp oregano, 1.5 Tbsp chicken base and a few cranks of black pepper). Add 6 cups of water, give everything a light stir to distribute the seasoning a bit but don't disturb the vegetables or ham hocks.

Secure the lid on top of the slow cooker and cook on high for 4-6 hours or until the beans are soft and have absorbed most of the water.

Stir the soup and remove the ham hocks. Pick any meat off of the ham hocks and return it to the soup. Taste the soup and adjust the seasoning to your liking (salt, pepper, hot sauce, Tony Chachere's, smoked paprika? Anything you want). Serve hot with any garnishes you like (sour cream, cheese, green onions, crusty bread… get creative!)
See how we calculate recipe costs here.
---
Nutrition
Serving:
1
Serving
Calories:
250.06
kcal
Carbohydrates:
37.9
g
Protein:
16.91
g
Fat:
2.94
g
Sodium:
572.71
mg
Fiber:
16.03
g
Read our full nutrition disclaimer here.
Step By Step Photos

This is the dry bean soup mix I was talking about. Sometimes it's called 16 bean soup mix and sometimes you can even find it in the bulk bins which is nice if you want to make a half batch. Rinse the beans and soak over night in the refrigerator with two times the amount of water (they'll expand).

Dice the onion, carrots and celery. Mince the garlic. Place all of them in the bottom of your slow cooker. I used celery that I had cleaned, cut and frozen previously… so that's frost on there, not mold.

Here is the package of ham hocks that I bought. I used two and froze the third. I'll probably use the third one the next time I make collard greens. They looks scary but taste fantastic. Promise. And they're much less gross than chicken carcasses, IMHO.

Nestle the ham hocks down into the vegetables.

Pour off the soaking water from the beans and give them another rinse.

Pour the beans on top of the veggies and ham hock and then add the seasoning (bay leaves, thyme, oregano, chicken base, pepper).

Pour on 6 cups of water and give it a gentle stir just to distribute the seasoning. Secure the lid on the slow cooker and cook on high for 4-6 hours.

You'll know it's done because the beans will be big, swollen, soft and it will look like most of the water has absorbed. Plus, it will be filling your house with an amazing, smokey ham scent. Yum.

Remove the ham hocks, pick any meat off of the bone and then stir it back into the soup. Give it a good taste and adjust the seasoning with whatever you want. Chances are you won't need salt because of the ham hocks and chicken base but you may want to add hot sauce, smoked paprika or maybe nothing at all! Also, check out your fridge and garnish with whatever might be left in there. Sour cream? Cheese? Green onions? Maybe make some rice and top the bowl with a scoop? Lots of possibilities here.