If you've never had gazpacho before, it's basically a soup for people who, like me, would like nothing more than to eat salsa with a spoon. Okay, maybe that's just my definition of it, but you get the idea. Lots of yummy vegetables puréed into a deliciously fresh soup.
There are red gazpachos and green gazpachos and about a million ways to make each one. This is my second go at green gazpacho this week and I think I hit the nail on the head this time. My first attempt used bread to add body and a little buttermilk to brighten things up. It was just "meh." This version uses avocado to add body and a little lemon juice to brighten things up, and it's much better (gluten free and vegan, too!). This cold soup is fresh, light, and 100% summer. Love it!
The other reason I love this soup is because it takes advantage of the fresh, inexpensive produce of summer. People who have gardens often have an abundance of cucumber and bell pepper in particular, so try to befriend someone with a green thumb. Promise to make them some of this yummy soup in exchange for some of their extra produce! ;D If you can't find any freebies, all of these ingredients are usually fairly inexpensive in the summertime, so you can eat this gazpacho to your heart's content.
Let it chill in the fridge and then serve it along side your favorite grilled meats or vegetables and add a big chunk of crusty bread for dipping. That right there, my friends, is what I call a meal!
Have I mentioned how much I love summer?
Green Gazpacho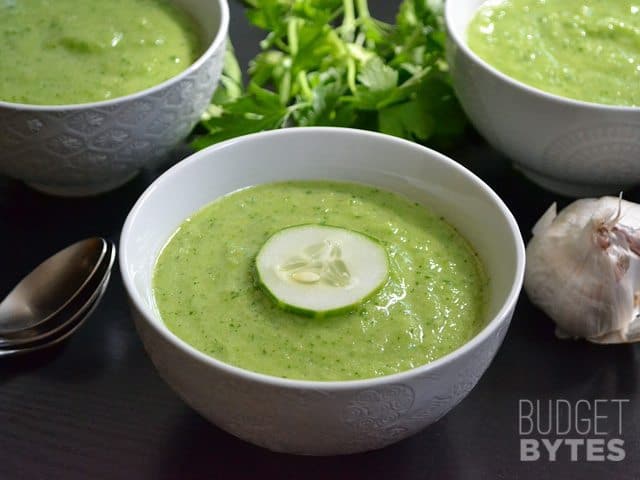 Green Gazpacho
Green gazpacho is the perfect light, fresh, cold soup for summer. With cucumbers, bell pepper, avocado, and fresh herbs, it's full of amazing flavor!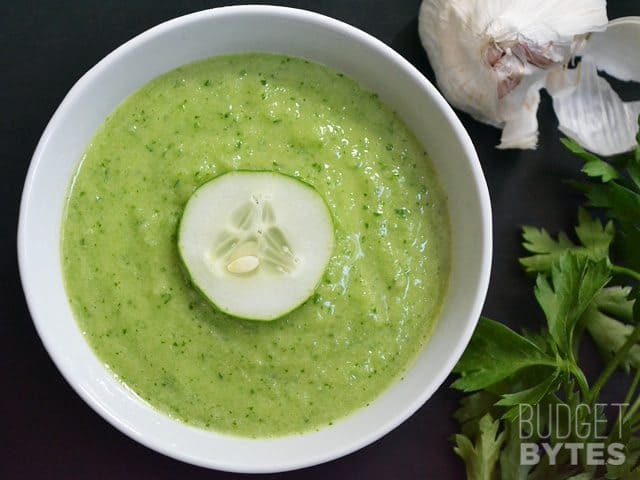 Ingredients
2

medium cucumbers

($1.00)

1

medium white onion

($0.81)

1

medium green bell pepper

($0.50)

1

clove

garlic

($0.08)

1

medium avocado

($1.19)

1/4

bunch fresh parsley

($0.19)

1/4

bunch fresh cilantro

($0.19)

2

Tbsp

olive oil

($0.32)

1

tsp

salt

($0.05)

1

Tbsp

lemon juice

($0.06)

1

cup

water

($0.00)
Instructions
Remove the ends from the cucumber and slice it in half lengthwise. Scrape the seeds out with a spoon and then chop the cucumber into chunks. Remove the seeds from the bell pepper and also cut it into chunks. Dice the onion. Add the cucumber, bell pepper, onion, and garlic (peeled) to a food processor. Process until the vegetables are minced.

Pull the leaves from about 1/4 of the parsley and cilantro bunches. Add the leaves to the food processor along with the olive oil and the flesh from the avocado. Purée until smooth.

Add the water, one tablespoon of lemon juice, and one teaspoon of salt. Purée until smooth again. Taste the soup and adjust the salt or lemon juice if desired.

Serve immediately or chill until ready to eat.
See how we calculate recipe costs here.
---
Nutrition
Serving:
1
Serving
Calories:
214.35
kcal
Carbohydrates:
13.5
g
Protein:
2.95
g
Fat:
18.18
g
Sodium:
603.95
mg
Fiber:
7.08
g
Read our full nutrition disclaimer here.
Step by Step Photos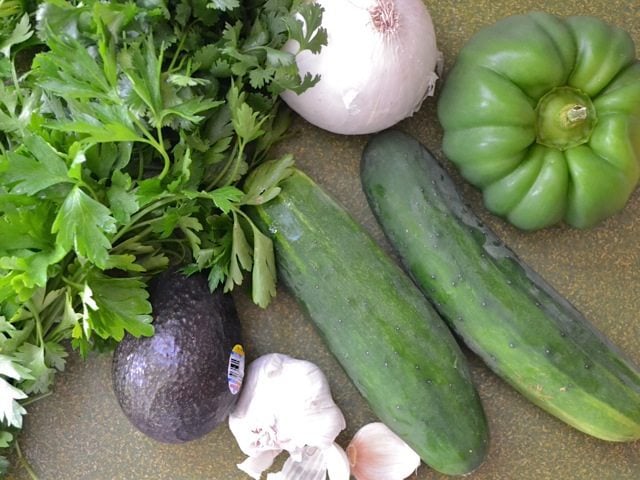 This is the fresh produce that I used… I got a great deal on everything because just about all of it is in season right now. Cucumbers and bell peppers were both 2/$1. Parsley and cilantro are pretty inexpensive year round – they were $0.75/bunch today. Vidalia onions would also be great in place of the white onion.
You'll want to remove the cucumber seeds as they won't blend up well in the soup. Just slice the cucumber in half and then scrape them out with a spoon. I did not remove the skin of the cucumbers. Chop the cucumbers into small chunks before adding to the food processor.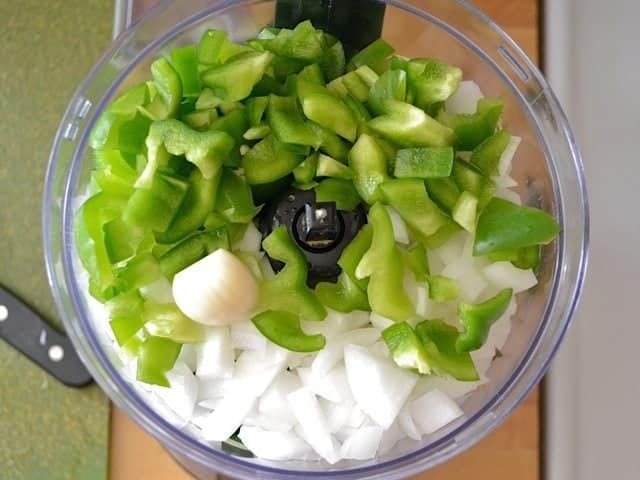 Also chop the bell pepper and onion. You can add the garlic whole (but peeled). The processor was pretty much full at this point, so I processed until the vegetables were minced, just to make room for more ingredients.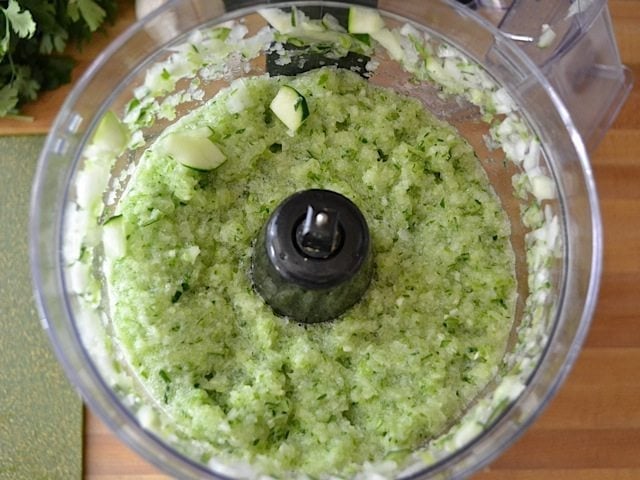 Just a preliminary mincing of the veggies…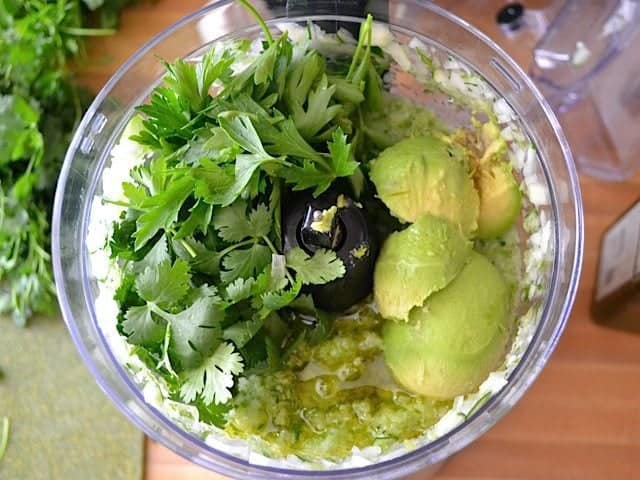 Next, add a handful (or about 1/4 bunch) of each parsley and cilantro. Scoop the avocado flesh from the skin and add it as well. I also added the olive oil at this point. The avocado makes it creamy and adds body. If you don't add it the soup will just be a bunch of vegetable fiber floating around in juice… not nearly as cohesive (or appetizing).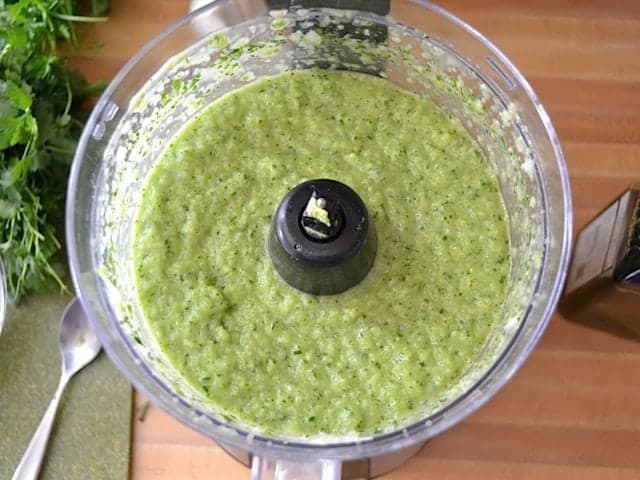 The soup is almost done at this point, but it definitely needs a little sprucing up. I added a little lemon juice for brightness and just a little salt to help the flavors pop. I also added a cup of water to help it blend into a smoother texture and make it more soup-like.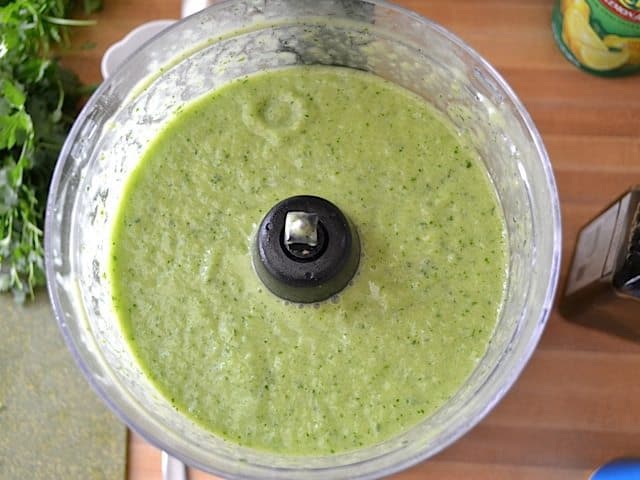 See? Much smoother now… and DELICIOUS! Make sure to taste it and give it some adjustments. The amount of salt and lemon juice you will need will depend greatly on the size and flavor of your vegetables. They're quite variable, so each batch will probably need some tweaking.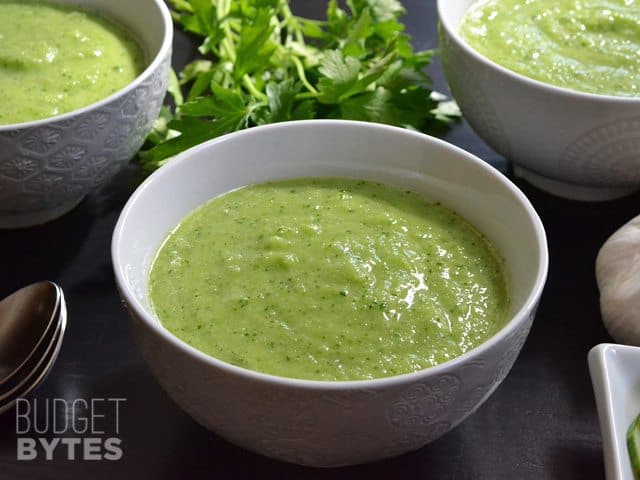 Yesss… dip some sour dough or focaccia bread in there. Mmmm.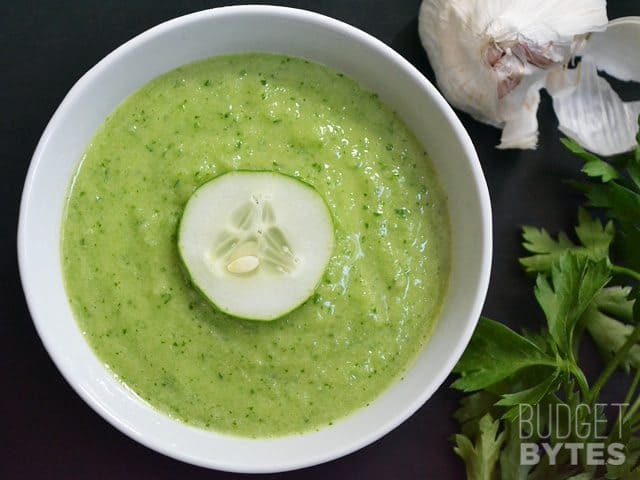 Gorgeous!