I'm continuing my new love affair with cottage cheese and experimenting with all the fun things you can do with this inexpensive source of protein. I know a lot of people just can't stand the texture of cottage cheese, so I wanted to play around with whipping it up into a smooth sauce or dip to get rid of the "curds" that turn so many people off. My first experiment was this Garlic Herb Whipped Cottage Cheese Dip (using my all-purpose garlic herb seasoning), which turned out amazing and tastes a lot like ranch dip, but with way better nutrition stats. Pair this creamy dip with some vegetables and crackers for dipping and you've got a pretty meal-worthy "snack."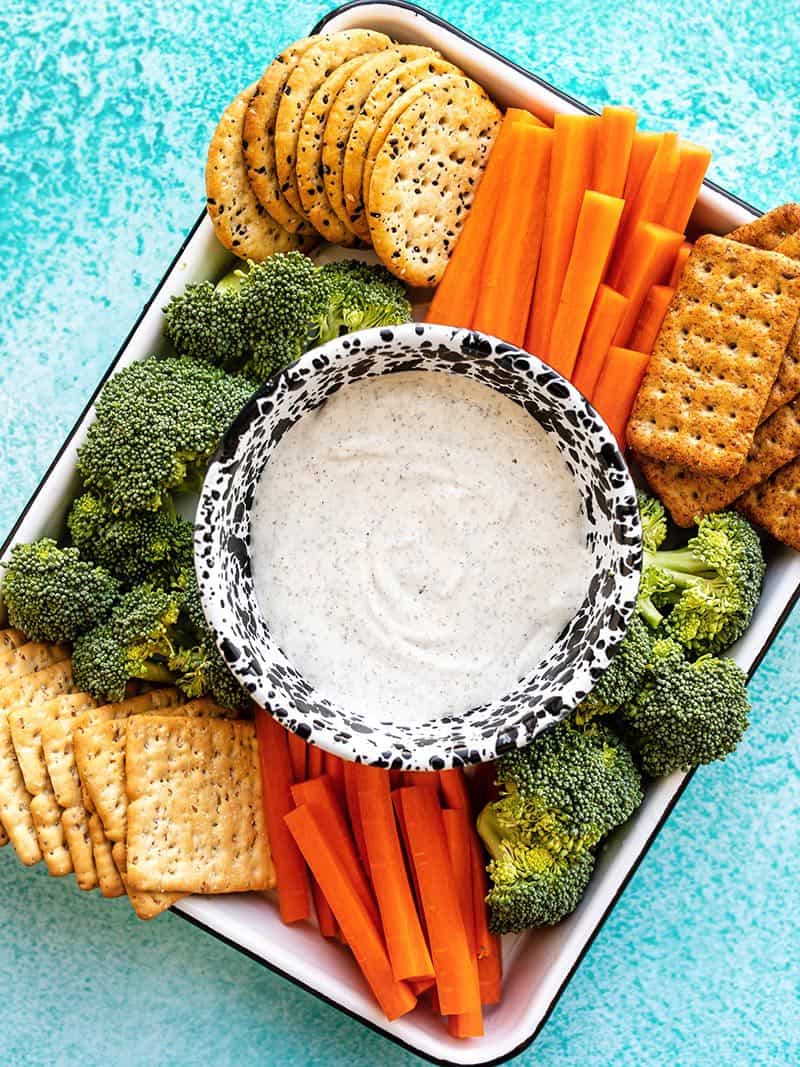 How to Use Garlic Herb Cottage Cheese Dip (or spread!)
As I was crunching down on my cottage cheese dipped vegetables and crackers, I was thinking of all the delicious ways you could use this dip! In addition to dipping vegetables and crackers, this dip would make an awesome spread for a veggie sandwich or wrap sandwich. And I'd totally spread this all over a toasted bagel if I didn't have any cream cheese on hand. And while I haven't tried it, I suspect this would be good stirred into mashed potatoes! 😱
How Long Does it Keep?
You probably don't want to keep this in your fridge any longer than about 5 days. Dried herbs and spices contain natural yeasts and molds that become activated when hydrated, and they can grow at colder refrigerator temperatures. But hey, this is a small 1 cup batch, so I think you'll be able to eat it up within that time!
What Kind of Blender do I Need?
I just used my super inexpensive Hamilton Beach single serving blender (the type usually marketed for smoothies), so you definitely don't need anything super powerful to make this dip. If you have a small food processor, that would also work well.
What Brand Cottage Cheese Do you Recommend?
Okay, so here's the thing with cottage cheese: they can vary a LOT from brand to brand. I find that a lot of brands add a lot of extra ingredients in attempt to make the texture and color better, but IMHO those ingredients just end up making it taste a little off. So, I look for brands with the least amount of Ingredients. Daisy is the best I've found, but it's also more expensive. The worst, IMHO, is Kroger brand. This week I used Aldi's Friendly Farms brand and it fell somewhere in the middle. It's okay and the price is great, so I rolled with it. Feel free to leave your favorite brand in the comments below! I'd love to hear your fav's.
4%, Low-fat, or No-fat Cottage Cheese?
I definitely recommend 4% fat cottage cheese for this recipe. The little bit of fat really helps the flavor and mouthfeel of the dip and even though it's the "highest fat" version available, it's still far less than sour cream or mayonnaise based dips.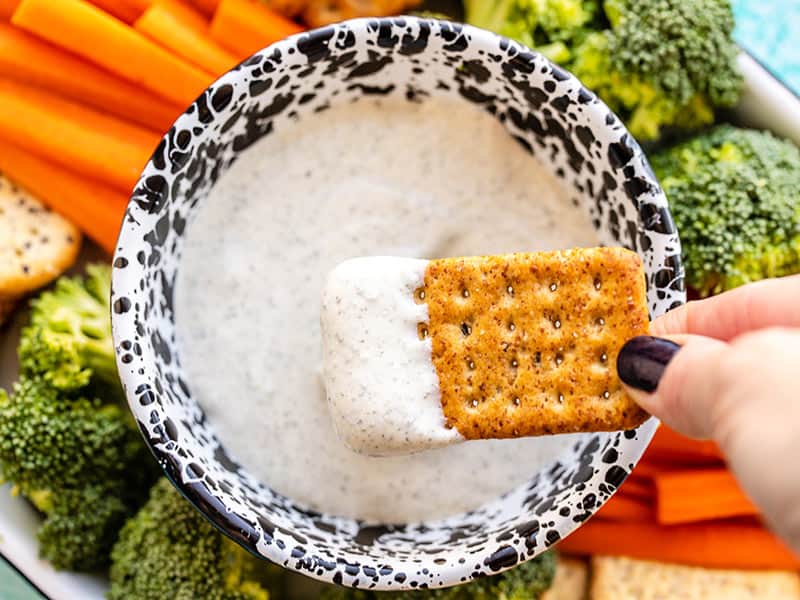 Shown in a small Splatterware Collection enamelware bowl.

Garlic Herb Whipped Cottage Cheese Dip
Say goodbye to curds because this Garlic Herb Cottage Cheese Dip is whipped until smooth and creamy for a high protein vegetable and chip dip!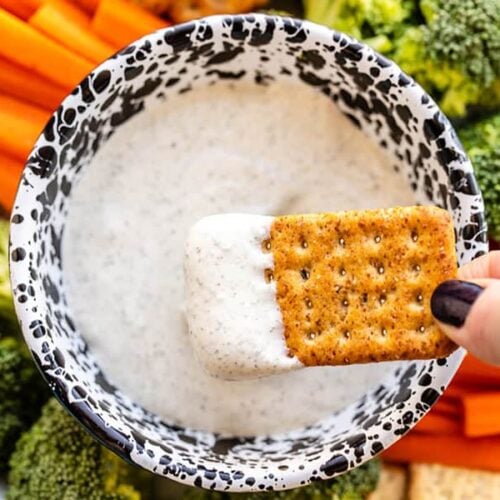 Ingredients
1

tsp

dried parsley

($0.10)

1/2

tsp

dried oregano

($0.05)

1/2

tsp

dried basil

($0.05)

1/4

tsp

garlic powder

($0.03)

1/4

tsp

onion powder

($0.03)

1/4

tsp

salt

($0.02)

freshly cracked pepper

($0.03)

1

cup

cottage cheese

($0.53)

1

tsp

lemon juice

($0.01)
Instructions
Add all ingredients to a blender and purée until smooth. You may need to add about 1 Tbsp water if the mixture is too thick to blend, but avoid adding excess water as this will make your dip too thin.

Serve immediately or refrigerate until ready to eat.
See how we calculate recipe costs here.
---
---
Nutrition
Serving:
0.25
cup
Calories:
52.33
kcal
Carbohydrates:
3.03
g
Protein:
6.1
g
Fat:
2.25
g
Sodium:
433.28
mg
Fiber:
0.2
g
Read our full nutrition disclaimer here.
How to Make Garlic Herb Whipped Cottage Cheese – Step by Step Photos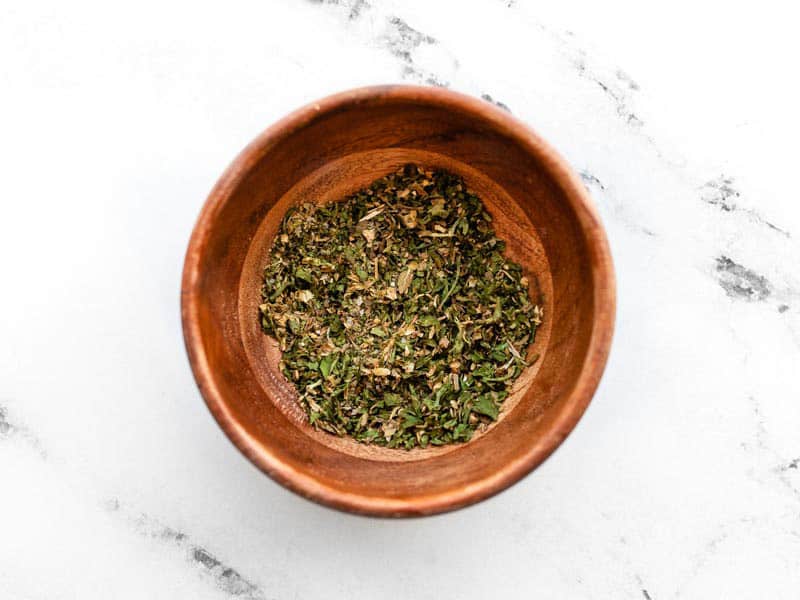 Make the All-Purpose Garlic Herb Seasoning by combining 1 Tbsp dried parsley, ½ tsp dried oregano, ½ tsp dried basil, ¼ tsp garlic powder, ¼ tsp onion powder, ¼ tsp salt, and some freshly cracked pepper (about 10 cranks of a pepper mill).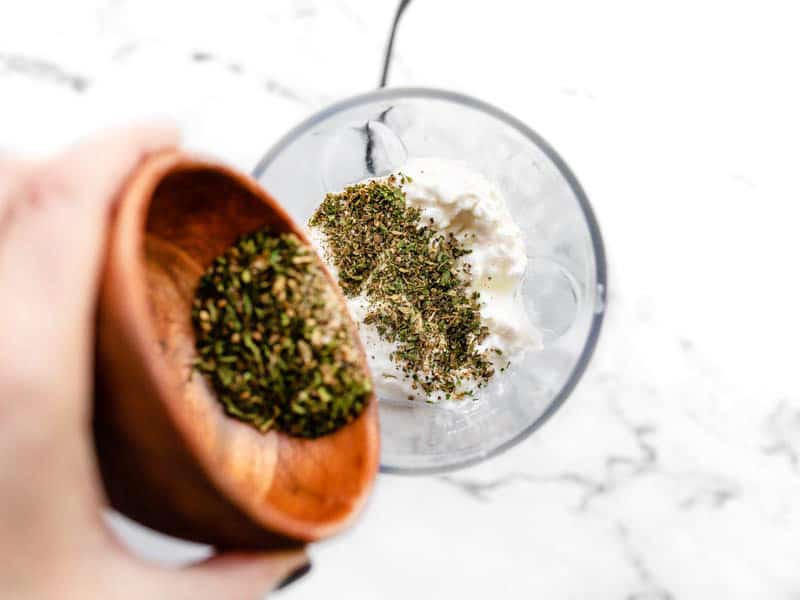 Add 1 cup cottage cheese, 1 tsp lemon juice, and your garlic herb seasoning to a blender. Purée until smooth, adding a tablespoon of water, if needed, if the mixture is too thick to blend.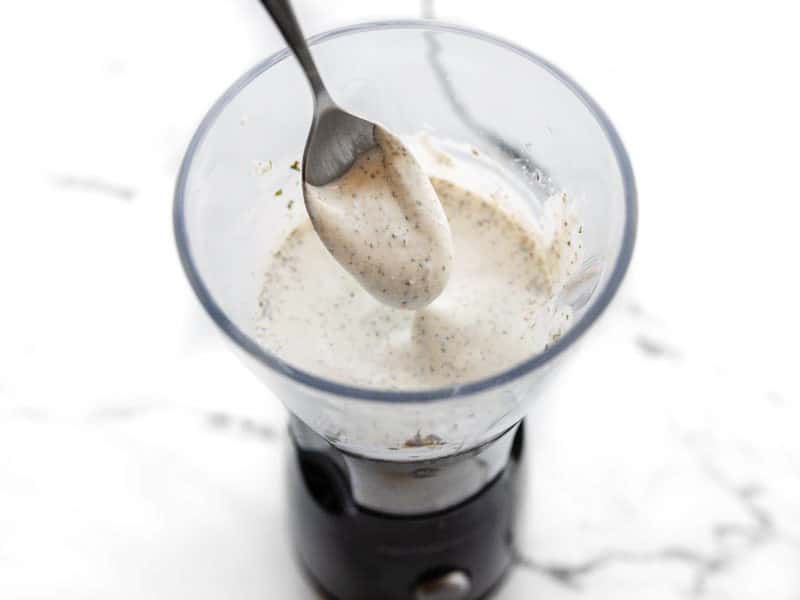 Avoid adding too much water so the dip doesn't get too watery. It will firm up a bit after being chilled in the refrigerator, too.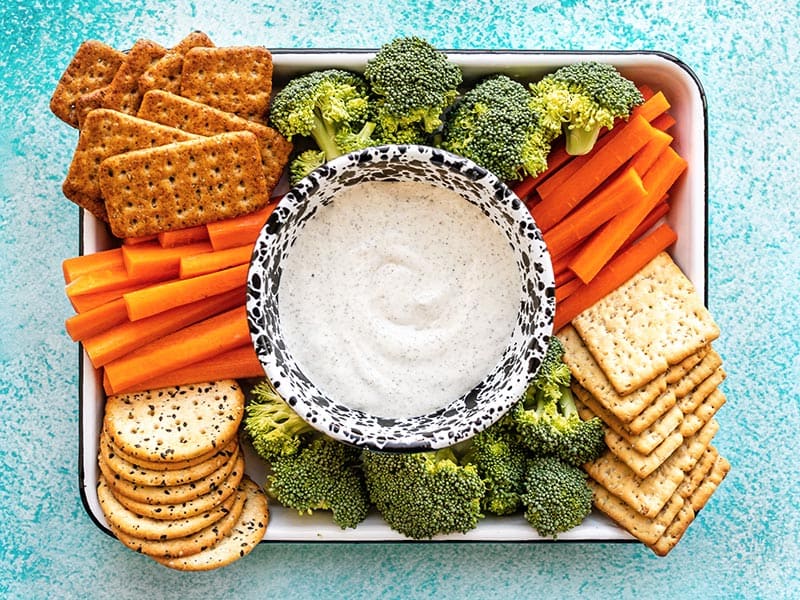 Serve your whipped cottage cheese dip immediately, or refrigerate for up to 5 days! This would be another great dip to include in your meal prep Veggie Snack Packs!