I loooove me some broccoli. When it's cooked, anyway. For some reason the flavor of raw broccoli has always rubbed me the wrong way. BUT I know raw broccoli is super healthy, so I try to eat it raw from time to time. Luckily, when I pair raw broccoli with this light, tangy, and sweet honey yogurt dressing, all the "ickies" go away. The subtle sweetness and light acidity tone down the super bitter flavor of the broccoli, making a wonderfully light and crunchy broccoli salad.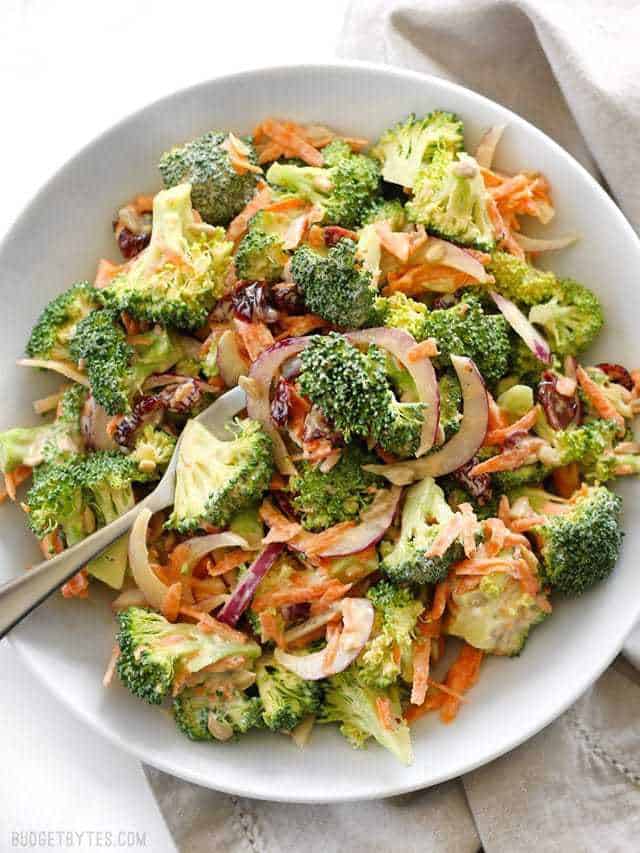 The other reason I love this salad, and dressing in particular, is that it's so much lighter than many other broccoli salads. Broccoli salads are often drenched with delicious but super thick and heavy dressings that leave me feeling like maybe I just ate something bad instead of good. This dressing, on the other hand, is light and fresh, and doesn't leave me feeling weighed down. YAY.
Can I Make the Broccoli Salad with No Mayo?
There will undoubtably be some of you out there who ask yourself, "Hmm, I wonder if I can use all Greek yogurt instead of mayo and yogurt combined." and I really wouldn't suggest it. While Greek yogurt and mayo are both considered creamy and tangy, they have different types of creamy textures and different tangy flavors. I find you need at least a little mayo in there to really get the richness needed to make the salad just right. Same goes for the fat content of the Greek yogurt. While technically a fat-free Greek yogurt will "work", a reduced fat (2%) will give you a much better flavor and texture.
How Long Does Broccoli Salad Stay Good?
The length of time that your broccoli salad will last can vary depending on several factors, but I'm going to say an average of about three days. The broccoli will soften as it marinates in the dressing in the refrigerator, which can actually be a good thing. I like when the broccoli gets a little more tender, but after a certain point (about three days) it can become too soft. Give your salad a good stir each day just before serving to remix the dressing or anything that may have settled.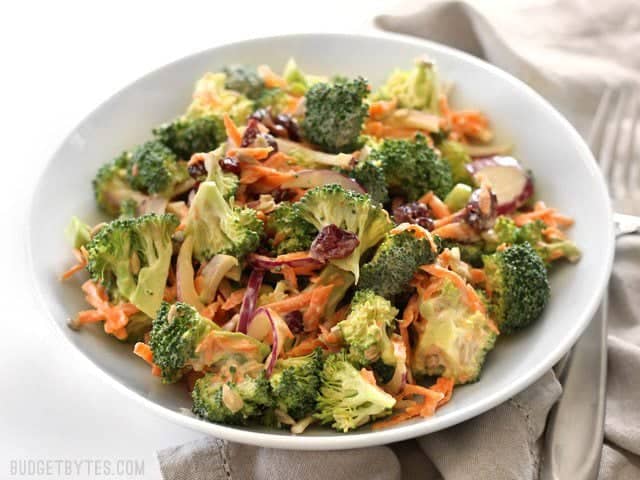 Broccoli Salad with Honey Yogurt Dressing
Sweet, tangy, and fresh, this Broccoli Salad with Honey Yogurt Dressing is light and refreshing healthy side salad for summer.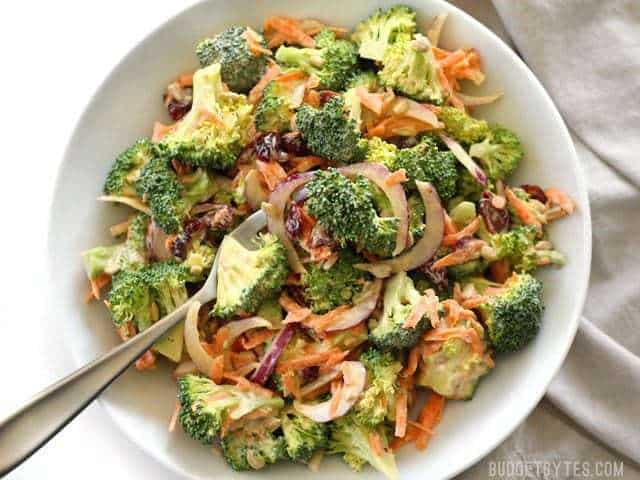 Ingredients
HONEY YOGURT DRESSING
1/2

cup

plain Greek yogurt (2%)

($0.91)

1/4

cup

light mayonnaise

($0.28)

1

Tbsp

apple cider vinegar

($0.03)

1

Tbsp

honey

($0.28)

1/4

tsp

salt

($0.02)

Freshly cracked pepper to taste

($0.03)
SALAD
4

cups

broccoli florets (about 2 crowns)

($2.55)

1/4

red onion

($0.20)

1

carrot

($0.28)

1/3

cup

dried cranberries

($0.51)

1/4

cup

raw sunflower seeds

($0.25)
Instructions
Prepare the dressing by stirring together the yogurt, mayonnaise, vinegar, honey, salt, and some freshly cracked pepper (about 10-15 cranks of a pepper mill). Set the dressing aside.

Cut the broccoli into very small florets. Place the florets in a colander and rinse with cool water. Let the broccoli drain while you prepare the rest of the salad ingredients.

Peel the carrot, then use a large-holed cheese grater to shred the carrot. Slice the red onion into paper thin strips.

Add the rinsed and well drained broccoli to a large bowl, along with the shredded carrot, sliced red onion, cranberries, and sunflower seeds. Pour the prepared dressing over top, then stir until everything is coated in dressing. Let the salad marinate for 10-15 minutes before serving. Give the salad a brief stir just before serving to redistribute the dressing.
See how we calculate recipe costs here.
---
Nutrition
Serving:
1
Serving
Calories:
205.28
kcal
Carbohydrates:
25.6
g
Protein:
7.15
g
Fat:
9.95
g
Sodium:
368.2
mg
Fiber:
4.23
g
Read our full nutrition disclaimer here.
Scroll down for the step by step photos!
How to Make Broccoli Salad with Honey Yogurt Dressing – Step by Step Photos
Prepare the dressing first by stirring together 1/2 cup plain Greek yogurt (I used 2% fat), 1/4 cup mayo (I used light), 1 Tbsp apple cider vinegar, 1 Tbsp honey, 1/4 tsp salt, and some freshly cracked pepper. Set the dressing aside. I didn't want to buy a whole container of Greek yogurt, so I bought a small single-serving (7oz.) pot of Fage 2% plain. I used just over half of it for this dressing and ate the rest for breakfast. :)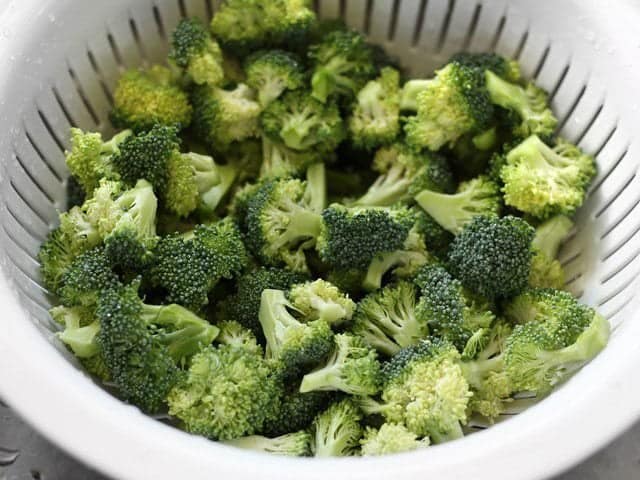 Cut two crowns of broccoli into very small florets (about 4 cups of florets, 1.25 lbs. of broccoli crowns before removing the stems). The key here is to make the florets really small, so they actually fit on a fork and combine well with the other ingredients. Place the florets in a colander and rinse with cool water. Let the florets drain while you prepare the rest of the ingredients.
Peel and shred one carrot. Slice 1/4 red onion very thinly (I had leftovers in my fridge from my Kale Salad). You'll also need 1/3 cup dried cranberries and 1/4 cup raw sunflower seeds.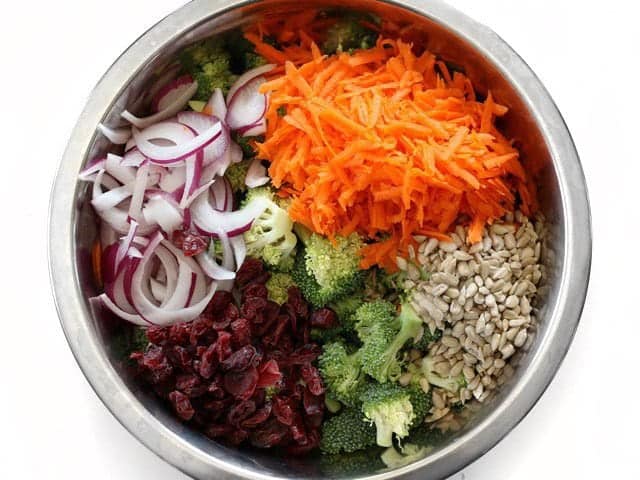 Once the broccoli is well drained, place it in a large bowl along with the shredded carrot, sliced red onion, dried cranberries, and raw sunflower seeds.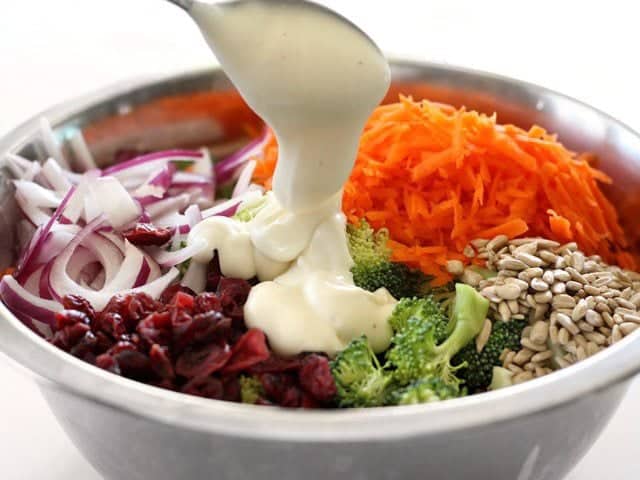 Add the prepared honey yogurt dressing…
And stir until everything is well coated in dressing. Now, here's the secret: let the salad sit for 10-15 minutes for that dressing to really grab hold and mingle with the flavors of the carrot, onion, and cranberries. Give it one final stir, then serve.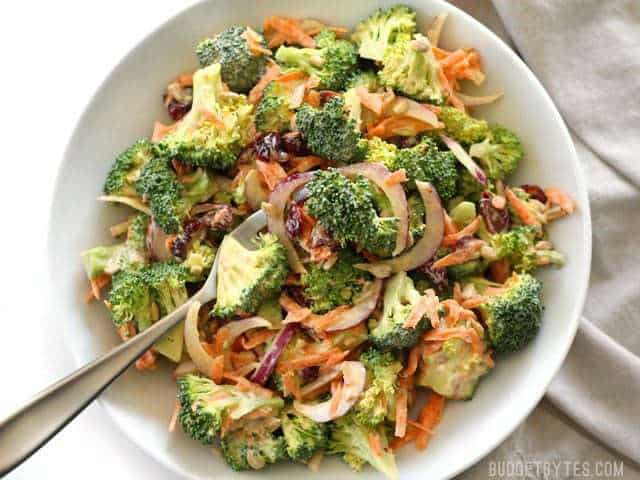 And there you have your totally light, totally fresh Broccoli Salad with Honey Yogurt Dressing. 👏👏👏