I'm a little avocado obsessed, so when I went to a little Latin American Restaurant last year, La Macarena Pupuseria, and the waiter claimed they had the best guacamole ever, I took the bait—hook, line, and sinker. I had to find out what was so special about this reportedly amazing guac. Well, let me just tell you, this was not only the best guacamole I had ever had, but it was also the most unique. As I enjoyed the uniquely spicy and sweet flavor, I tried to dissect the ingredients. I could tell there were bits of sweet pineapple, chunks of hard boiled eggs, and a healthy dose of sriracha on top. What more could a girl ask for? Those are three of my favorite ingredients all together in one super creamy dip. My only question is, why did it take me a whole YEAR before I tried to make what turned out to be the Best Ever Avocado Dip at home?!
I added a little red onion to my dip for zing (I don't remember if that was in the restaurant version) and a handful of fresh cilantro. Red onion can be fairly expensive, so if you don't want to buy a whole onion just to use a quarter of it for this recipe, you can sub with a couple sliced green onions.
Whip up a big batch of this amazing dip tomorrow for Cinco de Mayo, have an ice cold margarita, and try not to blink because the dip will probably be gone before your eyes reopen.
Post updated 3-27-18
Best Ever Avocado Dip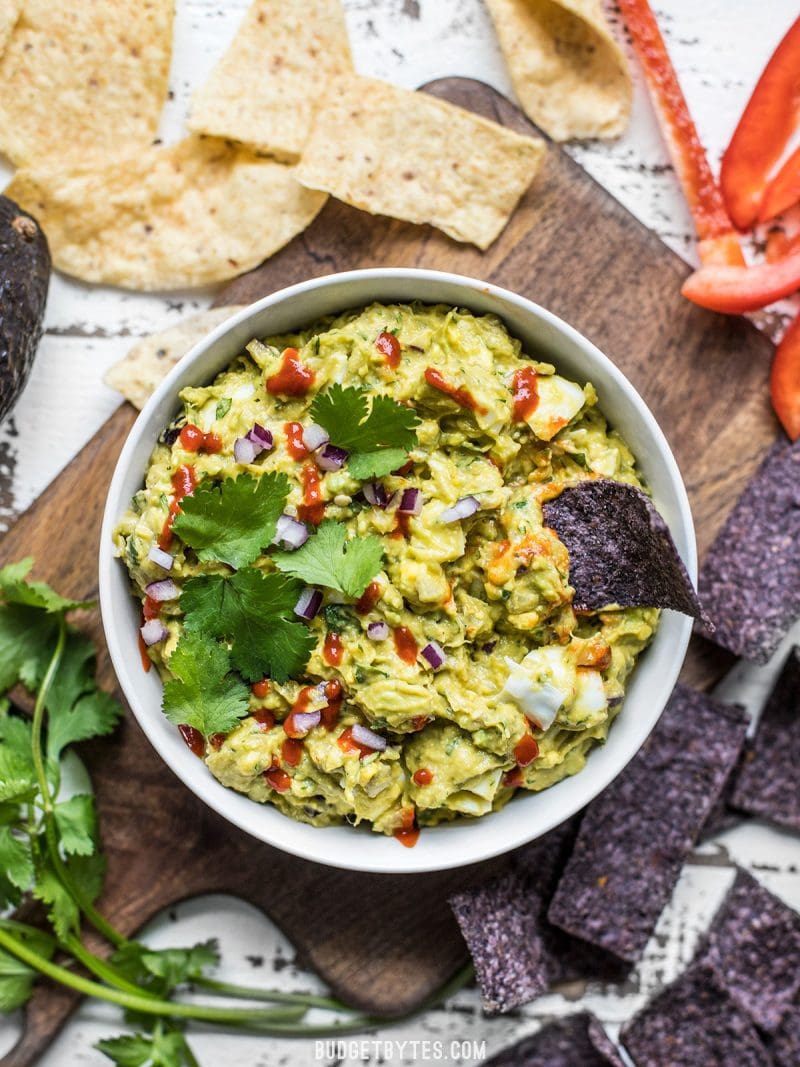 Best Ever Avocado Dip
This unique blend of sweet pineapple, spicy sriracha, zesty red onion, creamy avocado, and rich hard boiled eggs makes this the Best Ever Avocado Dip. You'll never eat plain guacamole again.
Servings: 6 (1/2 cup each)
Ingredients
3 ripe avocados ($2.64)
1 8oz. can pineapple chunks, drained ($1.09)
1/4 small red onion ($0.20)
2 Tbsp Chopped fresh cilantro ($0.09)
1 Tbsp sriracha hot sauce ($0.09)
1/2 tsp salt ($0.02)
3 large hard boiled eggs ($0.81)
Instructions
Cut the avocados into chunks and place them in a bowl. Drain the canned pineapple chunks and roughly chop them into smaller pieces. Finely dice the red onion. Chop the cilantro

Add the pineapple, onion, cilantro, and sriracha to the bowl with the avocado and mash everything together. Add salt to taste, or about 1/2 teaspoon.

Chop the hard boiled eggs and stir them into the avocado mixture. Taste the dip and adjust the hot sauce or salt if needed. Serve immediately or refrigerate until ready to eat.
Notes
Press a sheet of plastic wrap down onto the surface of the dip before refrigerating to prevent the top from turning black.
See how we calculate recipe costs here.
---
Nutrition
Serving: 0.5 Cup ・ Calories: 225.47 kcal ・ Carbohydrates: 15.72 g ・ Protein: 157.28 g ・ Fat: 17.32 g ・ Sodium: 305.82 mg ・ Fiber: 7.18 g
Nutritional values are estimates only. See our full nutrition disclaimer here.
---
The equipment section above contains affiliate links to products we use and love. As an Amazon Associate I earn from qualifying purchases.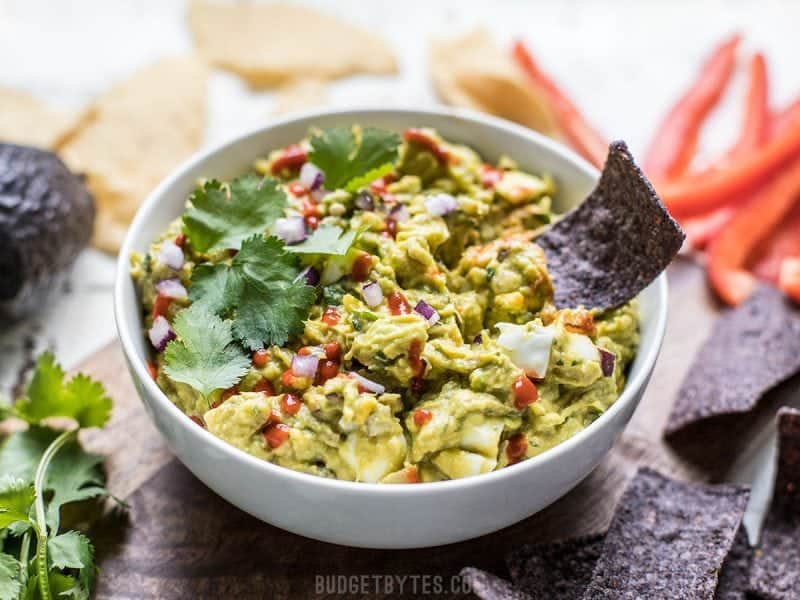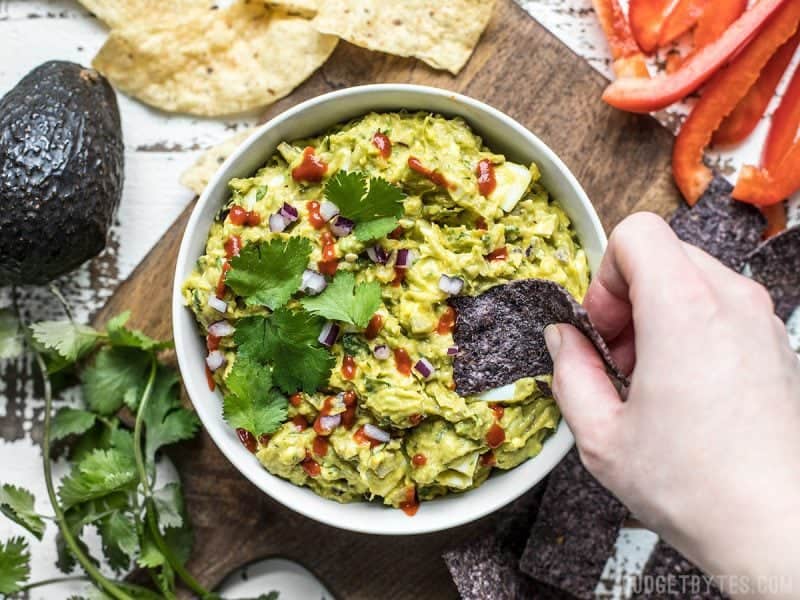 Step by Step Photos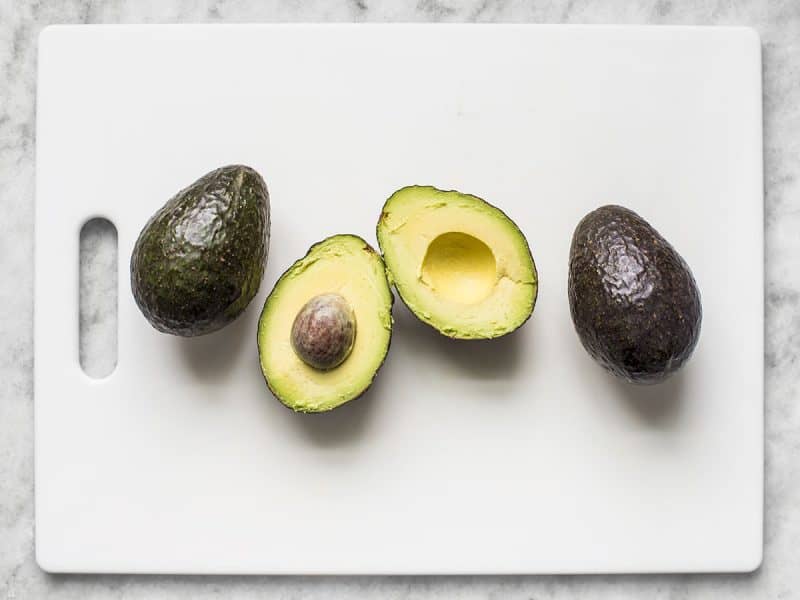 I used three avocados, which made a pretty big batch of dip. It should be pretty easy to scale down the ingredients by 1/3 if needed, though. Make sure the avocados are fully ripe (they should give a little when squeezed) or else they won't mash up well or be nearly as creamy.
Dice the avocado and place them in a bowl. Drain one 8oz. can of pineapple chunks, then give them a rough chop to make smaller pieces (or you can used crushed pineapple). Finely dice 1/4 of a small red onion and chop a couple tablespoons of fresh cilantro. Add the pineapple, onion, cilantro, and 1 Tbsp of sriracha to the bowl with the avocado.
Mash everything together, then add salt to taste (about 1/2 tsp).
Chop three hard boiled eggs. The eggs help bulk out the dip without adding a lot of cost. Plus, eggs and avocados are like long lost lovers. They should be together forever and always.
Stir in the chopped egg and you're ready to go! Sure, this is great with chips, but I'm pretty sure I'll be stuffing it into a tortilla or pita throughout the week, maybe with some tomato, cucumber, or other ingredients.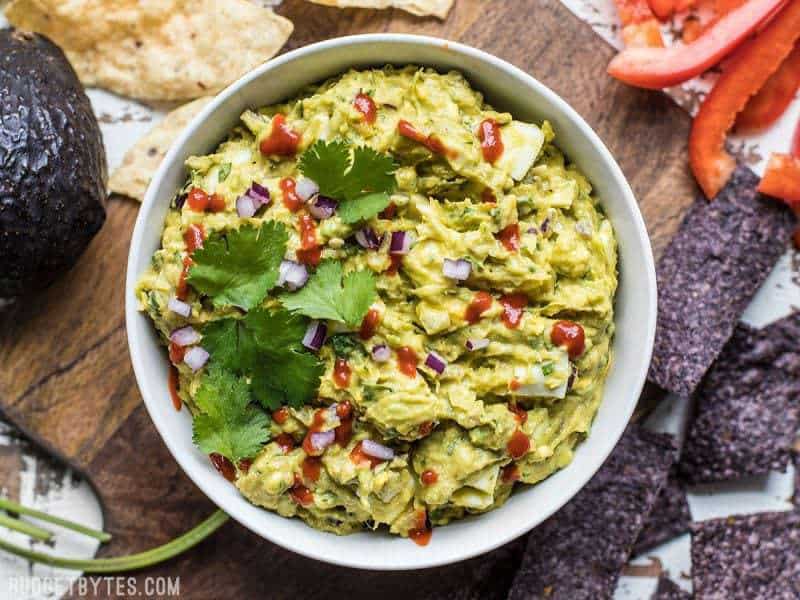 It's definitely the BEST EVER Avocado Dip. (IMHO) Of course I added more sriracha for garnish. OF COURSE.