It's been a long time since I've made baked oatmeal, but when I came down with a "summer cold" this weekend, the thought of a warm comforting baked oatmeal sounded perfect. And, to throw a new summery spin on the old classic, I made this fruity Apple Cherry Baked Oatmeal.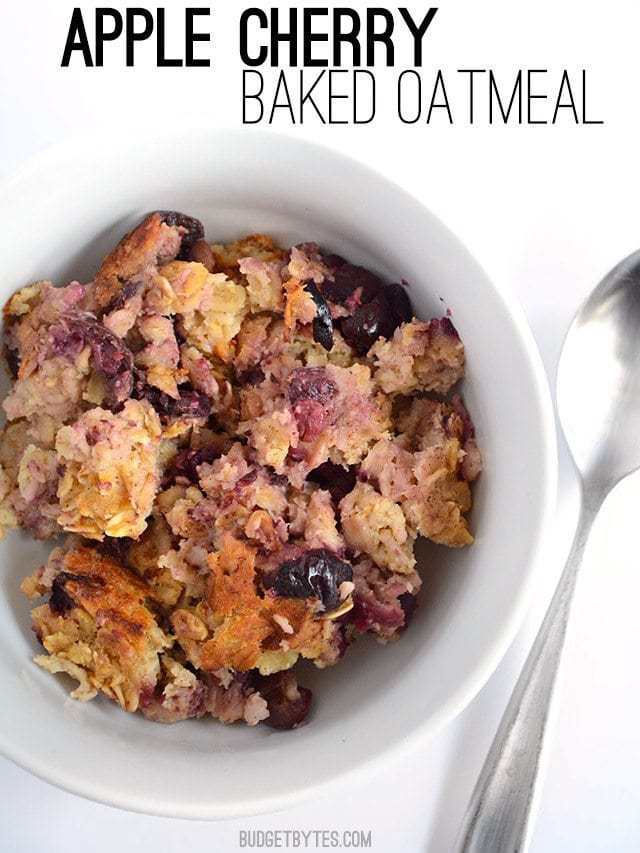 If you've never had one of my baked oatmeals before, they're similar to bread pudding, but made with oats instead of a loaf of bread. They're soft, a little sweet, and almost custard-like in texture (not at all crunchy).
Although my previous baked oatmeal recipes only use a very small amount of sugar, I wanted to attempt a baked oatmeal with no added sugar. I relied completely on the sweetness of fruit for this Apple Cherry Baked Oatmeal, and skipped the tart yogurt that would usually require some extra sugar for balance. Some fruit is more tart than others, so I made sure to stick to two low acid fruits: apple and cherry. No sugar added apple sauce replaced the yogurt and chopped up frozen dark cherries added a little pop of extra sweetness (not to mention a stunning deep purple color). If you're lucky enough to live in an area where fresh cherries are affordable, by all means use fresh. Just don't forget to pit them first. ;)
This Apple Cherry Baked Oatmeal can be enjoyed warm or cold and I love it with a little cold milk poured over top. If you do like things a little sweeter, feel free to add 1/4 cup brown sugar to the mix, or just top your bowl with a little honey or maple syrup. If you have a few extra pennies, sliced almonds would be an amazing addition to this dish. Just stir about 1/3 cup into the oats before baking. YUM.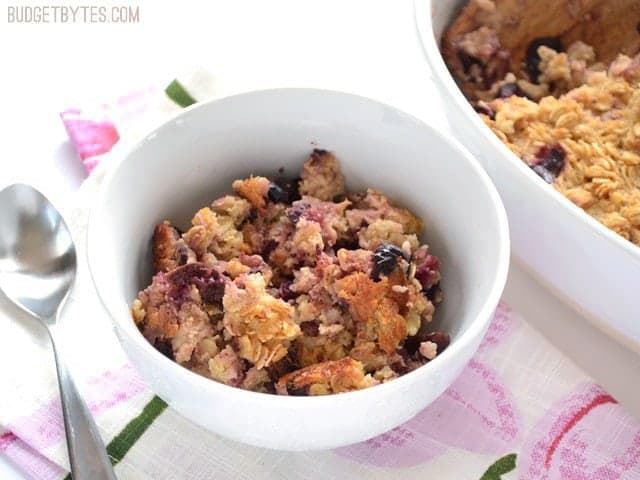 Apple Cherry Baked Oatmeal
This warm and comforting Apple Cherry Baked Oatmeal uses only natural fruit to create it's lightly sweet flavor.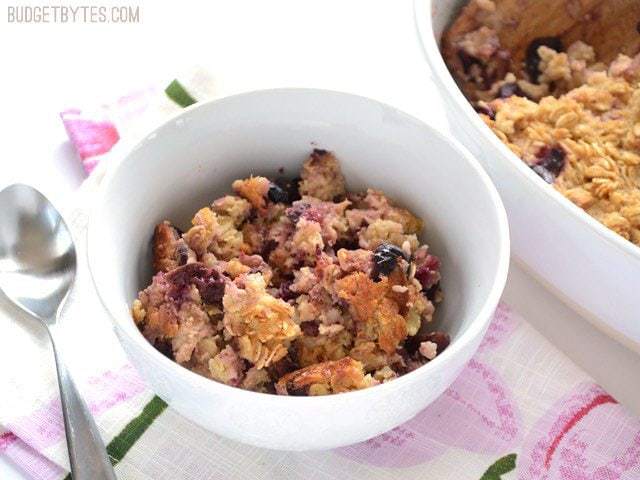 Ingredients
1

cup

frozen pitted sweet cherries

($1.56)

1 1/2

cups

unsweetened applesauce

($1.31)

2

large eggs

($0.32)

1/2

tsp

vanilla extract

($0.14)

1/2

tsp

almond extract

($0.14)

1/4

tsp

cinnamon

($0.02)

1/4

tsp

salt

($0.02)

3/4

tsp

baking powder

($0.03)

1

cup

milk

($0.44)

2

cups

uncooked old fashioned rolled oats

($0.34)
Instructions
Take the cherries out of the freezer and allow them to thaw. Preheat the oven to 375 degrees.

In a large bowl, whisk together the apple sauce, eggs, vanilla and almond extracts, cinnamon, salt, and baking powder. Once combined, add the milk and whisk until smooth.

Roughly chop the cherries and add them to the bowl of liquid ingredients, along with the rolled oats. Stir with a spoon until combined.

Lightly coat an 8″x8″ or 9″x9″ baking dish with non-stick spray. Pour the oat mixture into the dish and then bake for 40-45 minutes, or until golden brown on top and no longer tacky in the center. Divide into six portions and serve warm.
See how we calculate recipe costs here.
---
---
Notes
Uneaten portions can be refrigerated and eaten cold at a later time or briefly microwaved to reheat.
Nutrition
Serving:
1
Serving
Calories:
189.62
kcal
Carbohydrates:
30.05
g
Protein:
7.08
g
Fat:
4.85
g
Sodium:
185.37
mg
Fiber:
3.82
g
Read our full nutrition disclaimer here.
How to Make Apple Cherry Baked Oatmeal – Step by Step Photos
Allow one cup of frozen cherries to thaw, then roughly chop into smaller pieces. Preheat the oven to 375 degrees.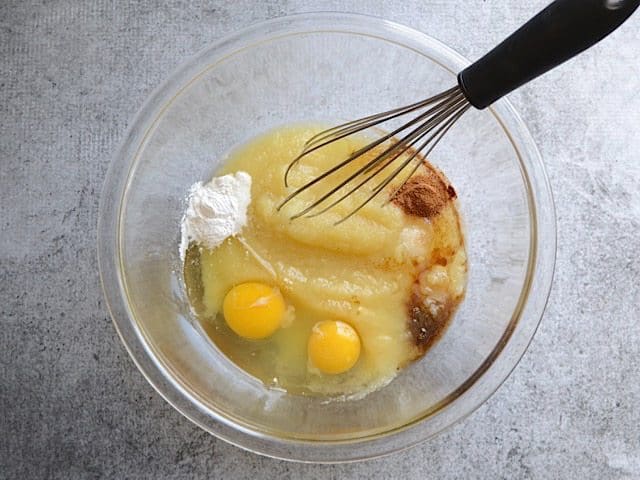 In a large bowl, whisk together 1 1/2 cups unsweetened apple sauce, 2 large eggs, 1/2 tsp vanilla extract, 1/2 tsp almond extract, 1/4 tsp cinnamon, 1/4 tsp salt, and 3/4 tsp baking powder. Whisk until smooth.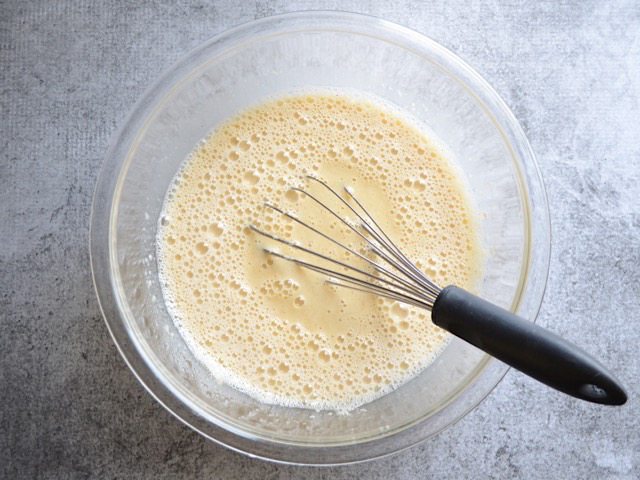 Add 1 cup of milk and whisk until smooth again.
Finally, stir in the chopped cherries and 2 cups of uncooked old fashioned dry oats. While this recipe can be made with "quick oats", I prefer the old fashioned rolled oats because of their heartier texture. It makes the final dish a bit chunkier and less pasty.
Lightly coat a casserole dish with non-stick spray and pour in the oat mixture. I suggest an 8″x8″ or 9″x9″ casserole dish, but I used an oval dish today. Bake in the preheated oven for 40-45 minutes, or until the surface is golden brown and no longer sticky in the center. If you have a larger shallower dish (like a 9×9) it will take closer to 40 minutes, while a smaller but deeper dish (like an 8×8) will take a bit longer.
When it's done baking it will be golden on top and a little more brown around the edges. It will be soft, moist, and very warm and comforting!
You can eat the Apple Cherry Baked Oatmeal plain or topped with cold milk, or even a dollop of yogurt. I <3 baked oatmeal!