Y'all know I love my "bowl" meals! Everything you need in one easy to eat (and transport) bowl, no need to worry about what side dishes go with what. Plus, they're easy for you to customize if you have special dietary needs. Today's BBQ Chicken Burrito Bowls is even more awesome because it's actually quite delicious either hot or cold. So, all of you who don't have access to a microwave at work, this one is for you!
I bought a rotisserie chicken this week and am using one of the breasts for all four bowls. If you don't have a rotisserie chicken, you can cook up a boneless, skinless breast quickly in something like a George Foreman Grill, chop it up, then mix it with the BBQ sauce as I did with mine.
Not into chicken? No worries. I think roasted sweet potato cubes would make an awesome addition to this dish and a nice filling alternative to the chicken. Here are some other fun add-ins that go along with the BBQ theme if you don't like one of the other ingredients I used: pineapple, diced red bell pepper, jalapeño, red onion, corn chips or tortilla strips.
BBQ Chicken Burrito Bowls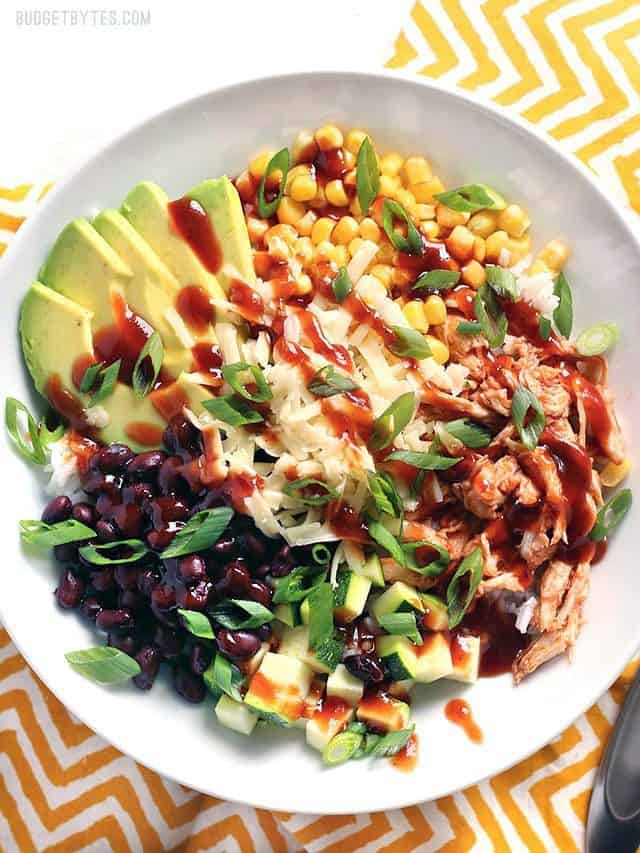 BBQ Chicken Burrito Bowls
Ingredients
1 cooked chicken breast* $1.50
½ cup BBQ sauce $0.53
4 cups cooked rice $0.88
15oz. can black beans $1.00
1 cup frozen corn kernels, thawed $0.44
1 small zucchini $0.58
4oz. pepper jack cheese $1.00
2 green onions $0.20
1 small avocado $1.00
Instructions
Chop or shred the chicken breast and mix with 2-3 tablespoons of BBQ sauce until the meat is well coated.
Drain and rinse the black beans. Cut the zucchini into small cubes (1/4-1/2"), shred the pepper jack, slice the green onions, and pit and slice the avocado.
To build the bowls, place 1 cup cooked rice in the bottom of each bowl. Divide the chicken, beans, corn, zucchini, shredded cheese, green onions, and avocado slices equally among all four bowls. Drizzle one more tablespoon of BBQ sauce over top and serve, or refrigerate until ready to eat.
Notes
*I used a rotisserie chicken breast, which was approximately ¼ of the whole chicken.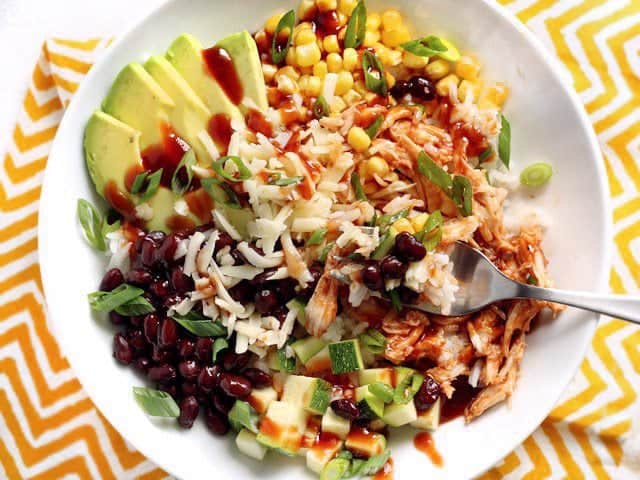 Step by Step Photos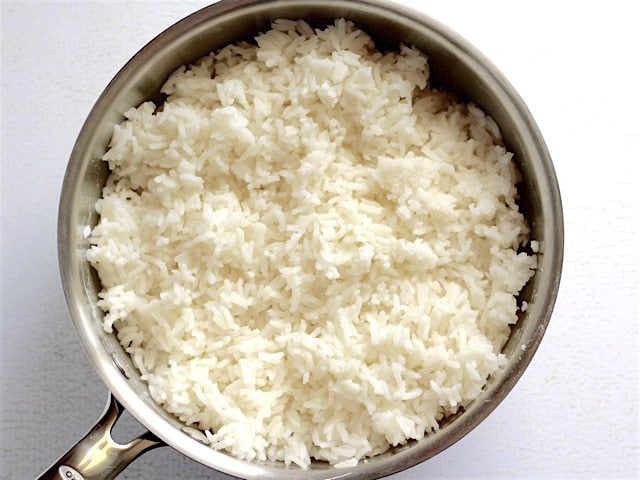 Prepare 4 cups of cooked rice, if you don't already have it on hand (FYI extra rice freezes really well, so you can always have cooked rice on hand).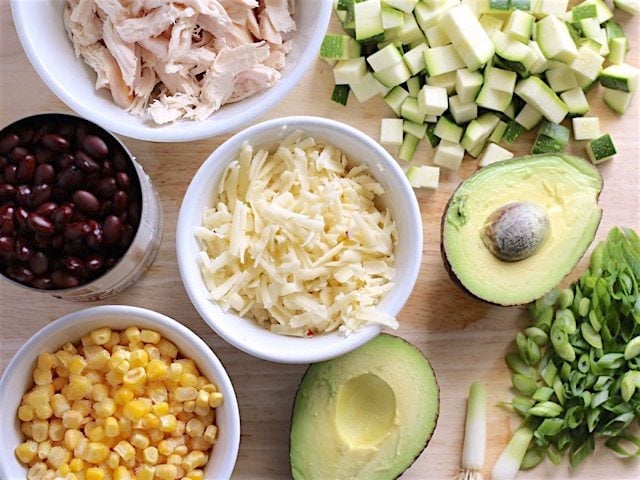 Chop or shred the chicken breast. Rinse and drain the black beans, cut the zucchini into small cubes, slice the green onion, shred the pepper jack, and pit and slice the avocado.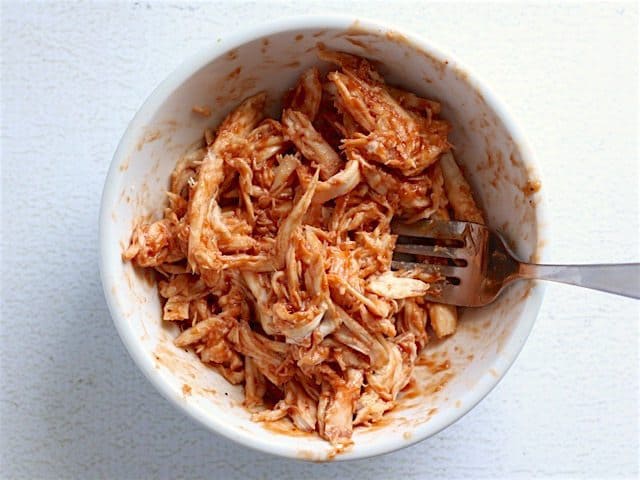 Add 2-3 Tbsp BBQ sauce to the chicken and stir until it's well coated in sauce.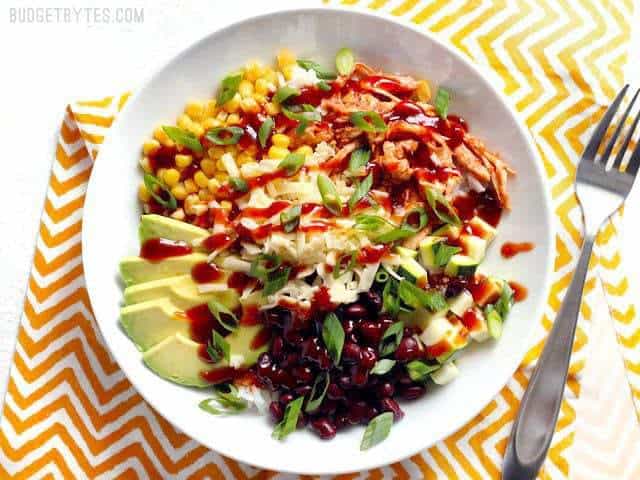 Then just build your bowls! Place 1 cup of the cooked rice in the bottom of each bowl and then divide the remaining ingredients equally among each bowl. Drizzle about 1 Tbsp more BBQ sauce over top. (I didn't say it, but ranch will also go really well with this bowl).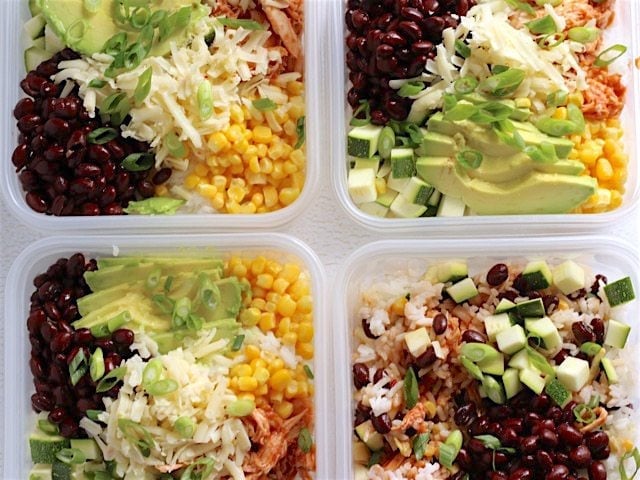 I packed mine into resealable containers to keep in the fridge for easy lunches the rest of the week (the messy looking one on the bottom right is the one that was in the bowl in the photos above. :P)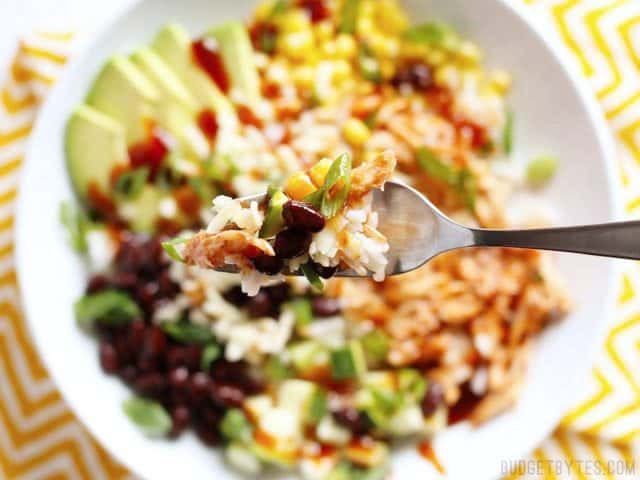 Nommers! ❤️ BBQ Chicken Burrito Bowls ❤️