What a crazy week, ammiright? Holiday insanity is in full swing and I was still getting over the tail end of a nasty cold last week. Both of those factors combined created a grocery shopping disaster. But you know what? I learned a hard lesson and I already did much better when shopping for this week. So, let's take a look at the weekly recap and see what happened.
Because I was so exhausted from my cold, I had a really hard time picking recipes for the week. I just didn't feel like eating (or cooking) anything! The only thing I knew that I wanted was Slow Cooker Tikka Masala and some Homemade Naan to go with it. So, I finally decided to just shop for those ingredients plus my weekly staples and decide what else I wanted to cook later in the week (hopefully using the remainder of my budget for that second shopping trip). Here is what my grocery list looked like with just my weekly staples and the Tikka Masala:
Oh, I also figured I'd pick up a bag of dry chickpeas so I could have them on hand to make hummus or if I wanted to make chana saag to go along side the tikka masala. Staples that I needed to replenish included: jasmine rice (I usually buy a 5 lb. bag that lasts me a few months), eggs, milk, onions, garam masala, and flour.
Mistake #1: I didn't check my staples very well. I actually had another half bag of flour in my pantry. Arg. AND I had a half bottle of garam masala, although it's getting really old at this point, so it wasn't a total loss to buy more.
Mistake #2: I didn't check the online circulars before going to the store. As I was walking around the store I saw sales that definitely would have changed my game plan if I had known about them ahead of time. Lesson learned.
Despite my grocery list being really short, my grocery bill ended up being pretty high. Here's what happened:
As I mentioned in the last couple of weekly recaps, I'm trying to be a more responsible consumer and buy responsibly produced food from stores whose business practices I support. That does come at a higher price, though. Especially when it comes to meat. The least expensive chicken I could find at Whole Foods was a family pack of chicken thighs at $2.49/lb. That's really not a bad price, but it was a large pack, so it still totaled almost $10 or roughly 1/4 of my total budget. The price of milk also went up $0.50 since last week, so that was another small hit. The fact that I bought flour when I didn't quite need it yet cost me over $3. All the little dings added up and I ended up spending the entire $40 budget on just one recipe worth of food, plus my staples. OUCH. My budget got spent so fast that I couldn't afford to get my regular 5lb. bag of jasmine rice, so I had to buy a small amount from the bulk bin and rely some leftover cooked rice that I had stashed in the freezer (thank goodness that was there!).
What was I going to do with only one recipe worth of groceries? I started scanning my memory to see what else I had on hand that I could possibly make something out of. I knew I had a few "half bags" of random pasta in my pantry, so that definitely helped. I also had an entire bag of frozen broccoli that I hadn't yet broken into. So, when I saw the block of cheese on sale at Whole Foods, I grabbed that and decided I would attempt a broccoli mac and cheese. Mac and cheese is simple and uses staples that I already have on hand, like butter, flour, milk, and pasta.
So that was my plan. Tikka Masala, Naan, Hummus, and Broccoli Mac and Cheese. That's still not really enough food to cover two-ish people for a week, but I figured I'd cross that bridge when I came to it.
And here's what my $40 looked like this week. Pretty sparse:
(Sorry the photos are so dark and blurry. It was a dark rainy day.)
What Did I Eat?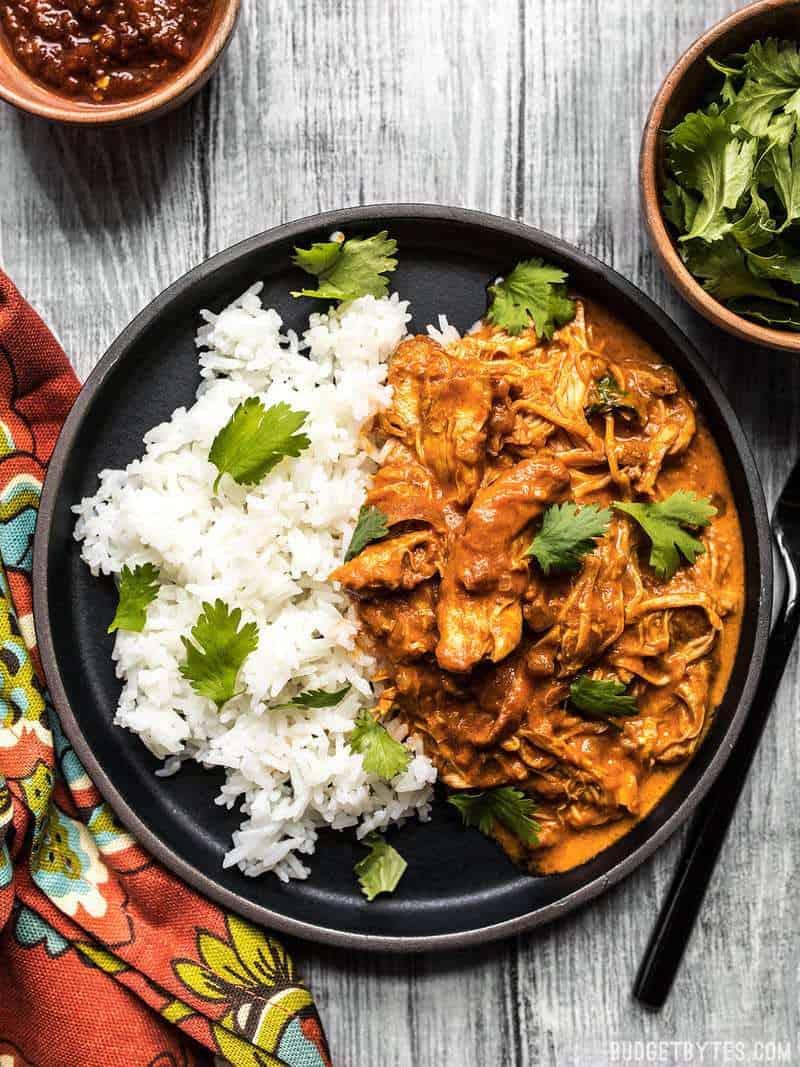 This Slow Cooker Tikka Masala was definitely the highlight of the week! I got six good sized servings out of this, so it fed Boyfriend and I for three days. I was truly sad when I ate the last serving.
I also made a batch of Homemade Naan to go with the Tikka Masala. This stuff is just so good. I not only ate it with the Tikka Masala, but I also ate it for breakfast one morning…
That's naan, hummus, a fried egg, and sriracha. ❤️ HEAVEN ❤️
Speaking of hummus, I took the dry chickpeas that I bought at Whole Foods, cooked them in my Instant Pot (only 45 minutes from dry to cooked, no soaking!), and used 1/3 of that to make hummus. The rest of the chickpeas got packed into a container with the cooking liquid and frozen for future use. One pound of dry beans usually makes about the same amount as three 15oz. cans, so I basically have two cans worth of chickpeas in my freezer.
I also attempted a baked broccoli mac and cheese this week, but I regret to inform you that it didn't live up to the rigid Budget Bytes criteria, so I didn't post it. Instead of using the tried and true béchamel cheese sauce method, I decided to experiment with a "mix and dump" baking method, and it was a FAIL. Hahhaha. It was still edible though (because cheese makes just about anything edible) and we ended up finishing off this entire casserole in just a couple of days.
We had a Christmas party to attend on Saturday night and I decided to bring a vegetable platter. I didn't consider the cost of this to be part of my regular weekly groceries, since it was for a party and not "at home" eating. I'll admit that I almost bought a pre-made vegetable platter, but after seeing that it was $25 and didn't come with dip, I decided to make my own. I was able to make a HUGE platter with dip (store bought, not homemade) for $15 and still had a good amount of leftover vegetables that I snacked on the rest of the week (with my hummus!). So, that helped fill in the gap a bit.
We didn't go out to eat at all this week, but because I didn't cook enough to cover both of us, we ended up going to the store one night and splurging a bit. I say splurge, but in the end it fed us for three nights and was still far less than going out to eat, so maybe it's not as big of a fail as I thought. What did we get? One frozen pizza (I had a craving for frozen pizza in particular), a few vegetables from the salad bar to top the pizza, a rotisserie chicken, and two ginger beers (our favorite, Gosling's). The pizza lasted us one night (we killed that thing) and then we made two nights worth of meals out of the chicken using the rest of the frozen broccoli that I had on hand and a box of stove top stuffing that was found in the back of the pantry. I have to admit, that was a really tasty meal for being pieced together last minute!
I almost forgot! We also made cookies! One evening Boyfriend says, "Hey, we should make Christmas cookies together or something." After spending five minutes in shock that a man actually said that (how awesome is that?!), I started looking for recipes that we could make with what I already have on hand. We ended up making these awesome Cardamom Shortbread Cookies from Ginger & Toasted Sesame. They were AWESOME and only required a few ingredients. We enjoyed them with coffee for the rest of the week. Yay cookies!
What Didn't I Eat?
I still didn't finish those $*#& apples! Hahaha… and I didn't make it very far with the oranges I bought this week. Next week I'm switching to a different fruit for sure. And hopefully I'll finish off the apples and oranges before they go bad.
Reflection
At first I was disappointed that I didn't make my $40 go very far, but I think the emergency decisions we made in the wake of that were pretty decent. Instead of going out to eat, we bought extras at the store and had three meals that felt just as splurgy as going out to eat, but cost much less. Oh hey! I just went and found the receipt in the bottom of my purse. $22.19 for the splurgy grocery store run, which fed us for three nights (Oh! and it included boyfriend's almond milk that he likes on his cereal, so only about $19 for the dinner stuff). Compare that to eating out once, which probably would have cost us $30-$40 for one meal and maybe leftovers. I don't feel so bad anymore. :)
Takeaways for next week: check and double check my pantry staples and recipe ingredients before going to the store to make sure I don't already have them, check all store circulars before making my final list/recipe plan, and try not to recipe plan when I'm sick and tired because I won't take the time or energy to do number 1 or 2. :P I've got this!
This post may contain affiliate links which won't change your price but will share some commission. As an Amazon Associate I earn from qualifying purchases.