I hope I've convinced you to experiment with leftovers in your fridge by now. Most of my favorite recipe creations have come from me just piling whatever I have leftover in my fridge into a bowl or pot, and seeing how it turns out, including this Vegan Creamy Mushroom Ramen. I'm not kidding when I say this is one of the best things I've ever tasted, and it only takes about 15 minutes and a handful of ingredients. #totalwin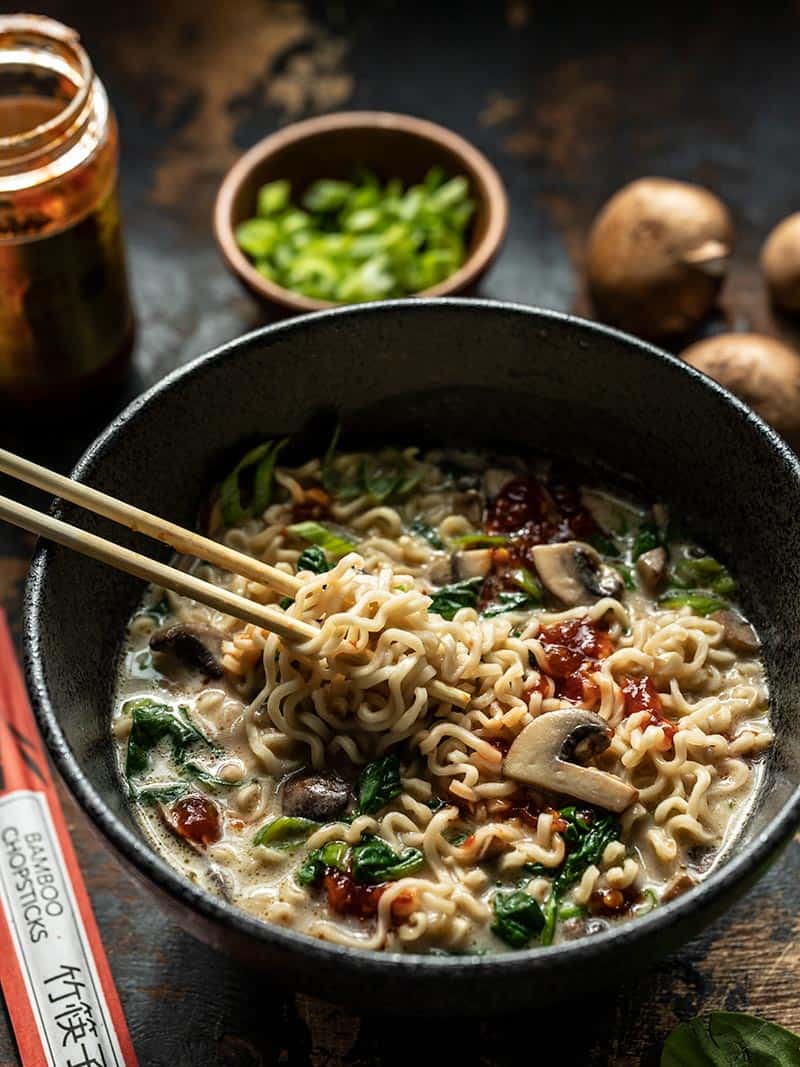 I had some coconut milk leftover from making my Easy Cauliflower and Chickpea Masala on Facebook live the other day, plus Aldi had baby bella mushrooms on sale for $1.69 per container 😱 so I had purchased some of those with the intent of roasting them, which didn't happen. I came home ravenous for carbs after Orange Theory, saw that coconut milk and the mushrooms in my fridge, and immediately knew what I needed to make!
The super simple broth for this ramen (vegetable broth + coconut milk) is so freaking good that I'm 100% going to be making a regular "cream" of mushroom soup with this method in the near future. So if you don't like ramen but love creamy mushroom, just hang tight. ;)
What Kind of Mushrooms Should I Use?
Definitely try to get baby bellas or full sized portabella mushrooms for this recipe. The deep color and robust flavor of these mushrooms makes a big impact, and I think regular button mushrooms would fall flat.
What Kind of Coconut Milk Should I Use?
I used full-fat coconut milk in a can for this recipe and it made the broth extremely rich and delicious (and surprisingly it didn't taste like coconut). I think you might be able to get away with using light coconut milk, but just be aware that the broth won't be nearly as creamy or thick. I do not suggest using the dairy milk substitute type of coconut milk that comes in a carton. It is FAR too thin. Only canned coconut milk for this recipe.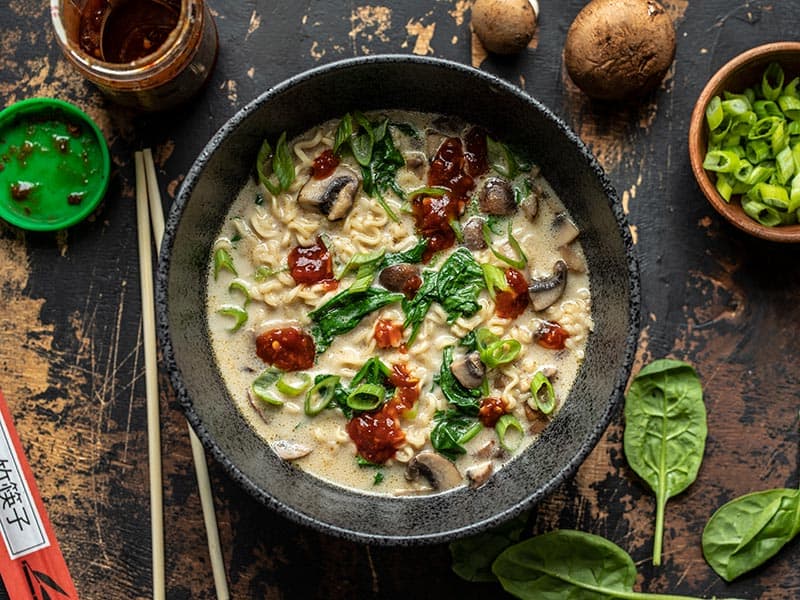 What Kind of Ramen Should I Use?
I used the super basic, super cheap, 25₵ per pack ramen. Nothing fancy needed here. I did toss the seasoning packet and use my own vegetable broth, though (Better Than Bouillon).
What Else Can I Put in My Vegan Creamy Mushroom Ramen?
Whatever you want! Ramen is one of those great "catch all" dishes that is good for tossing all your leftover vegetables and proteins into. Check out my post about 6 Ways to Update Instant Ramen to see what other fun things I like to put in my ramen. Some quick ideas are tofu, sliced bell pepper, sesame seeds, or shredded cabbage or carrot.
Vegan Creamy Mushroom Ramen
This incredibly simple Vegan Creamy Mushroom Ramen is a rich and flavorful 15 minute meal that only requires a handful of ingredients!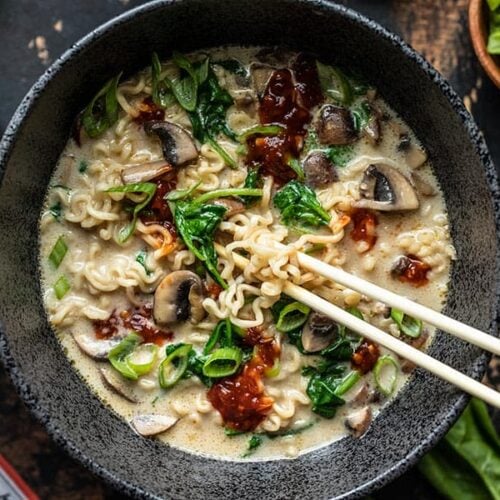 Ingredients
1/2

Tbsp

cooking oil

($0.02)

4

oz.

baby bella mushrooms

($0.85)

1.5

cups

vegetable broth

($0.20)

1

handful

fresh spinach

($0.53)

1

package

ramen noodles (discard seasoning)

($0.25)

1/2

cup

coconut milk (canned)

($0.66)
Optional Garnishes
1

green onion, sliced

($0.11)

1

Tbsp

chili garlic sauce or sriracha

($0.13)
Instructions
Slice the mushrooms. Add them to a small sauce pot with the cooking oil and sauté over medium heat until the mushrooms are soft, dark, and all the moisture in the bottom of the pot has evaporated.

Add the vegetable broth, turn the heat up to medium-high, and bring the broth up to a boil. Once boiling, add the ramen noodles (without the seasoning packet) to the broth. Cook the noodles in the boiling broth for about 3 minutes, or until tender.

Turn the heat off, add a heaping handful of fresh spinach, and stir until the spinach is wilted (about 30 seconds). Pour the coconut milk into the pot and stir to combine.

Serve the Vegan Creamy Coconut Ramen as-is, or with garnishes like green onion or chili garlic sauce.
See how we calculate recipe costs here.
---
Nutrition
Serving:
1
recipe
Calories:
714
kcal
Carbohydrates:
67
g
Protein:
16
g
Fat:
45
g
Sodium:
1543
mg
Fiber:
4
g
Read our full nutrition disclaimer here.
Scroll down for the step by step photos!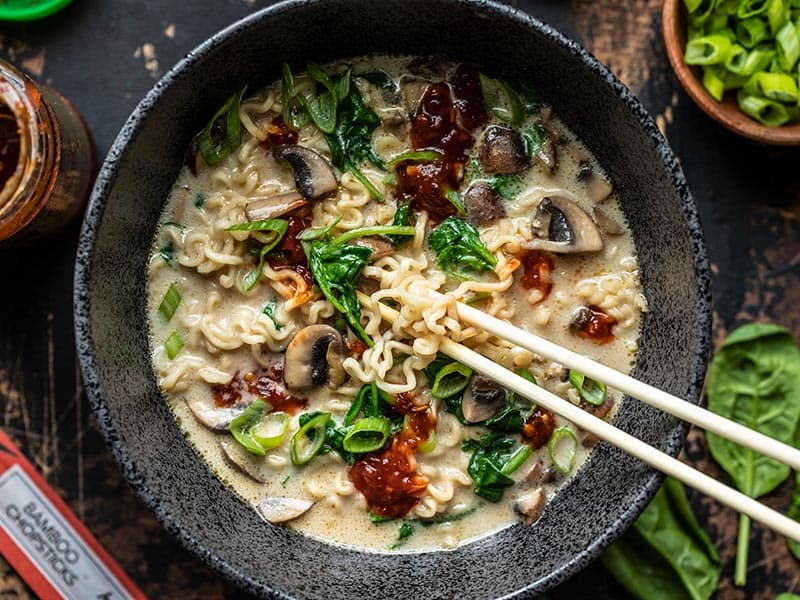 How to Make Vegan Creamy Mushroom Ramen – Step by Step Photos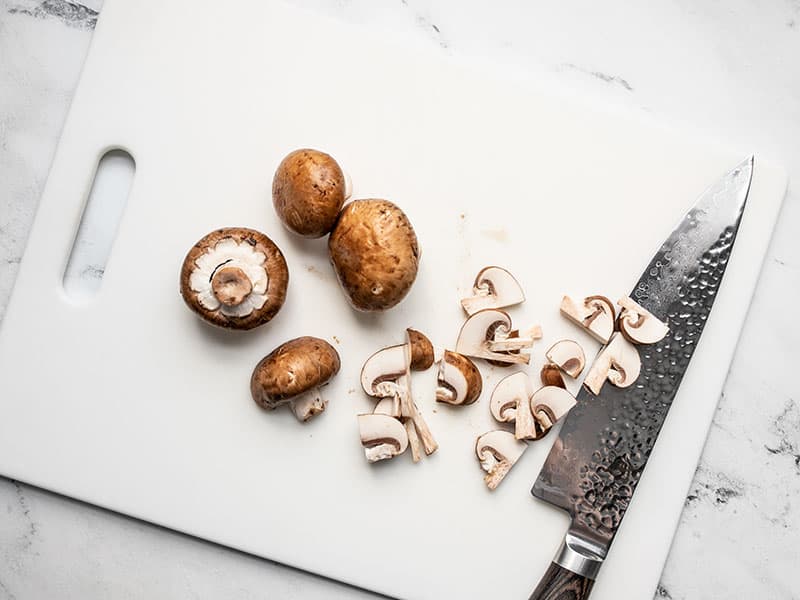 Slice 4 oz. baby bella mushrooms (about 4-5 mushrooms or half of an 8 oz. package). If you want to do full sized portobella mushrooms, just slice the caps in half, then slice crosswise into thin strips.
Add the sliced mushrooms to a small saucepot with about 1/2 Tbsp cooking oil (your favorite type of oil to cook with, any type is fine). Sauté the mushrooms over medium heat until they are soft and dark, and all the liquid they release has evaporated out of the pot.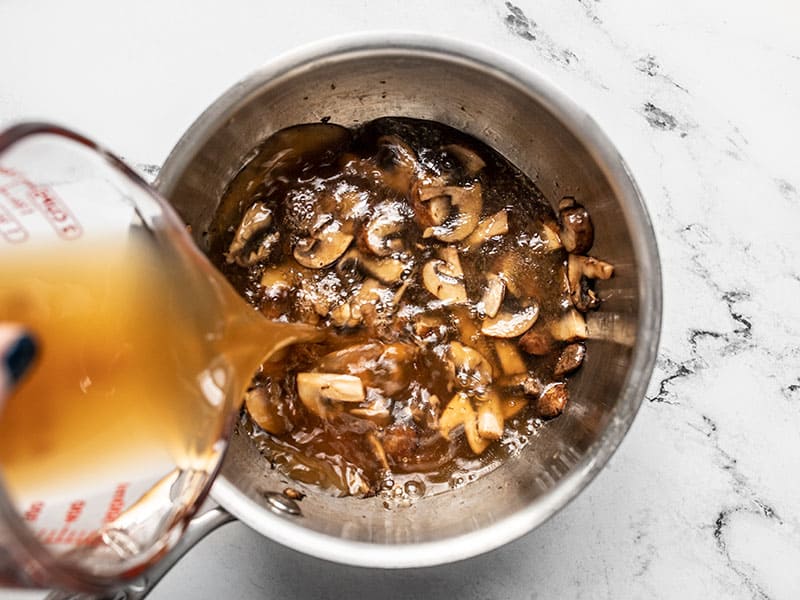 Add 1.5 cups vegetable broth to the pot with the mushrooms. I use broth made with Better Than Bouillon broth concentrate. Turn the heat up to medium-high and allow the broth to come up to a boil (this goes faster with a lid).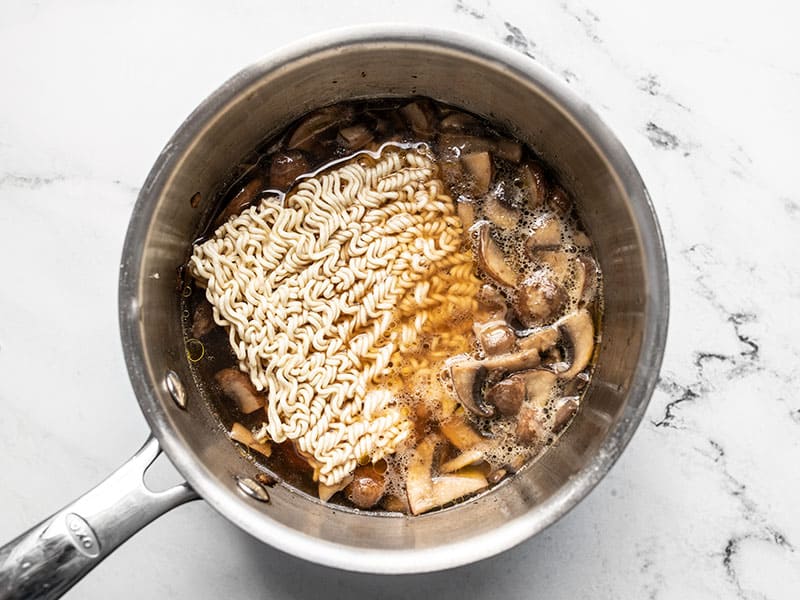 Add one "brick" of ramen noodles (discard the seasoning packet) to the broth and continue to boil for about 3 minutes, or until the noodles are tender.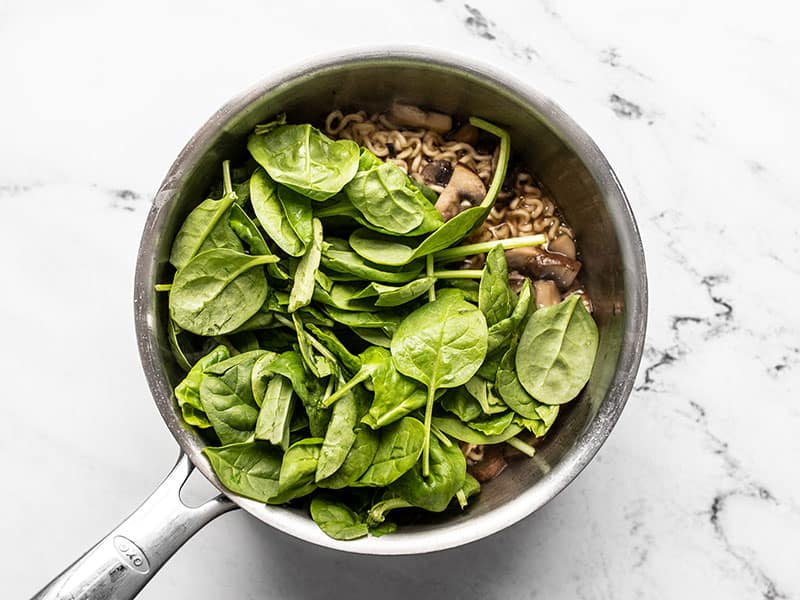 Turn off the heat and add a heaping handful of fresh spinach to the soup. Stir until the spinach is wilted (about 3o seconds).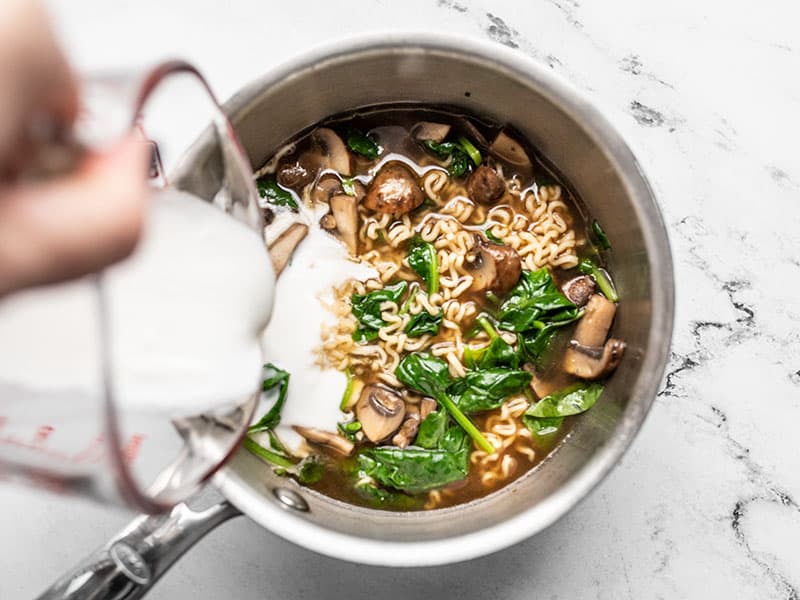 Finally, pour in 1/2 cup coconut milk (the canned kind, not the dairy milk substitute kind in a carton). Stir to combine.
And that's literally all it takes! Done in about 15 minutes. You can serve it as is, or add some fun toppings.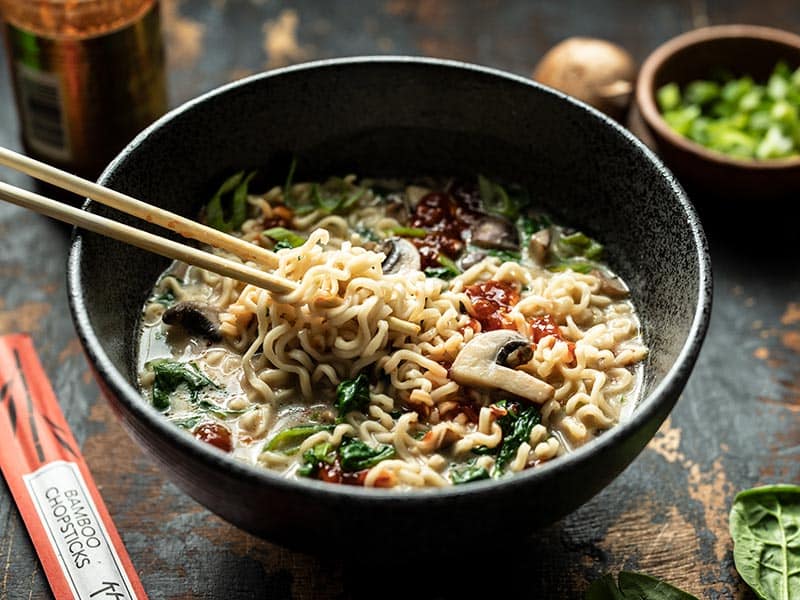 I added sliced green onion and some chili garlic sauce to mine. The sharp chili garlic sauce added a nice contrast to the super creamy broth!
TRY THESE OTHER INSTANT RAMEN RECIPES: