Spinach Mushroom and Feta Crustless Quiche
I'm a big fan of savory breakfast dishes and this Spinach Mushroom and Feta Crustless Quiche might be my new favorite! It's very filling (without giving me a carb-hangover), and it's chock-full of vegetables. There are endless possibilities for customizing the filling, plus it reheats well in the microwave for a quick dinner!
Love this Spinach Mushroom and Feta Crustless Quiche? Try my Bacon Broccoli Cheddar Crustless Quiche, too!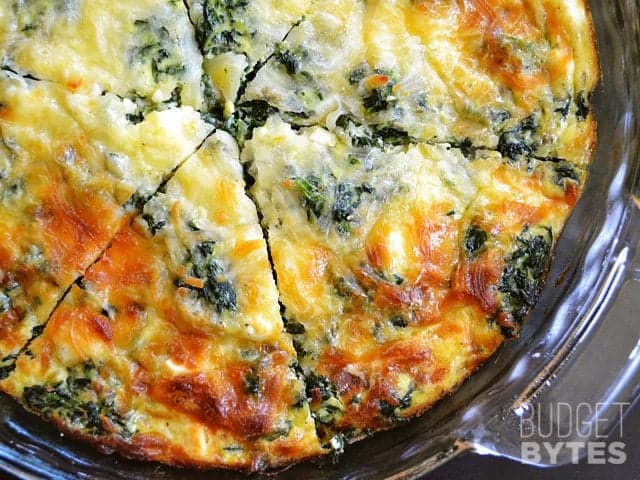 Isn't a "crustless quiche" just a frittata?
While they are both baked egg dishes, there are distinct differences. The main difference is the texture. Quiches are a baked egg and cheese custard, with a lot of milk or cream, and a soft, delicate texture. Frittatas contain little to no milk or cream, so it is closer in texture to an omelette or straight baked egg. The other significant difference comes in the cooking process. Frittatas start on the stove top and only finish only for the last few minutes in the oven. Quiches are baked in the oven only.
Can this crustless quiche be reheated?
Yes, this is one of my favorite make-ahead breakfast dishes! But you do need to be cautious while reheating because overheating can cause the egg proteins to seize up, expel water, and become rubbery. For that reason I suggest reheating in the microwave only until the crustless quiche is warmed through, but not piping hot. This will store in the refrigerator for about 4 days.
Can you freeze crustless quiche?
Egg dishes like crustless quiche freeze just so-so. This is one of those grey areas where it will depend a lot on how sensitive you are to texture changes. The egg will seep a little water upon freezing, thawing, and reheating, which may or may not bother you. I suggest testing this with one piece of the quiche first to see if the changes are acceptable to you. To freeze, cool the quiche in the refrigerator first, then wrap tightly in plastic and transfer to the freezer. Thaw in the refrigerator overnight before reheating.

Spinach Mushroom and Feta Crustless Quiche
This easy, tasty Spinach Mushroom and Feta Crustless Quiche is low on carbs and big on flavor. This veggie-filled breakfast will keep you full and happy.
Servings: 6
Ingredients
8 oz. button mushrooms ($1.99)
1 clove garlic, minced ($0.08)
1 10oz. box frozen spinach, thawed ($1.09)
4 large eggs ($0.83)
1 cup milk ($0.39)
2 oz. feta cheese ($0.87)
1/4 cup Parmesan, grated ($0.39)
1/2 cup shredded mozzarella ($0.50)
Salt and pepper to taste ($0.05)
Instructions
Preheat the oven to 350ºF. Squeeze the excess moisture from the thawed spinach. Rinse any dirt or debris from the mushrooms, then slice thinly. Mince the garlic.

Add the mushrooms, garlic, and a pinch of salt and pepper to a non-stick skillet spritzed lightly with non-stick spray (or a splash of cooking oil). Sauté the mushrooms and garlic until the mushrooms are soft and all of their moisture has evaporated away (5-7 minutes).

Coat a 9-inch pie dish with non-stick spray. Place the squeeze-dried spinach in the bottom of the pie dish. Place the sautéed mushrooms on top of the spinach, followed by the crumbled feta.

In a medium bowl, whisk together the eggs, milk, and Parmesan. Season lightly with pepper. Pour the egg mixture over the vegetables and feta in the pie dish. Top with the shredded mozzarella.

Place the pie dish on a baking sheet for easy transfer in and out of the oven. Bake the crustless quiche for 45-55 minutes, or until the top is golden brown (ovens may vary). Cut into six slices and serve.
See how we calculate recipe costs here.
---
Nutrition
Serving: 1 Serving ・ Calories: 165.85 kcal ・ Carbohydrates: 6.72 g ・ Protein: 12.88 g ・ Fat: 10.17 g ・ Sodium: 516.33 mg ・ Fiber: 1.73 g
Nutritional values are estimates only. See our full nutrition disclaimer here.
---
The equipment section above contains affiliate links to products we use and love. As an Amazon Associate I earn from qualifying purchases.
Hello weekend breakfast! 🙌 #brunchgoals
Step By Step Photos for Spinach Mushroom and Feta Crustless Quiche
The key to preventing a soggy Spinach Mushroom and Feta Crustless Quiche is to reduce the moisture in your vegetables. This is why the spinach is squeezed dry and the mushrooms get cooked before adding to the quiche. I start by draining the spinach in a colander and then squeeze the rest of the moisture out before adding it to the dish.
Next, move onto the mushrooms. Sometimes pre-sliced mushrooms are the same price as whole, but not this time around…
So I washed and sliced my own. I usually cut them in half first (to get a flat surface) and then slice them.
Mushrooms are like sponges that are secretly holding a lot of water, so you need to saute them before adding them to your quiche. I just placed them in a skillet coated with non-stick spray (and a little garlic for flavor) and then sprinkled them with salt and pepper. Just a touch. The salt will help draw out the moisture.
Turn the heat onto medium or medium high and saute them (cook while occasionally stirring) until the water cooks out. This picture is about half way through the process. You'll notice that the bottom of the skillet is covered with water that has seeped out of the mushrooms. Just keep cooking past this point until most of that water has evaporated off and the bottom of the skillet is relatively dry. This should take about 5-7 minutes, depending on how hot your skillet is. You can prepare the custard (egg and milk mixture) while you're waiting for the mushrooms to finish.
Coat the inside of a 9 inch pie dish with non-stick spray. Squeeze the rest of the water out of the spinach and place it in the bottom of the dish along with the cooked mushrooms and feta cheese… in no particular order.
To make the custard, begin by whisking together four eggs until they are fairly smooth and uniform in texture.
Next whisk in the milk and parmesan cheese… and a little more pepper or any other herbs that you might like.
Pour the custard mixture over the vegetables in the pie dish. Oh, and the quiche is much easier to get in and out of the oven if it's on a baking dish, so I put it on there before pouring in the liquidy custard mixture.
Sprinkle on more cheese (mozzarella in this case) if you want… again, I probably went overboard on the cheese but boy, was it tasty ;)
Bake the Spinach Mushroom and Feta Crustless Quiche in a preheated 350 degree oven until it is golden brown on top and the center is no longer liquid. This will take anywhere between 45 minutes to an hour depending on your oven. Just start checking it at 45 minutes. You'll notice as it cooks that it begins to puff up a bit. It will deflate once it comes out of the oven but the "puff" is a good way to tell which areas are cooked and which are still liquid.
Slice and serve! (I prefer my Spinach Mushroom and Feta Crustless Quiche with a healthy dose of sriracha!)