After making a refrigerator full of pizzas last week, I almost forgot to post this one.
It's funny how your taste buds change as you get older. For the first, oh, 25 years of my life the thought of pineapple on a pizza made me gag (and not many foods do). Then, somehow, the tables turned. Without notice I suddenly craved pineapple on pizza. Weird, I know but that's also how I came to love V8 juice.
Anyway. Hawaiian pizzas (pineapple and ham) have sooo many possibilities. One of my favorites is to spice it up with a little bit of jalapeno, which I have done here. If you have a few extra pennies, buy some feta and sprinkle it on there for a little saltiness (salty, sweet and spicy is the triple threat of deliciousness).
If fresh jalapenos are a little too spicy for you, try pickled jalapenos instead. If ANY jalapeno is too spicy, use a little fresh red onion to juxtapose the sweet pineapple.
Spicy Hawaiian Pizza
Spicy Hawaiian Pizza
Fresh jalapeños play perfectly against the sweet pineapple in this Spicy Hawaiian Pizza. Sweet heat never tasted so good!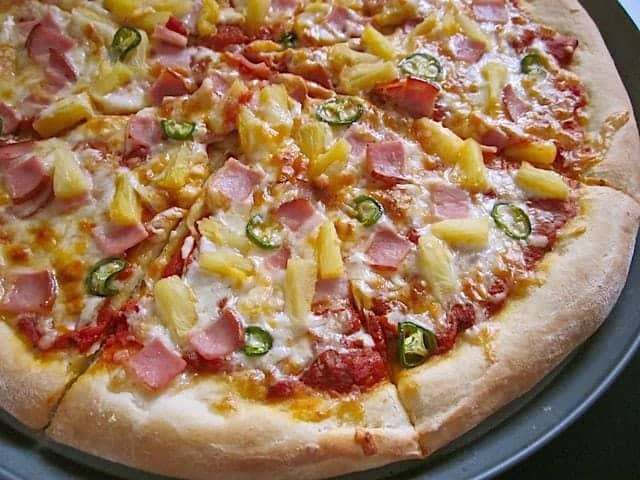 Ingredients
1

ball

pizza dough

($0.37)

3/4

cup

pizza sauce

($0.60)

1.5

cups

shredded monterey jack

($1.38)

8

oz

pineapple pieces, canned

($0.67)

3

oz

sliced ham

($0.56)

1

medium jalapeno

($0.18)
Instructions
Preheat your oven to 425 degrees. Allow your pizza dough to come to room temperature if frozen or refrigerated. On a lightly floured surface, stretch the dough into a 16 inch round. Spray a perforated pizza pan with non-stick spray and sprinkle it lightly with corn meal (if desired). Transfer the stretched dough onto the pizza pan.

Spread the pizza sauce evenly over the dough, leaving a one inch area of crust around the outside edge. Top with cheese, pineapple, diced ham slices and thinly sliced jalapeno.

Bake in the fully preheated oven (425 degrees) for 15-20 minutes or until the crust is golden brown and the cheese is melted and bubbly. Enjoy!
See how we calculate recipe costs here.
---
Nutrition
Serving:
1
Serving
Calories:
548.2
kcal
Carbohydrates:
64.58
g
Protein:
24.2
g
Fat:
21.35
g
Sodium:
1092.58
mg
Fiber:
3.48
g
Read our full nutrition disclaimer here.
Step By Step Photos

Slice the jalapeno and dice the ham slices. Avoid buying presliced deli/sandwich ham because it is usually quite expensive. I found this ham near the spiral hams and thick breakfast ham slices. It was nearly half the price of sandwich ham.

Top the pizza and bake at 425 degrees. The oven must be fully preheated before baking or else you'll have crappy crust.
It's no secret that I looooove pizza and coming up with new topping combinations. I'd love to hear all of the wild and crazy pizza topping ideas that you've had or even just your favorite combo.
My craziest topping (crazy and still delicious, I mean) is pickled vegetables. Yeah, sounds gross but it's ooooh so good!