I've got a really quick meal prep for you guys this week! I haven't done a lot of cooking the last few days because I got braces on Tuesday and for a minute, even the thought of eating was painful. But just as soon as I started to get back on track I cooked up this really simple Spaghetti and Roasted Vegetable Meal Prep to get me through the rest of the week. While this isn't the most stunning meal prep to look at, this is definitely my favorite type of meal prep. I paired the spaghetti and meat sauce, which are total comfort food, with a generous serving of roasted vegetables to keep things balanced. It's the best of both worlds, and totally easy. Because easy is what meal prep is all about.
I only photographed one prepared container this week because to make this work for me with my compromised chewing ability, I actually had to mince up the vegetables and cut the spaghetti into small pieces. And, well, that's just even less photogenic. So, this is what your packed lunch will look like. In reality mine looked a little like baby food. 😅
For more information about meal prepping, how it works, and why I do it, check out Meal Prep 101: A Beginner's Guide to Prepping and Portioning Meals, or check out my entire Budget-Friendly Meal Prep Archive.
Spaghetti and Roasted Vegetable Meal Prep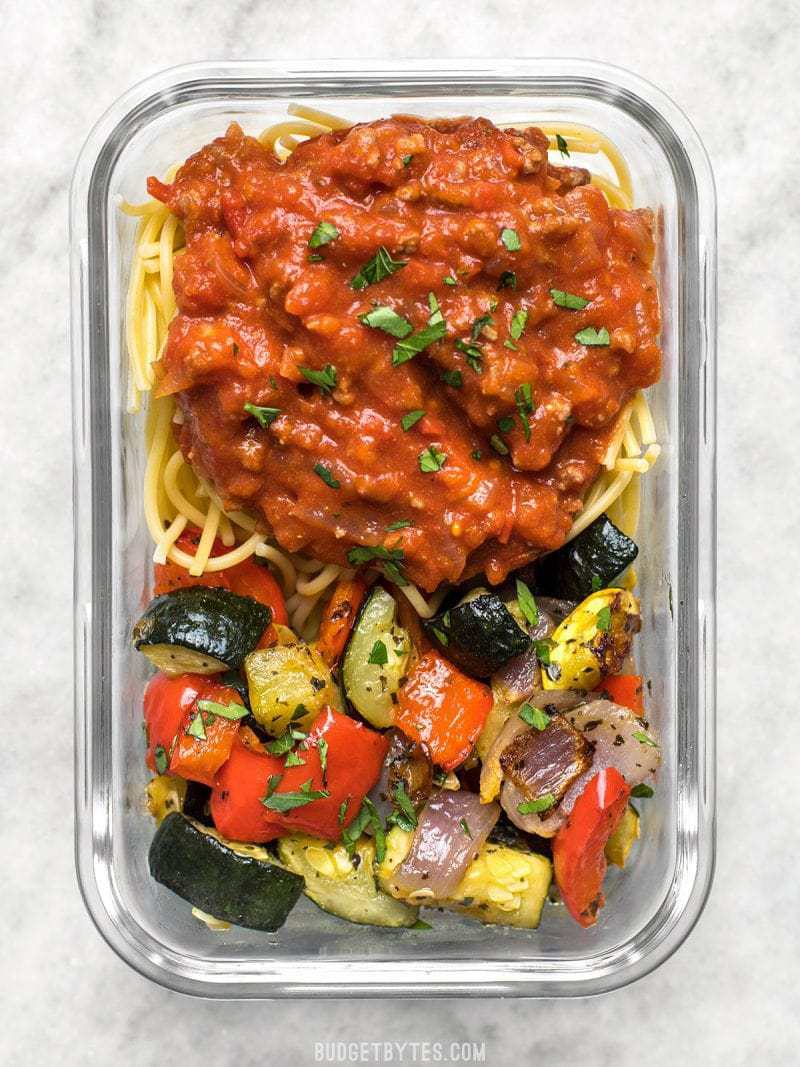 This Meal Prep Includes:
The Best Weeknight Pasta Sauce: $4.35
8 oz. Spaghetti: $0.50
Roasted Summer Vegetables: $4.85
Total Cost: $9.70
Cost per serving (4 servings): $2.43
Leftovers: 1/2 lb. pasta (shelf stable, can be used in another recipe later, yay!)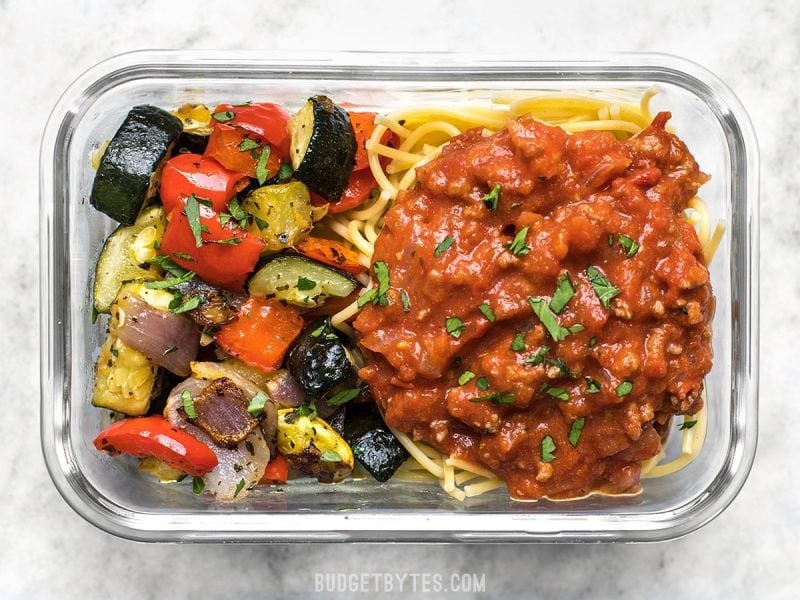 Notes:
Want to add more? Parmesan actually goes great on both the roasted vegetables AND the pasta.
You don't have to use this exact mix of roasted vegetables. Take advantage of what is on sale in your area at the time.
Want a vegetarian pasta sauce option? Try this 5-Ingredient Butter Tomato Sauce (bonus recipe for toasted bread crumb topping included).
Try swapping regular pasta for a high fiber or high protein version for an even more diet-friendly meal prep!
Homemade garlic bread is never a bad idea. ;)