Sweet, tangy and spicy… What a powerful flavor combo. It's strong sauces like this that allow you to take something that is otherwise boring or inexpensive and make it into an outstanding meal. So, promise me that even if you don't want chicken, you'll make this sauce to use on something else.
Putting the sauce together only takes a few minutes but it does need to simmer for a good 45 minutes but it stores well so you can make it ahead of time if necessary. The sauce stores well so you can keep extra in the refrigerator for up to two weeks or in the freezer for 3-4 months. This Raspberry Chipotle BBQ Sauce is super easy, will add tons of flavor to anything you cook.
I used chicken thighs as the vehicle for this yummy sauce but you could really use anything. Chicken breasts, ribs, tofu, pork chops… anything. Run wild with it.
Chipotle peppers in adobo sauce usually come in super small cans but even still, I usually only use one pepper at a time and have almost a whole can left over. I *always* freeze the rest. Divide the peppers and adobe sauce up into small aliquots and pop them in the freezer.
Raspberry Chipotle BBQ Chicken
Raspberry Chipotle BBQ Chicken
Sweet, spicy, and smoky. This Raspberry Chipotle BBQ Chicken has it all.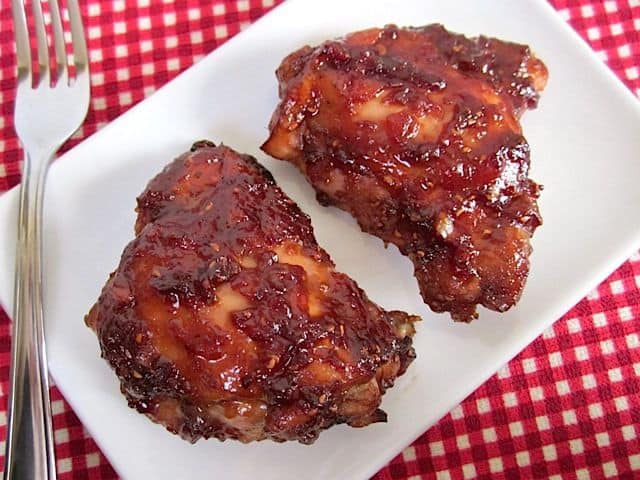 Ingredients
1

Tbsp

vegetable oil

($0.03)

1/2

medium yellow onion

($0.18)

2

cloves

garlic

($0.14)

8 oz

can

tomato sauce

($0.56)

1

cup

raspberry jam

($2.23)

1/4

cup

cider vinegar

($0.23)

1

pepper + sauce chipotle peppers in adobo

($0.10)

4

lbs

chicken thighs (8 pieces)

($6.48)
Instructions
Finely dice the onion and garlic. Cook both in a sauce pan with vegetable oil over medium heat until softened (3-5 minutes). Meanwhile, roughly chop one chipotle pepper and reserve 1 Tbsp of adobo sauce from the can.

Add the tomato sauce, raspberry jam, cider vinegar, chopped chipotle pepper and adobo sauce to the cooked onions and garlic. Stir everything well and bring up to a simmer. Continue to simmer for about 45 minutes, stirring occasionally. Allow the sauce to cool after simmering (it will thicken upon cooling).

Remove the skin from the chicken and trim any excess fat. The skin should pull away from the meat easily although you may need a small sharp knife to separate it in some places. Preheat the oven to 375 degrees.

Prepare a baking sheet with aluminum foil and non-stick spray. Place the chicken thighs on the tray and slather with BBQ sauce (pour a small amount of sauce into a bowl before brushing onto chicken so that the whole batch will not get contaminated with raw chicken).

Place the BBQ chicken in the oven and bake for 45 minutes. Fifteen and thirty minutes into the cooking time, take the chicken out and slather with more sauce.
See how we calculate recipe costs here.
---
---
Nutrition
Serving:
1
Serving
Calories:
866.07
kcal
Carbohydrates:
41.3
g
Protein:
68.42
g
Fat:
47.67
g
Sodium:
1236.63
mg
Fiber:
1.67
g
Read our full nutrition disclaimer here.
Step By Step Photos

Chop the onion and garlic very fine so there will not be large chunks in the sauce. Cook in vegetable oil until softened.

Take one chipotle pepper from the can of peppers in adobo and chop it up. Also take one tablespoon of sauce from the can to add to the BBQ sauce.

To the cooked onions and garlic add the tomato sauce, raspberry jam, cider vinegar, chopped chipotle pepper and 1 Tbsp of adobo sauce.

Stir well until the raspberry jam has completely dissolved. Allow the mixture to come up to a simmer over medium heat. Keep it simmering (stirring occasionally) for about 45 minutes to evaporate some of the liquid.

Place your chicken thighs on a clean work surface. Remove the skin and any excess fat. (I only cooked four thighs today and froze the rest of my sauce to use later).

Here are the skinless breasts. Some people claim that removing the skin will let the meat dry out but the BBQ sauce does a very good job of sealing in the moisture. The resulting chicken thighs were some of the most moist pieces of chicken I've ever eaten.

Pour some of the BBQ sauce into a bowl so that you can brush it onto the raw chicken without contaminating the entire batch of sauce.

Place the chicken on a baking sheet covered in aluminum foil and non-stick spray. Generously brush the BBQ sauce on top. Place in a preheated 375 degree oven.

Bake the chicken for 45 minutes, taking time to add more BBQ sauce at 15 minutes and 30 minutes into the baking time. (photos are from after 15 minutes and 45 minutes of cooking) The sauce on the foil will scorch but the sauce on the chicken will not… so don't let that black stuff worry you!
Ooohhh it was so delicious and moist! Sweet, tangy and with a decent kick!