Hey guys! I hope you've had a wonderful weekend so far and have saved a little time to do some meal prep for the week! I didn't have a lot of time in the kitchen this past week, but I did end up "meal prepping" the one successful recipe that I had, so I'm going to share that. This Pineapple BBQ Chicken Meal Prep is super easy and is one of those lunches that I look forward to eating every day, even after having it for a few days in a row!
For this meal prep I paired my Skillet Pineapple BBQ Chicken with rich and Savory Coconut Rice, and just some simple broccoli to get my greens in. Frozen broccoli florets is seriously my go-to vegetable for meal preps because it's effortless, the flavor goes with just about everything, and it holds up well in the fridge. I would have liked to have done some fresh snow peas for this meal, but sadly I could not find them at the grocery store, so keep that in mind as a good option for this meal.
For more information about meal prepping, how it works, and why I do it, check out Meal Prep 101: A Beginner's Guide to Prepping and Portioning Meals, or check out my entire Budget-Friendly Meal Prep Archive.
Pineapple BBQ Chicken Meal Prep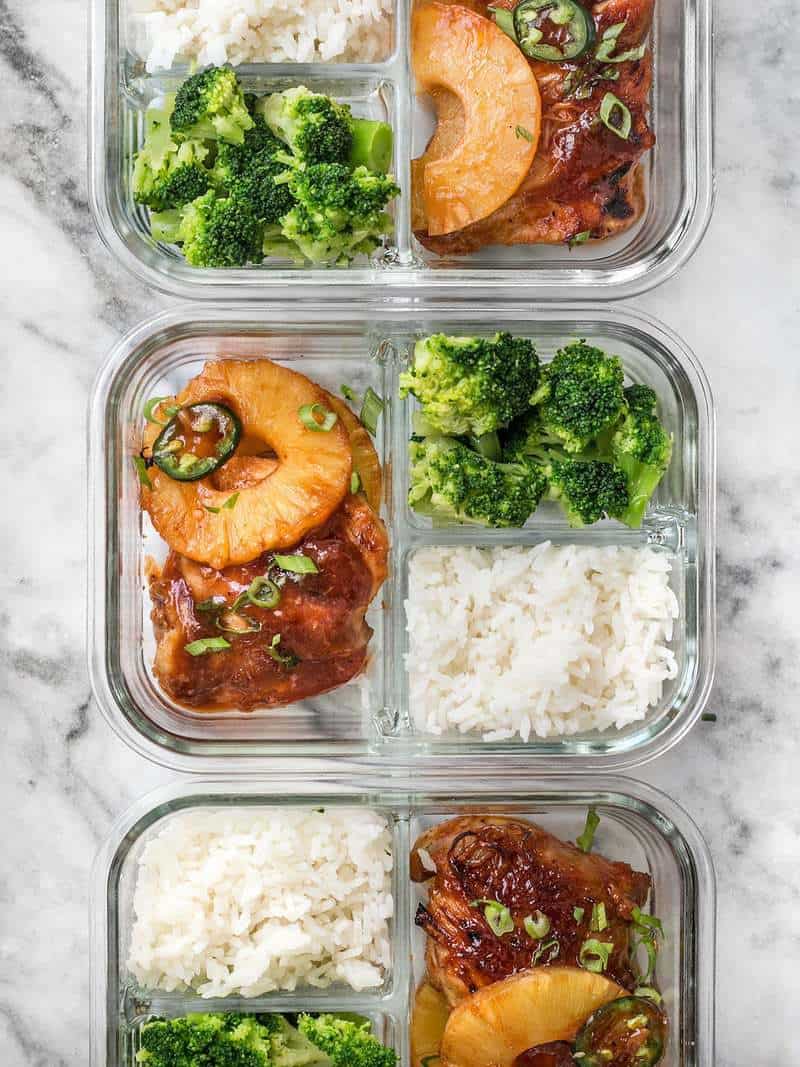 Leftovers
This Pineapple BBQ Chicken Meal Prep is a little different because each of the recipes makes about 6 servings, so you can actually prep six meals if you'd like. If you only like to prep 4 days at a time like I do, you'll have some leftovers. You have a couple of options here. While you technically can freeze extra two meals as-is, I'd rate this as just a "so-so" freezable meal. The sauce on the chicken won't be the best after freeze-thaw, but not horrible. Other options are to either cook only 4 chicken thighs instead of 6 (I'd make the same amount of pineapple and sauce to make it easy on myself), or make all six and cut each of the extra two chicken thighs in half and serve 1.5 thighs with each meal. Leftover rice actually freezes very well, or use it in other ways throughout the week, like breakfast bowls. I chose the breakfast bowl option because I love my breakfast bowls! :D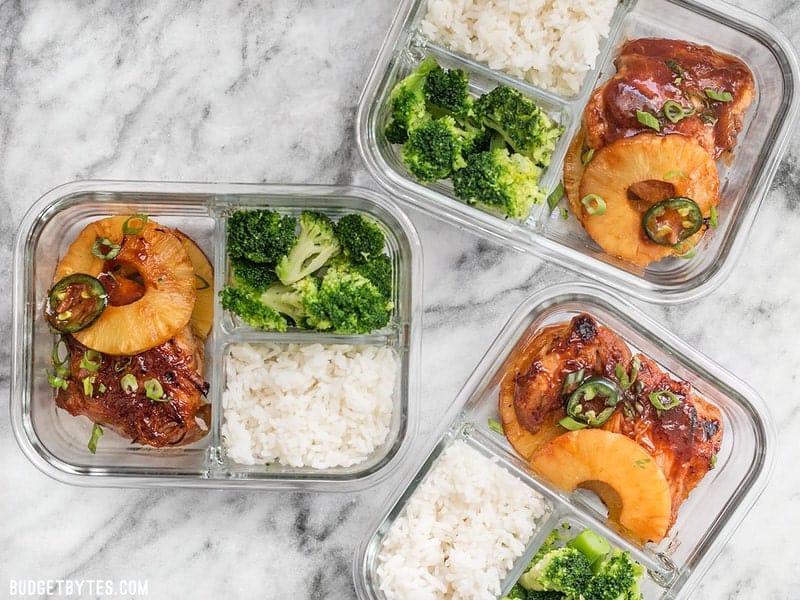 Want the divided glass meal prep containers shown in the photos? I got them from Amazon. :)