This time of year it's hard not to take advantage of all of the fresh produce available at such low prices. One item that I get very excited about is peaches. They are in season for such a short amount of time and they might as well be a completely different fruit than out of season peaches because their flavor doesn't even compare.
I bought a bunch of peaches this morning, some of which I used to make a peach crisp. I ended up topping my crisp with some vanilla yogurt because I couldn't deal with the guilt of putting ice cream on top of my buttery, streusel topped desert. I'm trying to be good… I'm trying.
I threw in some almonds and almond extract just for fun but if you don't like almond, simply skip the extract and slivered almonds and you'll have yourself a classic peach crisp. You can also experiment with adding raspberries or blueberries… tart fruit mixes really well with the super sweet peaches.
Peach Almond Crisp

Pictured here with vanilla yogurt.



Peach Almond Crisp
Use the fresh summer peaches to make this quick and easy dessert - Peach Almond Crisp.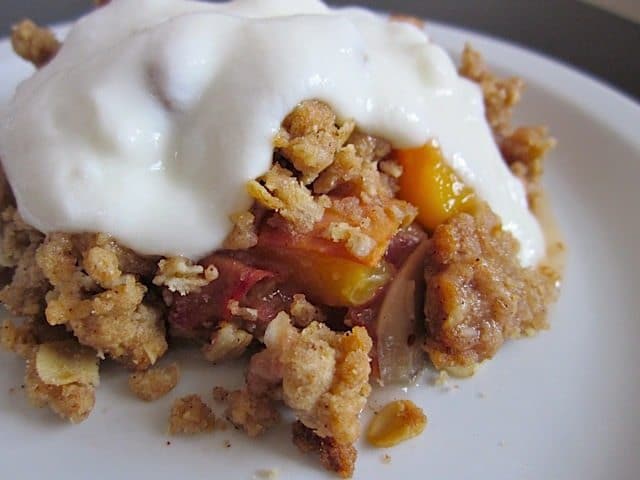 Ingredients
4

medium peaches

($1.16)

1/2

medium lemon, juiced

($0.14)

1/2

tsp

cornstarch

($0.02)

1/2

tsp

almond extract

($0.54)

1/4

cup

sliced almonds

($0.56)

3/4

cup

rolled oats

($0.15)

3/4

cup

all-purpose flour

($0.06)

1/2

cup

brown sugar

($0.24)

1

tsp

cinnamon

($0.05)

1/2

tsp

salt

($0.05)

8

Tbsp

1 stick butter (room temp)

($0.40)
Instructions
Wash the peaches, remove the pit and dice into one inch pieces. Place the peach chunks in the bottom of a glass casserole dish (8×8 inch works well, a glass pie dish will also work).

Preheat the oven to 375 degrees. Sprinkle the lemon juice, corn starch, almond extract and sliced almonds over the peach chunks. Stir the mixture until the peaches are well coated.

In a separate bowl, combine the flour, oats, brown sugar, cinnamon and salt. Stir until they are well mixed and no chunks of brown sugar remain.

Mix the room temperature butter into the mixed dry ingredients until it is evenly incorporated. Your hands will work best for this job. I simply "squish" the butter into the dry ingredients over and over and over until it is all mixed.

Pour the buttery crumble topping over the peach mixture and bake it in the preheated oven (375 degrees) for 45 minutes. Let cool slightly before serving!
See how we calculate recipe costs here.
---
Nutrition
Serving:
1
Serving
Calories:
273.73
kcal
Carbohydrates:
36.04
g
Protein:
3.66
g
Fat:
13.8
g
Sodium:
243.05
mg
Fiber:
2.75
g
Read our full nutrition disclaimer here.
Step By Step Photos

Wash the peaches well then cut into one inch chunks (remove the pits, of course).

You need enough peaches to cover the bottom of your dish in at least two layers of peach chunks.

Mix the corn starch, lemon juice, almond extract and sliced almonds into the peaches.

Measure all of the dry ingredients into a separate bowl.

Mix the dry ingredients well before adding the butter so that it will be an even mixture.

Squish the room temperature butter into the dry mixture until it is evenly incorporated. Pour the streusel topping over the peach mixture and bake at 375 degrees for 45 minutes. Try not to die from the heavenly smells coming out of the oven.

It will look like this when it is done baking; bubbly underneath, crisp on top!

Here is a side view so you can see the yummy, juicy peach mixture underneath. The peaches release a lot of juices but the corn starch will help it thicken so you don't have a soupy mess on your hands.