Can I talk about anchovies for a second without you running away screaming? K, good.
Anchovies have a reputation in the United States as being this stinky pizza topping that nobody really likes, but the rest of the world knows that anchovies are the ultimate secret ingredient. You see, when anchovies are used in just a small amount they magnify flavors and give food that great umami richness that make your taste buds feel like they won the jackpot. In fact, anchovies are the secret ingredient that gives worcestershire sauce its magic meaty flavor. See? You didn't know you liked anchovies, did you?
Anchovies are especially good in red sauce. This past week I was craving pasta with red sauce, but not just any red sauce. I wanted an anchovy fortified red sauce! I also wanted to throw some vegetables in there, so when I got to the store I looked around for what was on sale. Eggplant was only $1.19/lb. and also happens to be great with red sauce, so I went with that. The end product totally hit the spot and now I've got pasta for the week!
Pasta with Eggplant Sauce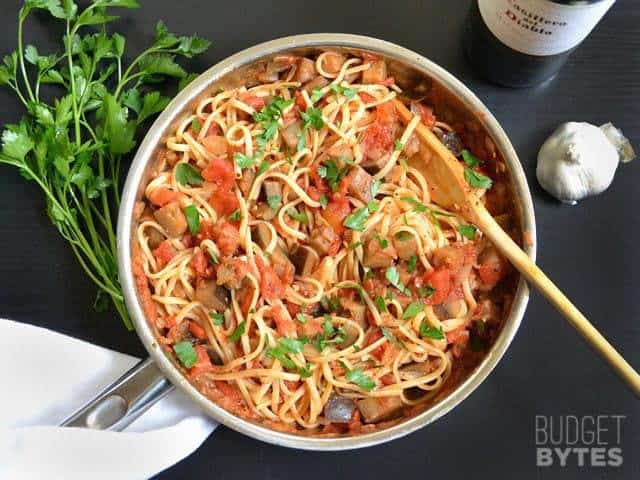 Pasta with Eggplant Sauce
This Pasta with Eggplant sauce gets an extra savory boost from a secret ingredient – anchovies!
Ingredients
2

Tbsp

olive oil

($0.32)

2

cloves

garlic

($0.16)

1

yellow onion

($0.52)

1

tsp

anchovy paste or 3 anchovy filets

($0.17)

1

eggplant (about 1 lb.)

($1.23)

2

15oz. cans

diced or crushed tomatoes

($1.18)

2

Tbsp

tomato paste

($0.11)

1

tsp

dried basil

($0.10)

1

tsp

sugar

($0.02)

1

pinch

crushed red pepper flakes (optional)

($0.03)

Freshly cracked black pepper (10-15 cranks of a mill)

($0.05)

1/2

tsp

salt or to taste

($0.02)

12

oz.

pasta

($1.49)

1

handful

fresh parsley, chopped (optional)

($0.25)

6

Tbsp

grated Parmesan

($0.62)
Instructions
Dice the onion and mince the garlic. Sauté the onion, garlic, and anchovy paste with olive oil in a large skillet or pot over medium heat until the onion is soft and transparent (about 5 minutes).

Meanwhile, cut the eggplant into small, 1/2 inch cubes. Once the onions have softened, add the eggplant and continue to sauté until the eggplant is dark and soft (about 10 minutes).

Once the eggplant is soft, add the diced tomatoes, tomato paste, basil, sugar, crushed red pepper, and freshly cracked pepper. Stir well to combine, place a lid on top, and allow the skillet to come up to simmer. Once it reaches a simmer, turn the heat down to low and allow it to simmer for 20 minutes.

While the skillet is simmering, cook the pasta according to the package directions (boil 7-10 minutes, or until al dente).

After the skillet has simmered for at least 20 minutes (it can simmer longer if needed), add salt to taste. Begin with 1/4 tsp and add more until it reaches the desired level of saltiness. I used 1/2 tsp total.

Drain the pasta, then return it to the pot with the heat turned off. Add the eggplant sauce and toss to coat. Top each serving with about 1 Tbsp of grated Parmesan and a sprinkle of fresh parsley.
See how we calculate recipe costs here.
---
Nutrition
Serving:
1
Serving
Calories:
335.77
kcal
Carbohydrates:
57.5
g
Protein:
11.57
g
Fat:
7.52
g
Sodium:
552.6
mg
Fiber:
7.67
g
Read our full nutrition disclaimer here.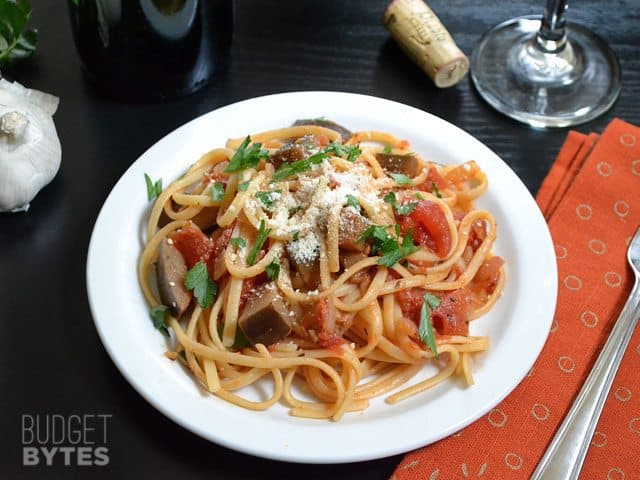 Step by Step Photos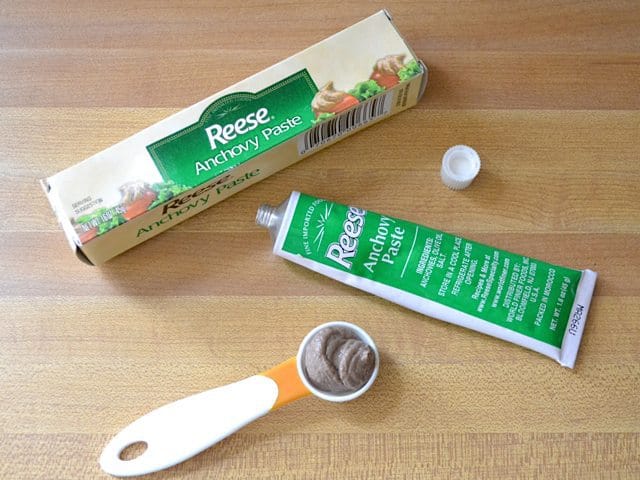 In the past I've always purchased anchovy filets packed in oil. This time I decided to buy some anchovy paste (it's nothing more than anchovies, salt, and olive oil) because it seemed easier to work with and I can just store the tube in the refrigerator. I used 1 tsp anchovy paste, which I estimate is about the same as about 3 anchovy filets.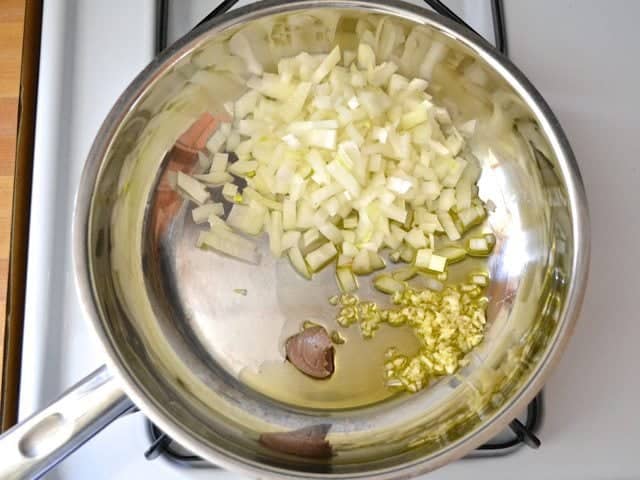 You can make this in a large skillet as long as it has a lid, or just use a large pot. Dice one small onion and mince two cloves of garlic. Sauté the onion, garlic, and 1 tsp anchovy paste in the skillet with 2 Tbsp olive oil over medium heat until the onions are soft and transparent.
Meanwhile, cut the eggplant into cubes. I used one small eggplant that weighed about 1 lb. The easiest way to do this is to cut the eggplant into rounds, stack about 3-4 rounds at a time, then cut them into squares. My cubes were about 3/4 inch across, but I wished I had made them slightly smaller. Aim for about 1/2 inch.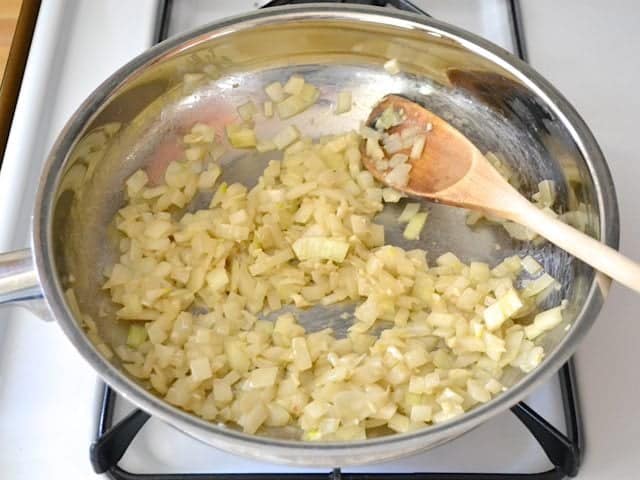 When the onions are soft and transparent, you can add the eggplant cubes. The anchovies will make them look slightly grey, but that's nothing to worry about.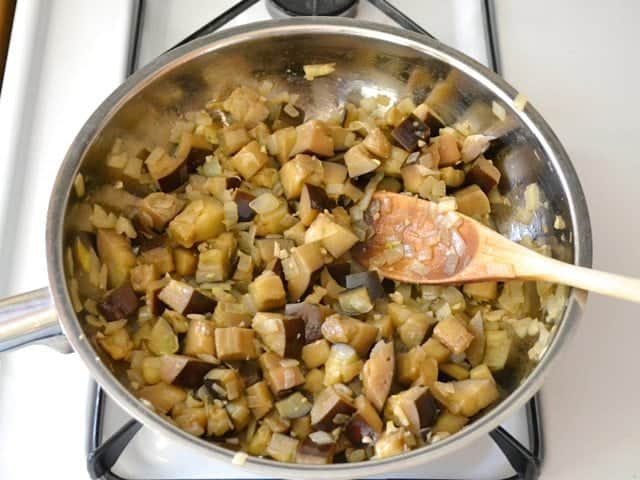 Add the eggplant cubes and continue to sauté over medium heat until they are soft and dark. As they cook they get soft and dark kind of like mushrooms do. This took about 10 minutes.
Once the eggplant are soft, add two 15-ounce cans of diced tomatoes (or crushed tomatoes if you don't want such a chunky texture), 2 Tbsp tomato paste, 1 tsp dried basil, 1 tsp sugar, a pinch of crushed red pepper, and about 10-15 cranks of freshly cracked pepper. Stir it all together well. Place a lid on top and allow it to come up to a simmer. Once it begins simmering, turn the heat down to low and let it simmer for 20 minutes.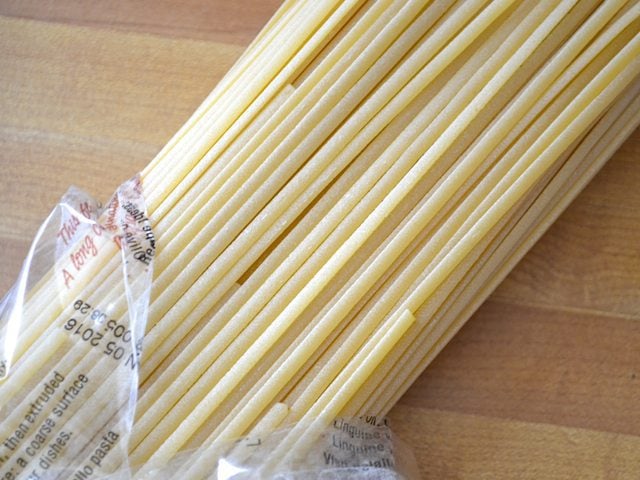 While the sauce is simmering, go ahead and cook 12 oz. (3/4 lb) pasta. I have to mention that I've fallen in love with this slightly more expensive pasta. I used to buy the cheapest available, but now I spend a few extra pennies (it's less than a dollar more per pound) to get this good stuff. The rough texture of the pasta is what makes it so good. It really grabs onto the sauce well and just has a really nice dense texture.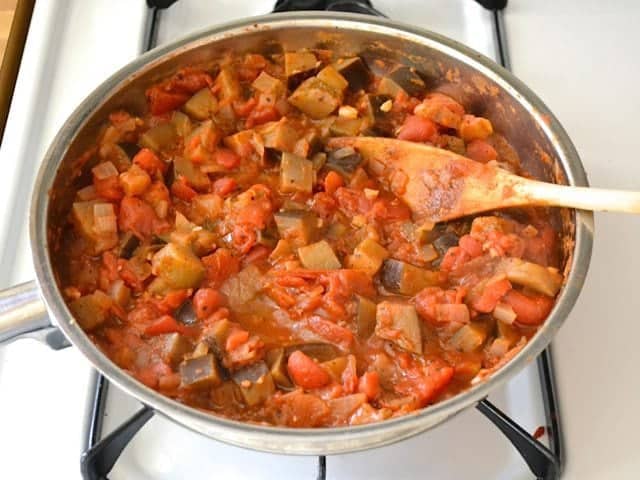 After 20 minutes of simmering, the sauce is really flavorful and the vegetables have broken down a bit. Season the sauce with salt to your taste. Start with 1/4 tsp and add more as needed. I added 1/2 tsp total and then it was just right for me.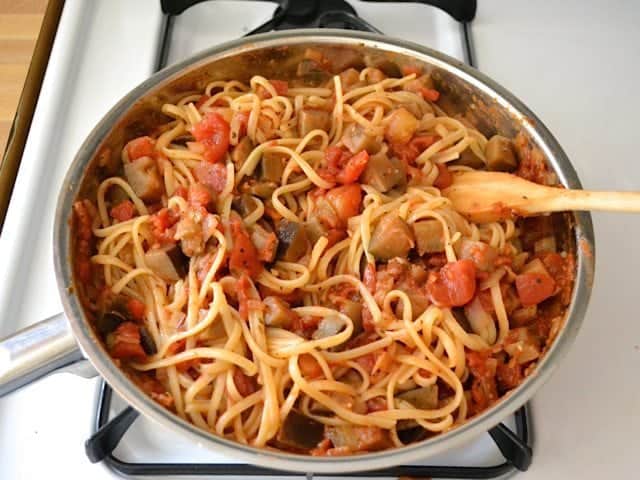 Add the cooked and drained pasta, then toss to coat in the sauce. It might be easier to add the drained pasta back to the big pot that it cooked in (heat turned off, of course), then add the sauce to the pot. It can be really difficult to stir a super full skillet!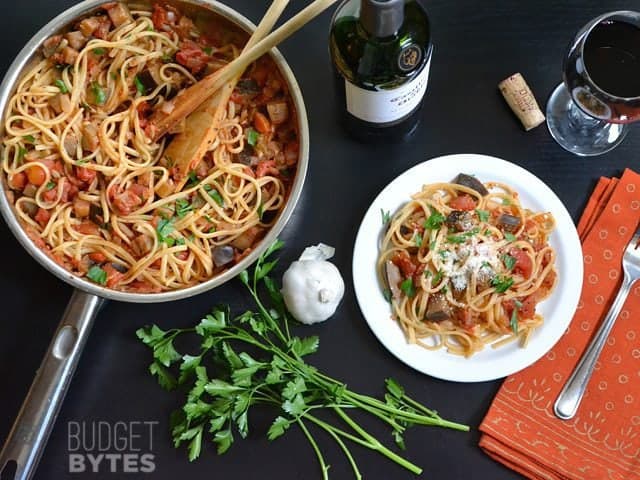 I like to add a little chopped fresh parsley and a light sprinkle of grated Parmesan. Perfection!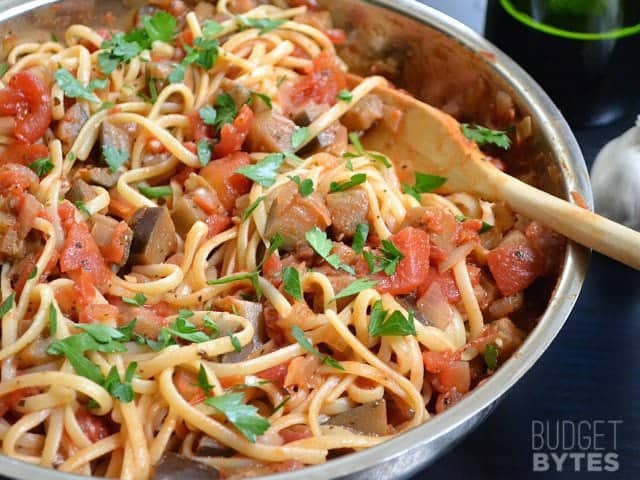 Want a closer look? Yessssss.