Oooh, these Easy Oven Fajitas are my new favorite thing!!
I love fajitas, but have had a hard time replicating their smoky goodness at home. I don't have a grill or a cast iron griddle, so it's been difficult to achieve that authentic fajita flavor. I've seen this oven method around the internet a lot lately, so I thought I'd give it a shot by making oven fajitas. SO glad I did!!!
Originally posted 2-18-13, updated 2-27-17
Oven Roasting Makes Fajitas Effortless
For Easy Oven Fajitas, roasting the meat and vegetables in the oven gives them a slightly charred edge and a hard to replicate sweetness that you just can't get in a plain old skillet. Even better yet, you don't have to stand over the stove and babysit it while it cooks. Set it and forget it! YES. (can you tell how excited I am about this?)
Adjust the Cost of Easy Oven Fajitas as Needed
Red, yellow, and orange bell peppers are usually significantly more expensive than green bell peppers, but you can use any mix that fits your budget. Despite using a couple of more expensive colored peppers, I used more vegetables than meat to keep costs low. The meat to veggie ratio ended up being perfect once everything had cooked down. If you want to make this Easy Oven Fajitas recipe vegetarian, try this Chipotle Portobello Oven Fajita recipe.
Make Your Own Fajita Seasoning or Buy Pre-Made
Oh, and although the ingredient list may look long, most of that is the fajita seasoning mix. If you want, you can just buy a packet of fajita seasoning instead, although they're charging you a great deal for the simple act of stirring spices together.
What Toppings do You Put on Fajitas?
I like to keep my fajitas really simple with just a squeeze of lime, maybe some fresh cilantro, and a small dollop of sour cream. Some people like melted cheese, as well. If you happen to have green onions in your fridge that need to be used up, you could sprinkle a couple of those on top, too. Salsa and guacamole are great options, as well!
What to Serve with Oven Baked Fajitas
Need a side dish to go with your Oven Fajitas? Try one of these awesome sides: Warm Corn and Avocado Salad, Flour Tortillas, (not) Refried Beans, Pico de Gallo, Cilantro Lime Rice.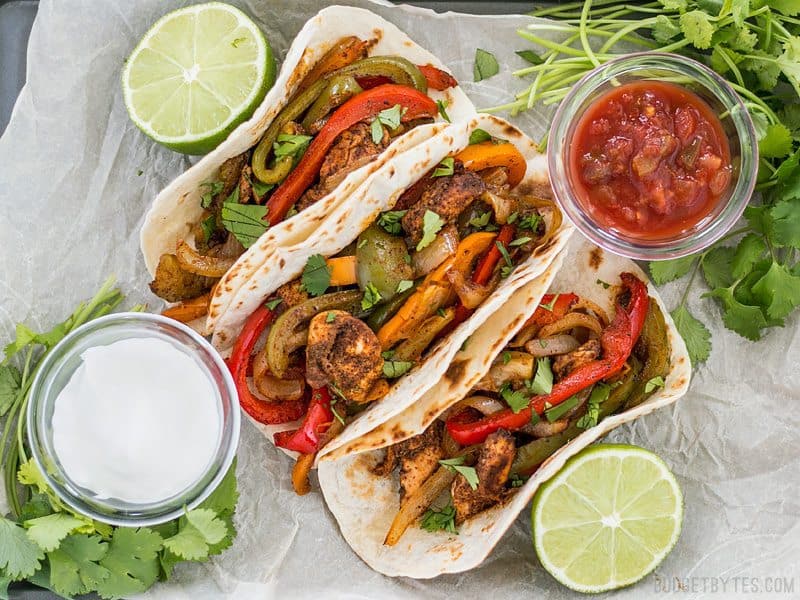 Easy Oven Baked Chicken Fajitas
These Easy Oven Fajitas are a simple "set it and forget it" way to get that smoky sweet flavor of traditional griddle fajitas.
Servings: 4
Ingredients
FAJITA SEASONING
1 Tbsp chili powder ($0.30)
1/2 Tbsp paprika ($0.15)
1/2 tsp onion powder ($0.05)
1/4 tsp garlic powder ($0.03)
1/4 tsp cumin ($0.03)
1/8 tsp cayenne pepper ($0.02)
1 tsp sugar ($0.02)
1/2 tsp salt ($0.02)
FAJITAS
2 small or 1 large onion ($0.37)
3 bell peppers, any color ($3.98)
1 lb. chicken breast* ($1.99)
2 Tbsp vegetable oil ($0.08)
1 medium lime ($0.33)
8 6-inch tortillas ($0.57)
1/2 cup sour cream (optional) ($0.50)
1/4 bunch cilantro (optional) ($0.23)
Instructions
Preheat the oven to 400 degrees. Mix all of the spices for the fajita seasoning in a small bowl and set aside (chili powder, paprika, onion powder, garlic powder, cumin, cayenne pepper, sugar, and salt).

Cut the onion and bell peppers into 1/4-inch wide strips. Place them in a large 13x15-inch casserole dish or a large baking sheet. Slice the chicken breast into very thin strips and add it to the casserole dish with the vegetables.

Drizzle the vegetable oil over the chicken and vegetables, then sprinkle the fajita seasoning mix over top. Use your hands to toss the ingredients until everything is well coated in oil and seasoning. Bake in the preheated oven for 35-40 minutes, stirring once half way through. Squeeze the juice from half of the lime over top of the meat and vegetables after they come out of the oven.

While the fajita mix bakes, toast each tortilla in a dry skillet over medium-low heat, until lightly browned on each side. Scoop a small amount of meat and vegetables into the center of each tortilla. Top with a few sprigs of cilantro, a dollop of sour cream, and an extra squeeze of lime if desired.
Notes
*I buy my chicken breast when it's on sale for $1.99/lb. and freeze it. **The original version of this recipe included 1/2 Tbsp cornstarch in the seasoning mix.
See how we calculate recipe costs here.
---
Nutrition
Serving: 1 Serving ・ Calories: 576.93 kcal ・ Carbohydrates: 47.98 g ・ Protein: 31.6 g ・ Fat: 28.8 g ・ Sodium: 927.43 mg ・ Fiber: 6.63 g
Nutritional values are estimates only. See our full nutrition disclaimer here.
---
The equipment section above contains affiliate links to products we use and love. As an Amazon Associate I earn from qualifying purchases.
Scroll down for the step by step photos!
How to Make Oven-Baked Fajitas – Step By Step Photos:
Begin by preheating the oven to 400ºF. In a small bowl, stir together 1 Tbsp chili powder (this is a mild blend, not hot red chiles), 1/2 Tbsp paprika, 1/2 tsp onion powder, 1/4 tsp garlic powder, 1/4 tsp cumin, 1/8 tsp cayenne, 1/2 tsp salt, and 1 tsp sugar. The sugar helps the vegetables caramelize and gives the dish a very subtle sweetness.
Slice three bell peppers and two small onions (or one large onion) into thin, 1/4-inch wide strips. Red, yellow, and orange bell peppers are usually more expensive than green, so use a mix of peppers that fits your budget.
Slice 1 lb. boneless, skinless chicken breast into thin strips as well. Place the sliced bell peppers, onion, and chicken in an extra-large 13×15 casserole dish, or a large baking sheet. You want to avoid piling the ingredients in so deep that they begin to stew in their juices in the oven, instead of browning, so you'll need the largest dish available. Sheet pans work well if you don't have an extra-large casserole dish.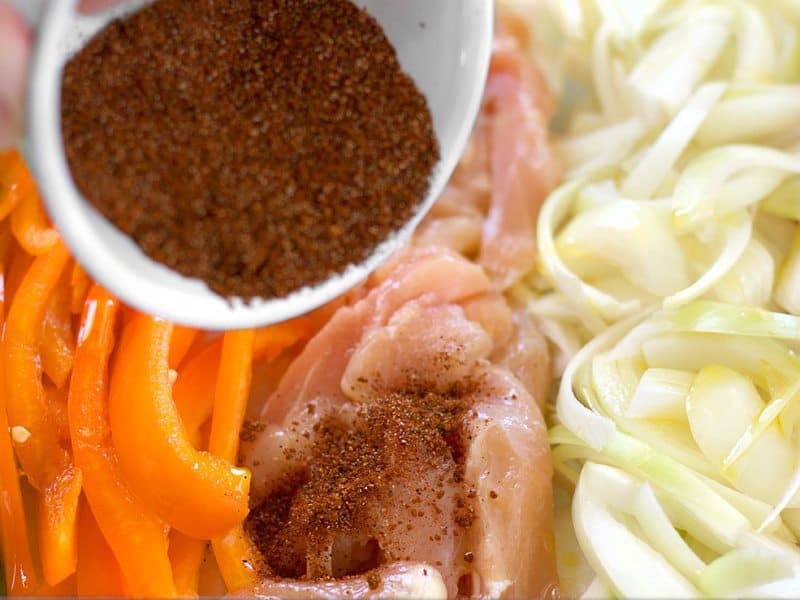 Drizzle 2 Tbsp cooking oil over the meat and vegetables, then toss the ingredients until everything is well coated in oil and spices.
Now it's ready to go into the oven.
Roast the chicken and vegetables for 35-40 minutes, stirring once half way through, or until the fajita veggies have softened slightly and are a bit brown on the edges.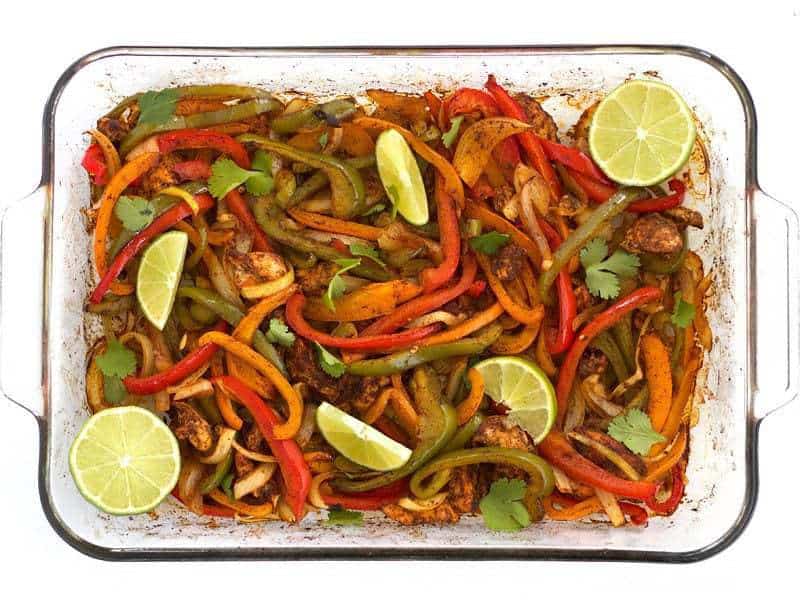 Squeeze the lime juice over the chicken and fajita veggies.
I really like to toast my tortillas in a dry skillet until they're a little speckled with brown on each side before building my fajitas (I do this while the filling is in the oven). Top your Easy Oven Fajitas with a little fresh cilantro and a dollop of sour cream.