I had a crew here shooting video all last week and they left me with a refrigerator full of vegetables (poor me, right?). Luckily, they were all vegetables that are pretty shelf stable, so I was able to take a few days to figure out what to do with them. Since we all know vegetables are more likely to get eaten if they're all prepped and ready to go, I decided to do a super veggie-tastic meal prep this week! This Maple Miso Roasted Carrot Meal Prep pairs some simple brown rice flavored with sesame oil, Sesame Kale, and my Maple Miso Roasted Carrots into one flavorful and good-for-you box. The rich, almost butterscotch-like carrots go so well with the nutty rice and salty sesame kale. I know this is going to be a go-to combo for me in the future, especially since you can sub sweet potatoes for the carrots, and add a few other things to jazz it up even more if you want something extra.
As I ate my way through this meal prep this week, I thought of a few other things that would go really well with this meal. Avocado would just be AWESOME because of the creaminess, but I'd probably only do that when avocados are on sale. The spicy peanut sauce from these tofu bowls would probably also be great. And lastly, a little crunch might be nice, so I might experiment with adding some sunflower seeds next time! Want to add some meat? I suggest this super easy Sticky Ginger Soy Glazed Chicken.
I happened to have some brown basmati rice on hand that I got at Aldi, but you could use regular brown rice or even plain white rice if you prefer. Just make sure to use the suggested water to rice ratio and cooking time listed on the package for whatever rice you use.
For more information about meal prepping, how it works, and why I do it, check out Meal Prep 101: A Beginner's Guide to Prepping and Portioning Meals, or check out my entire Budget-Friendly Meal Prep Archive.
Maple Miso Roasted Carrot Meal Prep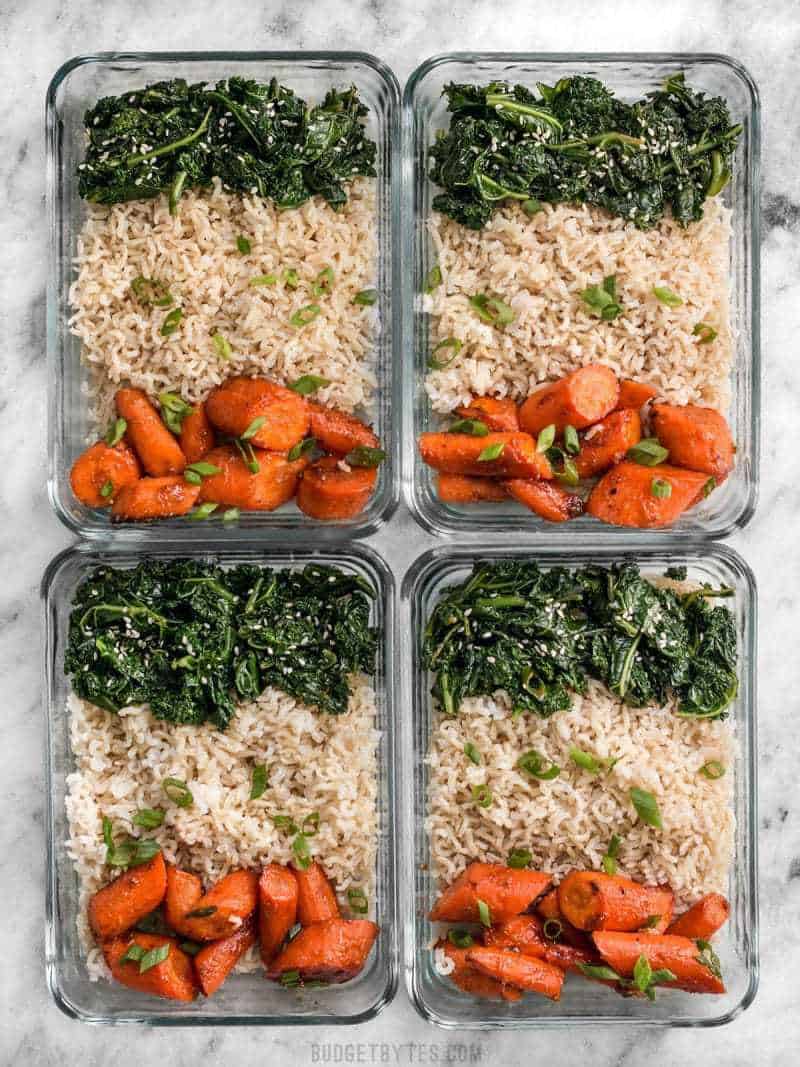 This Meal Prep Includes:
Maple Miso Roasted Carrots: $2.58
Sesame Kale (made with curly kale this time): $1.96
6 cups cooked brown basmati rice + 1/2 tsp salt + 1 Tbsp sesame oil $1.48
Total Cost: $6.02
Cost per serving: $1.51
No leftovers this time! Yay! Each meal prep box got 1.5 cups of the rice and then I just divided the kale and carrots equally among them.

To make the rice, simply cook the rice with the water and salt according to the package directions, then fluff with a fork after cooking, and drizzle the sesame oil over top. Gently fold the rice to incorporate the sesame oil and all its nutty flavor.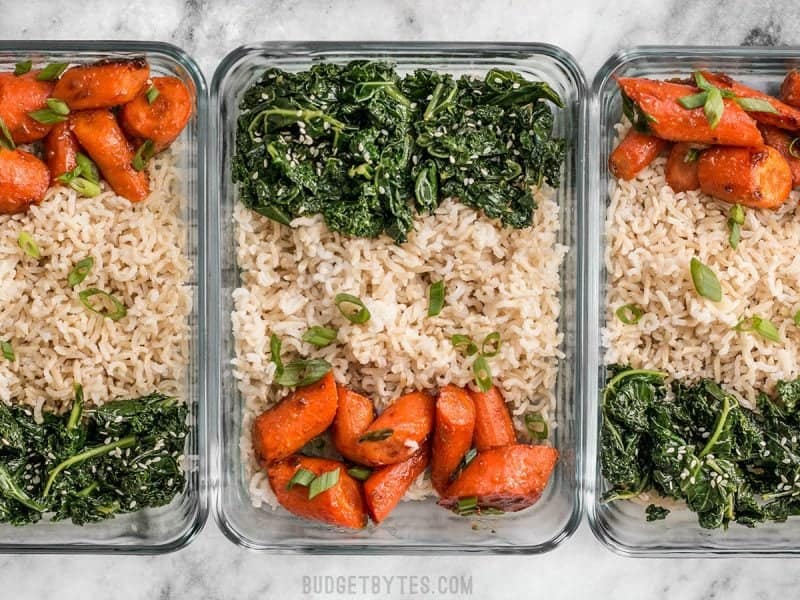 What I love most about this meal prep is how insanely easy it was! I started the carrots first, since they take a little while to roast, then begin the rice while the carrots are roasting. The kale takes only about five minutes to tear from the stems and rinse in a colander, then another five minutes or so to wilt down once it's in the hot pot. So crazy easy and so much healthy goodness to keep me going all week!!
And because a few people ask every week, the containers I used to pack my meal prep this week are the Pyrex 3 cup rectangular containers. :)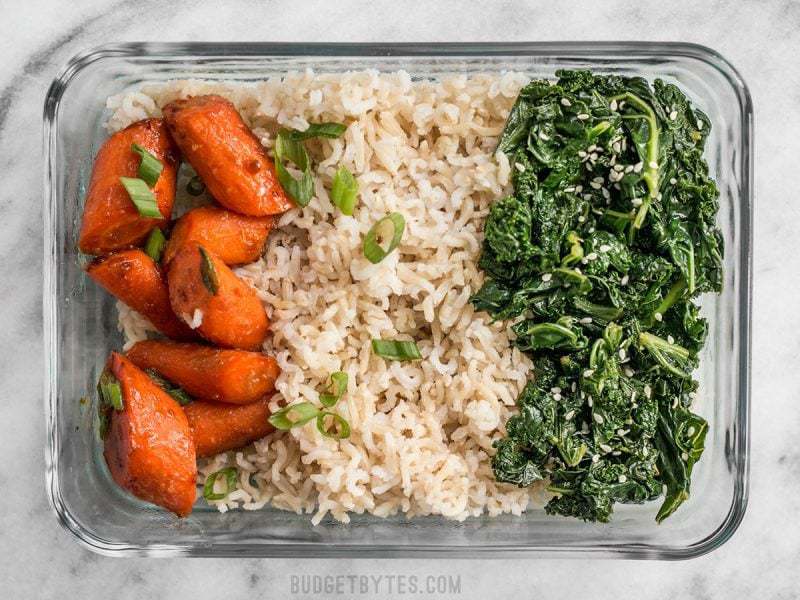 This post may contain affiliate links which won't change your price but will share some commission. As an Amazon Associate I earn from qualifying purchases.