Leftover Stuffin' Muffins
Soooo, are you sick of turkey and stuffing yet? I hope everyone had a great Thanksgiving holiday, but I also hope that none of those tasty leftovers end up in the trash. Don't forget that a lot of those yummy goods can be frozen OR turned into new yummy goods!
Like these Leftover Stuffin' Muffins.
These great little muffins are a super flexible way to combine your leftovers into a "new" meal and avoid Thanksgiving burnout. The bulk of this recipe is leftover stuffing (dressing), but you can add a variety of other ingredients to the mix and make them your own. I used a plain herb stuffing, but you could use cornbread, rice, or practically any type of leftover stuffing you have.
I chopped up some extra turkey because that's what I had, but if you have leftover ham that would be even more amazing. I threw in some frozen spinach from my freezer, but you could use any sautéed greens that you have from the Thanksgiving feast (collards, mustard, kale, whatever). If you have roasted root vegetables (sweet potato, squash, parsnip, etc), those would also be fantastic in the mix. Basically, experiment and have fun with it!
P.S. I didn't do a cost break down of this recipe because I'm really not sure how to calculate the cost of leftovers that I didn't make…
Leftover Stuffin' Muffins
Use up those Thanksgiving leftovers in these versatile and customizable Stuffin' Muffins. Freezable and reheatable for quick meals later.
Servings: 12 muffins
Ingredients
3 cups precooked stuffing or dressing
1 cup chopped turkey or ham
1/4 lb. frozen spinach
6 large eggs
2 Tbsp milk or cream
1/4 tsp salt
Freshly cracked pepper
Instructions
Preheat the oven to 375 degrees. Thaw and squeeze the spinach dry. Add the stuffing, turkey, and spinach to a bowl, then stir lightly to combine without breaking up the stuffing too much.

Liberally coat each well in a muffin tin with non-stick spray (or butter). Divide the stuffing mixture between all 12 cups. Leave the stuffing loosely packed in the cups so that the egg mixture can fill in the empty spaces.

In a medium bowl, whisk together the eggs, milk, salt, and pepper. Divide the egg mixture among the 12 cups, filling each about 1/2 to 3/4 full. The eggs and stuffing mixtures will expand during cooking, so try not to over fill.

Bake the muffins for 25-30 minutes or until lightly golden brown and crispy on the top. Allow the muffins to cool slightly, then run a knife around the edges to loosen and remove each muffin.
Notes
Make sure to coat well with non-stick spray or butter. These muffins will stick to the tin if not well oiled. Feel free to get creative with the add-ins. Roasted vegetables, cheese, or other meat make great additions.
See how we calculate recipe costs here.
---
Nutrition
Serving: 1 Serving ・ Calories: 200.05 kcal ・ Carbohydrates: 13.4 g ・ Protein: 8.34 g ・ Fat: 12.41 g ・ Sodium: 561.66 mg ・ Fiber: 0.79 g
Nutritional values are estimates only. See our full nutrition disclaimer here.
---
The equipment section above contains affiliate links to products we use and love. As an Amazon Associate I earn from qualifying purchases.
Step by Step Photos
First, mix together your solid ingredients. This is where you can get creative. I used 3 cups of leftover herb stuffing, 1 cup of chopped Thanksgiving turkey, and 1/4 lb. of frozen spinach (thawed and squeezed dry). I would have loved to use ham in this instead, but you could even do both ham and turkey. Roasted vegetables would also be awesome in this.
Be kind of light handed when stirring these ingredients together because you don't want your stuffing cubes to disintegrate. You want it to stay kind of chunky. Oh, also preheat the oven to 375 degrees.
Coat each well of a muffin tin REALLY well with either non-stick spray or butter. These things will stick if not really well greased. Fill each well with the stuffing mix, making sure not to pack it in there. You want some empty space for the eggs to fill in.
Whisk together 6 eggs, 2 Tbsp of milk or cream, 1/4 tsp salt and some freshly cracked pepper. Whisk until it's really smooth to make it easier to pour into the muffin tins (globby eggs will be difficult to control).
Divide the whisked egg mixture between all 12 wells of the muffin tin. You want the egg to fill each well about 1/2 to 3/4 full (I over filled a few of mine). If you run out of egg mixture because you over filled (hi, ME), you can whisk one more egg with a splash of milk and a dash of salt and pepper. REMEMBER: the egg mixture will poof up as it cooks, so you don't want them to be completely full.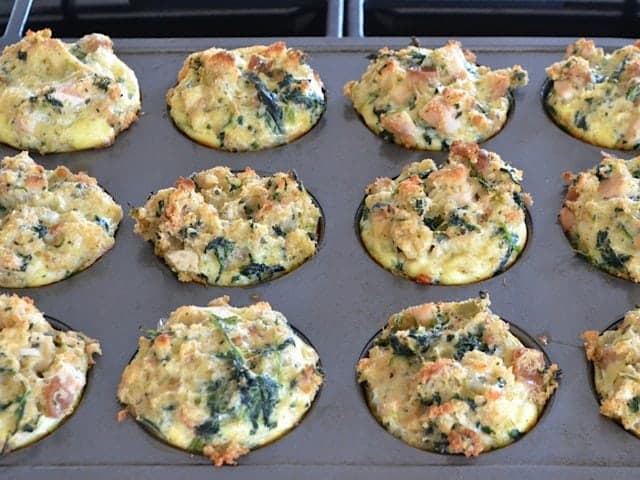 Bake the Leftover Stuffin Muffins in the preheated 375 degree oven for 25-30 minutes, or until the bits of stuffing on top are brown and crispy. Let them cool slightly, then run a knife around the edges to help loosen and remove the muffins.
After cooling them in the refrigerator, you can freeze them for quick breakfasts later. A quick zap in the microwave will make them hot and breakfast ready.