Fresh cranberry sauce is one of my all-time favorite Thanksgiving foods. I love the tangy-sweetness and how it juxtaposes all of the other savory Thanksgiving dishes! I eat it on my turkey and on my stuffing and then the rest of the week I eat it on toast or as part of my "Thanksgiving wraps" (turkey, stuffing, cranberry sauce in a tortilla – YUM!).
I made this basic cranberry sauce for my first Budget Bytes Thanksgiving and have made a different spin on it every year since. The original recipe is so easy and so delicious that it's worth trying at least once. If you want something with a little more flare, kick it up a notch with raspberries and jalapeños!
The heat in this recipe is adjustable and you'll definitely have to use your taste buds to get it right. Every jalapeño is different so some tweaking is required. I removed all of the seeds from my jalapeño, saved them, and added them back in little by little as the sauce cooked to increase the heat to the point that I liked.
Jalapeño Cran-Raspberry Sauce
Jalapeño Cran-Raspberry Sauce
At a sweet and spicy kick to regular cranberry sauce with the addition of jalapeños and cranberries.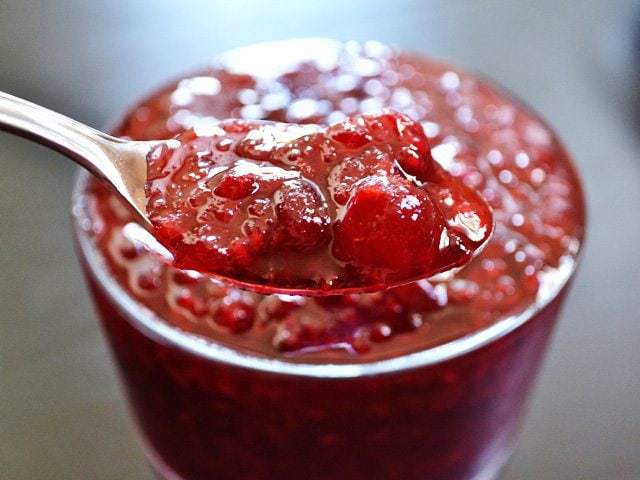 Ingredients
Instructions
Add the sugar and water to a pot large enough to hold the cranberries and raspberries. Turn the heat on medium and allow the sugar to dissolve.

Rinse the cranberries under running water and remove any stems or bad berries. Add them to the sugar water along with the frozen raspberries. Increase the heat to high, cover with a lid, and allow the mixture to come to a boil. Once the mixture reaches a full boil, reduce the heat to a simmer (medium-low) and allow all of the cranberries to pop (you'll hear them).

Meanwhile, slice the jalapeño open and remove the seeds by scraping with a spoon. Set the seeds aside for later. Mince the jalapeño flesh. Add the minced jalapeño, cinnamon, and cloves to the pot. Stir and allow to simmer without a lid.

Allow the mixture to simmer for 30-45 minutes or until it has reduced and thickened slightly (it will thicken further as it cools). Taste it occasionally to see if you want more heat. If so, add some of the jalapeño seeds to the pot. If the mixture is too sweet, add some lemon juice for tartness. If you have added all of the jalapeño seeds and still want more heat, you can add some red pepper flakes.
See how we calculate recipe costs here.
---
Nutrition
Serving:
1
Serving
Calories:
133.79
kcal
Carbohydrates:
34
g
Protein:
0.74
g
Fat:
0.43
g
Sodium:
1.7
mg
Fiber:
4.41
g
Read our full nutrition disclaimer here.
Scroll down for the step by step photos!
How to Make Jalapeño Cran-Raspberry Sauce – Step By Step Photos

Start by dissolving the sugar in water over medium heat. Make sure your pot is big enough to hold the cranberries and raspberries.

You'll need one bag of cranberries (12 oz.), one bag of frozen raspberries (12 oz.) and one (or two if you're brave) jalapeño.

Rinse the cranberries under cool water and pick out any stems or bad berries.

Cut the stem off of the jalapeño and then slice it lengthwise. Use a spoon to scoop out the spine and seeds. Save the seeds for later use.

Mince the jalapeño. Now, GO WASH YOUR HANDS… and don't touch your eyes or … other sensitive areas.

Add the cranberries, raspberries, and jalapeño to the pot. Cover it, increase the heat to high and bring it up to a boil. You can actually get the cranberries and raspberries going while you're prepping the jalapeño, and then just add them later.

Keep an eye on the pot and reduce the heat to medium-low as soon as it reaches a full boil. Do not turn the heat on high and then leave the room and get distracted by facebook… because then you'll have this mess on your hands.

When you stop hearing the cranberries pop, it's safe to remove the lid. Stir in the cinnamon and cloves. Let the mixture simmer without a lid for 30-45 minutes or until it has reduced and thickened slightly. During the simmer process, give it a taste and adjust the heat by adding in jalapeño seeds. You can also adjust the tartness by adding some lemon juice.

And after 30 minutes or so of simmering, it will be a deliciously vibrant jalapeño cran-raspberry sauce. Good on just about everything!