Quesadillas might be one of my favorite foods. That and pizza. Why? Because you can put just about anything inside and the outer crispy tortilla shell somehow makes everything a million times better.
For this quesadilla I took the classic flavors of a Hawaiian pizza and stuffed into a tortilla for a quick weeknight fix. I added some red pepper flakes because I like things a little spicy, but you could easily leave those out. Other ingredients that would taste yum in this are: red onions (instead of the green), fresh jalapenos (instead of the red pepper flakes), or green peppers.
These little gems are pretty rich and creamy, so I suggest pairing them with something light and full of fiber. This simple black bean salad would be AWESOME with the quesadillas and is pretty fast to whip up.
Enjoy!
Hawaiian Ham Quesadillas
Hawaiian Ham Quesadillas
Hawaiian ham quesadillas with a creamy cheesy filling, ham, pineapple, and green onions.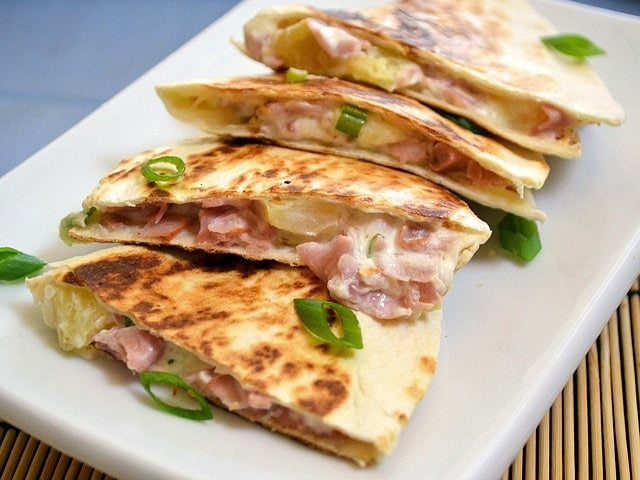 Ingredients
8

oz.

cream cheese

($1.87)

1

cup

shredded mozzarella

($0.92)

3

sliced green onions

($0.35)

1/8

tsp

red pepper flakes, optional

($0.02)

15 oz.

can

pineapple chunks in juice

($1.14)

1/2

lb.

smoked ham

($3.27)

8

8-inch four tortillas

($1.79)
Instructions
Allow the cream cheese to come to room temperature before you begin. Combine the cream cheese, shredded mozzarella, sliced green onions, and red pepper flakes in a bowl. Stir until well combined.

Drain the pineapple chunks as much as possible. Roughly chop them into smaller pieces. Roughly chop the sliced ham into small pieces. Add both to the cheese mixture and stir to combine.

Place 1/4 to 1/3 cup of the filling in each tortilla and spread to cover half of the surface. Fold the tortilla in half to close. Cook each quesadilla in a skillet over medium heat until brown and crispy on both sides.
See how we calculate recipe costs here.
---
Nutrition
Serving:
1
Serving
Calories:
309.7
kcal
Carbohydrates:
31.04
g
Protein:
12.48
g
Fat:
15.34
g
Sodium:
683.4
mg
Fiber:
1.92
g
Read our full nutrition disclaimer here.
Step By Step Photos

Make sure the cream cheese is room temperature before you begin so that it's soft enough to stir. Combine the cream cheese with the mozzarella, sliced green onions, and red pepper flakes. Stir to combine. I actually used about 1/4 tsp of red pepper, but listed 1/8 tsp because I know I like things quite a bit hotter than most!

Roughly chop up the ham. It doesn't have to be any particular size or shape, just make it into bite-sized pieces.

Drain the pineapple as much as possible so that your quesadillas don't get soggy. I also cut the pineapple chunks into slightly smaller pieces because they were kind of large.

Add the chopped ham and drained pineapple to the cheese mixture.

And mix it all together. The residual moisture from the pineapple will make the mixture softer and much easier to spread. I call this the "yum-yum mix" because it's SO GOOD.

I used "fajita style" tortillas, which are about 8 inches across. Add about 1/4 to 1/3 cup of filling to each tortilla and spread it over one half of the surface. The filling is pretty rich from all of the cream cheese, so you don't want to over fill them.

Cook the quesadillas in a skillet over medium heat until they are golden brown and crispy on each side.

Don't forget to flip 'em.

Be warned. These are VERY ADDICTIVE.
If you want a less "creamy" quesadilla, you can change the ratio of cream cheese to mozzarella. Use 4 oz. of cream cheese and 2 cups of mozzarella. This will give you more of a classic melty cheese filling.
Got some marinara laying around? I bet it would be good for dipping these in!