Hi! Guys, I'm seriously so excited to be back in the kitchen. It feels sooooo good. I'm still trying to find the "good light" in my new house for food photos, but we'll figure it out. That won't stop me from cooking! If you saw my Instagram stories the past few days then you know I made a batch of naan for my Curried Chickpeas Meal Prep this week. Curried Chickpeas with Spinach is one of my favorite fast and delicious budget meals because it has so few ingredients but is so very yummy. Like, lick the spoon yummy. I paired the curried chick peas with some Curry Roasted Cauliflower, and a little bit of Homemade Naan for sopping up the delicious curry tomato sauce.
You might be thinking, "wow, that's a lot of curry…" and yeah, I did use the same curry powder in both the chickpea dish and the roasted cauliflower, but some how they still taste different enough to provide variety for the meal. Also, I made one dish mild (the curried chickpeas) and one spicy (curry roasted cauliflower), so that also helped provide more variety. I included only 1/2 piece of naan for each meal prep box because I was trying to not be carb-heavy, but if you feel like that wouldn't be filling enough, you'll have plenty of naan to use a whole piece for each box.
This Curried Chickpeas Meal Prep is vegetarian, but not vegan because of the yogurt and egg in the naan. While I've made the naan without egg (by accident) in the past and it was still pretty good, I think it would be lacking flavor without the yogurt. If you want to make this meal prep vegan I suggest substituting the naan for rice, preferably either jasmine or basmati.
For more information about meal prepping, how it works, and why I do it, check out Meal Prep 101: A Beginner's Guide to Prepping and Portioning Meals, or check out my entire Budget-Friendly Meal Prep Archive.
Curried Chickpeas Meal Prep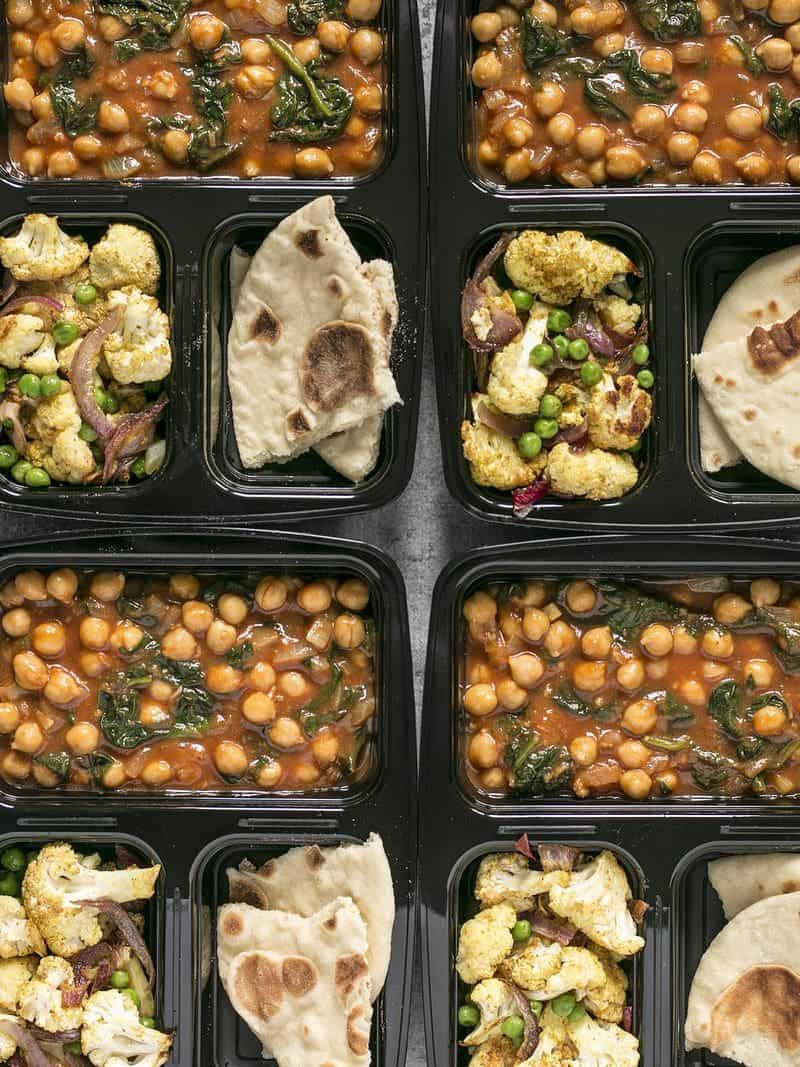 The Curried Chickpeas Meal Prep Includes:
Curried Chickpeas with Spinach: $4.68
Curry Roasted Cauliflower: $3.77
2 Pieces Homemade Naan (1/2 piece each box): $0.43
Alternate to Naan: 4 cups cooked rice (jasmine or basmati)
Total Cost: $8.88
Cost Per Meal: $2.22
You'll have about two servings leftover Curry Roasted Cauliflower, but you could always make each of the four servings in the boxes slightly larger to make sure it all gets eaten, as the roasted cauliflower will not freeze well.
The recipe for Homemade Naan makes eight pieces, but the bread freezes really well. Make sure it's fully cooled before transferring it to a gallon-sized freezer bag and stashing it in the freezer.
The containers in the photos this week are a set that I bought on Amazon in order to have a divided container option. They came in a huge pack of ten and are BPA free, which is great, but I like my glass containers and even my blue top Ziploc containers much better. These don't feel as durable and I don't quite trust the seal for liquids.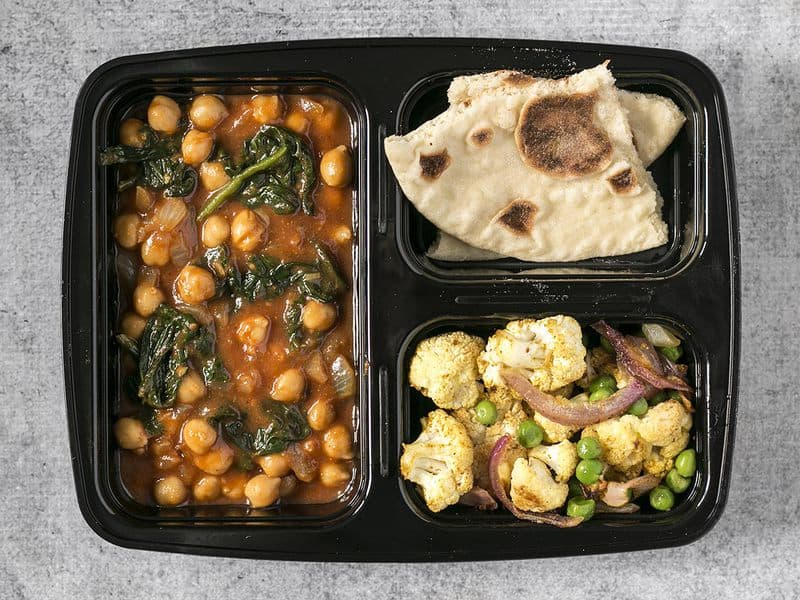 Tips:
If you don't have a divided container, make sure to wrap your naan in some sort of plastic sandwich bag or zip top bag to keep it from getting stale.
And I think that's the only tip I have for you this week! This meal is pretty easy-peasy and doesn't need any special instructions. If you have any questions, leave them below and I'll try to answer! :)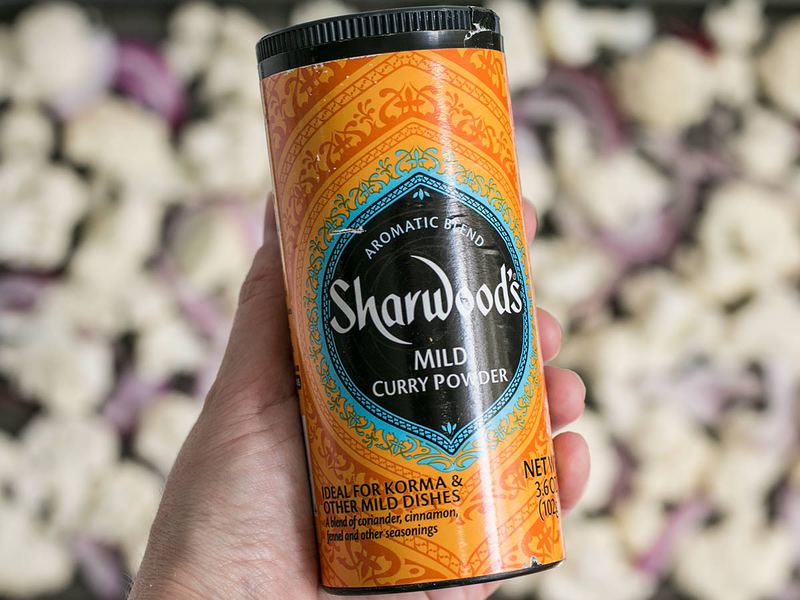 Oh, and because everyone always asks, this is the type of curry powder I use. Curry powders can vary a LOT from brand to brand, so it can be worth experimenting to find on you really like. I like to buy the mild version these days and I just add cayenne if I want a curry dish spicy. Two birds with one stone!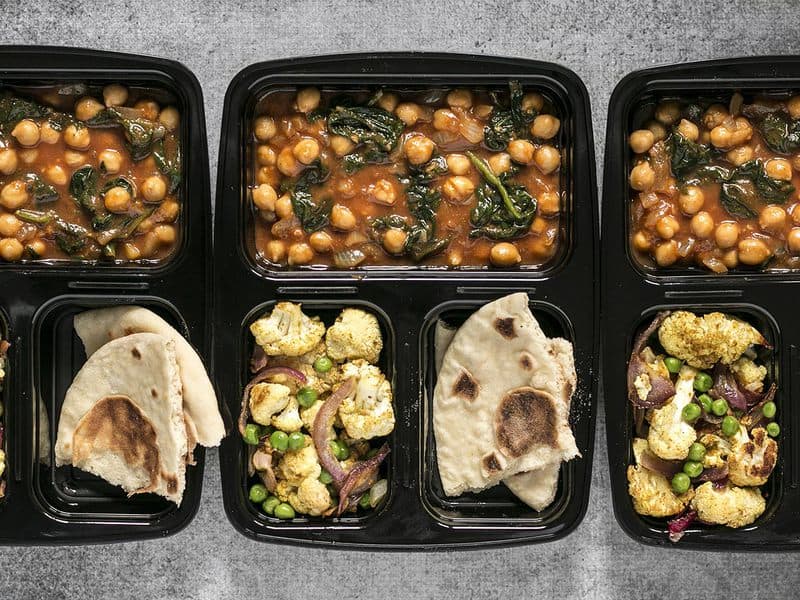 This post may contain affiliate links which won't change your price but will share some commission. As an Amazon Associate I earn from qualifying purchases.