This post is dedicated to all of you who are still going out to eat at the Olive Garden. ;D
This is a super simple, very flavorful pasta dish that will cost about the same for six servings as you'd pay for one at an "Italian Style Family Restaurant." …Plus, you'll be using fresh, delicious ingredients. No jelly-like cream sauces from a can here.
I used white wine in my recipe because I really like the flavor that it lends to sauces but if you don't want to use it, just replace it with the same volume of chicken broth.
I also used pre-sliced mushrooms but only because the store was out of whole mushrooms. I would prefer to cut my own and slice them thinner than these were… but you can't have everything in life, right?
If you're not a fan of parsley, you could also stir in some fresh baby spinach because we all know that spinach, mushrooms, cream and chicken play well together. Parsley just happens to be far less expensive and I like it all the same.
Creamy Mushroom Pasta with Chicken
Creamy Mushroom Pasta w/ Chicken
This creamy mushroom pasta is a restaurant favorite that's surprisingly easy to make at home.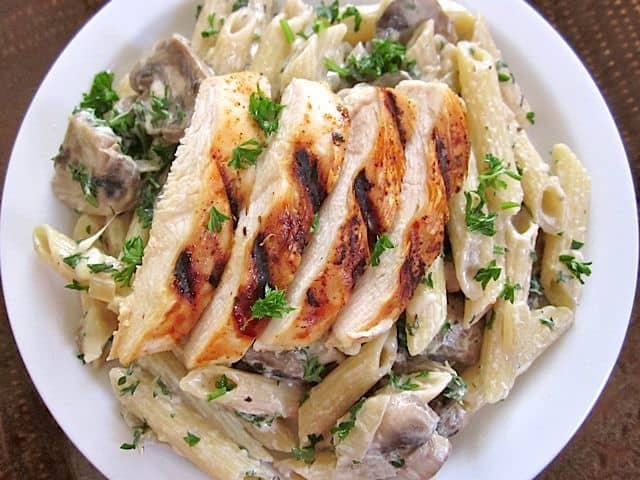 Ingredients
2

Tbsp

olive oil

($0.22)

1/2

yellow onion

($0.16)

3

cloves

garlic

($0.21)

1

lb.

mushrooms

($3.38)

2

Tbsp

all-purpose flour

($0.02)

1

cup

chicken broth

($0.00)

1/2

cup

white wine

($7.99 bottle)

1/2

cup

half & half

($0.30)

1/2

tsp

dried thyme

($0.05)

salt and pepper to taste

($0.05)

1/4

bunch

fresh parsley

($0.22)

2

oz.

Parmesan

($1.00)

8

oz.

pasta

($0.59)

2

boneless, skinless chicken breasts

($2.49)
Instructions
Season the chicken breasts on both sides with salt and pepper (or any other seasoning you like). Cook on a

George Foreman Grill

about 8 minutes per breast. Alternatively, you can cook them in a non-stick skillet over medium-high heat for about 5 minutes per side or until cooked through. Keep the chicken on a plate covered with foil until ready to eat.

While the chicken is cooking, prepare the sauce. Cut the onion into a small dice and mince the garlic. Cook them in a large skillet over medium heat with olive oil. Cook about two minutes or until the onion is translucent. Add the sliced mushrooms and a dash of salt and cook until the mushrooms have completely softened and released all of their moisture (about 7 minutes).

Add the 2 Tbsp of flour to the skillet. Stir and cook for about 2 minutes. It will coat the mushrooms and will begin to turn golden in color. Just make sure to keep stirring so that the flour does not burn.

Add the chicken broth to the skillet along with the white wine and thyme. Whisk until no flour lumps remain. Let simmer until thickened (about 3-5 minutes).

While the sauce is simmering, get a large pot of water boiling for the pasta. Cook the pasta according to the directions on the box (boil for 5-7 minutes or until al dente then drain).

Once the sauce has thickened, turn off the heat and stir in the cream. Continue to let simmer until reduced in volume and thickened. Give the sauce a taste and season with salt and pepper.

Roughly chop the parsley and stir it in with the drained pasta. Grate about 2 ounces of parmesan over top (or top each serving individually). Slice the chicken and serve each bowl of pasta with a few slices of chicken.
See how we calculate recipe costs here.
---
Nutrition
Serving:
1
Serving
Calories:
449.3
kcal
Carbohydrates:
37.53
g
Protein:
43.22
g
Fat:
14.32
g
Sodium:
541.25
mg
Fiber:
2.4
g
Read our full nutrition disclaimer here.
Step By Step Photos
Begin by cooking your chicken on a George Foreman Grill – I find this to be the fastest, easiest way to cook chicken. I don't have pictures of this because you literally put it on there, turn it on and then go do something else while it works it's magic.

Dice the onion fairly small (or you can grate it on a cheese grater). Also, mince the garlic. I had some jarred garlic that I've been trying to use up so I used about 1 Tbsp of that.

Cook the onions and garlic in olive oil over medium heat until softened and transparent.

Add a pound of sliced mushrooms and a dash of salt to the skillet. The salt helps draw the moisture out of the mushrooms. Continue to stir and cook until the mushrooms have completely softened and all of the moisture has been cooked out (they'll be soft, brown in color and no liquid should be in the bottom of the skillet).

Add the flour to the mushrooms and continue to cook for about 2 minutes. The flour will be the thickening agent for the sauce and letting it cook for a couple of minutes will toast the flour and get rid of any paste-like flavors. (this is actually a picture from another recipe because I forgot to take a photo of this step – oops!)

Add the chicken broth, wine and thyme. Whisk until no flour lumps remain. Allow to simmer over medium heat until thickened (3-5 minutes). While it is simmering, begin cooking the pasta in a separate pot (follow directions on the package).

Once the sauce has thickened, turn off the heat and add the half & half. Give the sauce a taste and season with salt and pepper as needed.

Roughly chop the parsley and stir it into the sauce.

Stir in the drained pasta.

Either grate the parmesan over the entire skillet of pasta or add to each individual serving.

Add a few slices of the grilled chicken on top for a complete meal.
Got a date? Make this together, share the rest of the bottle of white wine and enjoy a great meal without having to tip the wait staff!
This post may contain affiliate links which won't change your price but will share some commission.